According to the statistics, car owners spend at least two hours a day on car care. Furthermore, something grand and demanding, such as repairing a malfunctioning engine may take even more time. For this reason, it is absolutely necessary that your garage is equipped comfortably to make your workflow perfect.
Equipping a garage is not easy: in addition to spare parts and tools, it usually stores everything that does not fit in your house. Moreover, some of the car care procedures (repairing, cleaning etc.) require your using a bunch of different chemicals, which leads to a lot of ugly stains on your garage floor. Unfortunately, staining might sooner or later turn your garage into a very unattractive place.
To avoid that, on the very stage of planning and constructing your garage, you need to think of materials you should use to increase your garage lifetime, the best way to combine workshop and storage etc. And if you only start considering if you need a garage, see a list of our ideas on why you need it in the first place.
Equipping your garage is important, but without guidance, you might feel lost. That's why we decided to help you and list all the things that you should have. In this article, we are going to discuss 15 tools you really need for your classy garage.
1. Garage heater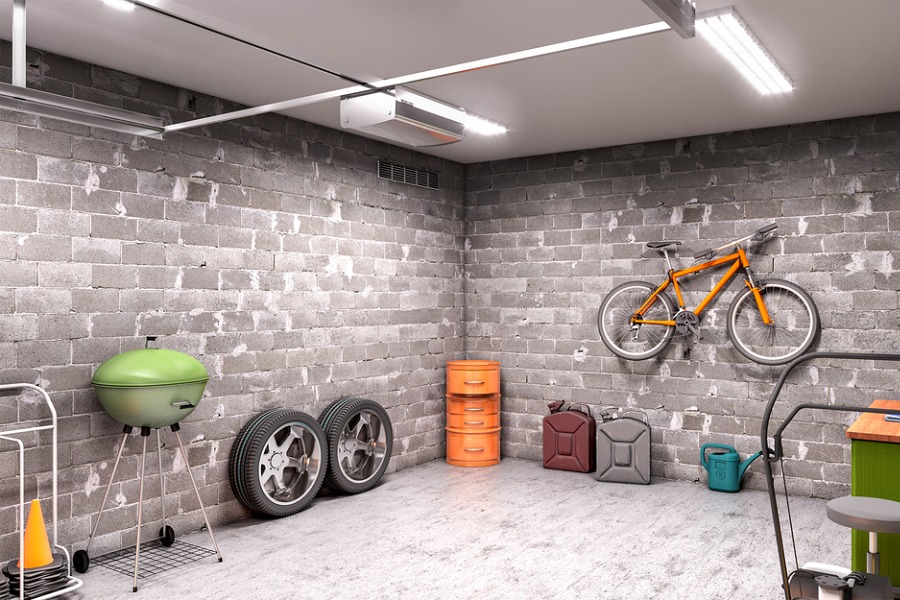 The problem of garage heating is always relevant, as the garage is mostly an isolated building without insulation. Typically, the garage is chillier than your house. Good news: heating devices aren't insufficient on the market. Let's see what types of heaters can be used to make your garage a warmer place.
Oil heaters. An oil heater is basically a container filled with mineral oil. They are cheap, break rarely and difficult to damage. Using them is safe, even in the room full of flammable substances. Still, they provide an uneven room heating and produce thermal inertia where the radiator must heat up before releasing heat in the air.
Convective heaters. Convective heaters (convectors) are based on the difference between hot and cold air density. Cold air enters the device through the lower holes, heats up, becomes lighter and comes out through the upper holes. Convectors are usually put on walls because it is necessary to provide space for air circulation. The device doesn't heat up, so it is impossible to burn yourself when touching it. It is also completely fire-safe with a simple structure that has fewer details that can malfunction. Still, convective heaters are more suitable for maintaining the temperature than for a quick room heating. It is also necessary to regularly clean the device from dust.
Electric fan heaters and heat guns. According to statistics, fan heaters make almost half the sales of all heating devices. The fan heater functions almost in the same way as a convective device. However, the replacement of heated air with cold air is forced by a blade fan. Electric heaters are cheap, they heat up easily and maintain temperature very well. The heat distribution around the garage is even. Still, effective protection against dust is required. Electric fan heaters are also noisy and stimulate the dust movement which can further lead to their breakdowns.
Diesel and gas heat guns. Diesel and gas guns work in the same way as electric ones, although the heating is produced due to the fuel or gas combustion. They heat up and maintain temperature equally well, and diesel fuel/gas are much cheaper than electricity. Nevertheless, they burn oxygen and replace it with combustion products. They are noisy as well and make the dust move in the garage, just like electric fans.
Infrared devices. Infrared heating devices heat the objects with long waves of the radiation spectrum, which in turn heats the air around them. That's why it is possible to heat both the whole garage and a separate section of it. Infrared heaters can affect places that are harder to reach, for example, the space under the hood of a car. However, infrared devices are more suitable for maintaining the temperature than for a quick warming up of the room. There are also many speculations about infrared devices being harmful to a human body.
2. Lawnmower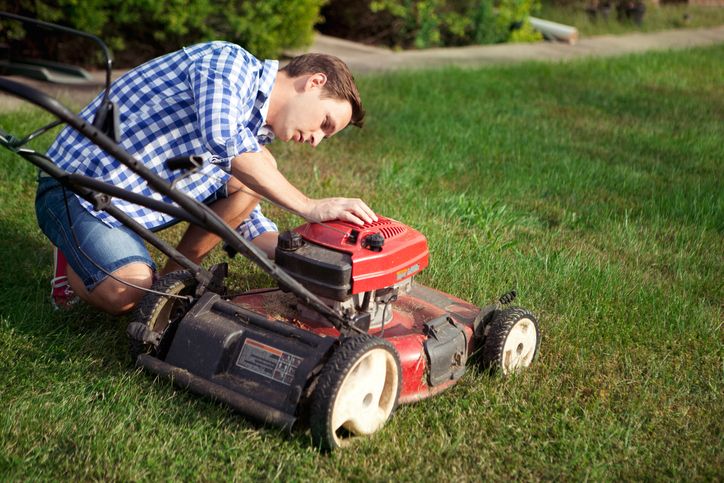 For the homeowners that think about how to take care of their lawn, the best solution would be to buy a lawnmower. Among the lawnmowers, there are both time-tested traditional models working on gasoline, and exotic battery-powered lawn mowers as well. All of them have their own advantages and disadvantages.
Electric lawnmowers. They are environmentally safe, do not require fuel and have a low noise level. They need a power network connection, and so it is rather dangerous to use them when it's raining.
Battery mowers. The mobility is increased as they don't need an operator. Still, they are heavy, their battery life is limited (15-30 minutes), and the recharging lasts very long.
Gasoline mowers. They are maneuverable and ready for an intensive performance. On the other hand, such lawnmowers are heavy-weight, noisy and require regular maintenance.
Mechanical mowers. Such machines are environment-friendly, quiet and don't cost much. Also, they don't require connection to any source of energy and can be used in any weather. Nevertheless, they need your physical effort to move, that's why it takes more time to trim the grass.
All in all, gardening equipment with a combustion engine is universal, unpretentious, productive and reliable. No wonder professional lawnmowers are made with engines only. At the same time, you simply may not need all these qualities when it comes to a small, well-groomed lawn. When deciding which lawn mower to buy, remember that the most powerful and productive models are relevant for large areas and difficult terrain. The best lawn mower is one that suits specifically for your lot, your personal needs and financial capabilities.
3. Tool cabinets and chests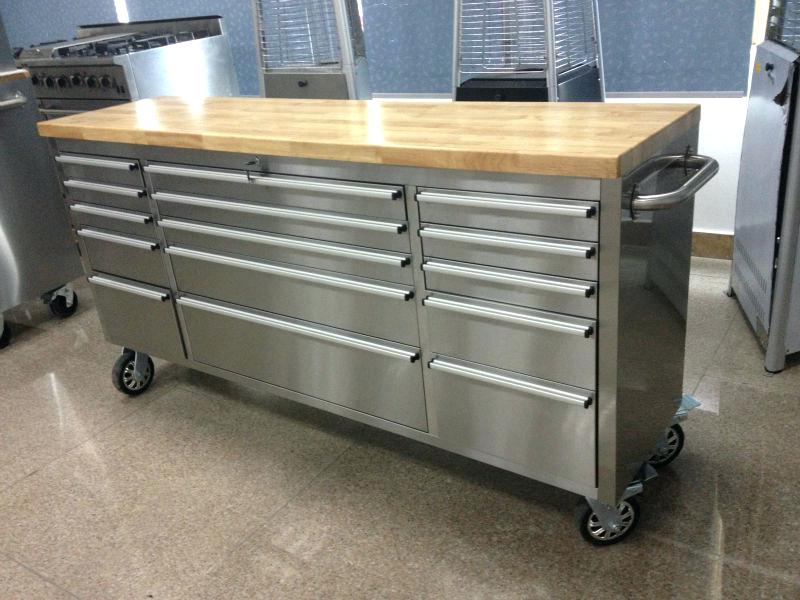 A modern garage is a building that can be used not only for parking your car but also as a workshop and storage. In order to keep all unnecessary things away from your house (for instance, old pieces of furniture, work tools and other stuff), we recommend you purchasing storage cabinets and tool chests where you can store it all.
For the ergonomic and extremely functional organization of the free space, it makes sense to maintain your garage and keep your tools in designated areas, boxes, kits and lockers so that you always know where to get this particular thing that you need. This approach will help you find all the tools faster, which further reduces your frustration and irritation when it takes too much time. As you finish your work, carefully return all the tools back to the designated cabinets and chests. This way, you will keep your garage in order, and the tools will stay in good condition for a long time.
Storage chests and cabinets vary in size, material, color and functionality. You can either choose ready-made cabinets or order a customized version according to your individual measurements. Finally, you are welcome to even use your old kitchen cabinets: thanks to the many drawers and boxes, you can organize your tools in an efficient way.
4. Garage refrigerator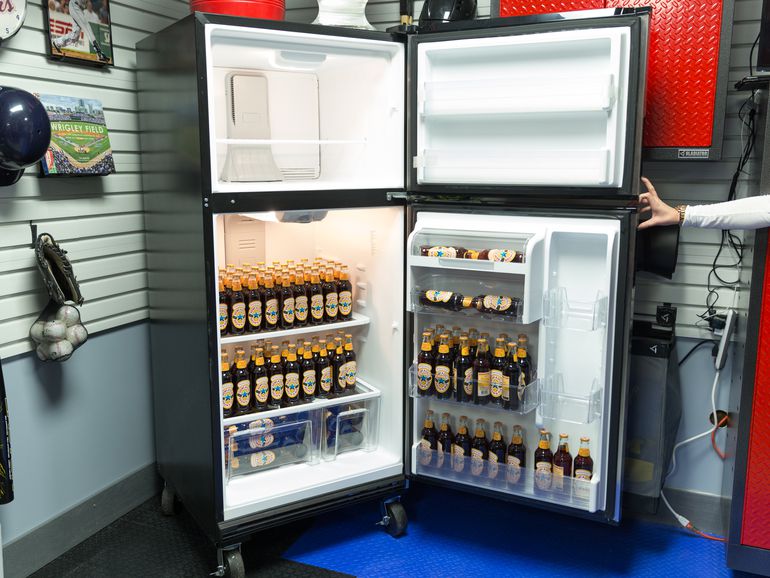 The refrigerator in the garage is a necessary and convenient thing. You can freeze fruits, vegetables, berries and meat while not clogging up your fridge at home. There is also an option of storing foods that you plan to consume while working in the garage. This way, you won't need to go back home to have a quick snack.
Thus, refrigerators for the garage can be suitable for both short-term and long-term storage of products that will or will not be used in the near future. Therefore, garage fridges may or may not have a freezer section.
Still, what is the perfect fridge for a garage? A garage refrigerator should be economical and compact, with a suitable cooling mode. When the temperature in the garage drops, it should be possible to turn the fridge off.
It would be great if the refrigerator is made from a strong material that isn't easy to affect or damage. By purchasing a refrigerator on wheels, you guarantee that you can move it around for cleaning or reorganization purposes. It should also consume less energy than your home refrigerator: for example, you can purchase a fridge without backlight.
5. Air compressor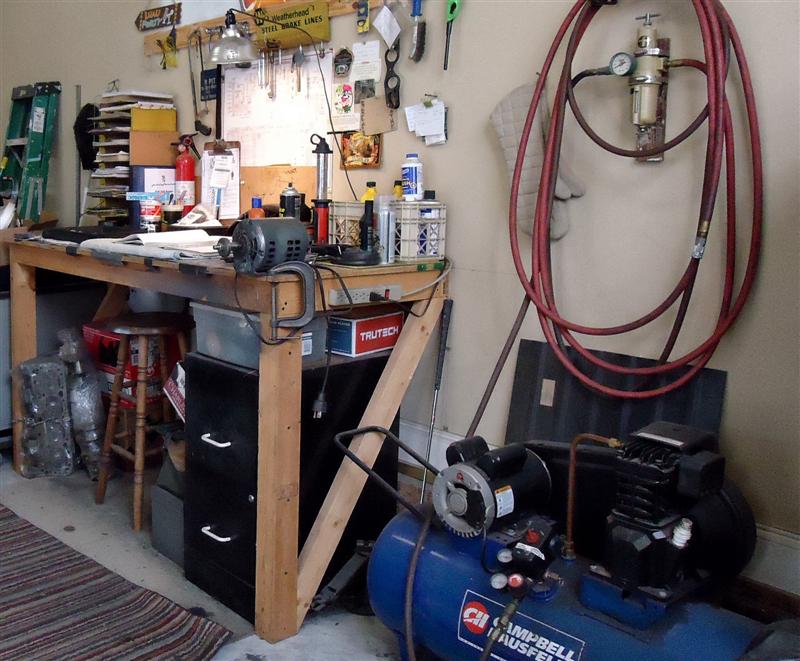 Air-compressing equipment is popular for both industrial production processes and personal use – including garage use. Its main feature is compressing gas or air, which is further used as a driving force for different devices or for production goals.
However, today there is a huge variety of air compressors. The market leaders are screw and piston air compressors. An alternative option is centrifugal compressors, however, they are less convenient in operation which makes them rather unpopular among garage owners. Let's have a more detailed look:
Screw air compressors. These are serious and expensive machines suitable for large service stations where large air consumption is involved. It is possible to connect all tire stations, pneumatic tools, tire inflation devices etc. to one and the same screw compressor.
Piston air compressors. They are chosen to work in the garage more often. They are widely distributed and deservedly popular due to their easy use, reliability and affordable cost. At the same time, their relatively small size and mobility make it possible to organize several compressed air supply lines operating independently of each other.
Another thing that is very important when choosing an air compressor is using the oil.
Oil-free compressors are used in cases where there are special requirements for air compression, such as the absence of any pollution and oil. In addition, oil-free compressors are easier to use when it's cold because the oil thickens making it difficult for the equipment to work. Usually, oil-free compressors are needed for the spray guns, since oil particles can mix with paint, thus greatly reducing its quality.
Oil compressors require constant monitoring and replacing the oil. However, these devices are high-power, operate productively, and their parts are less vulnerable to corrosion.
6. Leaf blower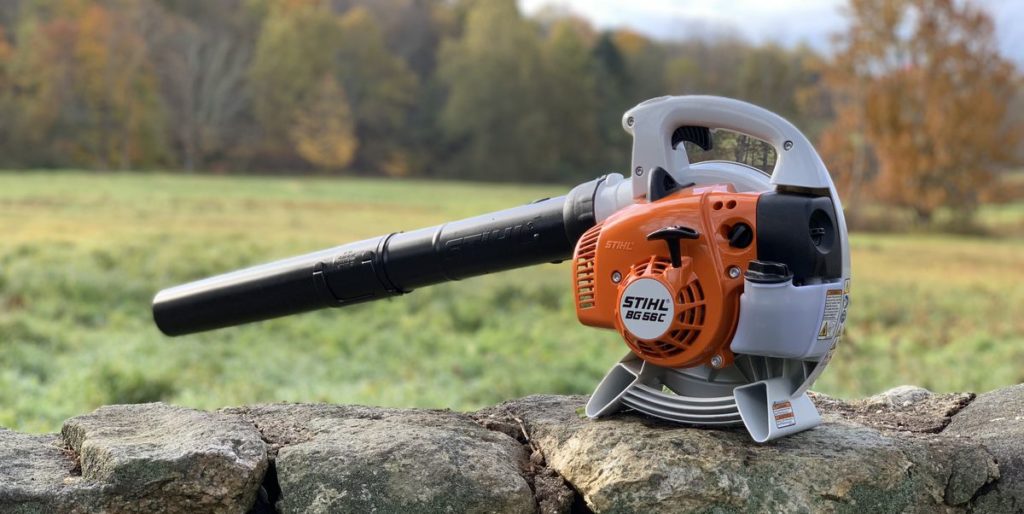 If you want to tidy your lot or take care of your garden removing fallen leaves or debris, you'll need a serious tool – namely, a leaf blower. It is well-suited for any season. In summer, it can clean the mowed grass. In autumn, it is suitable for fallen leaves. And in the winter you can use it to deal with snow.
As for functionality, garden leaf blowers are divided into three types: blowing devices, suction devices and universal ones with a grinder. The first type of leaf blowers replaces a broom and a rake: a strong pressure of air sweeps away garbage and foliage. The second type sucks it in just like a vacuum cleaner. The third one combines both functions and grinds the absorbed mass.
Leaf blowers can be divided in further categories:
Petrol leaf blowers. Petrol units are well-suited for large areas. They are powerful, autonomous, but noisy and polluting. In addition, gasoline blowers are heavier than their electrical alternatives. When choosing a gasoline tool, pay attention to the level of noise produced. Consider that gasoline models have higher fuel consumption, largely due to the fact that for a high-quality suction you need to turn on the maximum speed.
Electric leaf blowers. Electric machines are quieter than gasoline ones, safe for the environment and lightweight. However, electric leaf blowers work from the network, which means that there will be inconveniences with the cord. However, for small areas, it is no problem. When choosing electromotive devices, the power parameter is key. If you pick up a weak leaf blower, there will be problems with its further efficiency. By the way, some models of power blowers can work on the battery. This can completely solve the problem of cleaning a small area as you'll do it without much hassle.
Also, we suggest you pay attention if there is a grinding option and if the trash bag is big enough. The larger the bag, the heavier the device. However, it won't be necessary to empty the bag very often.
7. Garage door opener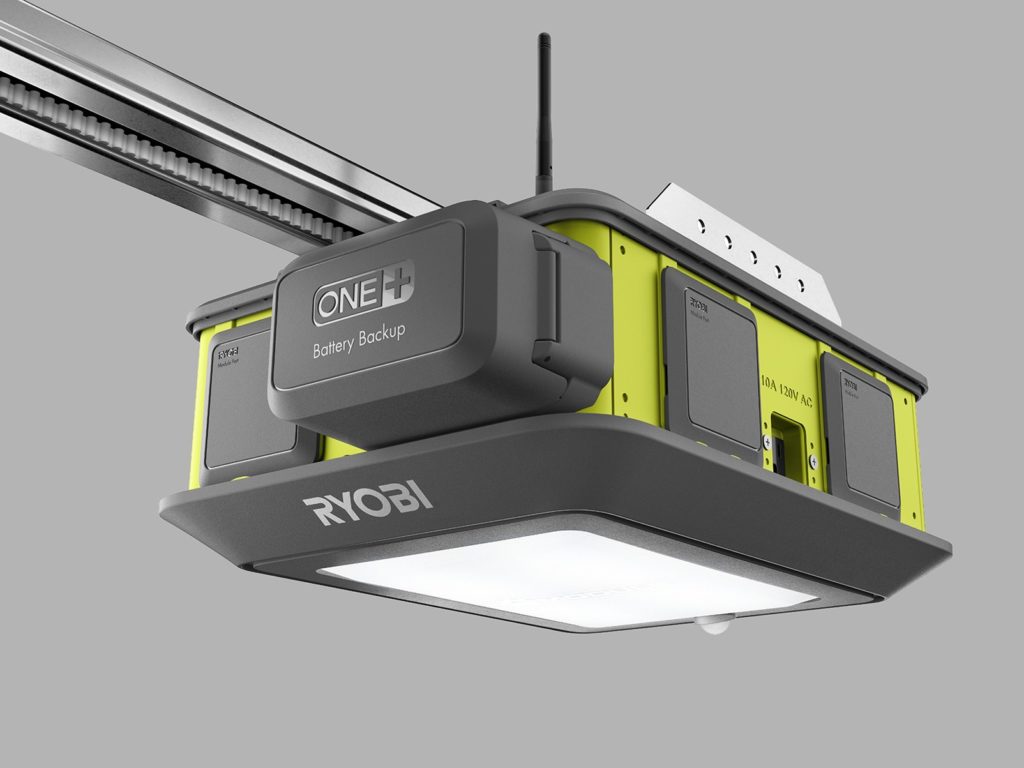 Automation allows you to control the garage doors in a safe and convenient way. Such systems also help you control access to the garage. Modern automatic systems are notable for their easy and quiet operation and optimal cost. No wonder they are widely used in homeowners' garages. In order to get rid of difficulties during the purchase or installation of garage door openers, it is necessary to pay attention to many factors.
A set of garage door opening equipment usually consists of an access system and drive and control units. The drive may have an electromechanical or hydraulic basis. It is designed to control the doors.
Electromechanical door openers are characterized by simple design and low cost. These mechanisms are undemanding for maintenance and repair.
Hydraulic door openers, in contrast, have a complex structure which affects their cost, installation and performance. Nevertheless, such devices are more reliable and functional.
Regardless of the type of construction, each garage door opener is equipped with a protective system that stabilizes electrical network interference. The access system includes various remote keys, card readers, scanners and other electronic checking devices.
When buying an automated system, the main parameters that affect the customer's choice are weight and type of product as well as the intended intensity of its performance. Based on these factors, the drive motor power, the speed of door movement and the device control method are key factors to check. For example, if the doors will open no more than ten to twenty times a day (usually, this happens in private areas), it is recommended to use home automation.
8. Pressure washer for car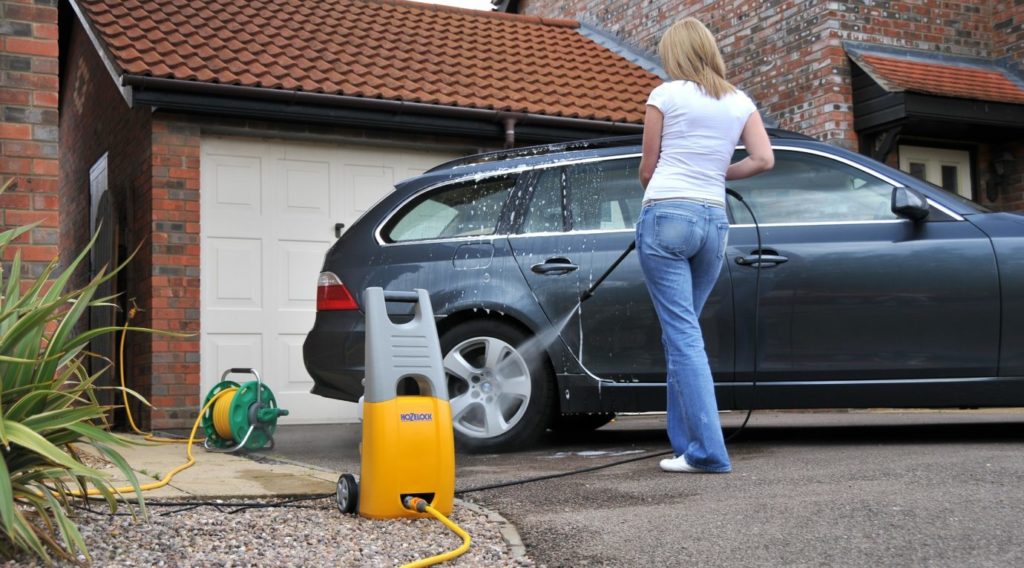 With the help of a pressure washer, you can clean almost anything, from your garage to your car or a courtyard. Some people even use this machine for garden work or carpet cleaning! High-pressure washer is a good investment that will help you save on car washes for many years.
It is not a complicated unit. Its main elements are a motor, a pump of water supply, a hose with a washing nozzle, and a cable. The motor is the heart of a high-pressure car washer: the main device features depend on its quality and power. Usually, a high-pressure washer is equipped with an electric motor. It is extremely important that it has protection against voltage surges; otherwise, it will not last for a long time. A pump is an element responsible for the water flow and its pressure. Water enters the hose, which ends with a nozzle. Nozzle changes the configuration of the water flow which is necessary for different types of work: washing, applying foam or removing the old thick layer of dirt. High-pressure washers vary significantly in their characteristics:
Washer type. First, you need to decide which model you want to buy – for domestic or professional use. Household equipment is suitable for work on the lot: washing the car, house facade, garden tools, etc. Professional units are purchased by companies.
Hose length. We recommend you pay special attention to a hose length since the convenience of its use depends on it a lot.
Pressure. The stronger it is, the better the quality of cleaning. Good washers usually have a pressure adjustment feature.
Performance. It indicates water consumption.
Cleaning solution tank. Most high-quality pressure washers are supplemented with a reservoir for cleaning solutions. This is a small container located on the hose nozzle that helps it mix with water.
Water intake. This function is absolutely necessary if you have no direct water supply. You can place the hose in the water tank, and the water will start flowing in.
Material. The most inexpensive material is plastic. It is light, cheap and does not fear corrosion. However, there is a disadvantage as well: plastic is very fragile. On the other hand, the plastic used by reliable manufacturers is very durable. Aluminum is considered a stronger material; however, the cost of aluminum products is much higher.
Nozzles. High-pressure washers usually come with a set of nozzles designed for different purposes.
9. Car jack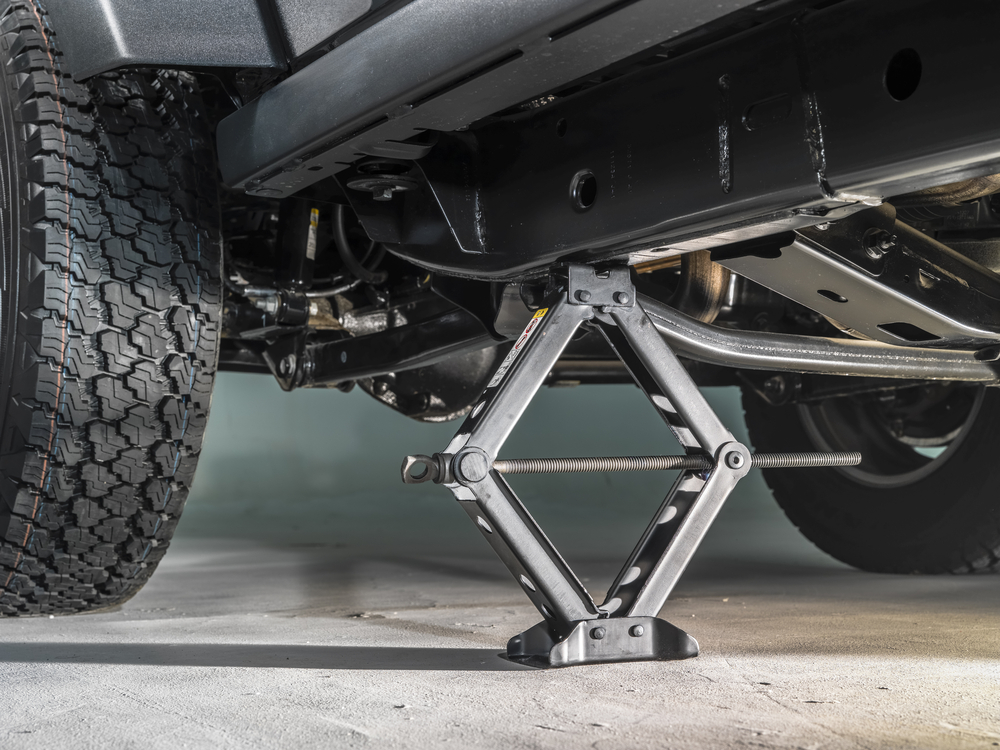 The motorists often ask for advice on which car jack to choose. It is best to focus not on the personal experience of other people, but on the characteristics of your own car and the many models of car jacks. Who knows about the car features, weaknesses and operation better than its owner?
If you know your car very well, in fact, choosing a car jack is quite simple.
Load capacity. Each car jack is designed to lift a certain weight of the load and has a maximum permissible weight value, which cannot be exceeded. Violation of this rule may cause damage to the lifting mechanism or the car.
Maximum lift height. For most models, this parameter is 300–500 mm. This height is enough to remove the wheel. High jacks are able to lift a car up to 1 meter above the ground. Nevertheless, using such mechanisms will be rational only when it is necessary to lift an SUV stuck in mud or to move heavy structures.
Pickup height. Car jacks pickup height varies from 60 to 250 mm. The choice must be made on the basis of your vehicle clearance.
Drive unit type. Jacks differ not only in design but also in drive units:

Mechanical jacks operate on the manual force and are suitable for infrequent use, for example, when replacing a wheel on the road. This is a budget option for car owners. Using such jacks every day in the garage or workshop is irrational.

Hydraulic jacks are activated by pressing the handle, and no great efforts are required.

Pneumatic jacks work on a pneumatic circuit, a gas cylinder or an exhaust pipe. When the chamber is filled with air, it increases in volume and begins to lift the car like an air cushion. In this case, no effort is needed as the device doesn't require your implying any manual force.
10. Air conditioner

Air conditioning with heating is not new. Such systems are successfully used both in ordinary apartments and in large offices, shops or office buildings. This is a modern, very economical method of heating the room, which is increasingly gaining momentum. The times when the air conditioner only cooled the air have passed, now everything is much more convenient. There are many types of air conditioners:
A split system is the most popular and versatile type of air conditioner. It includes an indoor unit which is mounted on the wall and an external one that is put on the facade of the building. The distance between them can reach up to 20 meters.
Cassette air conditioners. As the air flow distributes in four directions, this type of split-system heats or cools the air more quickly and evenly. Typically, these air conditioners are installed in bigger rooms.
Mobile air conditioners. You can install a mobile air conditioner yourself and place it on the floor where you need. Most of the mobile air conditioners are designed for an area of 20-30 m². Models that can cool up to 40-50 square meters of space are mostly not for sale. They also cost a lot, that's why it is not a popular option.
The advantage of a split system is having an inverter compressor. It allows you to control the engine speed and smoothly adjust the room temperature. Inverter air conditioners are safe and budget-friendly. They are more expensive, nevertheless your electricity bills will worth it. In comparison with non-inverter conditioners, the difference in energy consumption can reach 30–40%.
It is also necessary to determine what power will be appropriate for your space. The larger the room, the greater must be the power. Simple, isn't it? If there are many electrical appliances in the room, especially computer equipment, it is better to consider air conditioners with a slightly higher power.
Another thing that you better consider is your room's location. Rooms facing south are usually warmer. This is one more reason to think of a more powerful air conditioner.
11. Garage shelving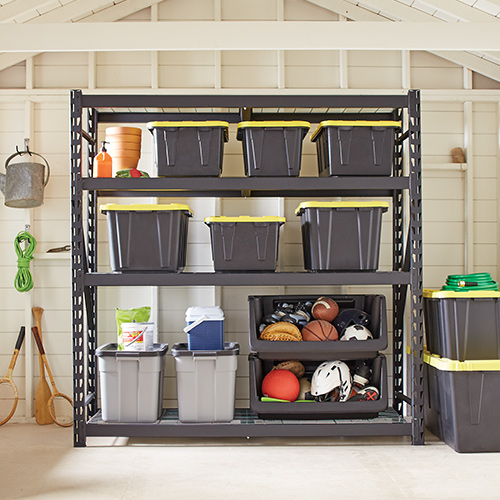 The garage space can be used in various ways. However, everything should take as little space as possible. For a good owner, it is important that his garage is kept in order. At the same time, it is necessary that the stuff does not clutter up the house. A good way to solve the problem is storing all things on the garage shelves. Garage shelving can be made of various materials and have a variety of designs. Here are some possible examples:
suspended shelving or installed on the floor shelving;
one-shelf shelving or more shelves;
wide or narrow shelving;
short and long shelving;
small or large shelves.
There are many examples of homemade shelving. Still, not everyone has the necessary skills or time to do manual work. In addition, it is worth considering that the purchased shelving will have a more beautiful look and in general be strong, reliable and durable.
The desired shelf design should be selected after taking into account what exactly will be stored there:
For tools that are used more often, it is necessary to assign space that will be "at hand". The stuff that is rarely required may lie a bit further.
If there is a need to store liquids, it is necessary that the shelves in the garage are not slippery. You might opt for a sidebar that will prevent the container from slipping. In this case, closed shelves are more convenient.
It is important to consider safety requirements when placing the shelves in your garage. It is necessary to ensure stability and reliability while installing them. Choosing the size of the shelves correctly is essential as well.
In some cases, the correct solution might be to use several types of shelving for different storage purposes.
If the garage owner has to choose the desired size not knowing exactly how everything will be distributed, then it is better to start with shelves having a standard size.
Buying garage shelving is a good opportunity to maximize the use of the garage space. Although a universal solution is hardly possible, you need to take your own preferences into account. Purchasing shelves of several different types will allow organizing garage storage in the most efficient way.
12. Garage bike rack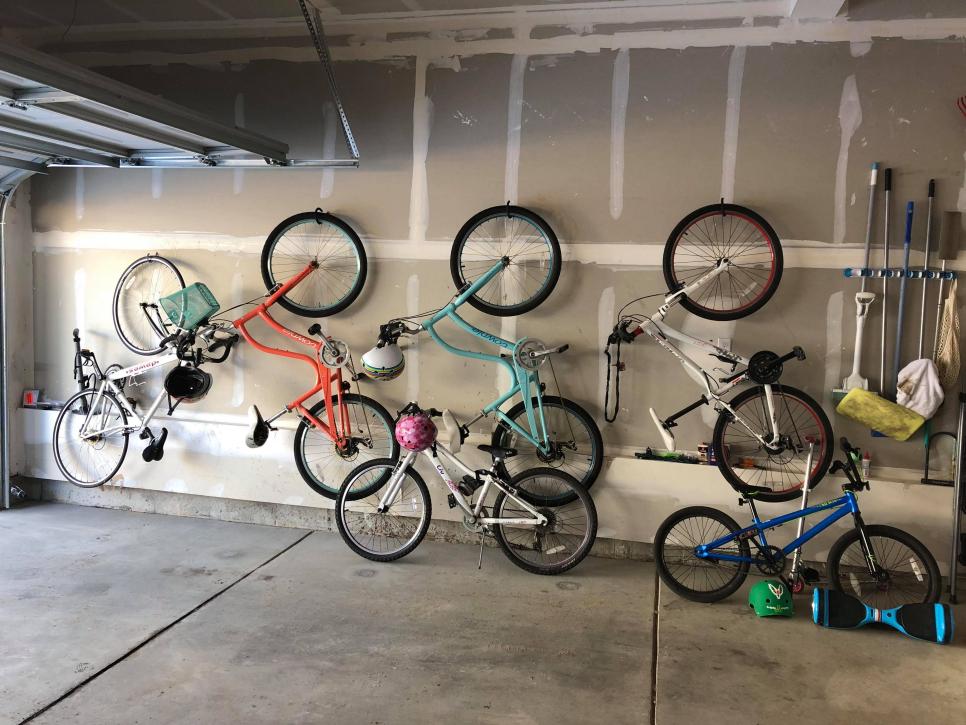 A garage is a place where not only the vehicle is parked, but also a lot of other objects stored as well: for example, bicycles. Very few people use a bicycle in winter on icy roads which makes it a seasonal gear. That's why it is necessary to provide your bike with proper care and storage.
Due to the lack of space, the bike in the garage is most often put on the wall using a bike rack. The bike rack can be mounted so that the bicycle is parallel to the wall or at the angle of 90 degrees. The first option saves you more space, and the second one can take up some room. Mounting your bikes under the ceiling is the third alternative; however, it suits only for high-ceilinged rooms. In other cases, it is rather inconvenient, as with a low-ceiling garage it is harder to move underneath.
Bike rack mounts can be found in a huge variety. We will talk about the most convenient and successful devices for the bike.
Special mounts. Mounts for bikes can be found in almost every bicycle store. As a rule, they are easy to install and perform their function perfectly.
Hooks. Using hooks is the easiest and most economical way to mount your bike.
Racks. Usually, racks are installed with support on the floor, which takes up some additional space. On one rack, you can have two bicycles parallel to the wall or just one bike at the 90-degree angle. Please note that the number of bikes to place on the rack depends on their sizes.
Shelves. Using shelves to place a bike on the wall is more like a design solution than a practical thing. That's why this mounting option is suitable for bicycle storage in an apartment or in a very neat garage.
13. Garage parking aid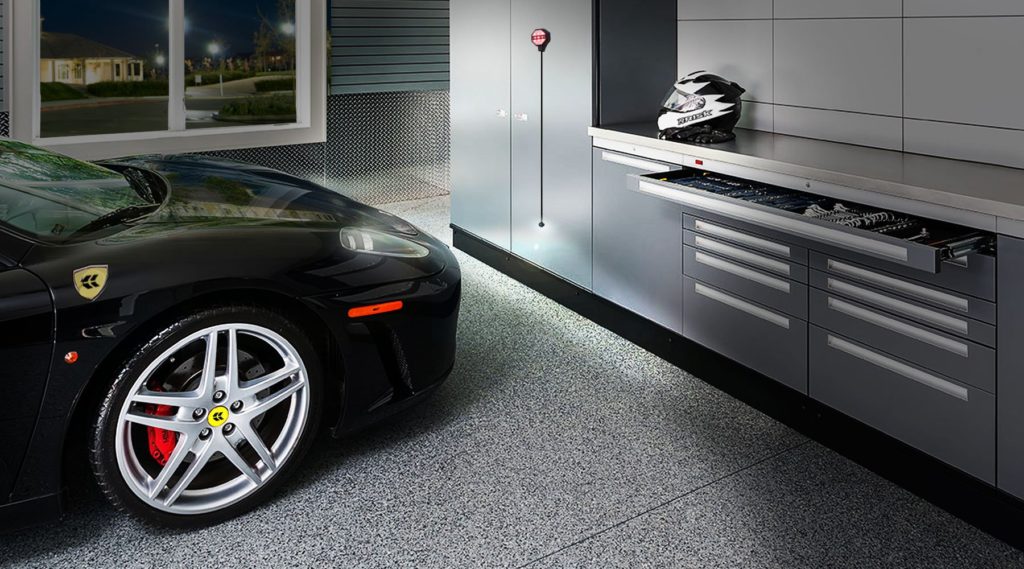 The electronic system of parking aid helps the driver park in tight places and prevents thousands of collisions every day. The use of parking aid greatly facilitates the process of parking for both novice and experienced drivers.
In places like your garage, it is necessary to park your car with delicate precision as you store too much stuff there and can damage it or your car easily. The obstacles that you haven't noticed, will be noticed by the parking aid.
There are different types of parking aids:
Rear parking sensors are built in the rear bumper of the car and turn on when the car starts to move in reverse. This type of parking aid is the most common.
Front parking sensor is installed in the front bumper and is deactivated after the car has picked up a certain speed (for example, over 20 km / h).
Combined parking sensors are a combination of front and rear parking sensors. This type of parking aid consists of 8–12 sensors.
What should you look for when choosing a garage parking aid?
Sensitivity of sensors. The higher it is, the safer you are.
Number of sensors. Using fewer sensors creates blinds areas and increases the possibility of collision.
Installation of sensors. Built-in sensors are placed inside the bumper: for example, in its holes. Surface sensors are glued to the bumper.
Display. There are liquid crystal sensors and LED.
Protection against moisture and dust.
Self-diagnosis function. It can timely inform the motorist about the state of the parking radar.
Warning system: sound signal, LED-indicators or LED-display.
Do not forget to keep your parking aid sensors clean. In some cases, if there is dirt, ice and snow on the surface of the sensor, it may affect the quality of signal reception.
14. Tool kit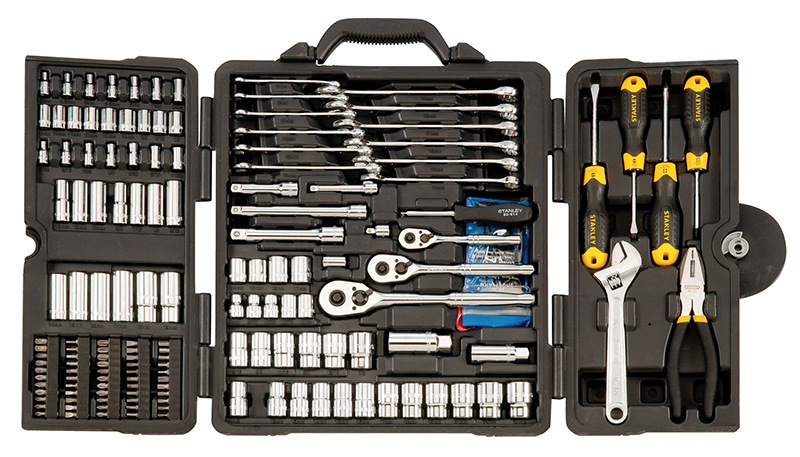 Every motorist knows how important it is to be able to repair a malfunctioning vehicle. However, without special tools, it is almost impossible to do. Therefore, it is important to choose the right set of tools for the car.
There are several characteristics that can help you choose a suitable tool kit for your garage:
The number of items is rather conventional. As a rule, the average set for everyday use consists of about 100 items. Still, the amount of gear does not determine the kit's functionality.
Quality often determines the price of a set. A cheap tool kit is more suitable for car maintenance than for repair. Good-quality sets are suitable for most operations. Professional tools can be used for everyday car care and repair.
Equipment. In some kits, there are axial tools; others can have a set of open-end wrenches. Kits might also include metal tools like hammer, pliers, and screwdrivers. You should choose a kit based on your personal needs as well as operations that you're going to perform.
As you can see, finding a tool kit is no problem at all. They are so different and at the same time universal that everyone can choose the most suitable set for themselves and their car.
15. Grill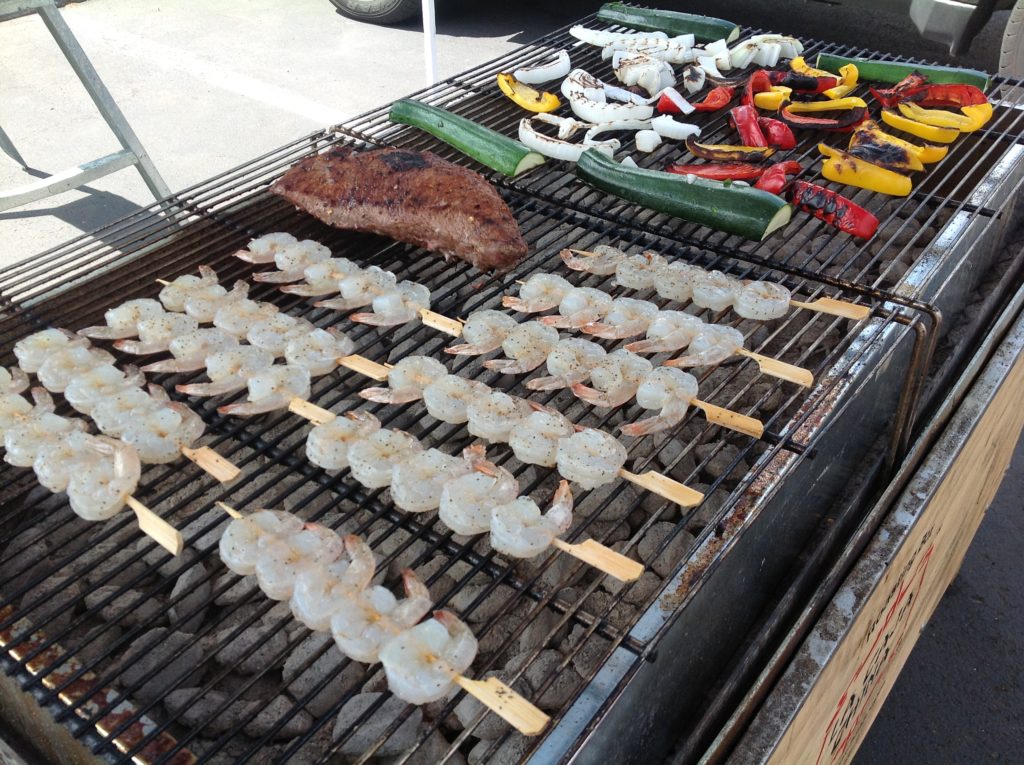 The grill allows you to roast meat, cook steamed vegetables, toasts, and fried eggs. This is a nice addition to your garage, especially if you intend to throw parties in there. Existing varieties of grills are versatile. They can be used both outside and in buildings, such as houses and garages. Modern grills can be divided as follows:
Open, closed and universal grills. In the first case, the working surface of a grill is located above the infrared heating element. Closed models come with a cover that can be closed, thus pressing the food. Universal electric grills can be both open and closed, so you can choose what suits you the best.
Contact grills and contactless. In some grill models, food can make contact with the heating element. In others, it doesn't even touch it, which is more preferable as it makes the food healthier.
Portable and stationary grills. Portable grills can be both used in an apartment and taken on a trip. Thanks to their compact size and light-weightiness, they cause no problems when transporting. Stationary grills can be put on the floor and desktop. They are more suitable for large family and big parties, and they are unfortunately not portable which means you can't take it with you on the picnic.
Working surface can be made of metal, glass ceramics or cast-iron grills. Glass ceramics is the easiest surface to wash; however, a more reliable and durable option is a cast-iron grill or a metal grill pan with a non-stick coating. When it comes to the price, it is more optimal as well.
To buy a high-quality grill without overpaying extra money, we recommend you consider the following recommendations:
There must be a temperature controller which allows you to smoothly adjust the temperature of heating.
The grill is better to be equipped with an indicator that lights up if the grill is switched on.
A grill that is able to maintain the set temperature might be the right decision.
The tray must be removable; otherwise washing the grill after a barbecue will take a lot of time and effort.
To avoid smoke while roasting meat, we recommend that you choose a closed grill.
If you want to steam your food, the grill must be non-stick.
The grill must necessarily have protection from overheating, which will make it fireproof.
In Conclusion
As you can see, there is a lot to buy for your classy garage. All the things that we've listed above help you with improving your life quality. The stuff you buy may affect many sides of your everyday routine, including security and comfort, entertainment and whatnot.
There isn't much we can add. Just keep it all budget-friendly and fulfill your needs. Before equipping your garage make sure that everything will be stored perfectly without taking too much of the necessary space. And have fun! Making purchases should improve your mood rather than causing headaches!