1,500 is the average number of times garage doors are opened and closed, generally in residential areas. For homeowners that have a garage, a quality garage door opener goes from a convenient tool to a necessity very quickly. This accessory allows you plenty of benefits that range from inclement weather protection from your driveway to inside your house, a catalyst that'll speed up the process of transferring your groceries inside without hurting yourself whilst juggling bags and the garage door and overall increased garage functionality.
Types of Garage Door Openers:
To begin with, a basic understanding of how they work entails knowing that standard garage door openers function because of the similar base design. They include a motor which drives the trolley or carriage alongside a rail. This trolley is essentially what is connected to the garage door and as it moves when activated, it'll push the door to close or pull to open. Moreover, there are predominantly four types of garage door openers that differ on the premise of driving utility systems:
1. Chain Drives Openers:
These use a metal chain to drive the trolley that particularly stimulates the elevation and lowering of the garage door. It is an affordable choice to consider but at the same time a deterrent for noise-sensitive individuals due to the noisy movement of chains. These door openers are easily operable manually (without electricity) and generally last long. Thus, they are ideal for detached garages.
2. Screw Drive Systems:
They make use of a threaded rod mechanism for door operation. It has fewer parts and, therefore, fewer breaking down chances and low-maintenance requirements, whilst also working more silently (vibration-free smoothness) than chain drives. Also, it's good for all types of houses except, these aren't suitable for heavy garage doors like those one-piece doors found in older homes.
3. Direct Drive Opener:
In this uncomplicated machine, the motor itself moves the trolley and requires no external parts such as chains or belts.
4. Belt Drive:
With the assistance of a rubber belt system (made of Kevlar polymer, fiberglass or steel-reinforced rubber) the trolley is driven to raise as well as lower the garage door. Hence, this quiet operation is perfect for residential areas.
How to choose the right garage door opener:
When browsing through countless garage opener options consider the following features to maximize value for money:
Backup Batteries that'll especially come in handy in power outages.
Remotes, keypads or wall-mount buttons for the opening.
Miniature keychain remotes which are generally pocket-friendly.
Built-in Wi-Fi allows manipulation from in-app mobile phones.
Manual Release that will allow you disengage the opener from inside the garage as well as let you operate it manually.
Home-automation system connectivity for opener control from remote locations.
Motion sensing security lights that operate automatically.
Vehicle Compatibility syncs devices into the car itself.
Locks that'll prevent other remote accessing chances.
Auto-close functionality that follows pre-programmed orders.
Soft-start/stop motors make the operation silent and, also increase lifespan.
Rail extensions that increase high door compatibility.
LED Lights that activate especially when malfunctions occur.
Jackshaft operator
Rolling code technology keeps your password up to date.
Vacation setting prevents access in your absence.
Force guard control that reduces speed as well as the impact of the garage door opening.
10 Best Garage Door Openers:
Our Top Pick
Chamberlain WD832KEV


Safety and security sensors
Infrared detection
Gate closing timer

Check price on Amazon
Other great Garage Door Openers
Chamberlain WD832KEV
Coming off as a reputable brand, this device especially offers functionality because of a steel reinforced belt drive system and Chamberlain's Motor Vibration Isolation System that eradicates powerhead vibration. As a result, both works synergistically to provide ultimately whisper silent working.
Moreover, it is infused with Chamberlain's MyQ technology which allows access and control via smartphones of garage doors, outdoor lights and house lamp. It has a 180-degree motion-detecting control panel that programs MyQ accessories, new remotes and sets the timer to close door and lights automatically when motion is sensed.
Also, the 1/2HP unit comes along with two three-button remote controls, safety sensors, and wireless keypad and 200W lights.
Specs and Pros:
2 AAA lithium-ion batteries pre-included.
Lifetime motor and, also belt warranty, 5 years for parts and 1 year for accessories.
Remote control communicates via tri-band frequency over large distances.
Wireless keypad lets you set up distinctive four-digit codes.
Protector system safety sensors with rapid-snap brackets automatically reverse the door if an invisible beam is interrupted.
Highly safe from hurting people.
Chamberlain's Security+ anti-burglary technology keeps sending new codes hence cannot be intercepted by thieves.
PosiLock Theft locks as soon as the door closes.
Infrared detection.
Manual release handle is present.
Detailed installation assistance via videos, pre-programmed remotes, as well as snap-lock rail.
Automatic notification particularly if garage door opens, a light left on or possible intrusion.
Timer-to-close automatically closes garage door 1, 5 or 10 minutes.
Cons:
MyQ Internet Gateway sold separately for an additional $40.
Limited to iPhone and, also Android Compatibility.
Light bulbs sold separately.
Self-assembly is complicated.
Only works with doors up to 7ft high.
Motor not as powerful as competing brands.
Cannot be included in centralized home automation.
Chamberlain 8808CB 8ft Belt Drive Extension kit sold separately.
Direct Drive 1042V004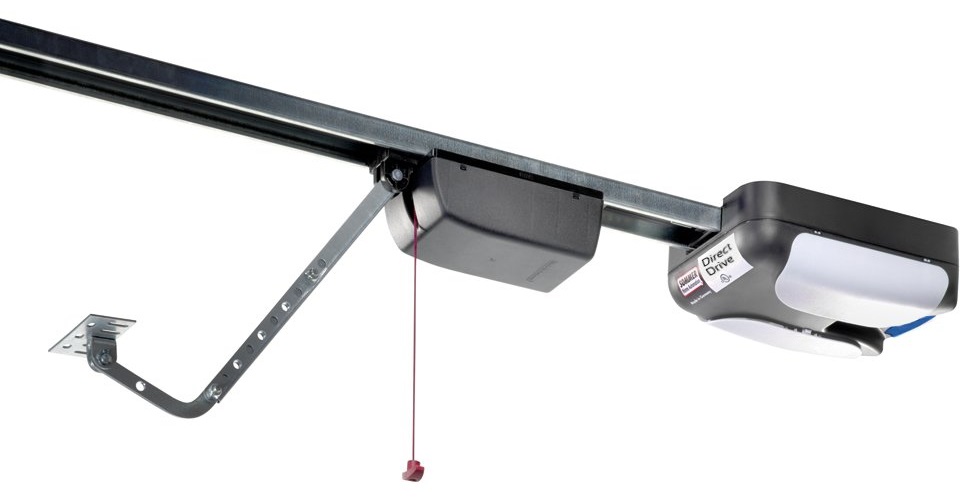 At a bargain bragging price, this German-made, 37lb, black garage door arrives with an interior wall station, lithium-ion batteries, safety sensors, two 2-button transmitters, and, also mounting hardware. Furthermore, this hardy ¾ HP opener includes a rail for 7ft to 8ft door heights, is Homelink compatible and only uses one moving part motor that glides steel rail embed chains.
Specs and Pros:
Pre-included batteries.
Lifetime warranty.
30,000 hours of operating ability.
Affordable.
All customers reported it as the most silent product they purchased, hence, ideal for an attached garage.
Full installation kit included with multifunction wall controls and, also remotes.
Reverse sensors, as well as Rolling code technology, enhance security measures.
Soft start and stop feature included
Additionally, motors planted at carriage door maximize power output equivalent to industrial strength.
Stress-free installation and low maintenance.
Advanced internal obstacle detection system.
Cons:
No motion-detection lights.
No wireless entry keypad.
Buttons on remote too small and hard to press.
Lift systems incompatible in replacements.
No built-in Wi-Fi
Does not have a battery backup.
Also, no timer-to-close feature.
No smart control compatibility.
Comparatively slow to open and close.
Issues in connecting to Homelink in-car remote control system.
LiftMaster 8500 Elite Series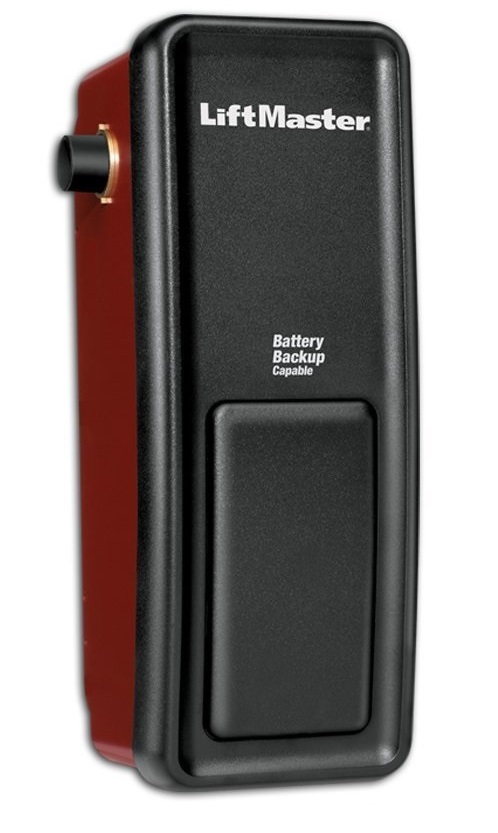 In the third place, this product is innovation at its fingertips and a bit of a financial splurge. The LiftMaster particularly dazzles with its Jackshift drive for doors that have a front-mount torsion spring. Moreover, on the adjacent wall to the shaft that rolls the door is mounted the opener that drives the door directly. Therefore, it is not a DIY product and requires professional installation. It is also a force to be reckoned with its 24V DC P3 motor produces ¾ horsepower. A further testament to their attention to detail is the built-in box opener strip.
Furthermore, the remote light wireless unit contraption can be plugged into any 110 V outlet. Its keyless entry keypad means that you can store codes for up to eight doors i.e. multiple opening and closings all at the same time with a touch of a single button. Its cable tension sensor monitors strain in cables as well as protects the door from externalities.
Specs and Pros:
Lifetime motor warranty and, also a 5-year part warranty.
24x10x12 inch compact design enhances ceiling space freedom.
MyQ enabled; home automation.
Opener controlled through a smartphone.
Reported to be highly durable as well as long-lasting.
Weather resistant; waterproof.
Remote Light control.
Remote light switch.
Auto-force helps monitor garage door system 24/7 in accordance with track movements, floor heights, and even temperature.
Battery-Backup is available.
Full control over 200W Lighting.
Infrared Safety System Beam reduces injury risk.
Automatic door reversal when interference detected.
Criminal hijacking-proof with security+ 2.0; Non-stop code hoping feature.
Timer included.
Protective gear case included ensuring frequent lubrication.
Adheres to all UL325 guidelines.
Rechargeable battery and manual release inclusive.
Energy saving at standby mode.
Power Locks and automatic deadlock.
Cons:
Additional $40 fee for CIGBU internet gateway.
Additional cables are too short.
Screws provided are of lower quality.
Opener operates door too slowly.
Overall expensive with installation and additional purchases.
Only one remote included.
Chamberlain B970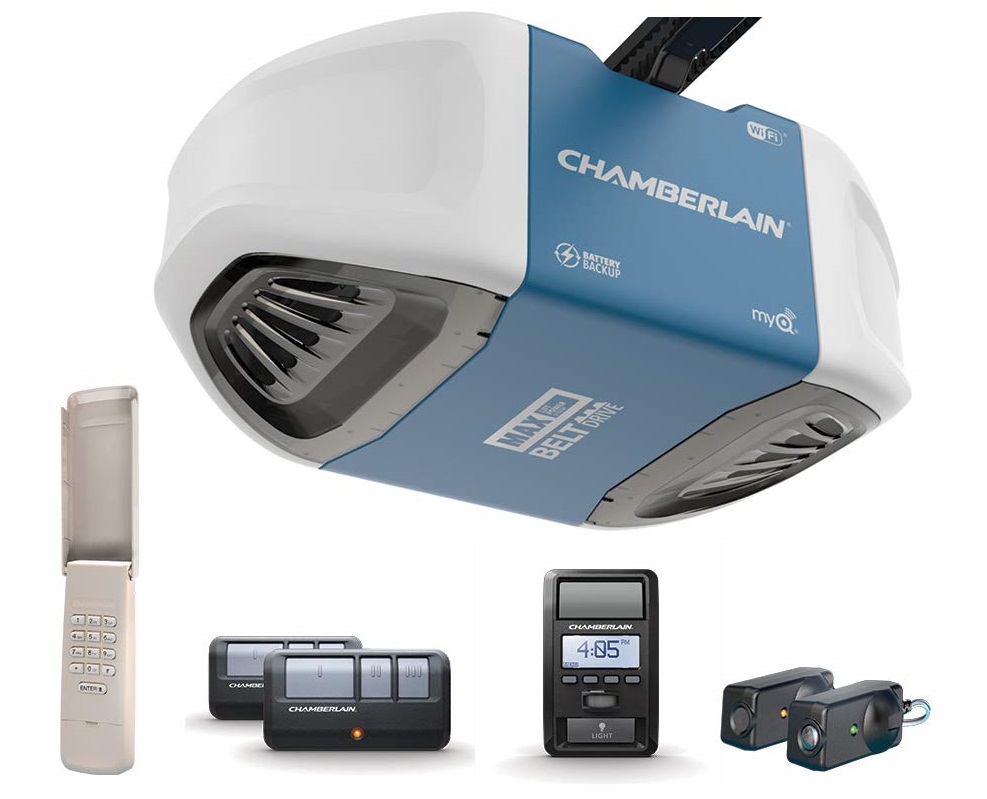 Ranked as a purchase that gives you a complete bang for your buck, the Chamberlain B970 is especially armed with smart technology with built-in MyQ technology, delivers a lifting force of 1-1/4hp, real-time garage door status updates via High-tech smartphone controls, extremely powerful steel-reinforced belt drive, anti-vibration technology, customized door schedules and Max Chamberlain Lift Power System. Additionally, the 2-3 button tri-band frequency allows combination control of up to 3 openers. Moreover, it's designed specifically for seven garage doors.
Specs and Pros:
Built-in backup battery.
Lifetime motor and belt warranty.
Wi-Fi compatibility.
TriBand frequency magnifies remote rang up to 1.500ft.
Security+ 2.0 produces 100 billion code encryptions to fend off intruders.
Posilock ensures locks that cannot be hacked.
Easy installation guides available online and, also snap-lock rail system.
Wireless keypad included.
Safety Sensors included.
Motion Detecting Control Panel included.
Highest lifting ability.
Anti-vibration technology, hence, monumentally noiseless.
Cons:
May need a bridge for use with an in-car remote.
Fee required to integrate with home automation platforms.
The smart system only works with 2.4 GHz Wi-Fi, not 5 GHz.
No lifetime parts warranty.
Extension kits required for 8" and 10" doors.
Craftsman 30498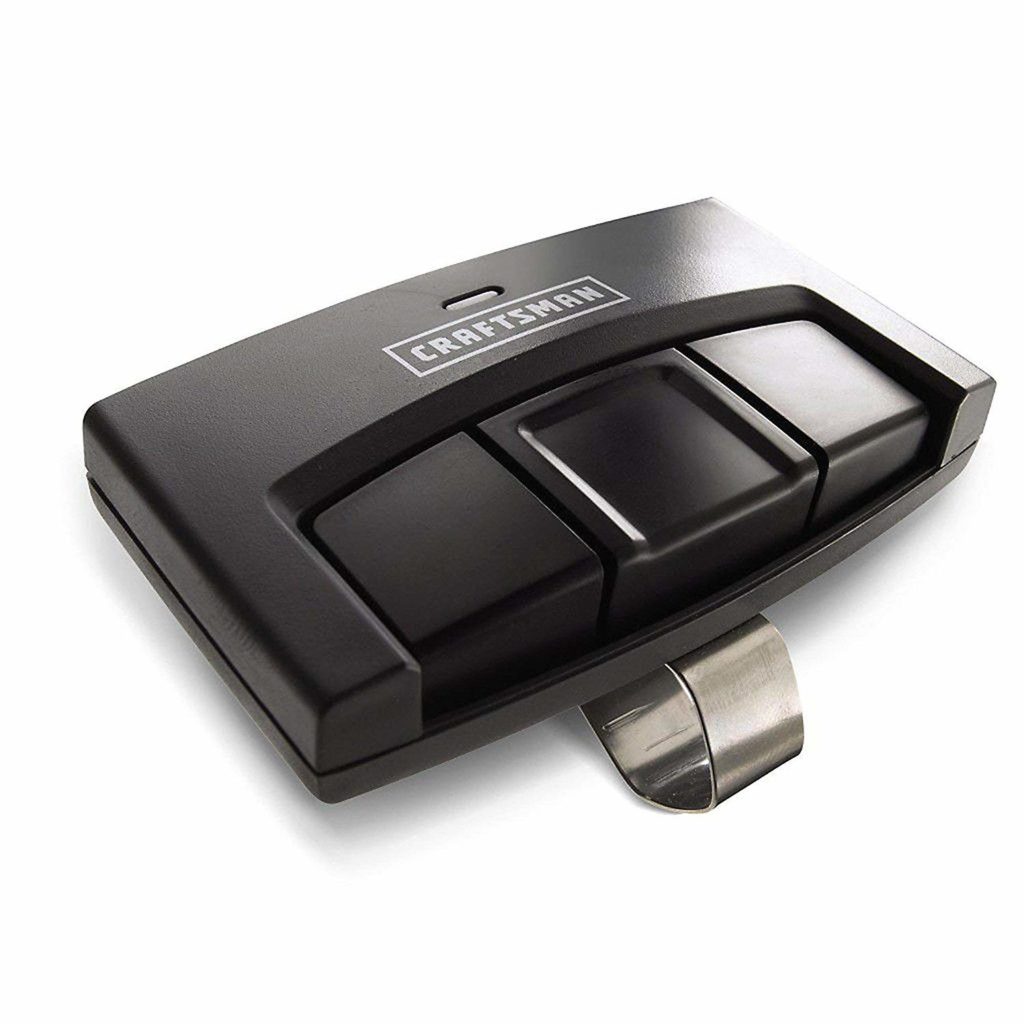 To begin with, the Craftsman 30498 is an economic buyers' dream come true. It features hard metal hooks that slide directly into the visor and, also brings forth Security + 2.0 Assurelink Technology. The package delivered will comprise of a visor clip, battery, as well as a programming instruction manual.
Specs and Pros:
Learn button makes it particularly compatible with all Craftsman openers.
Controls up to 3 garage doors and Assurelink Devices.
Slim designed remote.
Designed for billion and rolling code features.
LED lights indicate activation.
Battery change notification provided.
Exceptionally budget-friendly.
Cons:
A random door opening and closing combinations may occur.
Others with the same remote can control different garage doors.
Programming instructions misleading.
Need to be closer to the garage when using side remote buttons.
Chamberlain B550
As a result of the built-in technology, you'll eternally possess control over your garage doors. It implements built-in myQ technology that establishes 24/7 connectivity along with a wireless keypad, dual functioning wall control panel and, also tri-band remote technology. You can even pair it up with your home Wi-Fi as well as ISP firewalls for up to 7ft garage doors.
Furthermore, it's a sturdy product made of steel-reinforced belt drives and top-notch materials with Chamberlin's MED Lift Power System granting it the strength to lift 1/2HP. The 2 3 button remotes extend the dominion of 3 openers and are also complemented with pre-included lithium-ion batteries and a visor clip.
Specs and Pros:
Wireless code enlists 4-digit code use.
Revolutionarily silent operation.
Compatible with HomeLink in-car remote control system.
Budget-friendly.
Runs very efficiently and inaudibly.
Highly responsive to smart commands.
Built-in Wi-Fi.
Remotes have 1500ft operating range.
Intense safety features; anti-theft lock protection, Posilock, reversing sensors and hard to crack 100 billion code encryptions.
Smartphone synergy permits vacation locks, status alerts and automatic closing times.
Cons:
May need compatibility bridge for some in-car remotes.
Additional fee required with home automation platforms.
Smart System runs with 2.4 GHz, not 5GHz.
Extension kits required for 8" and 10" doors.
MyQ lighting sold separately.
Only 10-year motor warranty, 15-year belt warranty and 1 year for parts as well as services.
Chamberlain C410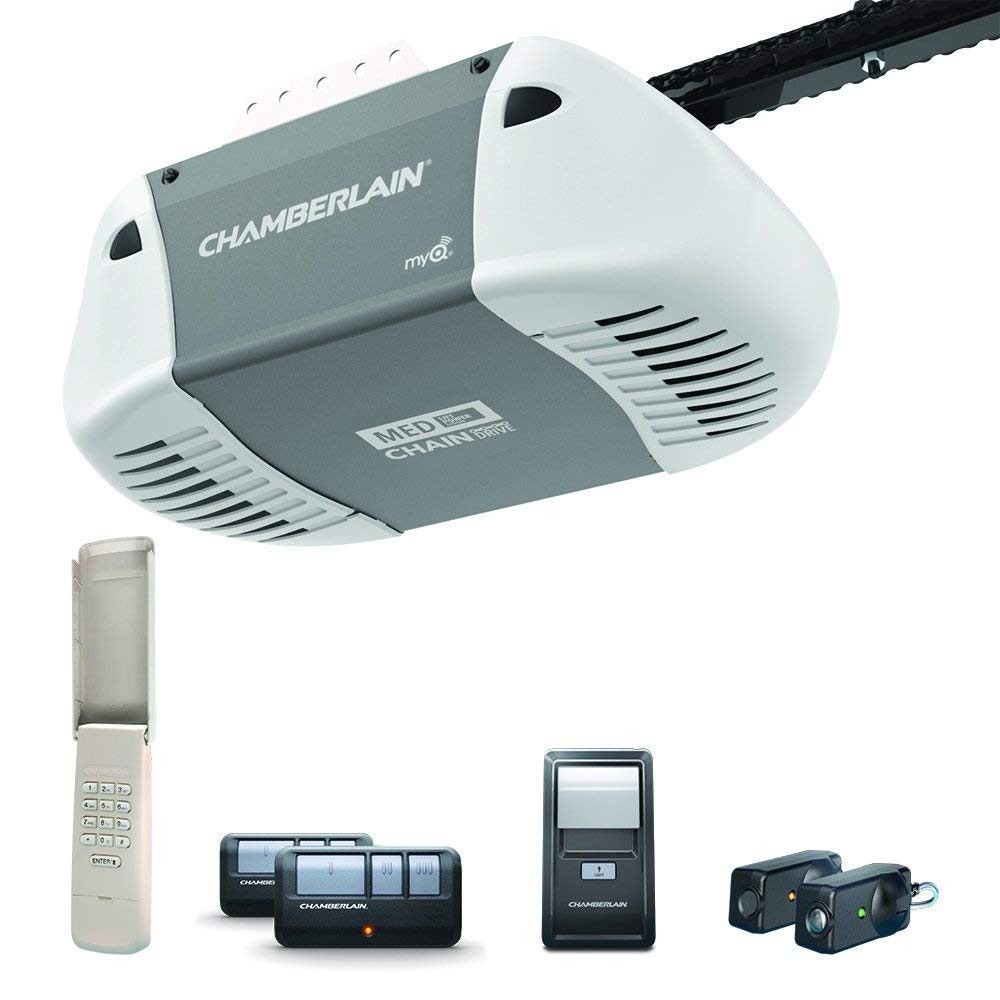 For the most part, owners of standard sized garage doors will be pleased to buy the enduring Chamberlain C410 with its 1/2HP motor and medium lifting power. It employs a crude, steel construction chain drive that is along with 3 other openers controlled via a 3 button garage door remote.
Specs and Pros:
Inexpensive product.
Clear and concise instruction manual.
Impressive 1500 ft. remote range.
Lithium-ion batteries and visor clip included.
High precision fabrication.
Security+ 2.0; 100 billion code encryptions, anti-theft precaution and posilock.
Easy to install.
Dual function wall control and wireless exterior keypad included.
Cons:
Cannot use integrated buttons in the car or a universal remote.
Louder than belt-driven lift systems.
No lifetime motor warranty.
Extension kits required for 8" to 10" doors.
Smart Garage Hub has to be bought separately for upgraded Smartphone Control MyQ.
Reports of included brackets being of low quality.
Circuit board emits radio noise.
Reports of lights staying on continuously.
Genie SilentMax 1200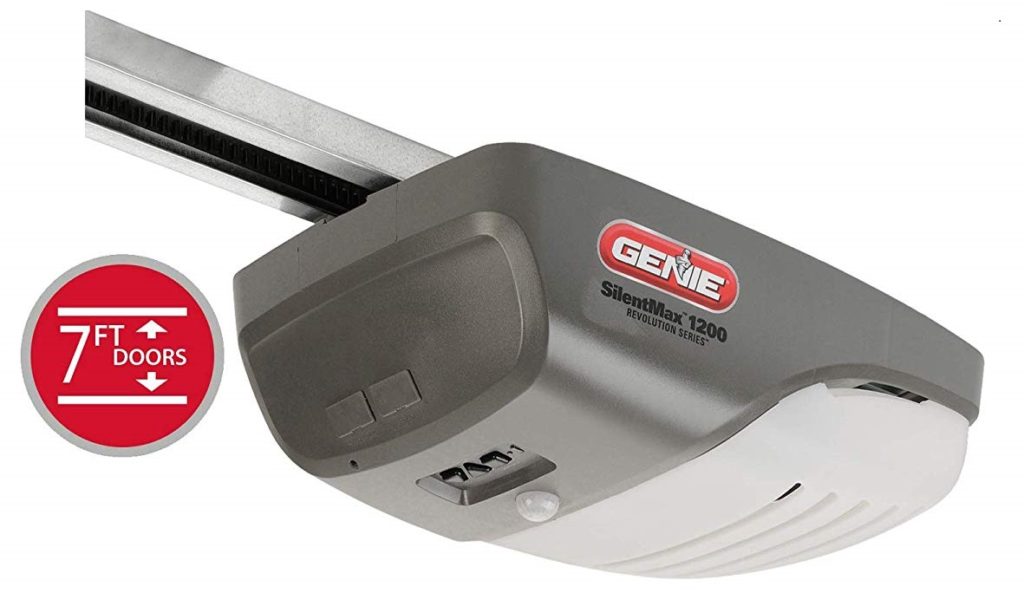 In brief, with its competitive market pricing, aesthetic appeal, and 3/4HP electric motor this is an elite generation product. Particularly, it can lift 750lbs whilst not straining the electric motor. Besides, with the main console, you get a wireless card, wall console, and two remote controllers. Its belt-drive system, alongside rail, is especially steel-reinforced. It also offers premium IntelliCode that results in code hopping which changes the radio code every time
Specs and Pros:
Speedy functioning; opens doors up to 9"/second movement, meanwhile, other brands only reach 7"-8".
Impressive 140V DC motors superior to AC motors, with soft start and stop controls.
SmartSet Programming reduces startup problems.
Battery backup included.
No additional hardware required.
Despite low-pricing, it includes GenieSense Monitoring and Self-diagnostic Sae-T-Beam technology that allows scanning and reduces maintenance downtime.
No remote controller needed.
Rolling code technology included.
Safety beams, wireless keypad and motion detector included.
Lifetime motor warranty and 5 year part warranty.
C- channel rail enables hassle-free installation; Compatible with Aladdin Connect.
Wall control with a light button and vacation lock, preprogrammed remotes, safety sensors hardware, batteries, as well as an instruction manual included.
Cons:
Lack of rail assembly for doors larger than 8ft. additional extension kit required.
Also, no smartphone or internet-connected functions included.
Reports of circuit-board failure.
Chamberlain B503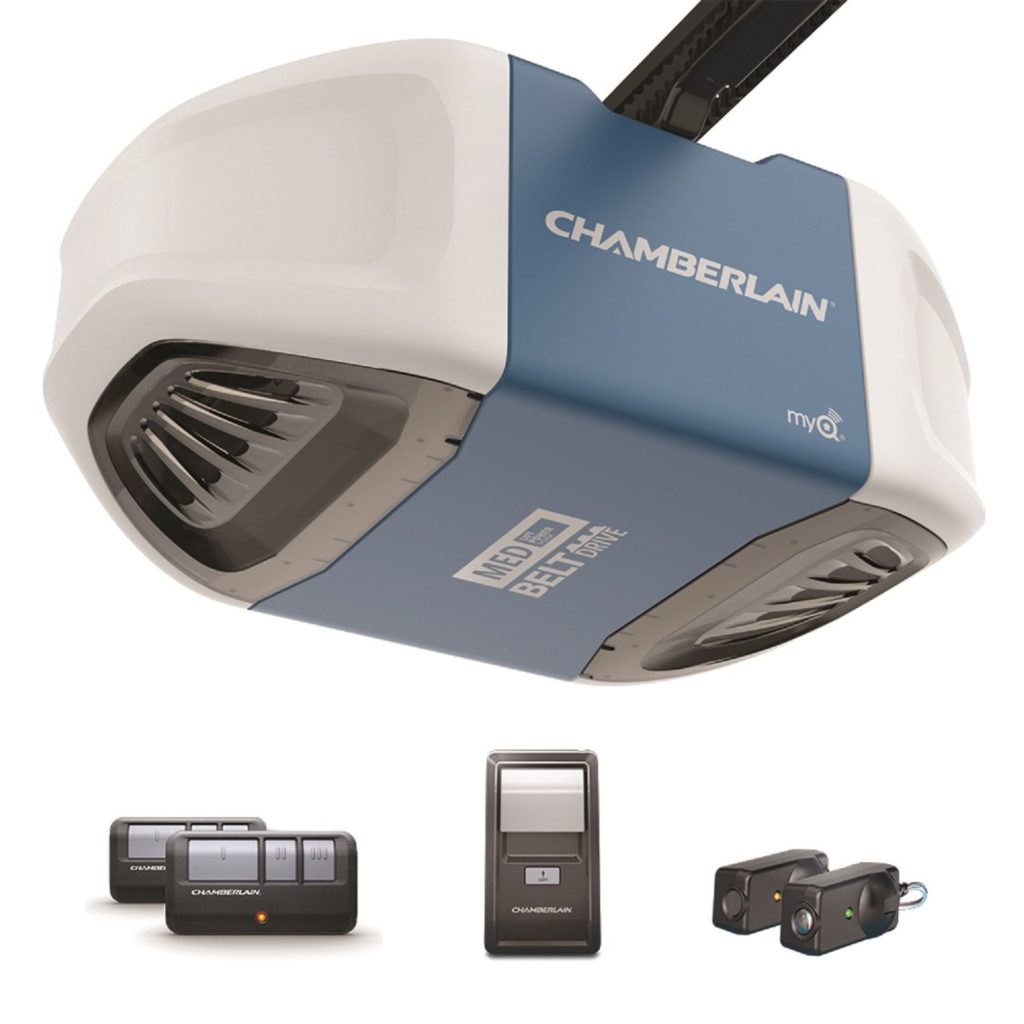 Another reasonably priced gizmo that has steel-reinforced belt-drives that are hushed next to attached garages. Backed up by Chamberlain's MED Lift Power System, two 3-button remote controls that operate 3 openers, Triband technology, an opener rail, dual function wall-control, safety sensors, and mounting hardware and manual means you can't go wrong with this item.
Specs and Pros:
First-grade materials promise reliable and effective running.
Remote range of 1500ft.
Security+ 2.0; 100 Billion code encryption and Posilock anti-theft system included.
Lithium Batteries included.
Problem-free installation.
Preprogrammed remotes.
Cons:
No lifetime motor (10yrs) and belt (15) warranty. Only 1 for parts and accessories.
Subscription based service fee for Alexa support through IFTTT.
Rail tends to flex at the joints.
Some of the parts provided difficult to fit together.
Some vehicles need an extra module to make cars' built-in opener system sync up with this product.
Craftsman ½ HP Chain Drive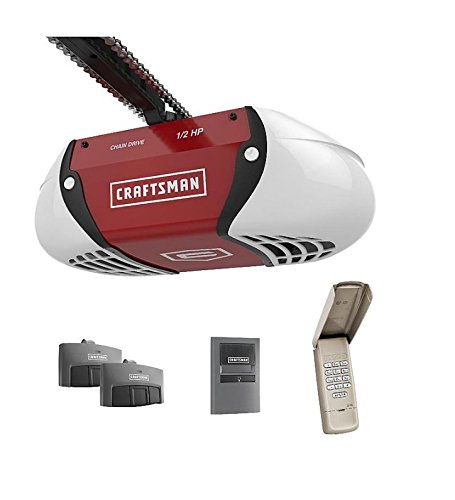 Within its modest price range, the end-user will be receiving a noble choice for ornate, wooden and metal sectional doors. This low-volume, low-vibration tool performs at 0.5HP chain drive for doors up to 7ft, the kit includes 2 remote controls, and a manual and automatic door release.
Specs and Pros:
Rolling and lock mode disables door functionality if remote is misplaced.
Automatic light sensor adds on safety via infrared beam detection.
Light (two 100Wlights) programming option at different time intervals.
Automatic halting at an intrusion.
Lifetime motor warranty and 3-year limited warranty for parts.
Quick install rail system.
Keyless entry number aid is available.
Energy saving sleep mode caps on less than 1W of power.
Tri-Frequency radio eliminates interference.
Cons:
Cannot connect with HomeLink, MyQ and home automation systems.
No smartphone connectivity.
Lifts only 250lbs; much lower than others on this list.
A garage door brings in the palm of your hands' extreme convenience, not only does it result in enhanced security, but it also provides illuminated and exclusive access to your home. Parents with younger children can use garage door openers to prevent exposing their children to harsh weather in cold months when they'll have to run inside.
Furthermore, it's very important to remember to read the garage door opener specifics to make certain that it will work in sync with your garage door based on the size, build and make of it. It is relatively easy to install a garage door opener and even more so if it is just a replacement.
The functionality of the unit, installation guidelines, features and warranties offer should all be carefully considered before a purchase is made.
FAQ for garage door opener buyers
1. Can I install the garage door opener myself?
There is no unambiguous answer to this question. If you are a professional in this field, it is, of course, easy to install a garage door opener on your garage door.
If you do not know how to do such things, it is best to contact a specialist and a specifically qualified person will do everything correctly. Do not blindly follow the instructions that come with the device – it may not take into account some of the nuances and features of your doors.
2. Do I need a backup battery for my garage door opener?
There are times when the power goes out. This may be due to repairs, bad weather conditions or something else. In any case, if you are left without electricity and do not have a backup battery, you simply cannot open your garage door!
You have to admit, it is a terrible unpleasant situation. The backup battery will work for you for more than 24 hours (depending on the model) when your home does not have a constant power source.
3. Do I need to synchronize the door opener with my smartphone?
Not all garage door opener models have a synchronization function. However, we are living in an era of technology, so most door openers have the ability to connect to your smartphone or Wi-Fi network.
If you have situations where you forget your key fob that opens the door, this connection will be convenient for a quick opening. In some cases, manufacturers provide not only connection to the system, but also additional information products that you can download.
4. How long does the garage door opener work?
Door opening devices are not a permanent purchase. It is quite an expensive system, which usually works for at least 10 years. After that time, the springs and mechanisms that open doors can begin to wear out.
It may also happen that you just need to replace one of the internal parts – and the device itself remains in working condition even after 15 years of operation. It is best to carry out an annual inspection so that the door opener can be repaired immediately if necessary.
5. Why do I need an automatic reverse?
Imagine the situation: you close the garage without looking, going into the house. However, you are followed by your pet or child standing right under the gate. How creepy the situation can become if there is no automatic reverse function!
It is also necessary for the case when you accidentally press the door closing button while leaving or entering the garage. Of course, there are garage door openers with motion sensors as well, but their cost is much higher.