There are two types of garages, as we have already learned from our previous article. The first type is a garage that is built into the house, so it is very warm and comfortable inside. You can call your friends and have a party, take care of your car every day, poke around in a workshop, install a drum set for your local band… There are so many options for spending time in the garage that it would take hours to recite. By the way, you can read our article on the funny garage activity ideas right now!
The second type of garage is a separate building that stays away from your house, so it's colder in there. In summer, you can hide there from the sun. However, in winter you might prefer not to appear there or, when you really need getting inside, escape to the warmth of your home as soon as you're done.
Is that a common situation for you? What should you do if you have to spend a lot of time in your freezing-cold garage? We can recommend you buying a garage heater, and in this article, we have made our list of top ten best models.
Advice for Choosing a Heater
Of course, before buying a garage heater you should calculate the area of ​​the room. It is irrational to use a powerful heater for a smaller garage. Trying to heat a large workshop with a small portable heater won't work either.
In smaller rooms, it's better to install an infrared heater. It is less powerful than fan heaters; still, an infrared device is enough to heat such space. In addition, they usually heat up faster than fan heaters.
For a larger garage, it would be wiser to choose a powerful fan heater that can maintain an optimal microclimate for a long time even in the iciest room.
Now, let's see what models are there on the market!
Our Top Pick
Fahrenheat FUH54 Garage/Utility Heaters


Power up to 5000 Watts
Automatic shutdown on overheating
Can be installed in different locations in the garage

Check price on Amazon
Other great heaters
IMAGE
PRODUCT

Dr. Heater DR966 240-volt Hardwired

5 louvers to regulate warm air flow.

Check price on Amazon

NewAir G73 Hardwired Electric Garage Heater

Up to 500 square feet of possible room heating.

Check price on Amazon

Comfort Zone Wall Mount Heater

2 temperature levels for heating.

Check price on Amazon

Lasko 5309 Electronic Oscillating Tower Heater

Small heater with safe ceramic elements.

Check price on Amazon

Stiebel Eltron 074057 240-Volt 2000-Watts

Wall-mounted device manufactured in Germany.

Check price on Amazon

Modine HD45AS0111

Huge multifunctional heater with convenient ventilation.

Check price on Amazon

Mr. Heater 30,000 BTU Vent Free Blue Flame Natural Gas

Budget device for placement on the wall or floor in a garage.

Check price on Amazon

Heatstar By Enerco F125444 Radiant Overhead Garage Heater MH25NG Natural Gas

Infrared radiation for space heating.

Check price on Amazon

Space Heater – Oscillating Ceramic Tower Heater 34 Inch

Perfect looking device for temperature control not only in the garage, but also in the house.

Check price on Amazon
1. Fahrenheat FUH54 Garage/Utility Heaters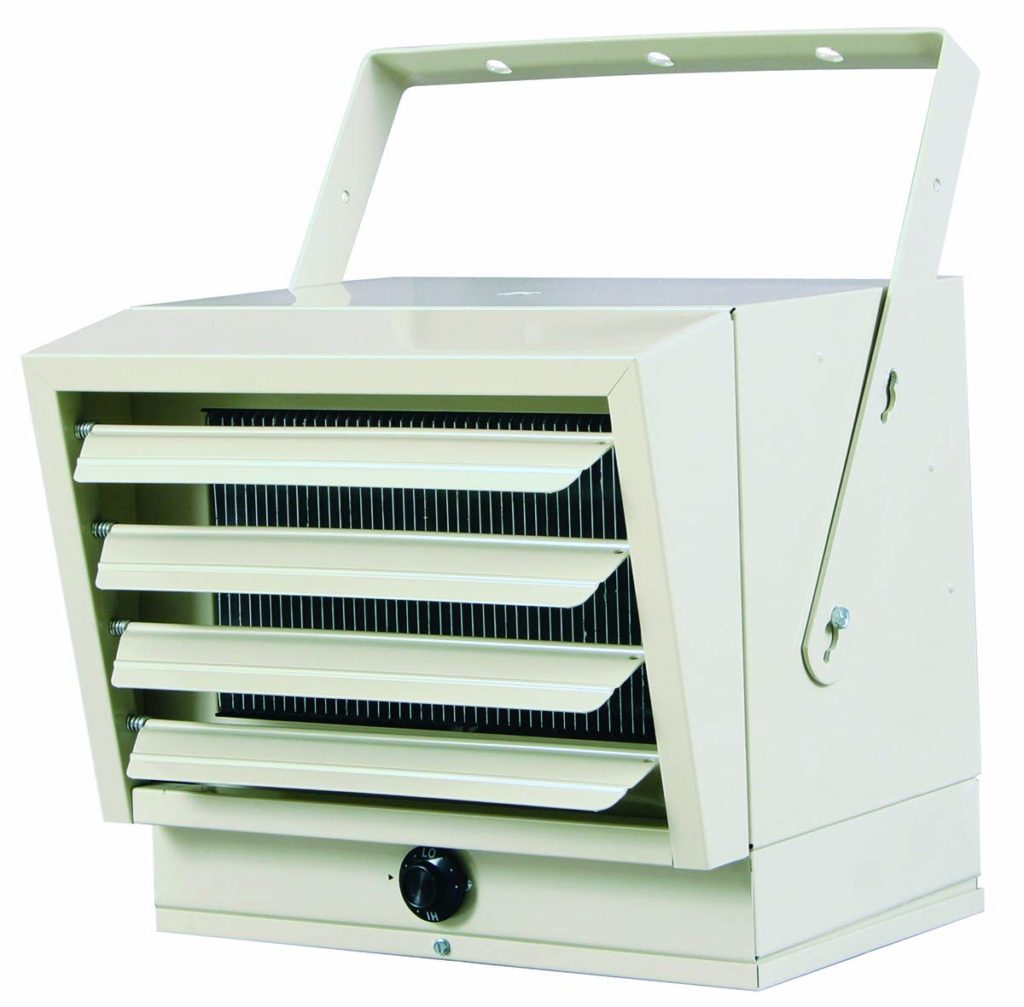 Now, our list of the best garage heaters begins with this item made by Fahrenheat. It is one the best options for any garage, basement or workshop. The equipment can be mounted on the ceiling or the wall which makes it more suitable for places where there isn't much free space.
Besides, let's see what else it can offer:
This regulating 2500-5000W electric heater can heat the room from 45º to 135º Fahrenheit, depending on your needs and wishes.
The louvers' angle can be modified and adjust the airflow this heating the area directly.
When the device is overheating, it turns off automatically and later comes back to work as soon as the temperature drops to its norm.
The heater is most suitable for spaces up to 500 square feet. If you have a 2-car garage or a bigger room, it is surely a safe bet.
However, you should also expect that:
The device doesn't look particularly pleasing and might take off of your garage's interior, especially if you tried to keep it somewhat stylish.
You can find cheaper models on the market. However, they might not be of such good quality.
As it creates the airflow around the area, it also makes the dust move and rise higher, which is not healthy for your body.
2. Dr. Heater DR966 240-volt Hardwired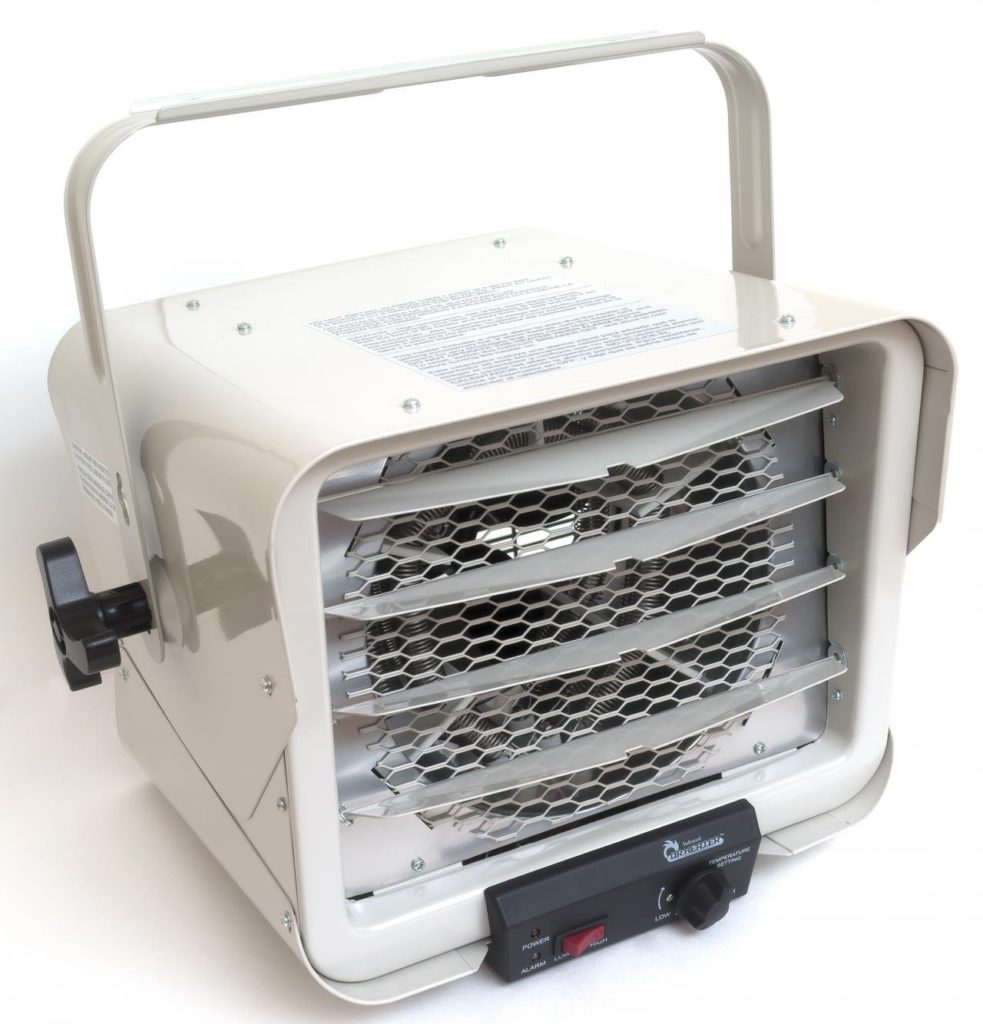 Another good heater for your garage that we definitely recommend you consider is produced by Dr. Infrared Heater. This model is definitely cheaper than the previous one; nevertheless, it doesn't affect its quality even the tiniest bit.
Are you wondering why you might want to buy this particular heater? Let's find out:
This 3000-6000-watt device can be mounted on a wall or ceiling which helps you with the lack of free space.
There are 5 louvers built in this heater that adjust the airflow to any direction you want and distribute the warmth dynamically.
The thermostat has two modes, LOW and HIGH, and provides non-turbulent and quiet operation thanks to its 8-inch fan.
On the other side, of course, any product has its own disadvantages. Although this heater is a good deal, you should consider that:
The way it heats up the air and helps it circulate might make the dust move in your garage.
There is no anti-overheat protection system in this heater.
It looks somewhat cheap and bulky, although performs its direct functions in the best way possible.
3. NewAir G73 Hardwired Electric Garage Heater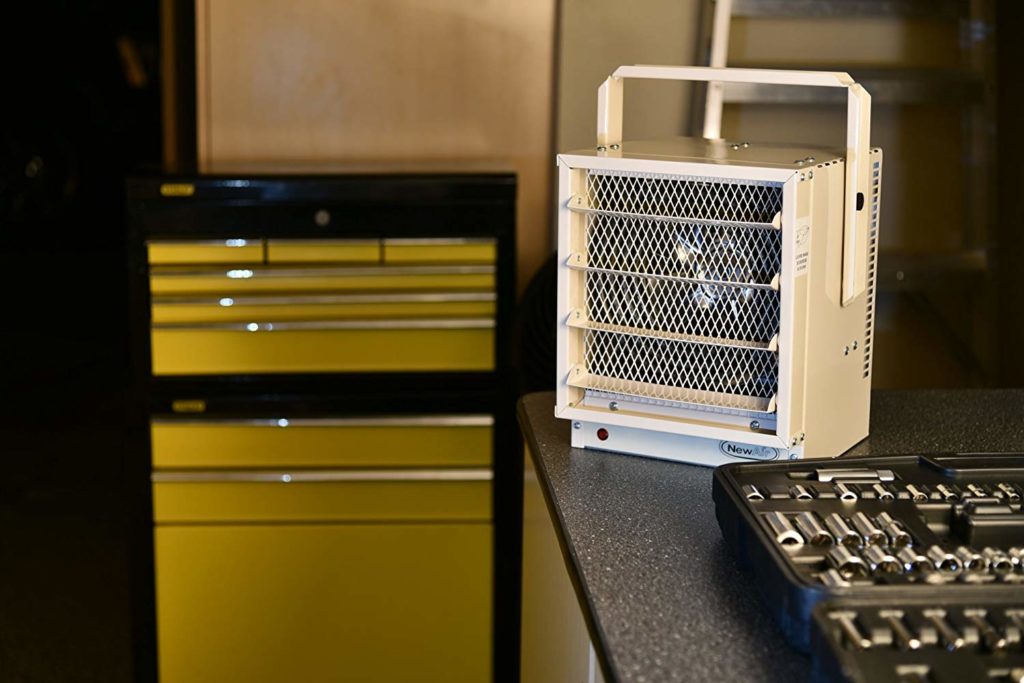 Meet another good garage heater made by NewAir! Although it is a bit more expensive than the previous one, it still keeps its position in the middle-range of the market prices. Its good quality is undeniable, and there are many other reasons for you to consider purchasing the item.
The advantages are as follows:
There is a protection system that shuts off the thermostat as soon as it begins to overheat.
This item is made of stainless steel. You can be sure of its durability; it will serve you long years very well!
NewAir garage heater is hardwired which eliminates a good bunch of problems that are characteristic of propane heaters.
The coverage of this model is 500 square feet, which is a great deal of you have a bigger garage that fits more than one car.
Mount it on the wall or leave standing on the floor or a counter, it's up to your needs!
So, this option isn't bad at all, right? Nevertheless, we should discuss its downsides.
According to the manufacturers, it is recommended to install the heater via professional electrician help.
Of course, there are more affordable garage heaters out there.
4. Comfort Zone Wall Mount Heater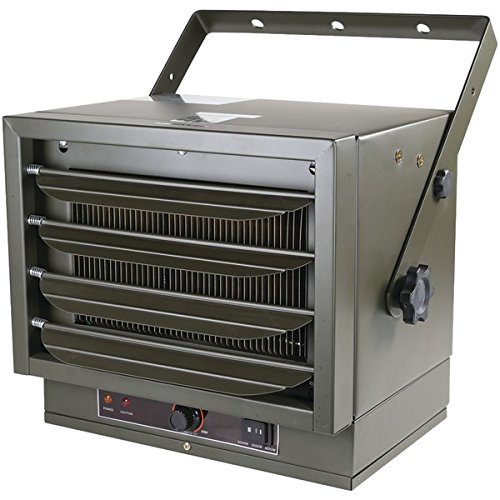 Let's check one more garage heater to keep you warm as you take care of your car or stay in a workshop. This item by Comfort Zone will surely increase the temperature of any space you want. As usual, there are both pros and cons to this object. Let's see if this is truly the best garage heater to buy!
This 7500W garage heater has 2 temperature levels to switch between, depending on whether you want warm or hot air flow.
The heat disperses across the room in a dynamic way as the fan-forced airflow helps its circulation.
The price of this garage heater is of a lower range, so you can save up some money and invest them into something else. For example, see our article on the best lawnmowers to have in your garage!
The design is quite good: the device doesn't look bulky or poorly manufactured, which is a common thing for garage heaters.
Now, be aware that:
Because of the airflow, this garage heater will make the dust move a lot, and you will need to clean the room more often, or you'll find it harder to breathe.
There is no precaution system against overheating, and the device won't switch off automatically.
5. Lasko 5309 Electronic Oscillating Tower Heater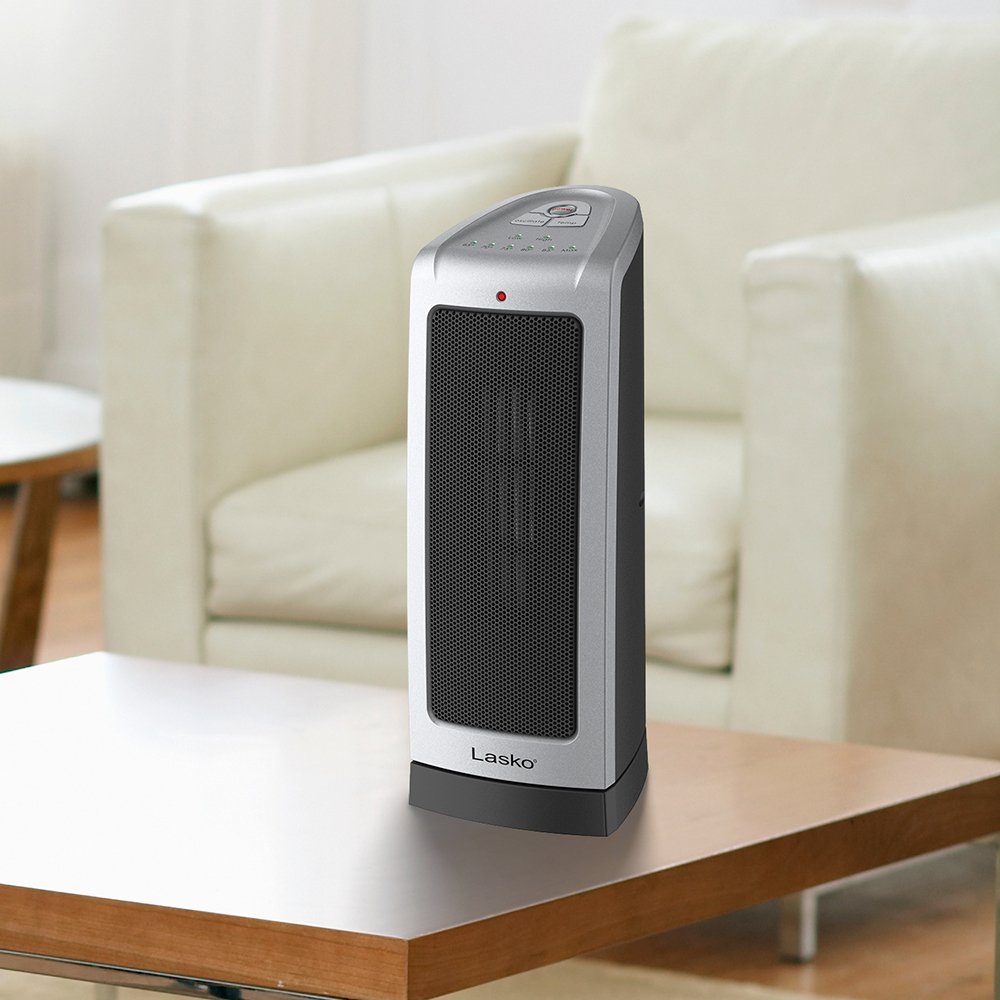 Of course, we won't be only talking of the wall and ceiling heaters. There are good deals on the market that offer you portable standing devices. By the way, they are usually cheaper and can be put anywhere in the room, both in your garage and house.
For instance, let's consider this small heater by Lasko. You will have a wonderful experience with this item because:
It is extremely easy to use and relocate. You can switch between two modes of operation (LOW and HIGH) and maintain the exact temperature you want.
This Lasko tower heater has a built-in handle. Just grab it and move your heater over to where you want it to be!
The design is great. The size is small. This Lasko heater looks like some smart hi-tech device that would play you jazz and report you on weather conditions while simultaneously making breakfast as you take a morning douche. And of course, if there isn't much place in your garage, Lasko heater will fit in just fine.
The price is extremely affordable. This is a good and multi-functional investment, as you can use this heater just anywhere.
This safety-first heater with ceramic elements has increased overheating protection.
Still, even such a wonderful product has its own downsides.
Its maximum is only 1500 Watt, which isn't a lot. Actually, for a garage or a workshop, it is rather poor. If it tends to get freezing cold in the room that you buy a heater for, we suggest you look up other devices.
Of course, it needs a network connection and a socket to plug in. Although the heater is portable, because of the short cord, some places in your garage or household might be hard to reach.
6. Stiebel Eltron 074057 240-Volt 2000-Watts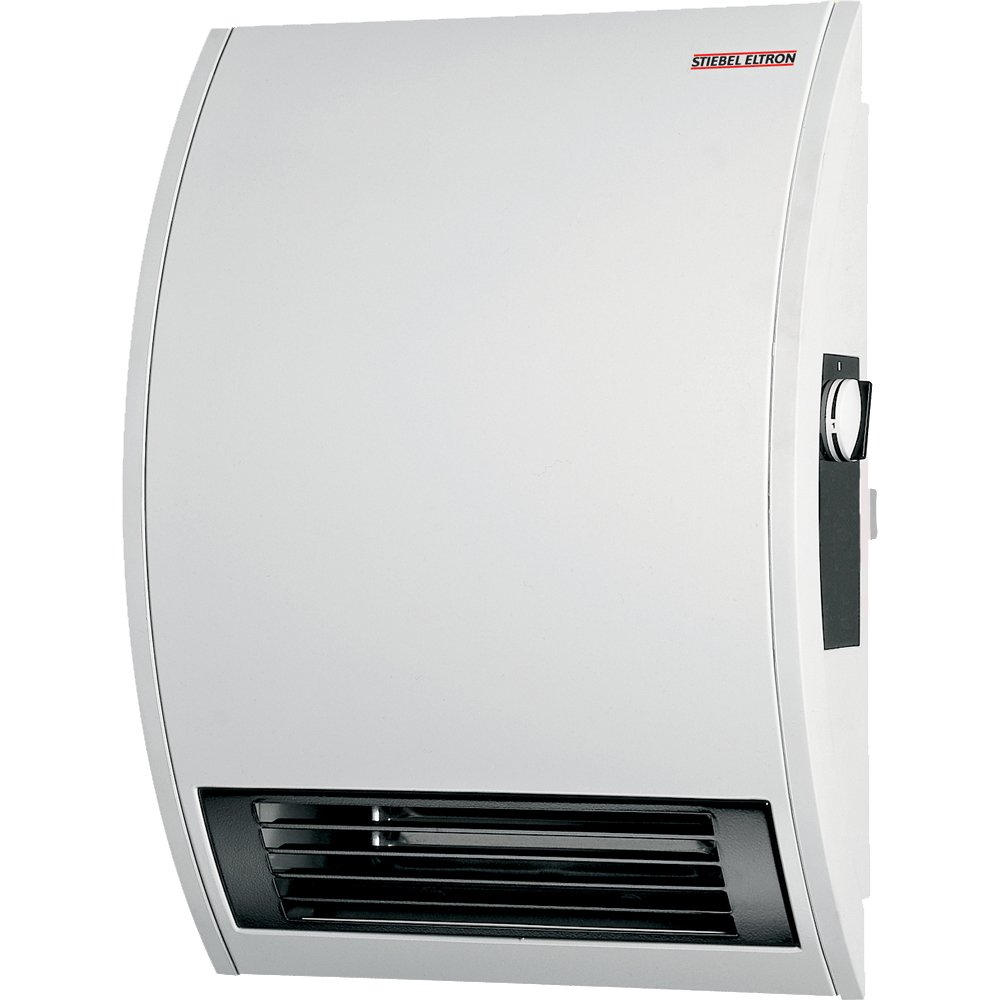 Haven't you found your own perfect garage heater yet? Stiebel Eltron has manufactured a really good product for you. Pricewise it is very affordable, so you can start thinking of purchasing this heater right now.
Let's talk about it in details:
This heater is to mount on a wall exclusively, which helps you save up some space in your garage.
It is very quiet in operation, so it won't disturb your rest or work.
A built-in thermostat and a booster timer help you control the heat manually and adjust it according to your needs.
The product is very reliable as it is made in Germany, and as we all know the German quality speaks for itself.
It looks really nice and neat with its bending case without costing like an aircraft.
However, we can't stay quiet when we see such disadvantages as:
The 2000W heater by Stiebel Eltron is not powerful enough for a bigger or middle-sized garage. It also has no additional modes of operation, you just control it via power heater.
There is a frost protection setting that is quite useful for the winter season, but there's no overheat protection.
7. Modine HD45AS0111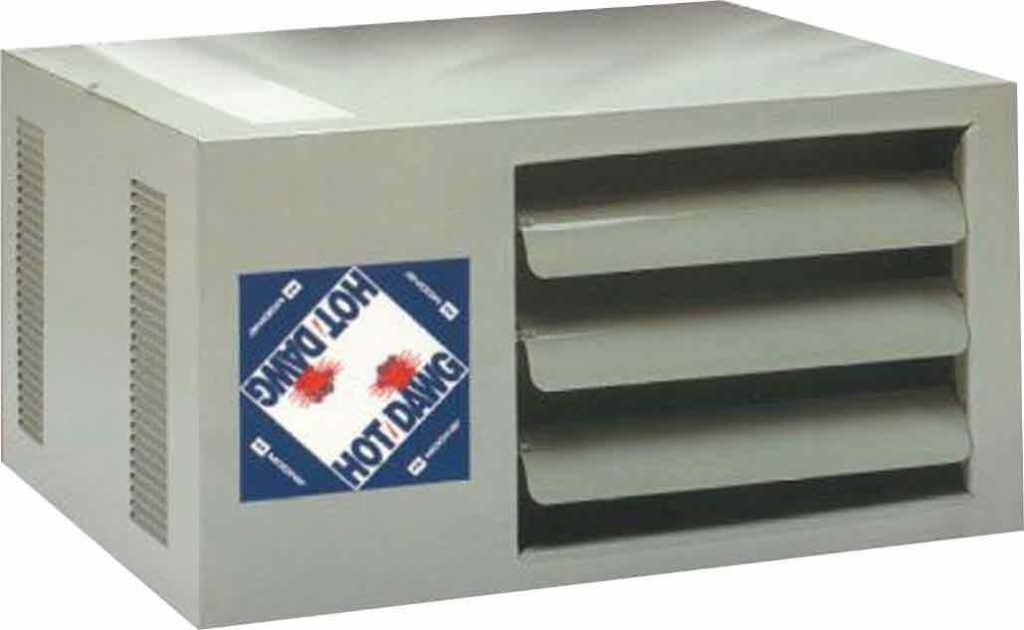 First of all, this item by Modine is a monster. It is huge, heavy-weight, and enormously effective. Actually, it is much more multifunctional than you might think. For further details, let's see what advantages and features it comes with.
This heater is certified not only for residential but for commercial and industrial use as well. It means that it suits perfectly for bigger garages or any large objects.
It is very quiet in operation.
Of course, its efficiency is over the top. With such a machine, you will forget about having any problems with heating forever.
The venting is simplified with side-wall and roof venting pipes.
Still, there're a lot of downsides that could possibly make you change your decision in favor of another heater:
This Modine heater is definitely too high-priced. Actually, it costs 2 to 10 times more than some of the products that we've reviewed above.
It is meant for professional use, so having it inside your garage, especially when there isn't much space, makes absolutely no sense.
It works on both electricity and natural gas, so you will need a connection to each of them accordingly. By the way, isn't it just easier to opt for a gas or electric heater that doesn't combine both features?…
8. Mr. Heater 30,000 BTU Vent Free Blue Flame Natural Gas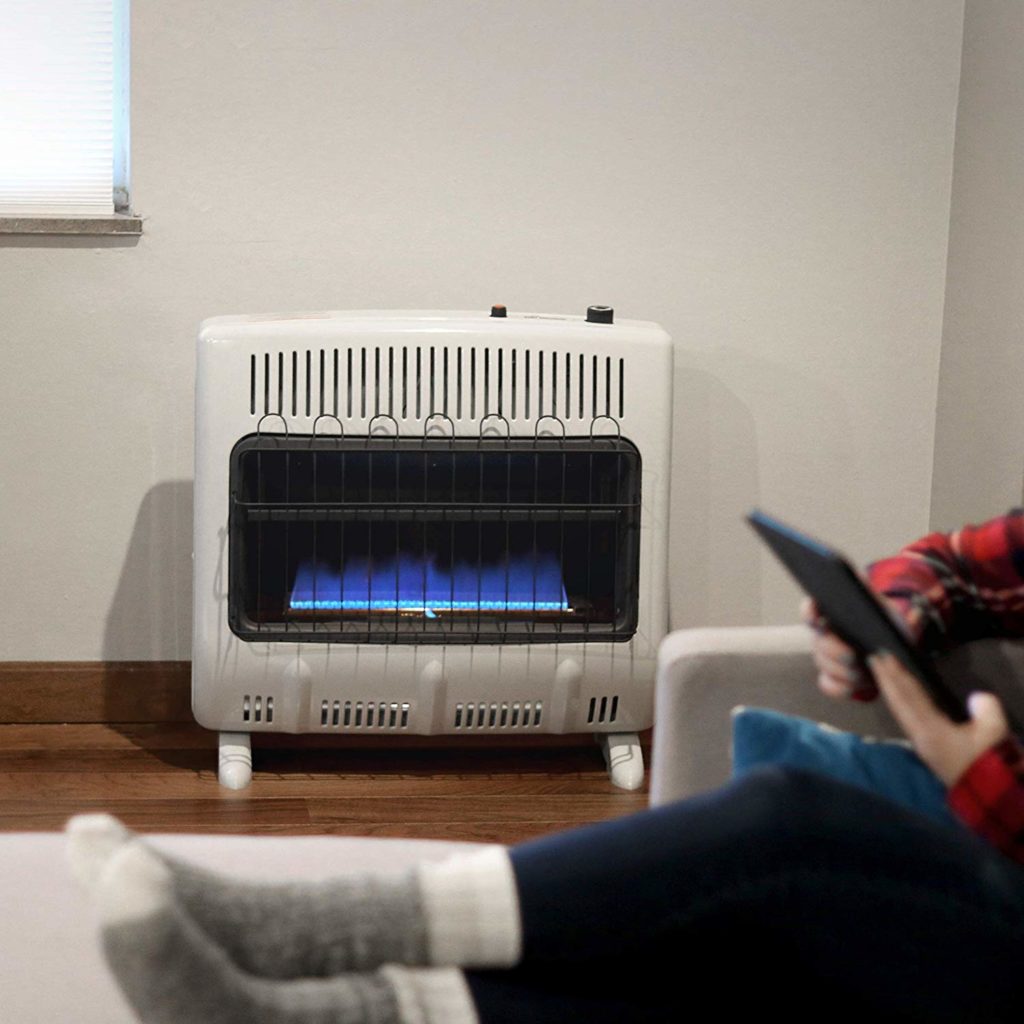 Here is another great deal: Mr. Heater offers us a great option to install in your garage. There are several sizes and power levels, so you can choose an exact heater you need!
Let's see whether it's good or not:
This gas heater can warm up a room up to 750 square feet, and the heat distributes across it evenly.
An automatic shut-off system prevents overheating, so you don't need to worry about your device's safety.
It can be set up both on the ground and on the wall, so where to place it is up to you.
In comparison to other garage heaters, this one is quite affordable.
Blue flames look very refreshing and can even remind you of a fireplace which creates a cozy feeling.
However, there are some minor flaws as well:
This gas heater is not intended for use in bathrooms and bedrooms. However, you can still use it in a living room!
It might not operate well on higher altitudes, such as 4500 feet above sea and more.
This heater operates on gas instead of electricity, so if you have no gas on your lot, you won't be able to use it.
9. Heatstar By Enerco F125444 Radiant Overhead Garage Heater MH25NG Natural Gas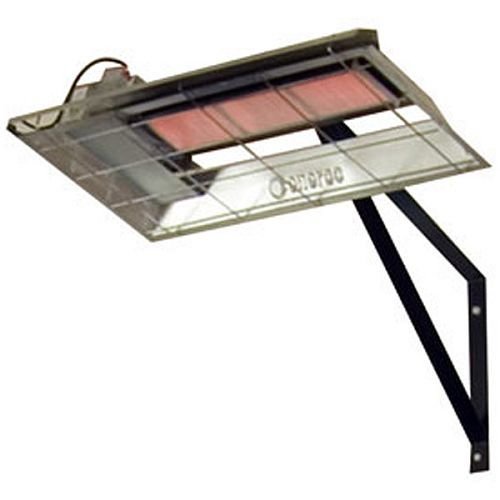 Enerco is another company that can offer you a good heater for a bigger garage. This overhead construction should be mounted at a 7-9 feet height. To prove you that it is promising, we have gathered the "ups" that might win you over and make you purchase the device!
This model uses natural gas and converts it straight into infrared heat. It is very secure and powerful as it loses no fuel during its operation.
Infrared heat works in a different way in comparison to fan-forced heaters. Infrared directly affects objects around it and heats them first; then, the objects start heating the air further.
This heater can warm up a 500-600 square feet garage; this is approximately the size of 2 cars and a bit of storage. To learn how to measure your garage properly, check our article!
There is no electricity required, and the operation is silent and odor-free!
However, there are some downsides to this model of a garage heater.
Of course, you are welcome to use it anywhere, but it's not recommended to install it in sleeping quarters.
The heating power should be gradually reduced at higher altitudes.
It is more on an expensive side.
Some people in your family might have a prejudice against infrared heating: for example, there's a chance they believe it affects your health in a bad way.
10. Space Heater – Oscillating Ceramic Tower Heater 34 Inch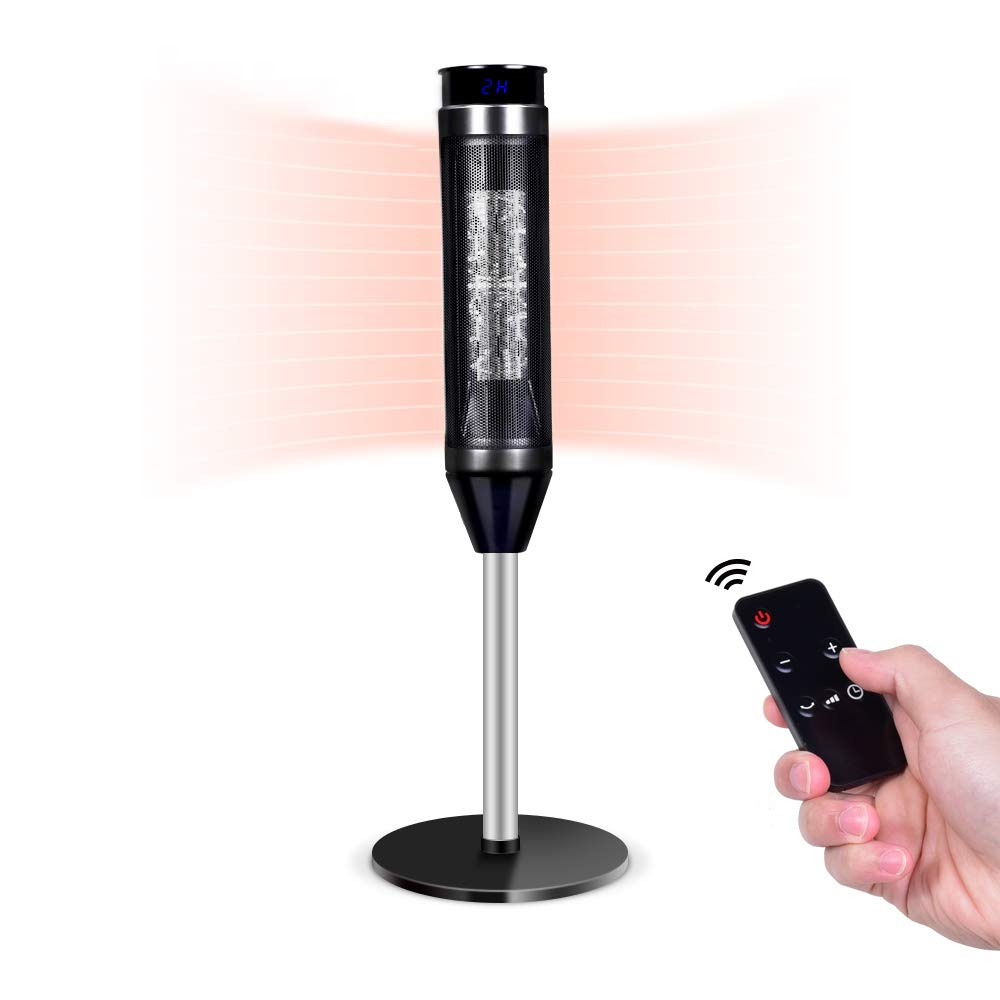 The last device in our list is also a tower heater! What can we say about it? Actually, it's quite a lot!
There are two heat settings: 750W and 1500W, as well as a cooling function. You can control the temperature in your garage or room just as you want!
You can adjust it not only via the thermostat on the ceramic panel but via remote control as well. Regulating the heat has never been easier! By the way, this model takes only 3 seconds to heat up.
It works super quietly so you can turn it on in your bedroom. There is an 8-hour timer function that allows you to adjust the temperature and go to sleep right away!
Its space-saving design allows you to install this tower heater in any corner of your garage or house.
It is equipped with automatic overheat protection that turns off the device and helps you avoid all the problems. Also, there is tip-over protection, so you can be sure your children won't cause any trouble when having too much fun around.
Of course, it looks good and can be used in any room or area without cheapening its interior.
Now, we're going to review the disadvantages of a garage heater the last time in this article.
It can't be mounted on a wall or ceiling and should be put only on even surfaces.
It is not recommended to use it near any water sources: bathrooms, sinks, water pools, etc.
Although this model looks really good and promising, it might be too little and weak to heat up the whole garage.
In this garage heaters guide, we have collected 10 best models of gas and electric garage heaters that can be found on the market. They serve different purposes, can be installed in various ways and suit for rooms of different sizes. You no longer need to choose the best way to warm up your garage! All you need is to know how big it is and what fuel you prefer.
So, that was our list of best garage heaters. Did you like our honest review? Leave the comments down below and check what else you can buy to equip your garage!
FAQ for heater buyers
1. Should a heater be installed in a special way?
Normally, the installation instructions for the unit are supplied with the unit immediately. Mounting depends on the type of heater to be installed. There are wall-mounted heaters, underfloor heaters and floor heaters.
In different cases, you get completely different recommendations for installation. For example, wall heaters are better placed on a stable part of the wall, and in such a way that there were no fragile objects under the heater.
The heater should be mounted with incredible care so that it does not fall down during operation. You also need access to a socket.
2. If the product is cheap, is it of poor quality?
The idea of "cheap means poor quality" has long been frozen in the consumer's head. Perhaps this statement can be true in some cases. However, if the price of the device is 10-20% lower than that of competitors, it should not cause you any worries.
Usually, inexpensive heaters are simply produced by little-known companies but have absolutely the same quality as their competitors. Also, you do not need to buy a too expensive heater for a small garage – it will simply overheat the space.
3. Do I need to turn off the heater each time the temperature has become desired?
Most modern heaters have a special function of automatic temperature control. To do this, you only need to set the desired temperature once you turn on the unit.
The heater will automatically suspend operation as soon as the room heats up, and will only resume operation when it is necessary to raise the temperature a little again.
You can change the thermostat at any time and the heater will automatically adjust itself to the new instructions.
4. Is it safe to use portable heaters?
Any heater is not a danger to humans if used correctly. If you do not leave the device near flammable objects or near bare wires, you have nothing to worry about.
All you have to do is ensure that the heater has constant access to a source of electricity and will work well in any room of your home.
5. How can I clean the heater?
Like any device in your home, sooner or later the heater will be covered with dust. For proper care, you will need to read the instructions provided by the manufacturer.
Different devices may have different restrictions – for example, some models may just need a damp cloth to wipe, and some will require only dry tools.
The detergent is another issue. If you do use detergent, you will need to flush it completely off the surface before you turn on the heater again.