It is rare to find people cleaning their lawn and garden with a rake. It is more common to see people using a blower to clean the area from leaves, light debris, and old grass.
They all differ from each other and are designed for different types of cleaning. Your garden will always be clean and tidy – even if you have many trees on your property.
There is no need for more than one device at a time – just one leaf blower for the whole garden. That is why you should choose it responsibly.
Instead of looking for the best option yourself, you can just read our article – we have already done the analysis for you. We have found the top 10 leaf blowers among which you can find models for any garden, preference, and budget.
We have a detailed article on our website that describes all types of blowers. If you are interested, you can read more about it. Now we suggest you find out what you should pay attention to in your purchase.
You may also like: 8 Best car vacuum cleaners
The method of carrying.
The weight of different models can be quite different and depends on the type of power supply, the size of the device and even the materials used. There are models that use backpack carrying – one of the easiest ways to carry it. This way, the weight of the device will be distributed evenly.
Type of power supply.
There are 3 main types of power supply for blowers – electric, gas, and battery. Electric blowers are inconvenient in the form of wire and have a constant dependence on the power source. Other types of power supply also have their disadvantages – for example, gas blowers weigh quite a lot and the battery charge can let you down during operation.
The power of the blower.
The power is directly determined by the performance of the device. For example, a 600-Watt model will not be able to clean more than five square meters per minute. If you do not have a huge area to clean, you should not focus too much on power.
The noise level.
Blowers can be incredibly loud and noisy – the neighbors will not thank you for such sounds. There are also models that make a little buzzing noise when working – usually portable and easy to carry. In any case, the blower will make noise at work – the difference is its level.
Our Top Pick
Makita XBU02PT1


Does not require fuel
Built-in fan for cooling
Fast charging




Check price on Amazon
Other great Leaf Blowers
1) Makita XBU02PT1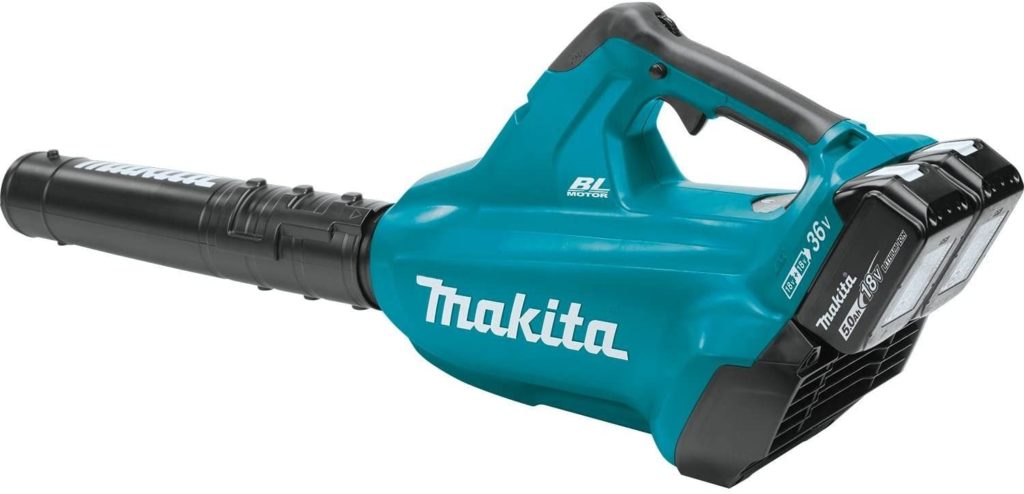 Makita is deservedly considered a solid company that produces good quality tools and equipment. The Makita XBU02PT1 will be one of your favorite devices that has a system with batteries and a battery charger.
You can work for almost half an hour without having to refill your device with gas or petrol – Makita XBU02PT1 is battery powered only. We recommend that you put the blower on charging immediately after you have finished work, so you can get started next time.
Makita XBU02PT1 requires two 5.0Ahr batteries. The battery charger is double, so you can easily charge both at the same time.
You can also increase or decrease the airflow yourself, adjusting it as needed. The handle has special "trigger buttons" that allow you to lock them. To hold the tool well, you will need to use both hands.
You may also like: 10 Best garage heaters
2) DEWALT DCBL720P1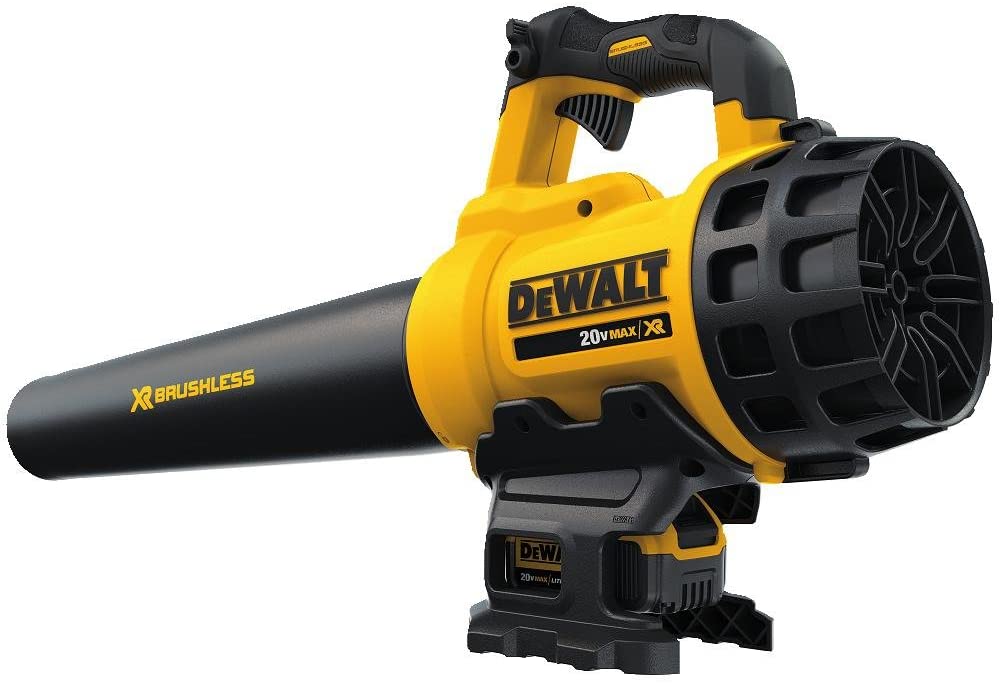 Dewalt is known among professionals as a manufacturer of quality tools for repair, cleaning and construction. The blower from this manufacturer has excellent characteristics and the ability to adjust the speed of flow.
It is very convenient – just hold the trigger a little bit to get the DEWALT DCBL720P1 to remove all trash from your walkway or a single leaf that annoys you.
The large blowpipe can release a wide air column. The brushless motor, on which the DEWALT DCBL720P1 is based, gives you maximum efficiency when working. The operating time is impressive – you can work without interruption for more than 40 minutes.
The DEWALT DCBL720P1 is lightweight and has a light battery. The air output from the pipe covers a large area at once. To get to work, you just need to pull the trigger and the air will start moving immediately. It is worth noting that the device makes a slightly buzzing annoying sound when you are working.
3) Husqvarna 965877502
In case you have always had a problem holding a sufficiently heavy device, we present you Husqvarna 965877502. This leaf blower has an offset handle for a comfortable hold, which helps prevent any inconvenience to your hand.
There is also a special system of belts and harnesses, which conveniently hold Husqvarna 965877502 on your case. It fits perfectly with the body structure, so working this way will not harm you. The load on your hands will be minimal.
Husqvarna 965877502 is wireless and gives you total freedom of movement. It uses low vibe technology, so your body will not feel vibrations when you are working.
The sound levels are the same as those of other models, so you do not need earplugs to avoid the noise, but you will not be able to hide your work. The Husqvarna 965877502 comes with a manufacturer's warranty, but you will need to buy fuel of their own brand.
4) Greenworks 24252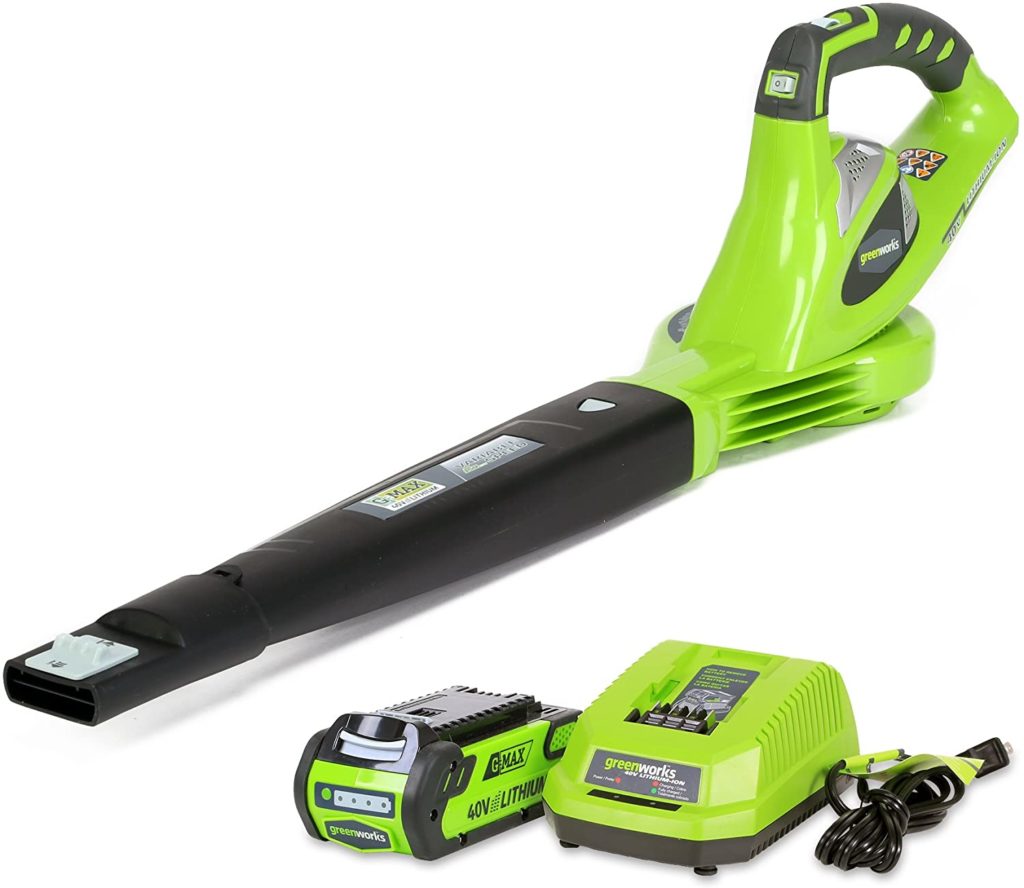 Want to increase the efficiency and effective range of the leaf blower? In that case, Greenworks 24252 is a good option. The engine has a variable speed option that allows you to make the most of it.
The speed can also be adjusted independently and the device can be controlled with a click. Using the speed setting, you will adjust the airflow relative to the heap of garbage and leaves.
The device is light enough and has a flat nozzle for more precise cleaning. The Greenworks 24252 is designed for small cleaning and point work – because it has quite low power at high speed.
You will not be able to remove a huge pile of dry leaves in a minute – at most, clean the paths or remove fallen leaves from under a tree. The Greenworks 24252 is perfect for cleaning terraces and pergolas, and for small household tasks.
Note that it is lightweight – so you can even work on the roof. The Greenworks 24252 is a great choice for people looking for a device to complement their main blower.
5) WORX WG520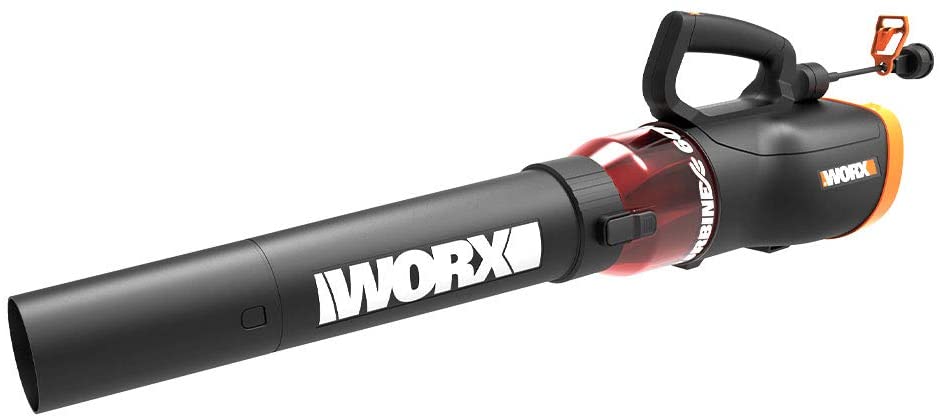 The WORX WG520 is the perfect leaf blower for those people who want to control everything with just one hand. The device is electric, which means that you will always need access to a power socket when working.
If you are worried that single-handed operation will be harder or worse, then we are ready to reassure you. The manufacturers have actually added an ergonomically designed funnel that allows you to control the wind flow.
The biggest problem with wired devices is the cord. The WORX WG520 has a special lock that prevents the cord from being disconnected or caught on anything while you are working.
The device has enough power even to handle wet leaves – you can work with them from 5-6 feet away. You will not need to mix fuel or constantly recharge the leaf blower to work – just electricity. By the way, it is worth noting that the WORX WG520 runs quieter than gas models.
6) K I M O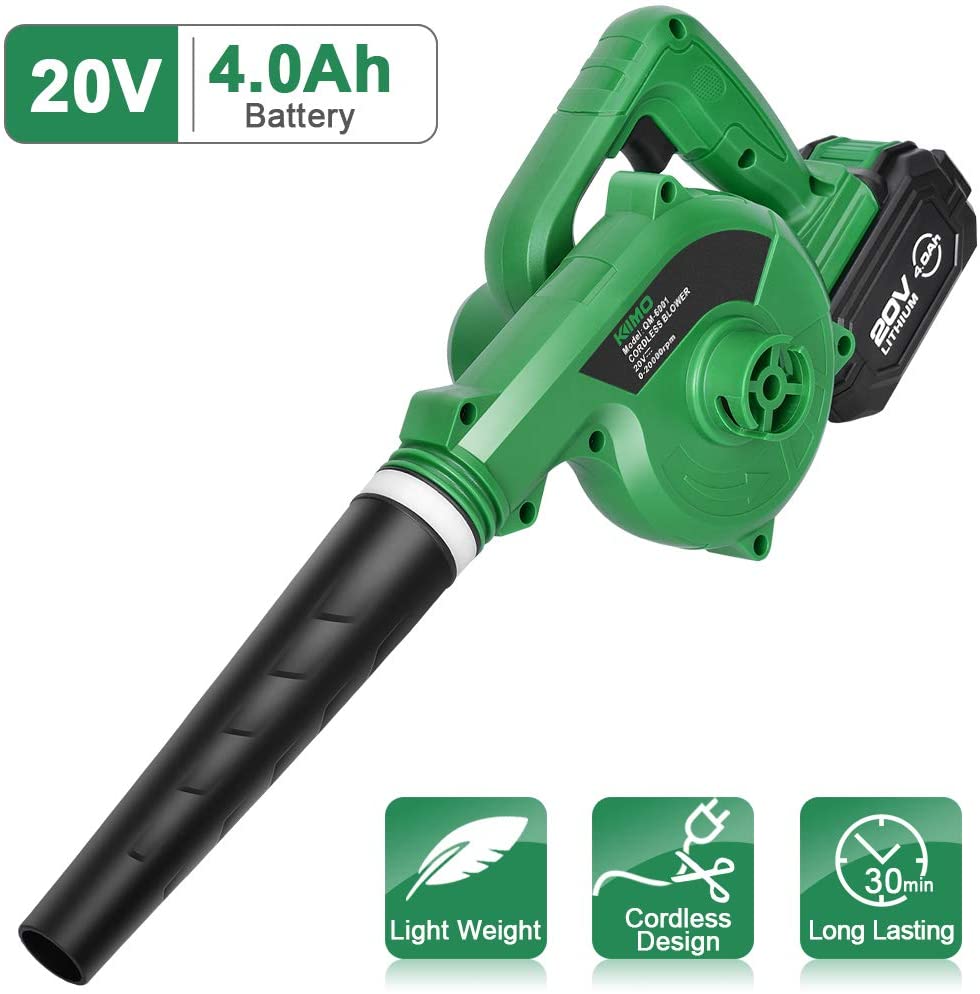 Many people are still looking for rechargeable and wireless models. K I M O may be exactly what you are looking for. It is easy to lift, even by teenagers, so your kids can help you clean the house.
The cleaning routine will be faster and easier, and your hands will not hurt anymore after the autumn leaves are cleaned. The K I M O can work not only as a blower but also even as a vacuum cleaner.
With the functionality of a vacuum cleaner, you can clean crumbs of food, wool, and hair, while the air blower cleans different leaves, snow, and debris. You can work without interruptions or recharging for about half an hour, but you can always monitor the level of charge with the indicator.
The K I M O will help you enjoy your work in the yard, rather than think of it as something necessary and exhausting. If you have already had one before, you will appreciate how much lighter and easier it is to operate. The functionality of the vacuum cleaner is a nice bonus for the customer!
You may also like: 10 Best lawnmowers for your garage
7) Toro 51621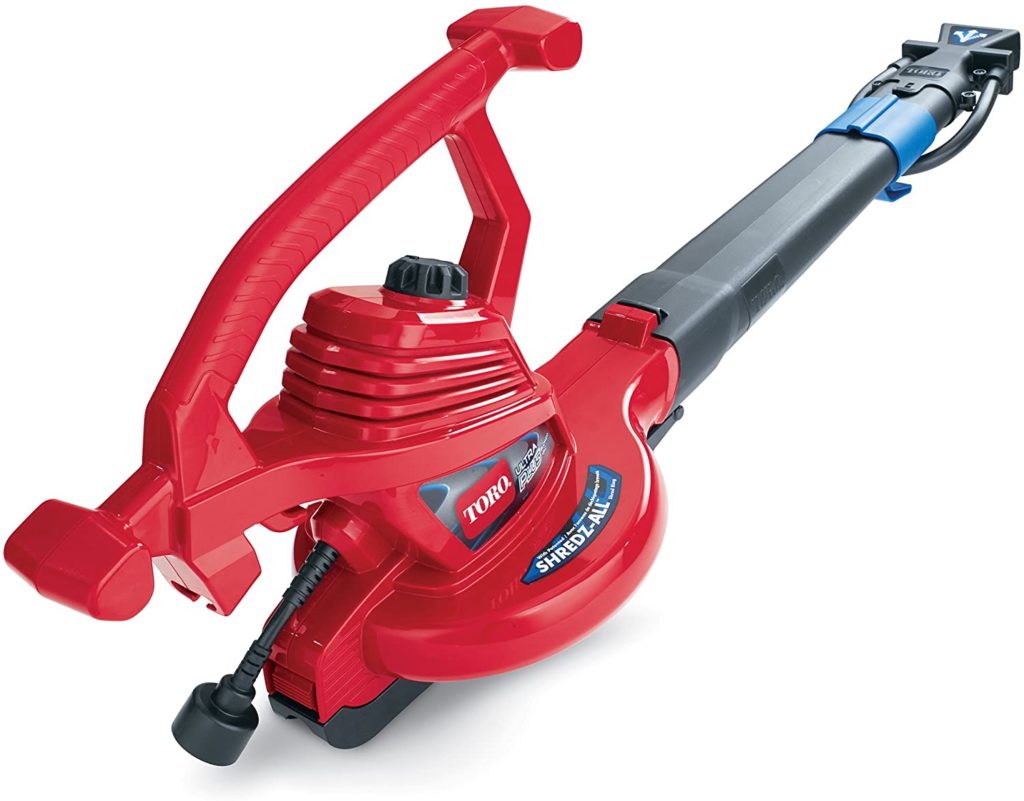 If you need a multifunctional device that will do the complete leaf cleaning, we are ready to tell you about the Toro 51621. This device combines 3 products at once – a leaf blower, shredder and even a vacuum cleaner.
All the functionality has been confirmed by laboratory tests, so Toro 51621 really guarantees you quality and good results after cleaning. You will need a strong enough airflow to make it work properly.
Toro 51621 will be your small cheat code for house cleaning – especially in autumn. Usually, you will need to bag all the leaves you collect in the yard. In this case, the number of bags you need will be much smaller – thanks to the rich functionality.
You can collect all the leaves, shred them and only then bag them using only Toro 51621. The cleaning will be much faster. The only drawback you can notice is the very loud engine. We are not kidding. It is very loud.
8) CRAFTSMAN CMCBL760E1

Do you need a long service life? The brushless motor provides a long service life, so you will not have to change the leaf blower every year.
The CRAFTSMAN CMCBL760E1 runs on a brushless motor of high performance. To ensure that the user does not experience too much stress when working, the housing is lightweight and highly mobile for moving around.
The CRAFTSMAN CMCBL760E1 is part of the company's huge range of products. They all fit together perfectly – for example, after cutting the grass with a trimmer you can blow out excess grass with a leaf blower.
It is worth noting that the battery is incredibly fast and still has enough time to clean up. Some leaves may clog up the pipe a little and interfere with the cleaning process, but you can easily remove them by stopping the work for just a few seconds.
The manufacturer gives buyers a 4-year warranty, where you can contact the service center on any matter.
9) BLACK+DECKER Electric Leaf Blower
Do you have a lawn near your house and you do not know what is the best way to remove old foliage or remnants from your lawnmower? BLACK+DECKER Electric Leaf Blower is the perfect solution for those people who have a cleaning area close to home.
This leaf blower is powered by the mains, which will limit your movements a little. Of course, you will only work close to your home or power source, but if you have a small area, no more is needed.
Lightweight – less than 5 pounds – will be great even for women. Hands will not get tired, and you can easily move the BLACK+DECKER Electric Leaf Blower from site to site.
With enough energy and power, you can work with your leaves even after it rains during moisture. However, it is better to use BLACK+DECKER Electric Leaf Blower with something light – dry grass or foliage – without overloading the engine with heavy garbage.
10) Ryobi ONE+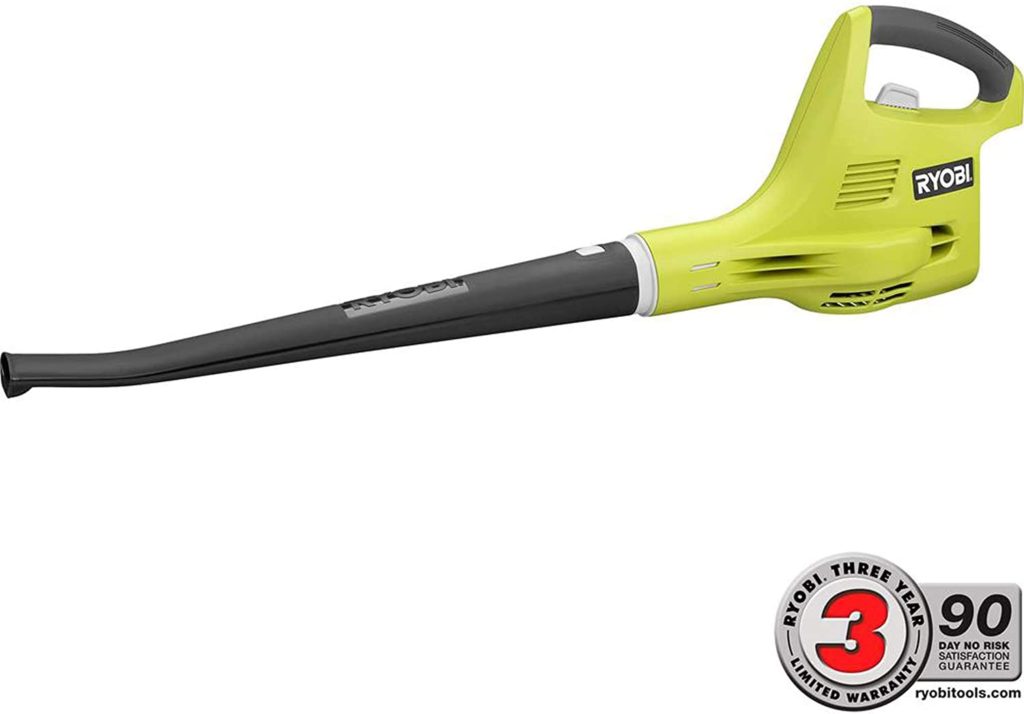 The Ryobi ONE+ is a great option for a lightweight garbage removal. It works well and does not rubbish, you can easily take it out to the track in your backyard and clean it.
It is battery-powered, so you can even take your Ryobi ONE+ out on the roof and clear out the garbage. You will change the batteries yourself, recharging them if necessary. By the way, the battery is suitable for many other devices as well.
If you want your children to help you with cleaning, it is best to buy a lightweight device. Easy to handle, the Ryobi ONE+ does not cause any problems in your work.
Of course, not everyone will benefit from a battery-powered device, but if you already have the main leaf blower, then you can easily complement your collection.
If you are looking for a blower to replace what you already have, the choice becomes much harder. You are already aware of all the difficulties and features that you may encounter and want to avoid them.
Now you can choose the right leaf blower for all your garden and lawn care needs. Adjustable settings, unique features and much more can be found exactly in our ranking. We hope our article has helped you make your choice and now you know exactly what you need.
Do you still have a few more questions? We identified and studied the most popular questions that people have when choosing a leaf blower. Maybe you will find your question here!
You may also like: 10 Best garage lighting
FAQ for leaf blower buyers
1. How does the leaf blower work?
Well, if you studied physics, you know what centrifugal force is. It affects objects that are under its pressure. In fact, you could say that there are fans inside the blower that create centrifugal force – simply put, air pressure.
You use a pipe to direct air onto the leaves and simply blow them out of your lawn. However, if you look carefully at the construction of stationary leaf blowers – which are designed for huge areas – you immediately see the fan blades, which generate the airflow.
2. Is it possible to find a quiet device that will not disturb my family or neighbors?
Any fan blades make quite a lot of noise because of the air pressure that comes out of the pipe. Of course, there are models that work a little quieter than their competitors are.
However, while working, everybody around them will hear the noise that the device makes. If you do not want your neighbors or household to wake up from working with a blower, it is better to work during the day or to warn the neighbors.
3. Can I use wired models to clean a large area?
The first thing you should think about when choosing a blower is the size of your land. If you own a large enough plot that extends more than 500 meters from your home, it is not advisable to buy electric models.
They will restrict your movement, as you will need to have constant access to a socket. Gas or battery-operated blowers give you more freedom of movement.
It is also worth noting that it is much easier to use models with batteries or gas tanks – so you can clean not only a certain area but also get in relatively difficult places.
4. If I cannot lift the heavy device on my own, what do I do?
If you want to use a wireless leaf blower, you should also think about its weight. For example, the gas models weigh much more than the battery-powered ones.
Some people find the rechargeable batteries not quite convenient, as the leaf blower can go down at the most inconvenient moment.
However, if you firmly believe that gas power is the best option for you, it is better to look at backpack models. They will allow you to distribute the weight of the device more evenly for you.
5. Can I use the leaf blower to clear snow?
Some users want to use the leaf blower to remove anything – snow, dust, leaves, dry grass after a lawnmower and more. Your success will depend on what kind of snow you are dealing with.
If it was wet snow the day before, which had time to stamp out, you will melt it rather than blowing it out. If the snow has just fallen – it is fluffy, lightweight and there is not much snow, you can easily clear the walkways and porch of your house with a leaf blower.