A small fridge that you will always have at your hand is an irreplaceable thing. No cool party by the pool, outdoors or even a simple picnic can be done without cold drinks or perishable food. For example, if you decide to make a little trip in your car, you will definitely need snacks and water on the road. Chips and crackers are not quite right for a regular meal, but fruits and vegetables, for example, are a great option.
To keep your drinks and food cool and fresh, take a small fridge with you. Or you can have a party in your backyard with a cold soda or beer as an integral part of it. If you have not yet got such a necessary thing, it is worth buying it as soon as possible. Do not know which fridge to choose? We have selected the top 10 beverage coolers to make your choice a little easier.
Our Top Pick
hOmeLabs Beverage Refrigerator and Cooler


Monitoring humidity indicators
Storage of cans and wine bottles
LED lighting

Check price on Amazon
Other great beverage coolers
NewAir Beverage Cooler and Refrigerator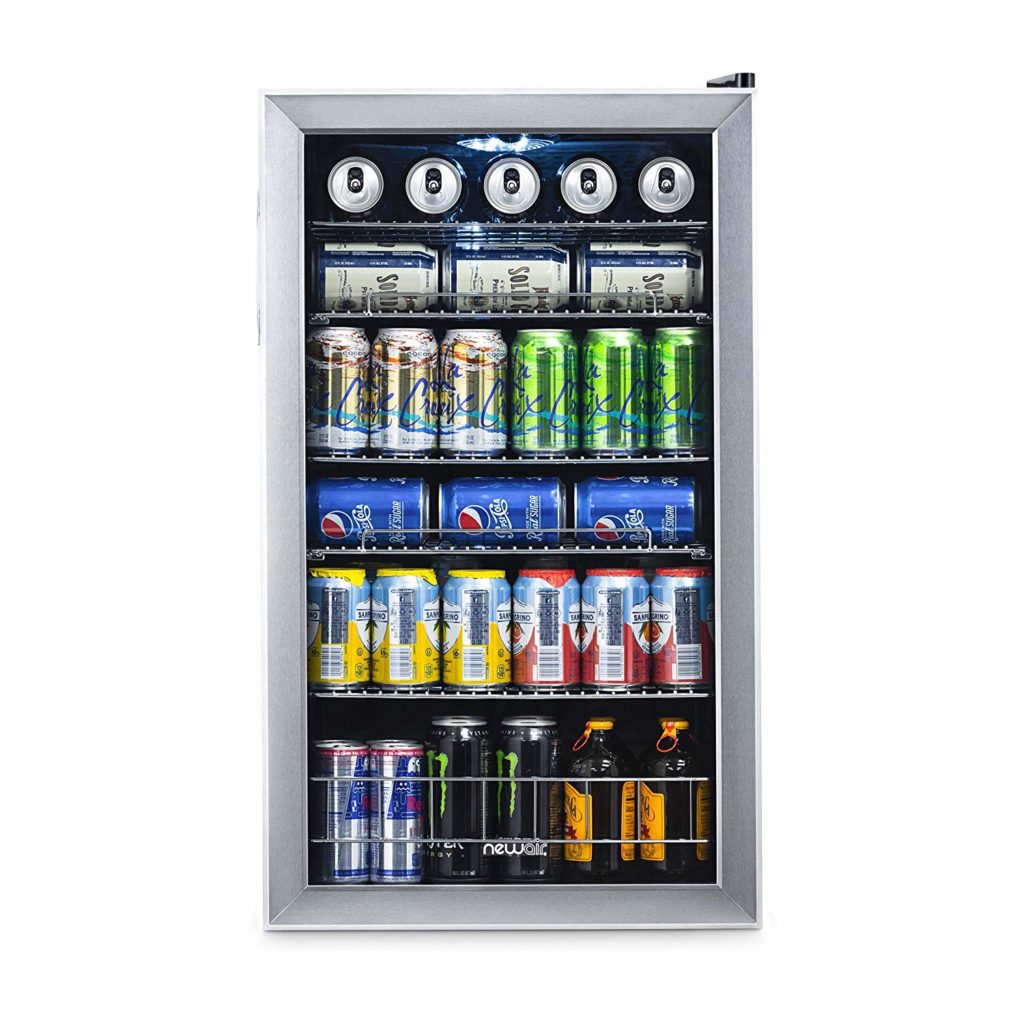 This model of refrigerator is mainly intended for storage and cooling of cans with drinks – beer, soda. It has a small size, which makes NewAir a convenient and compact option for placement. That is, you can put it in almost any room or place, as well as take it outdoors or in the gazebo in the backyard.
What does the manufacturer promise us?
Cooling up to 34 degrees Fahrenheit. In fact, it's hard enough to maintain such a low temperature. Still, it is worth considering that the model is small, therefore, can not work as a huge cooling compressor.
Removable racks, that allow you to store bottles and cans of any size. This is true – you can adjust the size and height of the shelves yourself.
Quiet operation of the compressor. And here lies the biggest minus. In reality, NewAir makes strange bubbling sounds when it is switched off for some time. So you can forget about the silence – the fridge works with noises.
In general, you can say that this model will be suitable if you do not use it at full capacity. When you fill the refrigerator, the bottles cut off the cooling fans and the model stops working. It is also problematic to be outdoors – there is condensation and the puddles right next to NewAir.
Danby 120 Can Beverage Center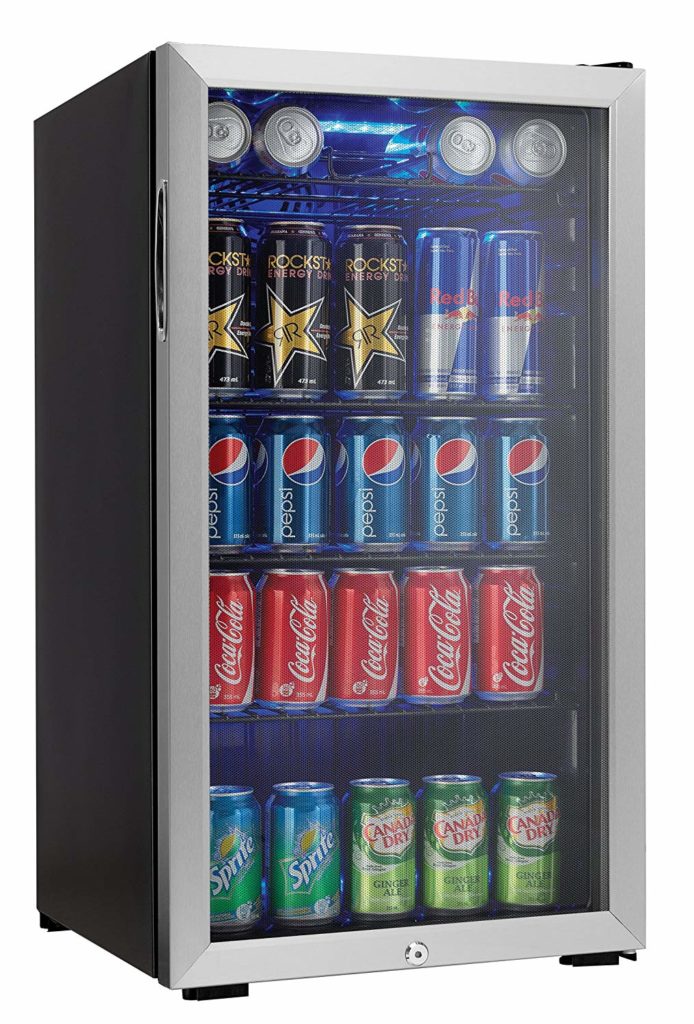 A small model with a minimalist design, 3 shelves and lighting. By the way, this is an obvious plus – LED cold lighting in the refrigerator. Its consumption will have almost no effect on your electricity bills, but it is incredibly convenient – especially if the fridge is standing at a party at night or in the dark. The manufacturer promises a capacity of 120 cans, but we all understand that this is the maximum volume that is best not to be used for uninterrupted operation of the equipment.
So what does the manufacturer offer us?
Several bottle shelves that can hold up to 120 cans. Indeed, this is true, but it would be much more convenient if the shelves were a little bit smaller. They also glide a little, so be prepared to buy anti-slip mats.
LED lighting. The fridge is illuminated by the cold blue light, which looks spectacular in the dark.
The most important thing is cooling in the range from 43 to 57 degrees Fahrenheit.
Actually, as we can see from practical use, it is not true at all. As long as you don't change the thermostat to a lower temperature, the fridge simply won't be cooling properly.
Danby looks stylish and compact, but it's hard to cope with its main function. For trouble-free operation, you need to reduce the degrees yourself – but be aware that the warranty will no longer be valid.
hOmeLabs Beverage Refrigerator and Cooler
This is a more expensive and stylish model, which is slightly larger than a standard mini fridge. Perfect for cooling drinks and alcohol. If you're a wine connoisseur, you'll love the humidity-related feature. In addition to temperature, you can also control the humidity, which is incredibly important for storing wine and champagne. A lot of the functions are stated, now we will take a closer look at some of them.
Capacity of 120 iron cans with beer or soda, or up to 60 wine bottles. In fact, the hOmeLabs Beverage Refrigerator shelves are sturdy and do not bend under the weight of the bottles, but some of them are very fragile. There is also a problem with the space on the top shelf – there is a protruding fan. That is, if you're afraid you'll break it, you won't be able to occupy that space.
LED lighting. It works well, but it is not automatic.
You can adjust the door – you can open it both on the right and left.
Cooling and quietness. The hOmeLabs Beverage Refrigerator can maintain a temperature of up to 34 degrees Fahrenheit, but be prepared for a little noise by lowering the temperature below 45 degrees. Of course, this is not a constant gurgle, but you can still hear it.
There will be gaps between the bottles when the fridge is filled, so it may seem that the space is not being used efficiently. In general, this is a stylish model, which perfectly copes with the main function – to cool drinks.
EdgeStar BWC120SSLT 103 Can and 5 Bottle Freestanding Ultra Low Temp Beverage Cooler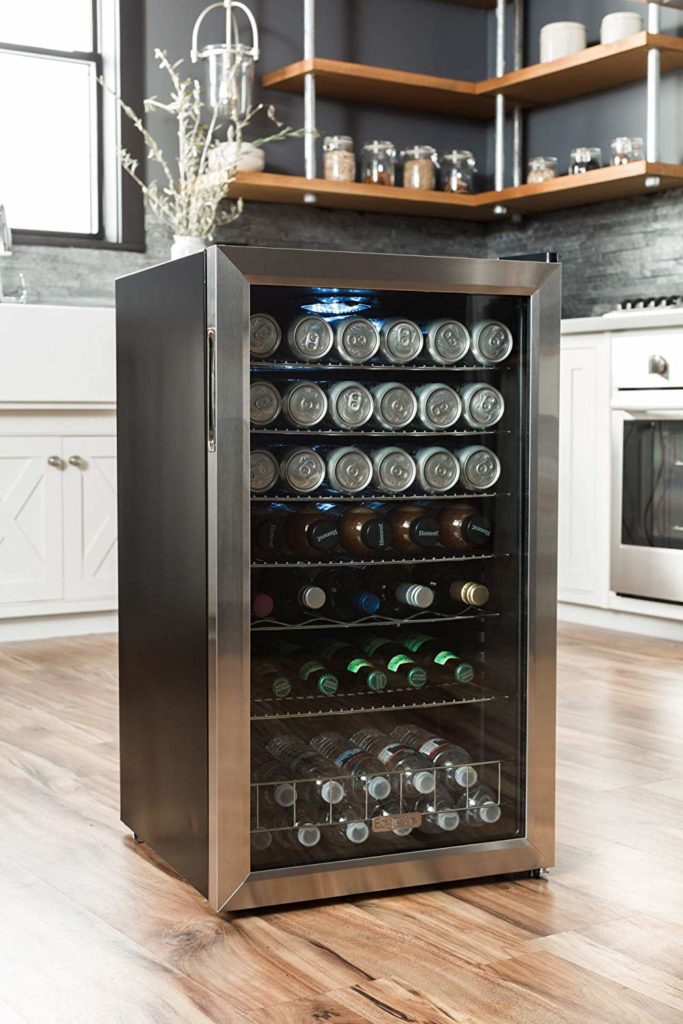 A very compact-sized model that can maintain an incredibly low temperature for its size – up to 32 degrees Fahrenheit. This performance is provided by the powerful compressor, which is usually used for larger models. EdgeStar's appearance will be appreciated by those who follow the style of their apartment or house: tempered glass door, chrome parts and lighting. All together, it gives a spectacular look.
What does the manufacturer promise us for the full cost and what do we actually get?
Cooling up to 32 degrees Fahrenheit. In fact, the technology supports a range of 50 to 40 degrees Fahrenheit, which is far enough away from the declared range.
Capacity of 103 cans and 5 wine bottles. It is worth noting that wine bottles should be no more than 750 ml, and preferably less. The refrigerator is not very convenient for storing collection bottles of non-standard shape and size.
Condensation. In some rooms, condensate may appear on the door all the time – so it is worth taking into account where you want to put it.
Duration of work. If you keep the EdgeStar running at maximum power at all times, its service life may be less than a year. An unpleasant surprise for those who expect to use the product for a long time.
EdgeStar is designed for undemanding users who will not be filling it up fully. At use of the given model you receive a little cool drink and small background noise.
Kalamera Beverage Cooler and Fridge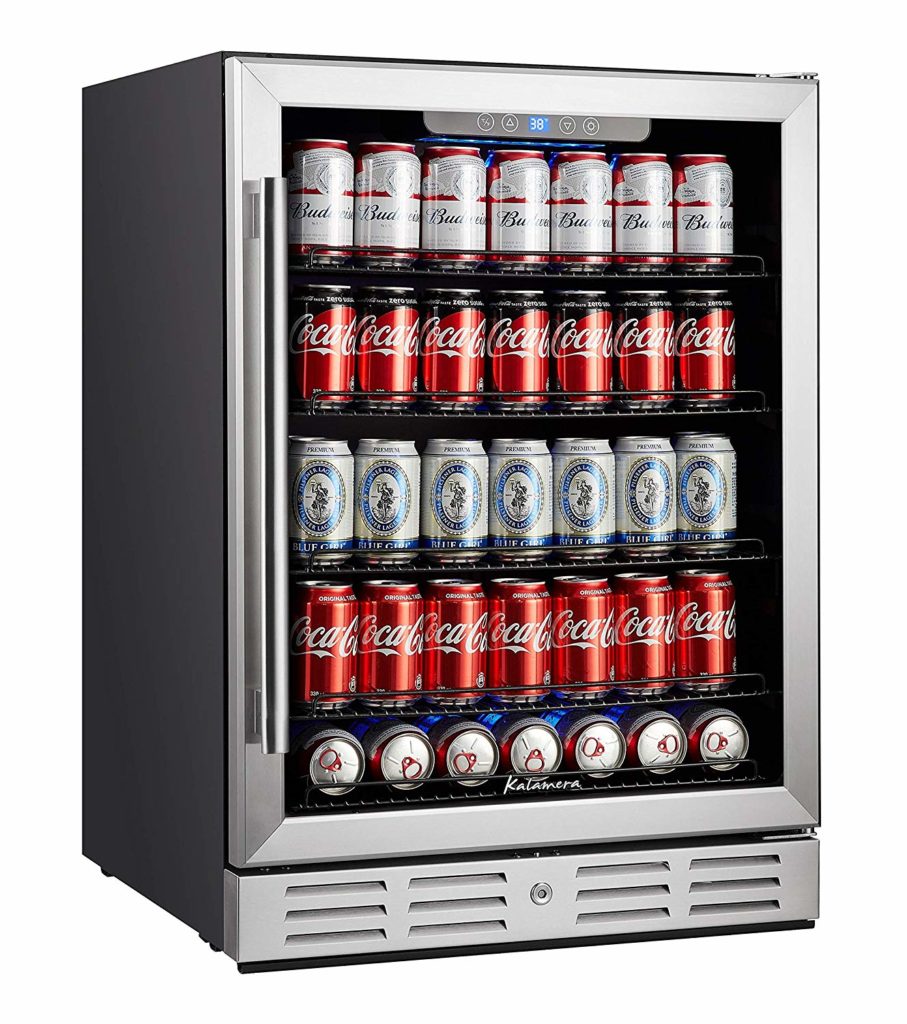 A small device that allows you to store more than 150 cans of beverages. One of the advantages of Kalamera is that it can be easily integrated into your kitchen furniture, used in a home bar behind a counter and as a standalone device in home theaters and other rooms. The case is made of stainless steel and has a transparent glass door. There are 5 shelves inside which are used for storage of drinks.

Let's disassemble the quality declared by the manufacturer.
Cooling from 50 to 38 degrees Fahrenheit. It is true, but it is necessary to consider that it will simply make your drinks cool, but not cold in any way.
LED lighting. The light really looks spectacular, the blue light is not irritating and is not bright – which is very important.
Capacity. The fridge can hold more than 150 cans, but there's one thing: the shelves can bend if you fill them completely. Be careful – of course, it is unlikely that it will break, but there is still an uncomfortable effect.
Security lock. And this is a very convenient feature – if you're going to store alcohol or collectible drinks in the fridge – it will be nice to close it, especially if you have children.
Kalamera as a whole meets all the stated characteristics that the manufacturer gives. The only thing to consider is the service life of all buyers varies: from 4 months to several years.
Whynter BR-128WS Lock
A standard small fridge, slightly different in design from other similar models. The fact is that part of the shelves, presented in Whynter, is designed for lying cans, and others – for cans in a standing position. The door of this model is transparent, so you can see all your supplies, while maintaining the internal temperature. Lighting with switching on and off will also help. Cooling is carried out evenly throughout the entire space of the refrigerator, so you should not face unpleasant surprises. Let's consider the basic functions and characteristics of Whynter.
Cooling in a range from 30 to 60 degrees Fahrenheit. It is true, thanks to the powerful compressor the model perfectly copes with strong cooling. Internal air circulation also contributes to this.
The model works with the minimum noise so even if you install a refrigerator near to a bedroom, noise will not disturb you. Only a small rumble in the background is possible.
Capacity. If you want to cool drinks in large bottles or cans, you will have to use a special basket.
Lighting. There is a big minus here – the light is only switched on and off mechanically. If you leave it on all the time, your electricity bill can be severely affected.
It is worth noting that the impression of Whynter is incredibly positive. Minuses, which are quite insignificant so that they easily overlapped by all the advantages of this model.
EdgeStar 80 Can Built-In Beverage Cooler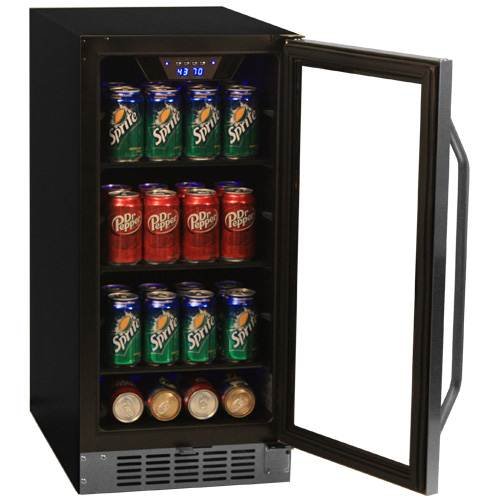 It's not a very large model, but some people will find it as a plus. You can store up to 80 small cans of soda or beer in your EdgeStar fridge. Accordingly, the parameters of the refrigerator itself are less than other models. The design itself looks good – the color of black glass, stainless steel case and transparent glass door. This model is built-in, so its miniature size is justified. The fridge itself is equipped with a silicone inlay and it is stated that it should partially suppress the noise produced during the work.
So, what does the manufacturer offer us?
A thermostat with temperature control from 50 to 80 degrees Fahrenheit. In fact, the fridge heats itself up, and ice can be formed on the back wall. There is also an automatic defrosting function – but this fact is still inconvenient to use.
Shelves and storage. Shelves are already installed in the model from the very beginning and it is difficult to remove them. The shelves are fixed, so you won't be able to adjust the refrigerator space quickly and easily.
Silicone gasket and fan. These two things allow you to keep the drinks cool, and the air circulates throughout the refrigerator. This way, you don't create a certain place that cools down the most.
This EdgeStar model is compact and attracts attention, but it is worth considering that the guarantee of use is only 30 days. So if something in the technique breaks down or goes out of service, you won't even be able to get a warranty repair.
Midea WHD-113FB1 3.1 Cubic Feet Black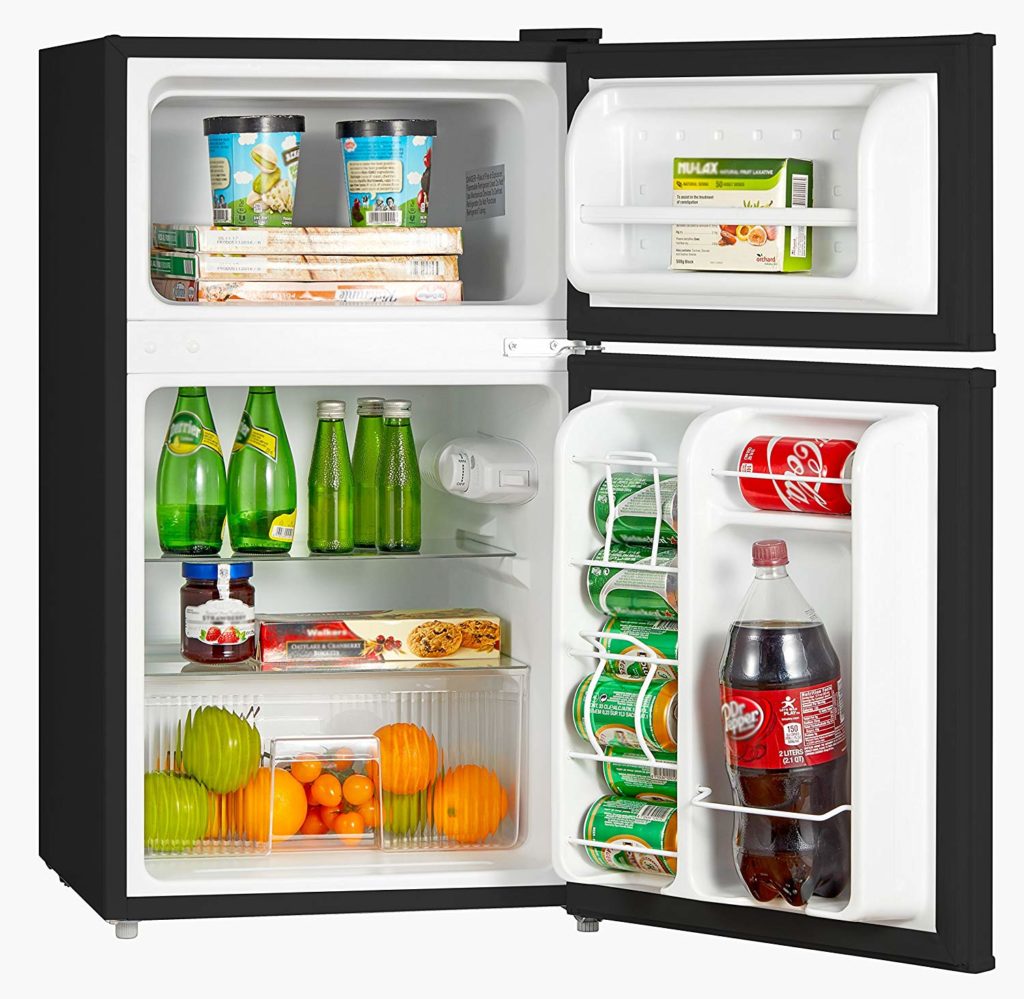 This model is a high-grade refrigerator. It has a freezer compartment and refrigerator, that is, it completely copies the real equipment, but in a smaller size. The main compartment has even a box for fruits and vegetables, door shelves. The legs can be adjusted, so even if you have a tilted floor or you just want to make Midea Cubic Feet higher, you can do it. It is also possible to set up the door opening – left or right.
The warranty on the equipment is for 1 year – it includes maintenance. It is worth to talk a little more about the functionality of the refrigerator and its features.
Noise. The noise level of Midea Cubic Feet is incredibly low – much lower than that of similar models. Speaking of numbers, it is less than 45 dB.
The interior lighting is represented by an automatic light bulb in the main compartment. As with conventional refrigerators, it lights up when opened.
Shelves and storage. The fridge itself has several shelves, but it is worth thinking about how to use them. If you install everything at once, you will simply have no storage space. So it's likely that you won't use several shelves at all.
Uniformity of cooling. The manufacturer has declared that the main compartment works in the range from 32 to 50 degrees Fahrenheit, and the freezer – from -11 to 2 degrees Fahrenheit. At the same time, the refrigeration section is not working uniformly and in some places drinks and food are cooled down more. This should be taken into account when distributing food.
To sum up, Midea Cubic Feet is a great option for dormitories or small garages. In terms of functionality it is similar to a full-fledged refrigerator, but requires much less space.
RCA RFR321-FR320/8 IGLOO Mini Refrigerator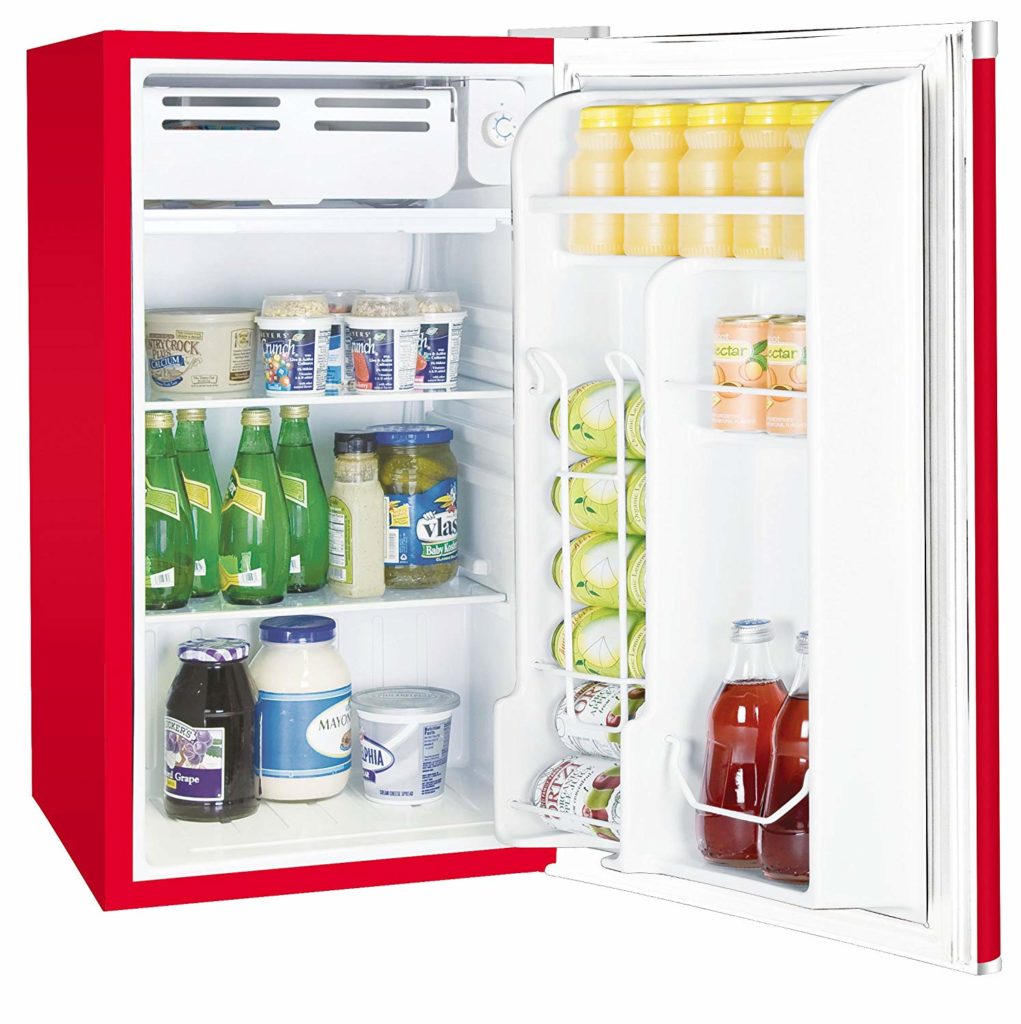 Another full-fledged model of the refrigerator in mini-format. IGLOO Mini has both a freezer and a refrigerator. The door has special fasteners and strips that allow you to adjust its capacity. There you can put cans, bottles and other items. The door of the model is reversible, so that you will not have any restrictions in where to put the equipment.
Thermostat can be adjusted by you manually, which is convenient if some products require special storage conditions. So, let's start a more detailed analysis.
Freezing chamber. Its presence, of course, pleases. But it should be taken into account that the fridge door is the same – that is, each time you open it, you open and access to the freezer.
Cooling. According to technical specifications, the model should cool down to 38 degrees Fahrenheit. In fact, the minimum temperature is about 40 degrees and not lower. If you need super-cold drinks, you will have to use ice.
IGLOO Mini doesn't make a lot of noise, which means that it doesn't disturb you even if it's in a living room – for example, in your children's room.
Delivery is possible with dents and scratches. There are also cases of delivery in a completely unrepresentative form. So even the best model can dramatically spoil the bad delivery service.
IGLOO Mini will fit perfectly into the interior. You can argue about the convenience of access to the freezer or delivery – but initially the model itself deserves attention.
COSTWAY Compact Refrigerator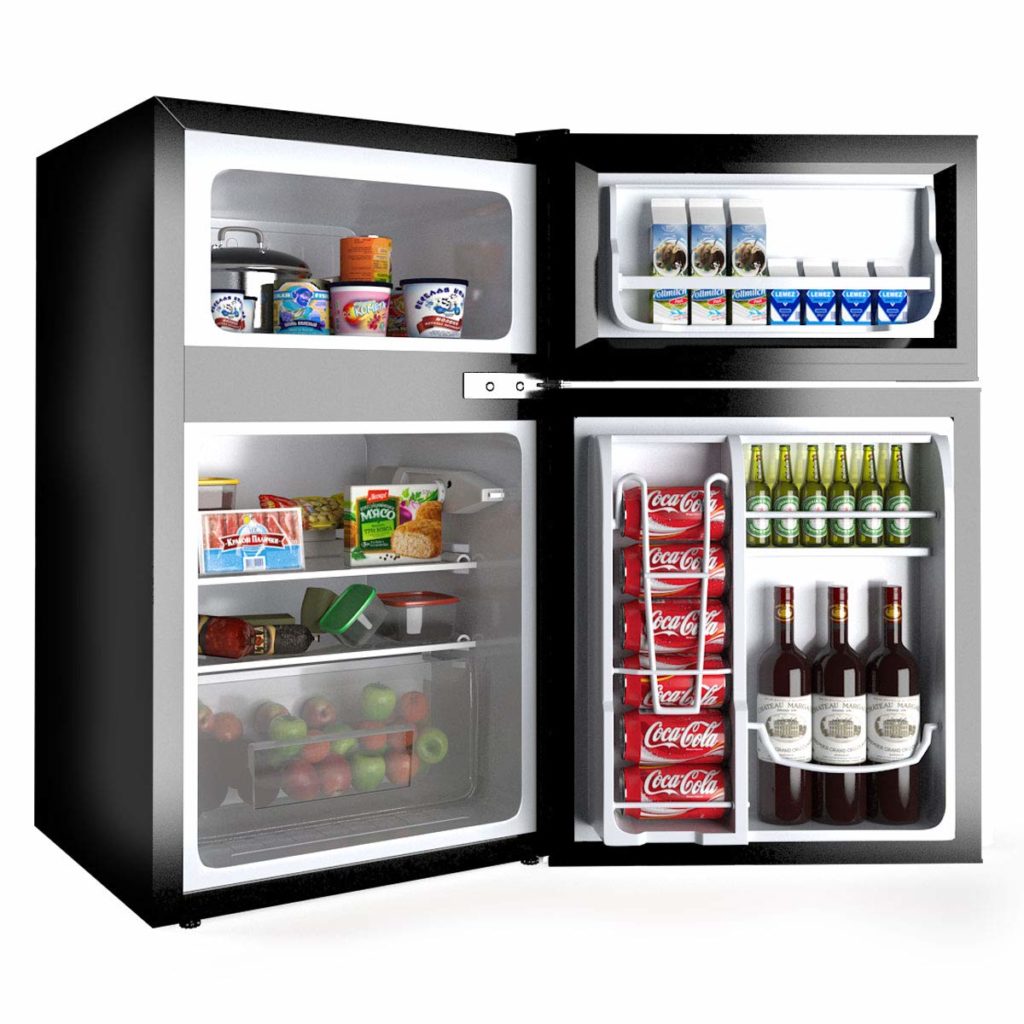 A small two-door fridge that looks stylish and minimalistic. For storage of usual products there is 2.2 cu.ft., and for freezing compartment 1 cu.ft.. Two separate doors let you get access to the necessary compartment, without using another one. COSTWAY works in such a way that the entire space inside is cooled down evenly, without the need to strengthen it at a certain spot. The fruit and vegetable storage box is included separately – just like in a normal refrigerator. It keeps food fresh for longer.
The freezer has a special shape for ice that allows you to freeze ice without any problems. The inner shelves of the main compartment are adjustable, so you can decide for yourself what size of shelves you need. Let's look at a few details.
Separate doors. Separate access to the freezer compartment is very convenient, because in this case you do not run warm air inside it every time you open the refrigerator.
Silence during operation. The COSTWAY is really very quiet, its smooth noise is not heard or disturbing even if the fridge is standing in the bedroom or living room.
Capacity. Thanks to the adjustable shelves, the COSTWAY can be fully adjusted to your needs. The compartments in the refrigerator doors are very fragile and you should not put heavy objects or food in them. The fruit and vegetable drawer also helps to keep the refrigerator fresh.
If you consider COSTWAY as an option for use in a dormitory or garage, it fits well. The miniature model of a real refrigerator will give you comfort even where it is difficult to get it.
It would seem that a mini fridge is not the kind of thing that is necessary, especially if you use it for drinks. But it's actually so nice to take a can of cold soda right in your home theater room or just not to think about how to provide a party with cold drinks. For example, for small apartments, hostels or cozy men's corners mini fridge is practically a necessity! A small stock of food and drinks, a freezer compartment – and you can use it as a complete equipment. It is worth thinking about buying such a necessary thing, especially since our top will help you choose the best option.
FAQ for beverage cooler buyers
1. Why buy a beverage cooler?
If you have a large house and often spend time in your room, basement or even on the street, you might think that the cooler is too far away. If you suddenly wanted to enjoy a cold drink, you would have to go to the kitchen to the main fridge.
The same problem at parties – you have to leave your drinks in the fridge to cool them down. The Beverage cooler allows you to enjoy cold soda or beer anywhere you like.
2. How does the capacity of the fridge affect its operation?
As you may have noticed, each model has its own capacity and a limited number of drinks that will fit inside. Normally, the manufacturer will specify the maximum possible capacity.
In practice, it is worth saying that it is not possible to fill the beverage cooler completely – this leads to condensation, noise and less cooling of drinks. So if you have about 100 cans of soda or beer to store, it is better to choose models with a capacity of at least 120 cans.
3. Do you need removable shelves?
Removable shelves are needed in order for you to store in your fridge not only standard cans. For example, you may decide to keep a bottle of Coke or a bottle of strong alcohol in the fridge.
Usually, the beverage cooler is designed to hold 0.33 cans, but the removable shelves extend the functionality. If you are not going to buy and cool other volumes of drinks, you do not need removable shelves.
There are also models with shelves to store wine bottles – usually, they are either immediately installed inside, or you can replace a few shelves for cans with them.
4. Can I control the temperature of drinks?
Most models of beverage cooler allow you to control the internal temperature. The instructions always write down the temperature range in which the device can operate and you can adjust it at your discretion.
We would not recommend that you always keep your fridge at a minimum temperature – this can cause your device to fail and cause you to look for a replacement. The best option is to use an average temperature that will not make your drinks pieces of ice.
5. Will the Beverage cooler be expensive to use?
Electricity costs will also depend on how much energy the model uses. It is likely that you will keep the beverage cooler on at all times – as well as the main fridge.
The cost of such energy consumption is, of course, much less than a full-size refrigerator. In addition, the cost depends on what temperature you set for cooling. If you are thinking about maintenance, good and quality models do not even need it.