Everyone who has had at least once in his life experience of renovation knows that it is not an easy task that requires a lot of time and effort. For example, if you work with drywall or plywood sheets, you may be screwing them on somewhere.
Working manually with a screwdriver is incredibly tedious and uncomfortable. By twisting about 10 screws in a row, you can easily dislodge your wrist or damage your shoulder. To avoid this situation, you can use screw guns or drills.
Twisting, attaching parts, assembling furniture and any other household work has a strong impact on your performance. Properly selected screw guns can speed up the process and make your work easier, but there is one thing.
These are not the cheapest and most easily accessible tools. In order not to make a wrong choice, it is worthwhile to study the types, costs and manufacturers of screw guns. We decided to help you with this and have studied this topic in more detail. Now you can easily get acquainted with the best tools in more detail and choose the most suitable one for you.
Our Top Pick
Bosch PS32-02


Lightweight and easy to use
Sturdy housing materials
Long battery life

Check price on Amazon
Other great screw guns
Bosch PS32-02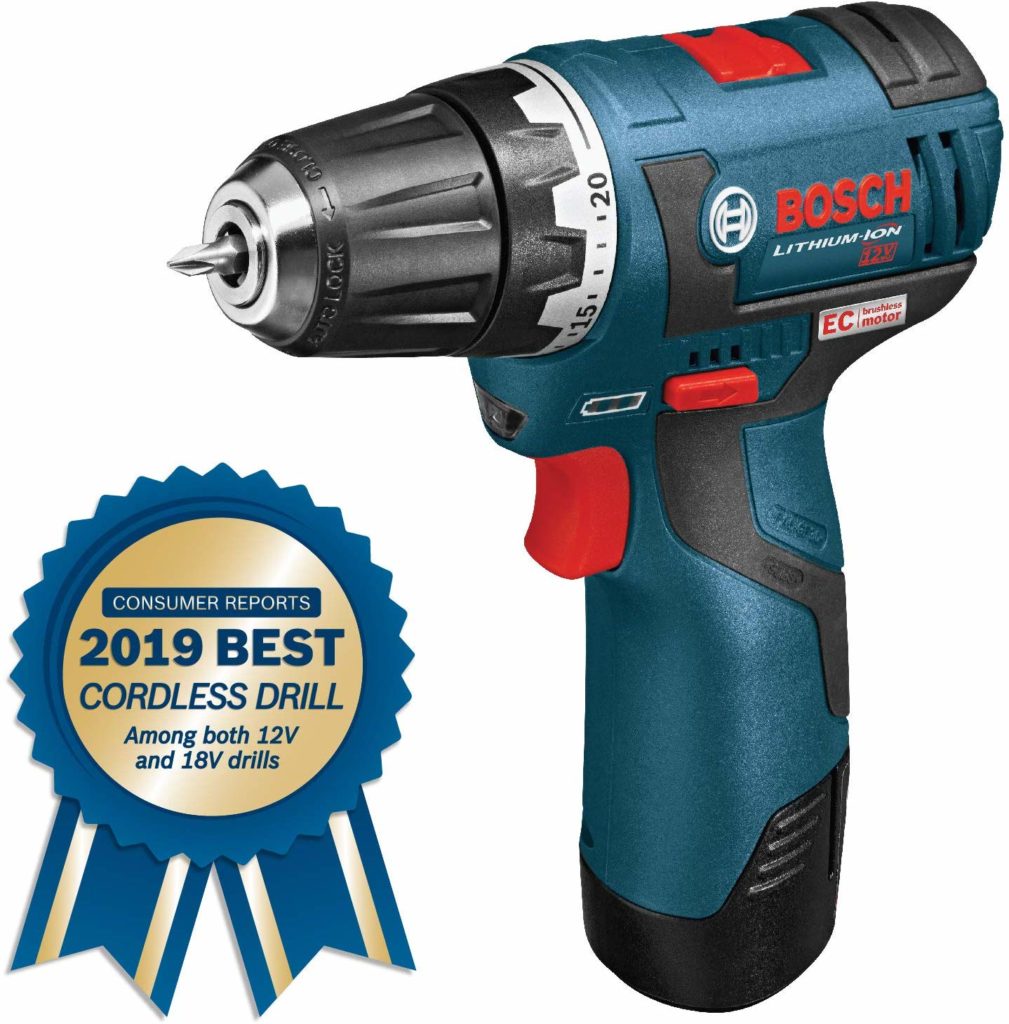 Bosch is one of the best manufacturers of household and construction equipment in the world market. You've heard of it at least once if you're looking for information about appliances or tools. Light and smooth – the Bosch PS32-02 weighs only 2 pounds compared to the standard screw guns weight of about 6 pounds. So your hands don't get tired during work, and speed control is easy even at the highest gear. Only 12 volts is enough to power it, so it's another great indicator of the tool's compactness.
One of the main details in this tool is that the motor is brushless. This ensures its durability and you can also easily fix it even when it is switched off. The body is perfectly balanced due to the short length of the drill head – it is just over 6 inches. The body itself is made of durable material and, as the manufacturer claims, has even been tested for durability – the tool remains undamaged, even when dropped multiple times from a height of 10 feet.
The kit includes two batteries, charging, the tool itself and a set of tips. The light indicator is not too bright, so it's almost useless. There are other light bulbs on the Bosch PS32-02, a battery indicator. It's a great way to show you how much battery power you've got, so you can keep it in top condition at all times. The drills themselves and the power of the tool should be considered separately.
The torque can be increased up to 1300 rpm, but this is not the highest value for screw guns. This is the lack of a tool. In fact, the torque and vibration from the work weaken the mount itself a little bit and you can't screw the parts in deep or as far as they will go. When using the clutch, the cartridge itself also loosens. Bosch is a great option to buy if you can afford above-average price category tools and can also handle a non-standard chuck.
DEWALT DC825B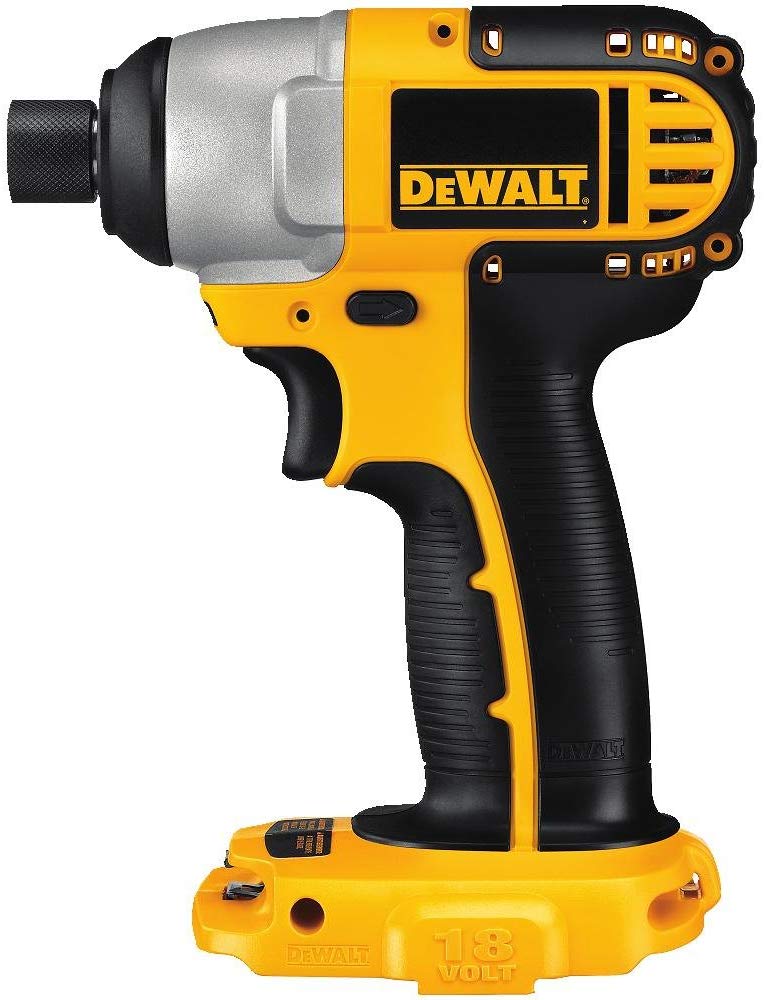 Many lovers of tools and repairs are familiar with a company like Dewalt. They are famous for their lifetime warranties, excellent quality and first of all they say that all their tools are assembled only in the United States. High-quality materials, excellent workmanship allow you to be sure of the durability of the device.
The case of Dewalt DC825B is made of magnesium, and the gearbox is all-metal. This reduces the recoil of the tool in spite of the fact that it has a power of 1330 rpm. It has a power output of 18 volts, which is generally standard for such tools. Replacement brushes also extend the service life. The warranty, which comes with the tool, is designed for most cases of failure and you can always contact the service center.
The Screw gun is wireless, so you can conveniently use it in repair, easily moving it around the room. Keep in mind that the charger is not included in the kit. Even though Dewalt is not a cheap tool, you will need to buy a charger and additional batteries. Of course, most Dewalt devices are designed for a single charging system, but if you buy it for the first time, it will be an additional expense for you.
The Dewalt DC825B is a good option for a screw gun, but you should keep in mind that it will not be the most powerful tool you have ever had. If you want to use the tool constantly and professionally, it is better to look for a more suitable option, but for home or simple one-time use, it is ideal.
BLACK+DECKER 20V MAX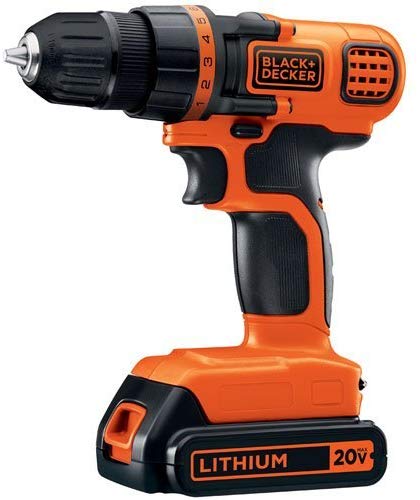 Wireless devices are very convenient to use both in everyday life and in repair. Black+Decker presents several screw guns at once, and each of them differs from the other and has its own peculiarities. The 20V Max model comes with lithium-ion batteries, which are easily recharged using the device that comes with the tool.
Since any hole created by a drill can no longer be repaired, you will need to be clear and precise in their creation. The position coupling that comes with the Black+Decker 20V Max ensures that you can drill accurately in wood and other materials. The barrel is a little shorter than the standard screw guns, and some people might find it strange. In fact, it's convenient and uncomfortable to use. However, you can get burned when you screw the cartridge yourself.
Keep this in mind when working – it is worth wearing gloves or other protective elements. With the help of protection, you will be safe even if the detail slips off and bounces off. If you think that the higher the power of the tool, the higher the torque, you are mistaken. In this screw gun, these two characteristics are not related despite the high power.
It is also worth considering the heating speed of the tool's battery. In this case, if you work for a long time without interruption, you risk overheating the tool. So if you're a professional and need to use your tools all the time, it's better to pay attention to faster and more powerful models. For home craftsmen it will be a good option at a reasonable price.
Makita XSF03Z 18V LXT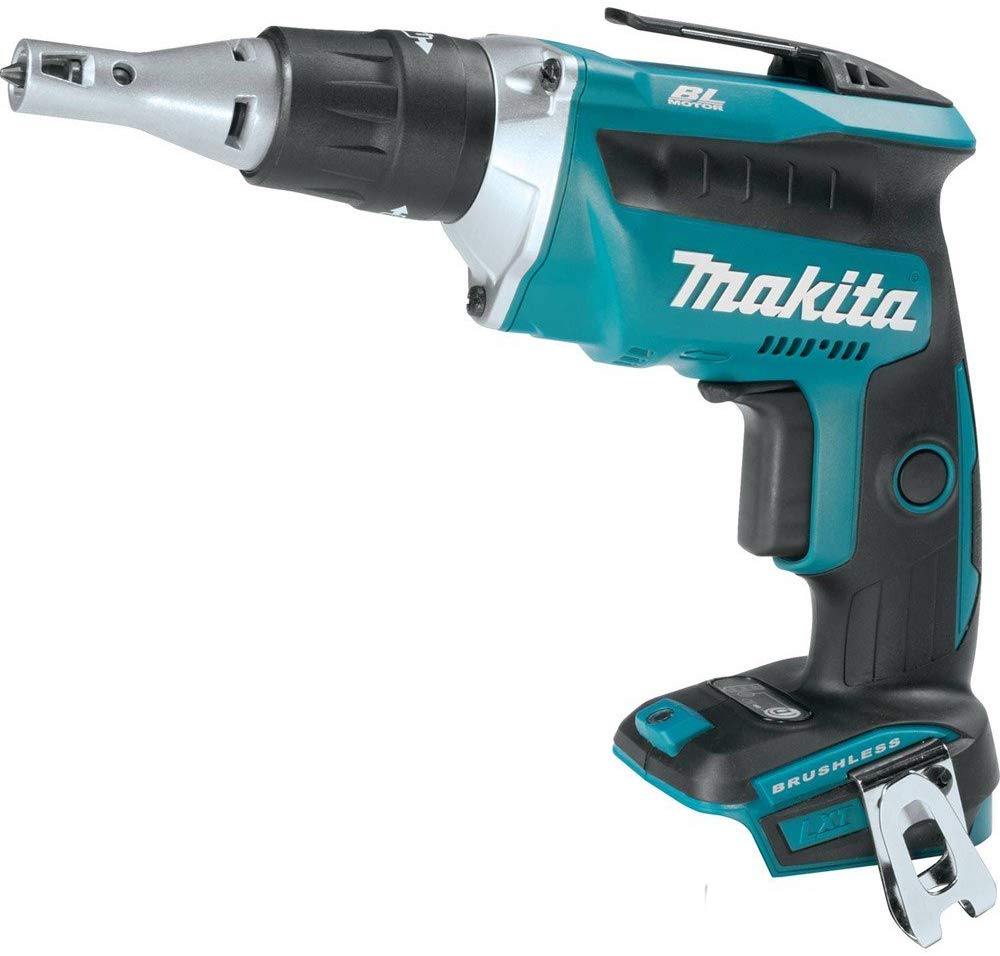 As you can see, many companies do not include batteries and even a charger in their toolboxes. Makita works in the same way – when you buy the Makita XSF03Z, you get only the device itself, without any additional items or materials. Despite its meager equipment, the screw gun has good technical characteristics but is not cheap.
The Makita XSF03Z is a large and heavy enough screw gun to carry with it or to work without interruption for a long time. Compared to other, more standard tools, it is a heavy drill bit. It has a very strong engine and is capable of running at a maximum speed of 4000 rpm, which ensures incredible speed.
The tool motor is electronic and brushless. But these aren't the only features that extend the life of the tool. There is a locking mode in which the motor runs only under your guidance. Batteries hold a charge for a long time, and with this feature, their consumption is reduced by 40 percent.
The Makita XSF03Z is perfect for fragile or brittle materials. For example, when using it with cedar materials, you don't risk getting only chips as a result. If you're not afraid of the weight of the tool or if you're very strong physically, you'll like it in use.
Milwaukee 2401-20 M12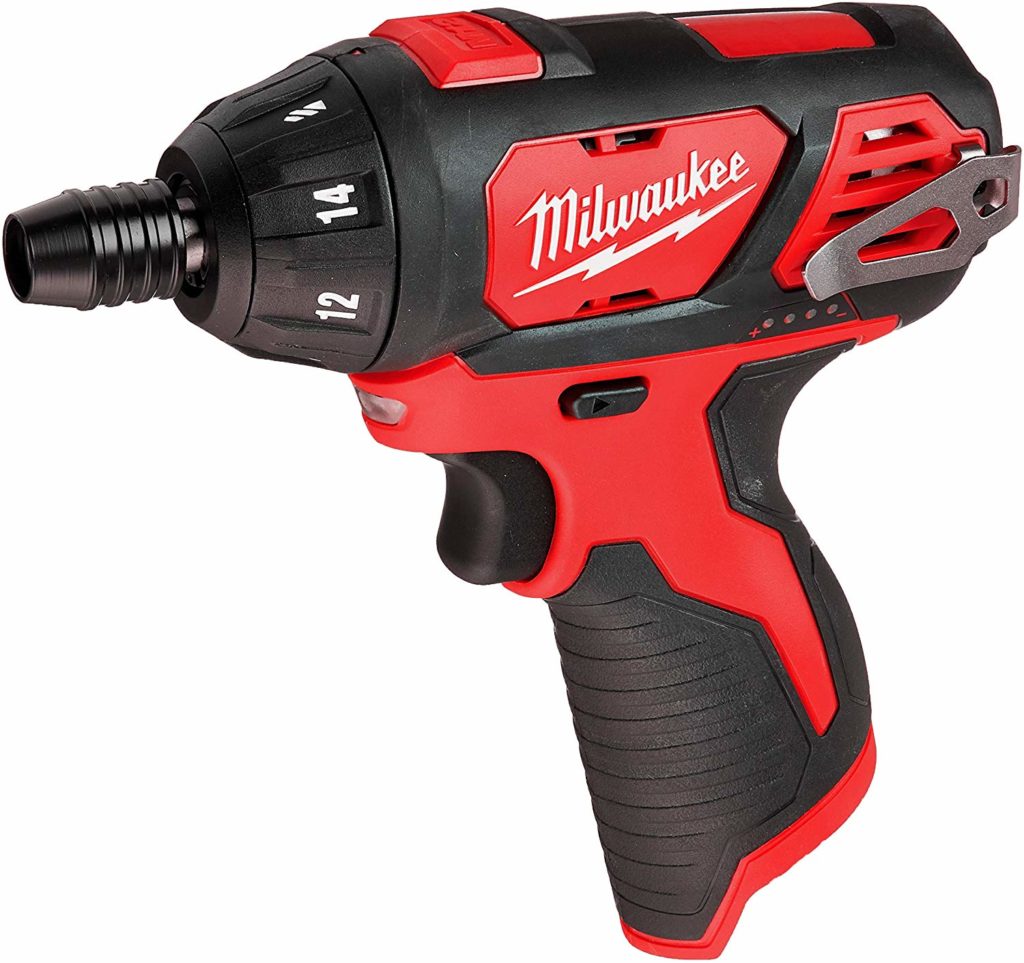 You can really think of the Milwaukee 2401-20 as a pocket gun for tightening bolts and nuts. This is a small and original tool that is inexpensive and your budget will not be affected by buying it. Milwaukee is also a well-known company for the production of tools and building materials, but they work in the budget price range and in general, any of their tools are inexpensive.
The Milwaukee 2401-20 differs from many screw guns in its thick holding handle. This is based on the fact that you insert and connect the batteries via the handle. This is not very convenient at the time of use as it interferes with ergonomics. If you don't have a powerful and large palm, you may not even be able to hold it with one hand.
You can track the battery charge on the tool body. When charging, you'll notice how fast the Milwaukee 2401-20 is charging – so it's probably a plus for you when you're working on a major or large scale.
The speed of just 500 rpm is disappointing, especially after reading the view of the powerful Makita. Actually, if you use a screw gun not so often or do not constantly repair and assemble something, the speed of its work is quite satisfactory and will not seem to be very slow. Generally speaking, if you're looking for an inexpensive pocket tool, it's a good choice at a good price.
BLACK+DECKER 12V MAX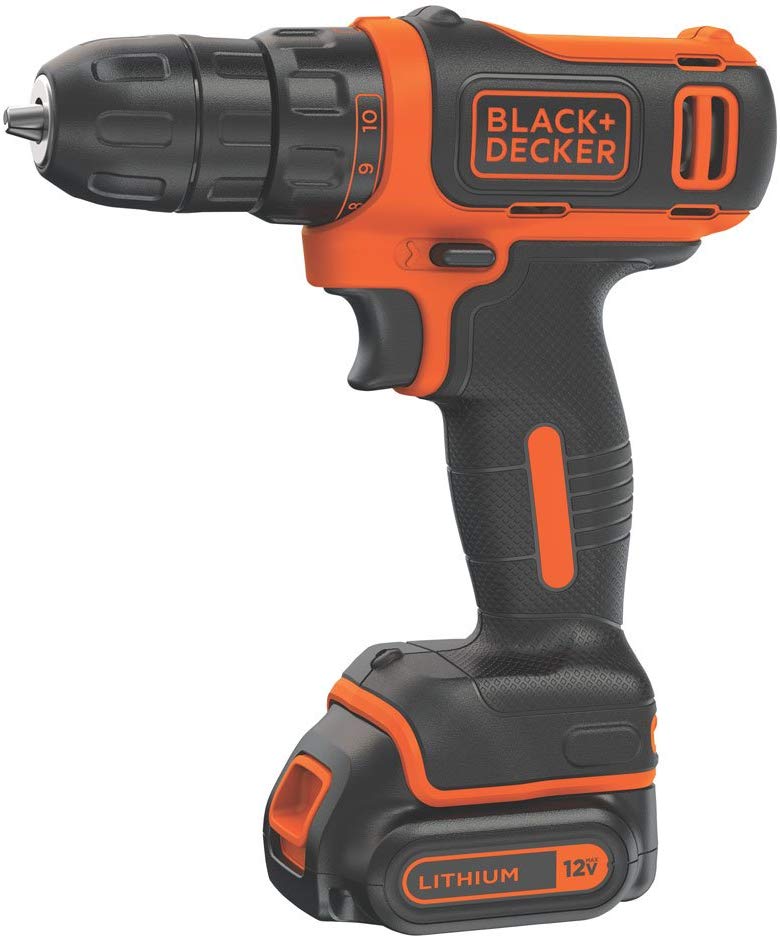 Unlike many other models, the Black+Decker 12V Max comes with batteries and a charger. This fact makes life much easier for you in the sense that you do not need to look for additional devices for your tool. The design of the Black+Decker 12V Max is a screw gun with a small "base" that you can use in the process to hold the tool.
The handle is ergonomically designed and finished with anti-slip material, and in general, its structure is set to make it easy for you to hold the tool in your hands. On the tip of the screw gun itself is a small LED flashlight, which you can use when working in dark spaces. As you could understand from the name, its power is equal to 12 volts, which generally corresponds to its size. Small and lightweight, Black+Decker 12V Max still copes perfectly with its work and tightens any screws and bolts with sufficient speed.
The tool can work in 12 modes in total. They are switched by means of a rotary mechanism near the drill itself, so you can do it even during work. The only thing worth noting is that you can't twist it backward. Full charge is achieved in 2-3 hours, which is fast enough for such a powerful tool.
KARRISM 20V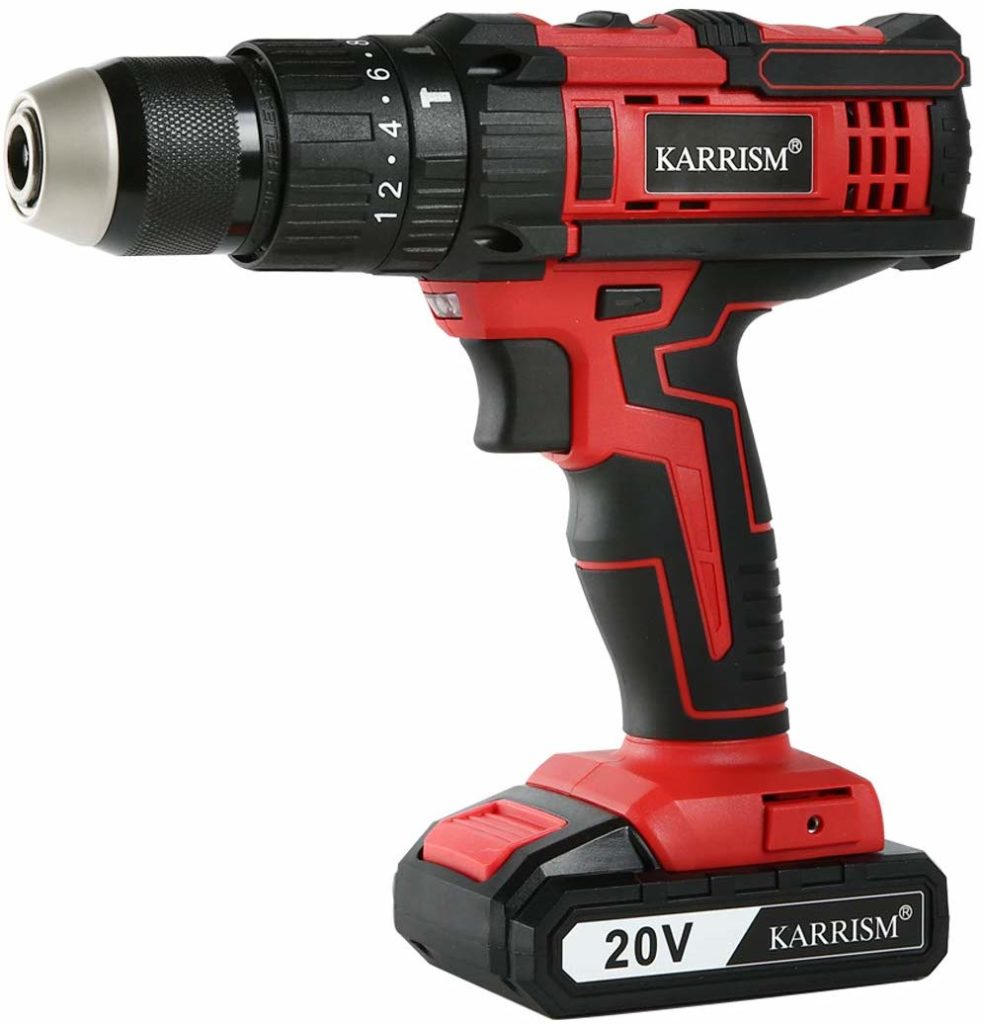 Stylish and efficient, the KARRISM 20V can operate in 2 modes – standard and high-speed. These values are limited to 400 rpm and 1500 rpm respectively. You can change the speed to create holes and screw in parts. This can be done right at the time of operation with just a little finger movement. The kit includes 2 lithium-ion batteries, each with a capacity of 2000 mAh.
The standard design has a coupling that prevents bolts and screws from being pulled up and screwed in. There is an LED indicator next to the coupling that lights up your work area. This way you can keep your eyesight on even when you're working at night. There's also a display of the battery charge, so you can always recharge your tool in time. A fully charged battery requires only 1 hour and the battery has a long service life. When you buy a KARRISM 20V you can assume that you will not have any problems with batteries.
It is worth noting that the gearbox consists of two stages, depending on the goals you are pursuing. For example, if you need to create a hole, you will need to set this mode. Also, a screw gun prevents too deep bolt tightening or other mismatches to the parameters you set. This is a great tool that comes with a complete set of tools when you buy it. Comfortable size is great for holding in one hand and easy work.
Ryobi P883 ONE+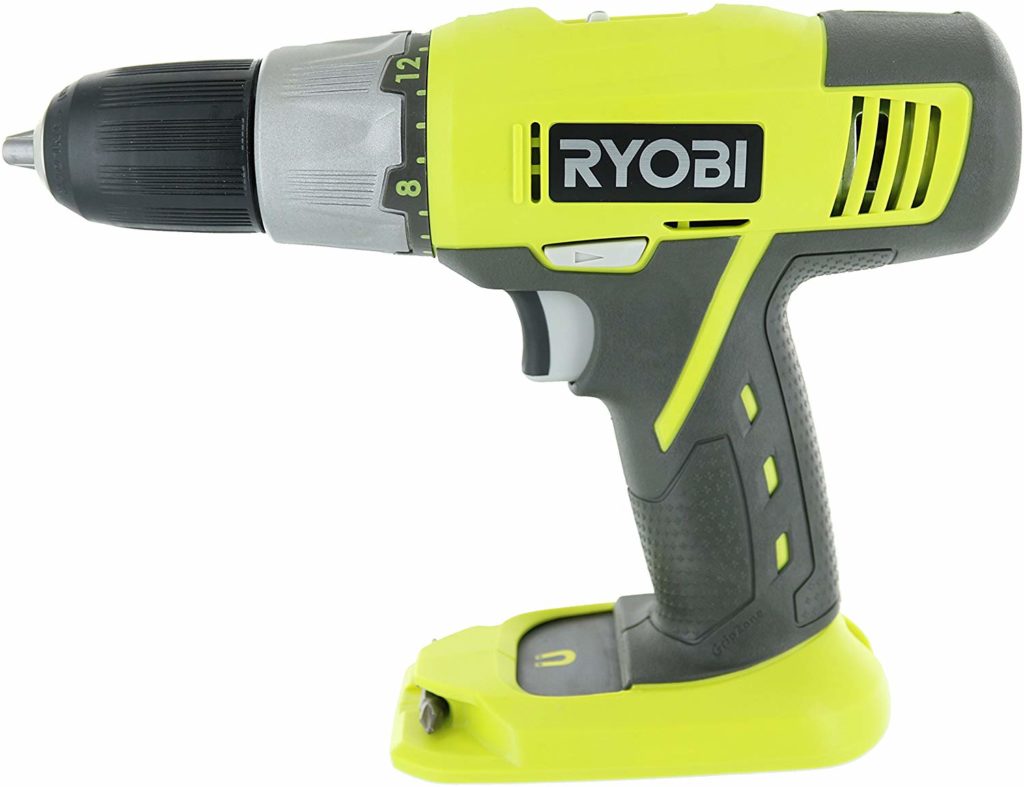 Given that most repair and construction work is done by professionals and their tools, the likelihood that you will do the hard work yourself is very small. In this case, you do not necessarily need to use a heavy or professional tool, which not only will be lying in your garage but also will be quite expensive. If you just want to get a working tool without special privileges, Ryobi ONE+ is a great solution.
A small screw gun that can be easily locked at the touch of a finger. Its power reaches 4500 rpm, which is amazing for such an inexpensive tool. In fact, in practice, it is better for them to work at medium speeds without affecting the maximum speed. For more precise work, the set includes a cone tip that can be easily removed. You can even improve the accuracy of your measurements with it. If you hold it on the fastener for a long time, it can even engage the clutch.
The battery charge is controlled by a special QuietDrive mode. It shortens the time it takes to work when you're not holding the trigger and the tool may be at rest. You may wonder why we recommend it for home use only. And the thing is, it's great for bolts less than 2 inches long. It only works flawlessly with short screws, and if you try to tighten a longer part, you risk ruining it and getting upset.
Senco Fastening Systems TV174274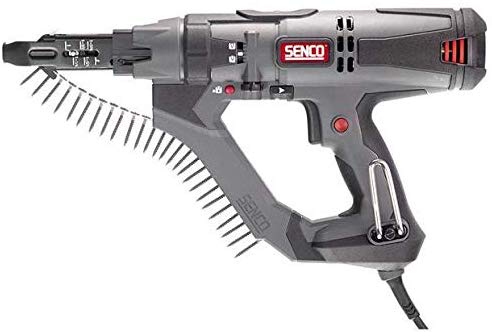 Can you imagine a machine gun? Oh, don't be afraid! In fact, Senco Fastening Systems TV174274 looks like a machine gun. If you have a large project, repair work or you have to tighten a lot of screws in a row, it's a great option. This screw gun works with little or no stoppages or breaks, constantly tightening the parts.
You're hooking up a chain of nails or screws from the base to the end of the tool. All you have to do is simply adjust the accuracy and hold it in your hand. It can be used with either wire and plug in or a portable battery. If you need to use it all the time, it is of course much more convenient to buy batteries.
If it is important to you where the tool is made, Senco Fastening Systems TV174274 is assembled in China and imported to other countries. This does not affect its quality at all, as you might have thought initially. The quality of the kit and the functionality, the cap size from 1 to 2 inches – all this gives you a good tool in general. You may need to change the Senco bit after a long time, but you should at least try to use it initially. We're sure you won't be able to tighten the screws one by one after this!
WORX WX254L SD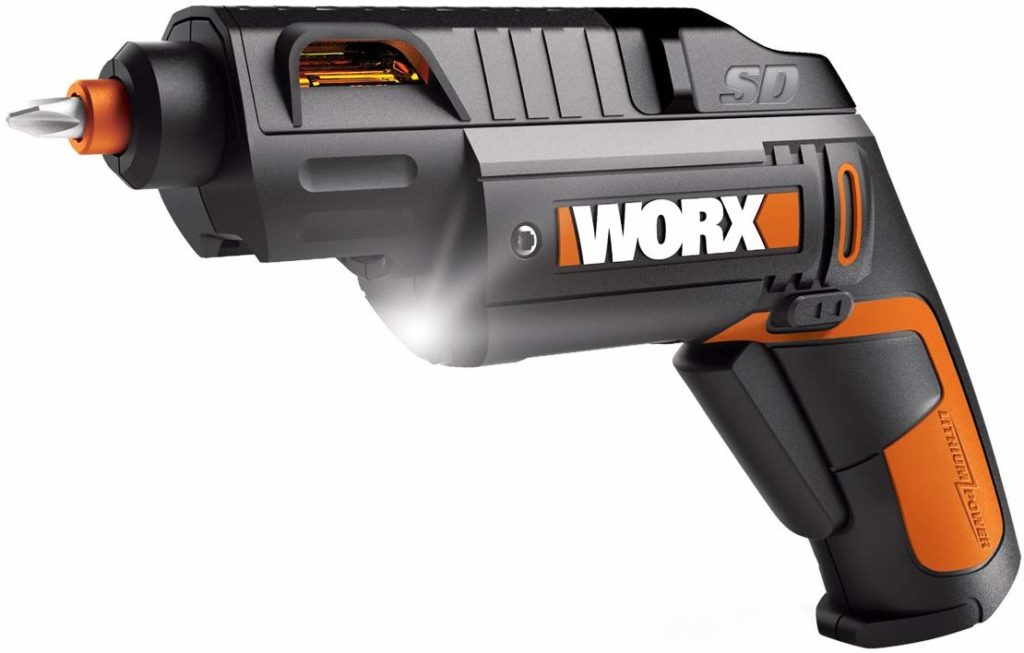 While looking for a budget instrument, do not forget about the quality. WORX WX254L is an inexpensive and good version of the screw gun that comes immediately to you fully equipped. The charger comes right in! The tool has lithium-ion batteries and 4 volts, which are standard values in general.
The set includes a wide range of different drills for different materials and with different accessories. So you no longer need to look in the toolbox for each tool separately – the WORX WX254L is an almost universal twist gun. By the way, it is worth noting the shape of the tool itself – it really resembles a gun and it easy to hold in your hand. You can change the cartridges and nozzles on your own in the future – depending on your goals.
Since WORX WX254L is very narrow, it is convenient to work even in places where it is difficult to climb even with a screwdriver. However, the LED is very weak and will do little to help you with the light when working. The battery is not removable, as it is charged on both sides of the tool at the same time.
Also, note that the WORX WX254L kit does not include a case for storage and transportation. If you plan to carry it with you or just store it separately, you will need to take care of it yourself.
Any repair will be a much smaller problem than it seems if you approach the choice of tools competently. A good screw gun is capable of speeding up the process many times and tightening the screws much more than a person can do.
Since many manufacturers sell chargers and batteries separately from tools, we recommend you to pay attention to the kitting when buying. Otherwise, all you have to do now is choose the right tool and just buy it. Don't think that this will be a waste of time – simplify your manual work and free up your free time for something more worthwhile.
FAQ for screw gun buyers
1. What are the best speed settings for home use?
Now you can find both 1400 speeds and 4000 speeds among the many screwdriver models. If you do not do a professional repair, or if you use such devices literally a couple of times a year, you should not choose the highest performance screwdriver.
For example, 1400-2500 rpm is quite enough for you to easily screw all the screws or create multiple holes in the wall. Models with 3,500 rpm or more are more suitable for professionals.
2. What are the best models to choose – wired or wireless?
Wireless and wired devices have both advantages and disadvantages. For example, wireless screwdrivers are easy to use on large projects and large premises, but at the same time, the device battery is incredibly important.
If it runs out of power, you will need to interrupt your work for a while. Wired devices will not leave you without tools, but you will need to use extension cords or constantly change the power supply. The choice depends on how you intend to use the tool.
3. What does the cost of the device depend on?
Sometimes, when you see the cost of a device, the question unwittingly arises: is it really that expensive? Actually, the cost is formed from many indicators.
First, it is a tool kit: some include a carrying and storage bag, additional attachments, chargers, and batteries. Of course, this increases the overall cost.
You should also remember that the manufacturer's name has the same effect. Large manufacturers also often give a long warranty on their products.
4. How can you tell if a screwdriver will be convenient to use?
The usability function is the same for all models. It can be an ergonomic handle, shape or other additional parts. The most important thing you should pay attention to is the weight of the device and the type of handle.
Note that most of the work is done with one hand, which means you will need to hold the tool for some time. Also, pay attention to the handle, its coating, and shape – it should not slide in your hand, as well as repeat the shape of the grip with your fingers.