Each of us has faced minor repairs and other household trifles in our lives. Everybody had to collect tools in a special box, distribute them or buy them in construction stores. When you went to any shop with tools or accessories for repairs, you definitely saw pliers.
You may also like: 10 Best tool kits for car
IMAGE
PRODUCT

Best Diagonal Pliers

IRWIN VISE-GRIP Diagonal Cutting Pliers, 8-Inch

Ergonomic handles for comfortable work without tiring your hands.

Check price on Amazon

Best Tongue and Groove Pliers

KNIPEX Tools - Cobra Water Pump Pliers

The ideal tool for those who work with details of different sizes.

Check price on Amazon

Best Slip Joint Pliers

Stanley 84-097 6-Inch Slip Joint Plier

The tool from the famous manufacturer with anticorrosive protection.

Check price on Amazon

Best Bent Nose Pliers

Bent Chain-Nose Pliers for Crafting and Repair,
Jewelry Making Supplies

Ideal for difficult corners and fine metal working.

Check price on Amazon

Best Linesman Pliers

Klein Tools High Leverage Pliers, 9-Inch

Powerful material grip with smooth running without additional effort.

Check price on Amazon

Best Combination Pliers

Channellock E348 E Series 8-Inch Combination Plier with XLT Joint

Longer life due to laser treatment of edge and head material.

Check price on Amazon

Best Soft Jaw Pliers

Knipex Tools SBA 10" Pipe and Connector Pliers with Soft Jaws

The tool that has been tested under real conditions and with excellent results.

Check price on Amazon

Best Needle Nose Pliers

Dykes Needle Nose Pliers Extra Long Needle Nose Plier (6-Inch)

An excellent tool for hobby (needlework) and work (repair of small parts of computers and smartphones).

Check price on Amazon
Common Pliers
The usual pliers that are found in each garage can also be of different kinds. Of course, for the average person they are all alike, and no one knows the exact names. Ask your friends, "What kind of tool is that?" and you'll just hear "pliers". You should take a closer look at the usual and most common types of this tool.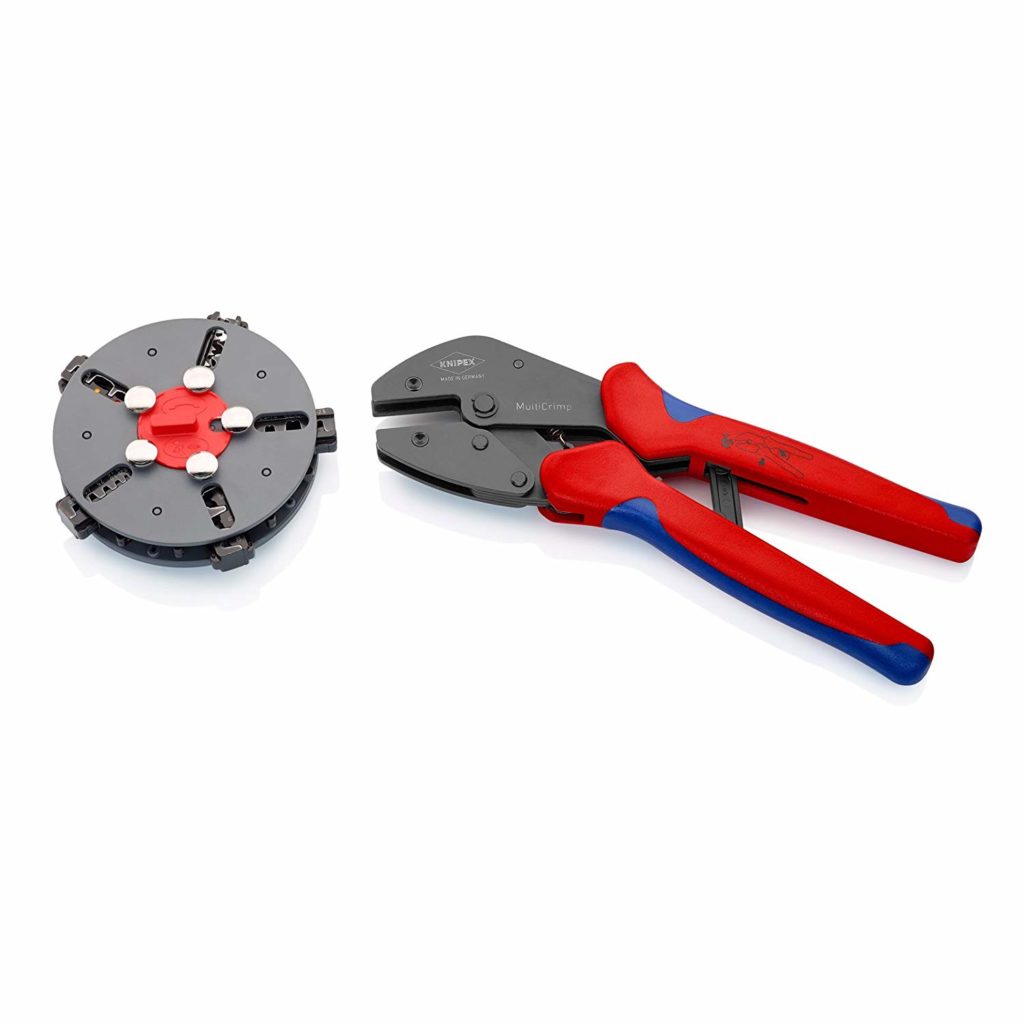 Crimping Pliers
Crimping pliers are the very pliers that every person has at home. They are designed to compress materials and products. There is a hole between the two parts of the pliers. With the help of this hole you can use the tool on the principle of "clicker" nuts, as well as to create strong and dense clamps. All pliers can be supplied with holes of different diameters – just for working with different objects.
The two main industries in which Crimping pliers are actively used are electrical repair and beading or any other handicraft related to beads. The tool holes can flatten small beads, create dense crimping and much more. It is also possible to create hinges and seal rows of materials. In the same way, you can create an airtight connection in the wiring harness without soldering. In other words, now you don't need to use any other tools in your work – for some purposes you can do it with Crimping pliers. If your pliers are designed to work with wires, they may have a small pointed part – it is required to cut the insulation or remove it completely.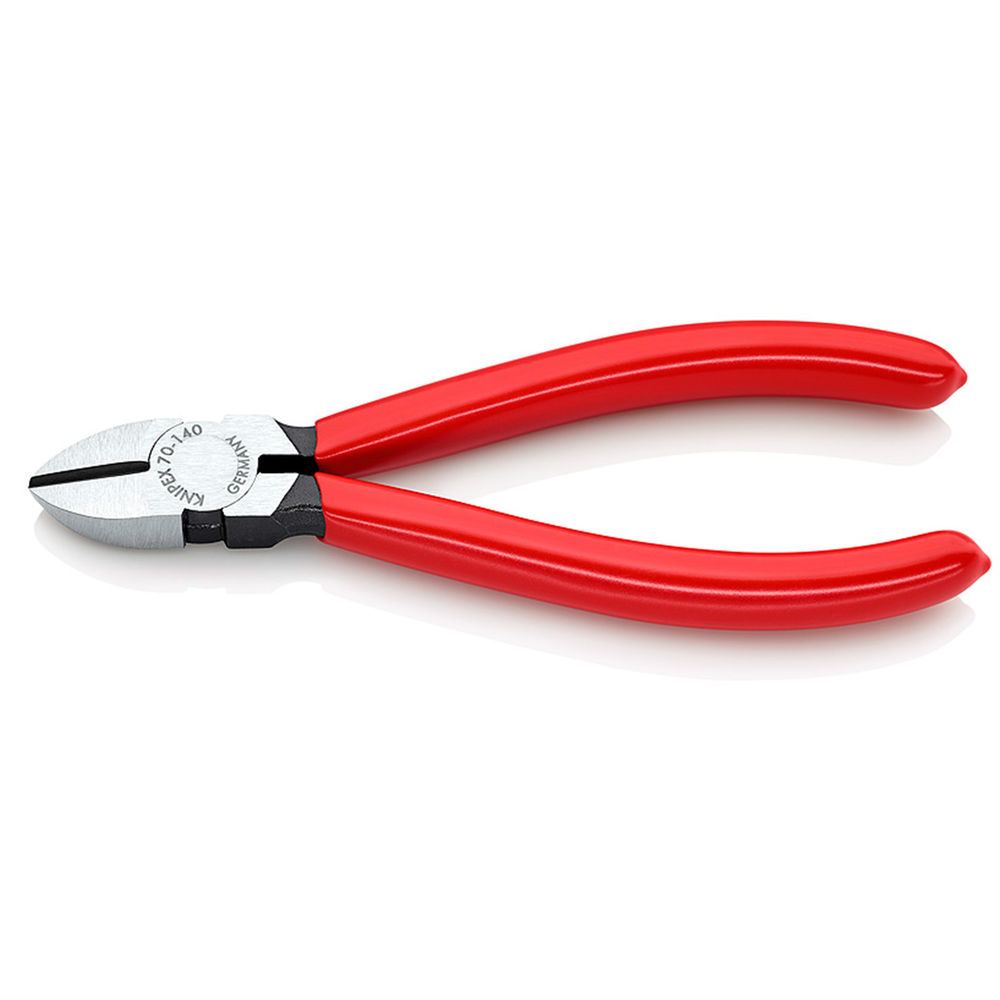 Diagonal Pliers
When you need pliers to cut something – wire, nails or cables – this is one of the tools to help you. Diagonal Pliers are designed exclusively for cutting and cannot be used for any other purpose. Both parts of the pliers are pointed. The point of support is located closer to the cutting "jaws". This allows the master to operate the tool more conveniently.
The pliers themselves are sharp and with rounded edges – even insulated wires can be cut quickly and accurately. Working with cables and wiring is a dangerous and precise job, requiring concentration and the use of precision tools. Most pliers have ribbed surfaces that are not suitable for cutting. Diagonal Pliers are designed to do that. Their cutting surface is made of carbon steel, which allows you to cut even copper and aluminum – the basic metals used to make wires. Usually, the handles of this tool are dipped in a special colored material – to distinguish them from other tools. So Diagonal pliers become brighter and immediately catch your eye among other tools.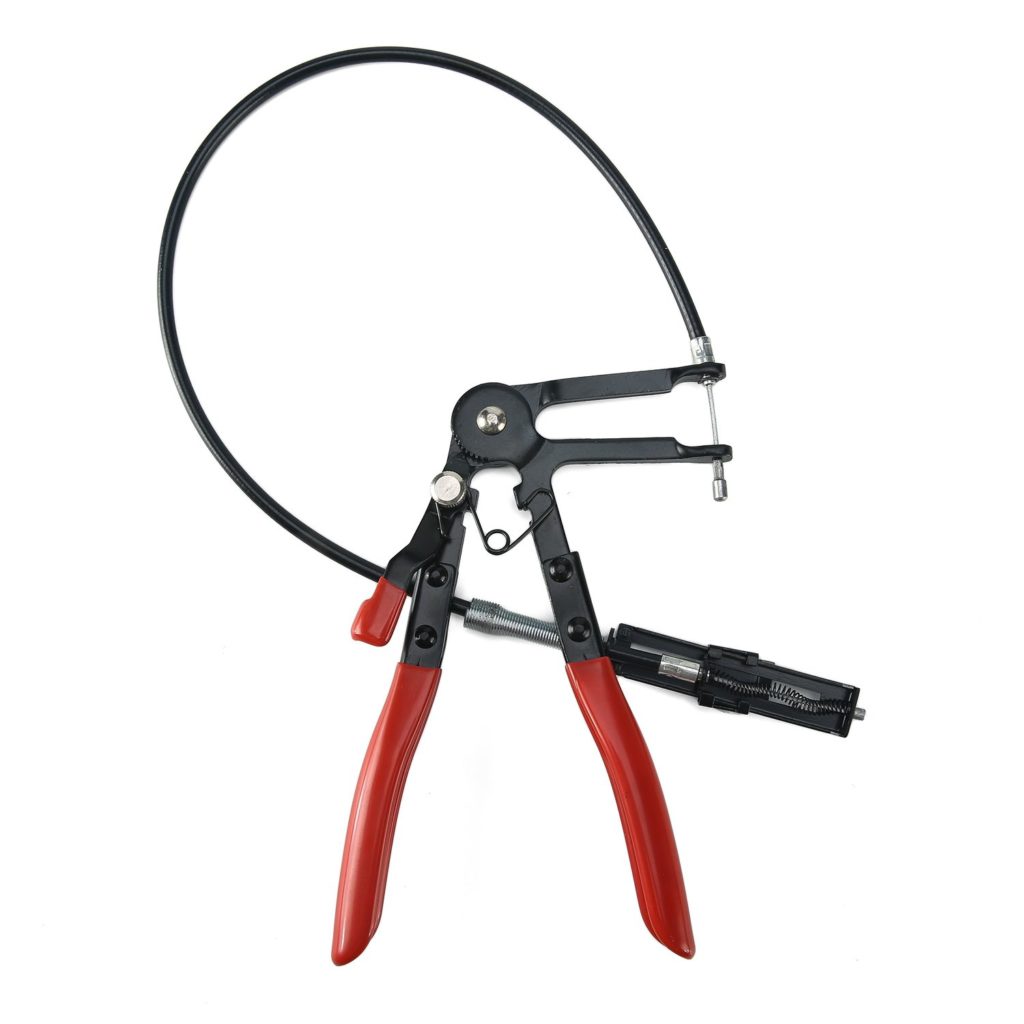 Hose Clamp Pliers
Hose pliers are special pliers that are used to tighten hose clamps. Most work is done with spring clamps – they are the ones that most often require these pliers to work. The clamp itself is made up of two locking rings, the ends of which are bent with Hose pliers. The tabs that the pliers normally come into contact with can be easily bent backwards – in the case of a sudden need to expand or compress the clamp.
The most common techniques that require pliers are washing machines, cars, and more. Car hoses are sometimes located in hard-to-reach places, so Hose pliers are also specifically shaped. Some tools are called universal – they are a mixture of curved pliers, and the size of the jaw can be adjusted up and down. They are fixed when needed. The simplest and most basic variation of Hose pliers is similar to conventional mechanical pliers. Keep in mind that different sizes of clamps also require different pliers – this is a key factor when choosing a tool.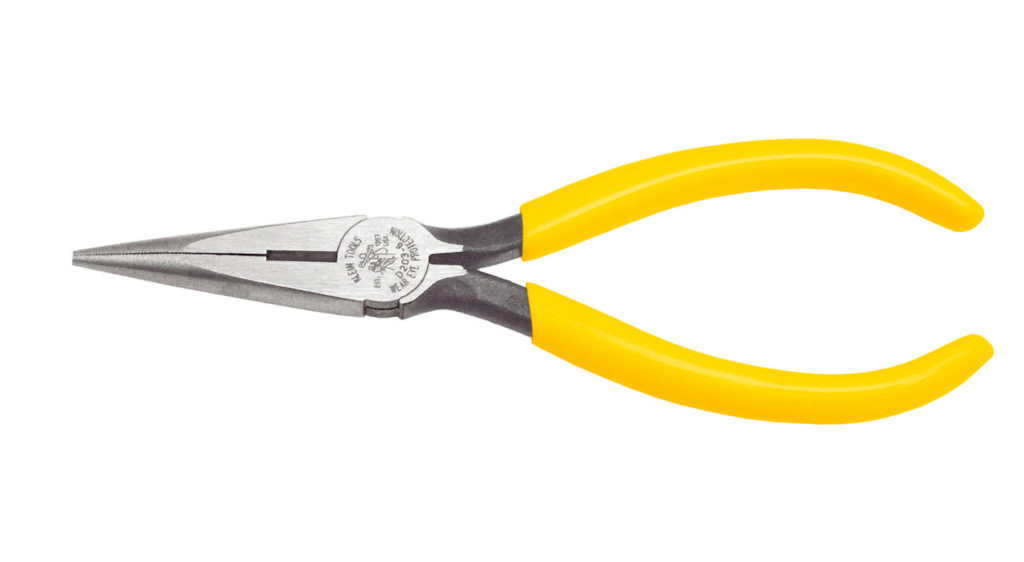 Needle Nose Pliers
Needle-nose pliers are pliers with long and thin noses – so you can immediately recognize them from most other tools. They are used in many areas of human activity, such as jewelry, cable and electrical wiring. They mainly change the shape of the wire or simply cut it off. Thanks to the long and thin nose, you can use them in hard-to-reach places.
Needle-nose pliers are also actively used in the arts and crafts sector. They can be used to grab small parts and items such as seed beads or beads. The appearance of Needle-nose pliers is quite specific. The long and sharp nose is made of solid steel and the handles are made of plastic. As you can see, the name of the tool comes from its appearance.
Although Needle-nose pliers can cut the material, they can also be used to create loops and hold small parts. Since the pliers themselves are thin and narrow, this ensures that the materials are held firmly in one place. Needle-nose pliers themselves can be purchased in almost any hardware store – they are generally available and are not uncommon for craftsmen.
You may also like: 10 Best hand saws

Slip Joint Pliers
If conventional pliers are not adjustable, the Slip joint pliers are different. Depending on the object that holds the tool, the grip size can be adjusted. The pivoting and holding point of the Slip joint pliers can also be changed and this depends only on the wishes and needs of the person working with them. There is a hole in the neck of the Slip joint pliers that allows the joint to move. The holding point can be a tongue and groove construction, or it can be a variation of pre-defined holes.
Usually, the Slip joint pliers are straight i.e. their nose is straight. The jaws are aligned with the handles of the tool, but there are also differences even among the tools themselves. The tool handles are thick and comfortable to grip, usually finished with plastic or other lightweight material – so as not to make the construction heavier. The most important thing is the jaws. They can be thick, thin, regular and multiple. Multiple ones are those Slip joint pliers that provide 2 or more pivoting positions.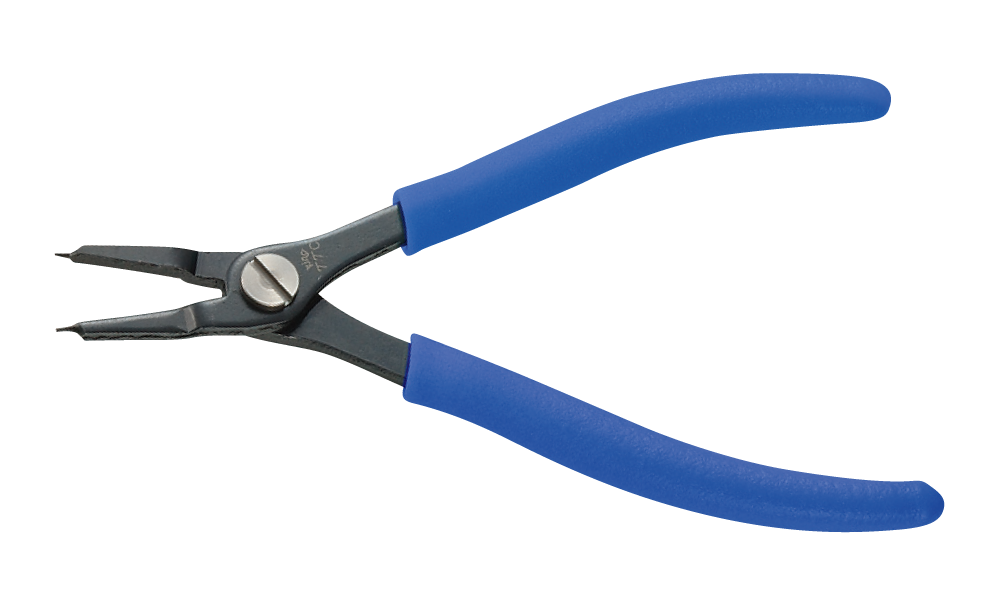 Snap Ring Pliers
Snap-ring pliers are similar in functionality to hose pliers. They also work with tightening and weakening, but already differ in appearance and some other factors in the work. Snap-ring pliers are actively used to secure the locking rings. They help to install these rings in special grooves and tighten them until they are fully secured. It is almost impossible to remove or install the rings without them – so although the Snap-ring pliers are not the most necessary tool in your garage, but their purchase will definitely not be superfluous.
The tool itself has a standard structure for pliers – the nose, fixation point and handles. The handles are attached to the pivot point of the tool itself and are convenient for human use. Sometimes they can be sprung, which is a plus in some types of work. The ends of the jaws of these pliers can be slightly rounded or generally round, allowing them to be inserted into small holes.
Sometimes the Snap-ring pliers can have a reversible head – so you can easily pull on a ring, for example. The retaining rings can be either compressed or uncompressed. To compress, you squeeze the handles of the tool after the nose is fixed to the desired clamp, and when you squeeze or loosen it, you use them inside the ring itself. By turning the tool over, you can also create clips within the most complex designs.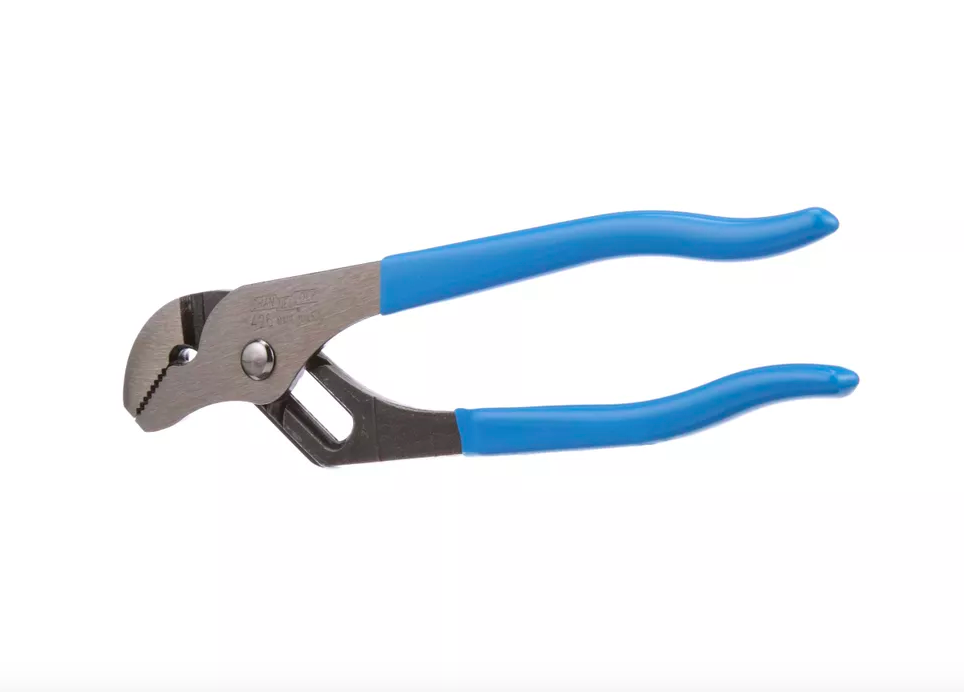 Tongue and Groove Pliers
We already mentioned Tongue and Groove Pliers in the article about Slip joint pliers. Indeed, they are one of the varieties of this tool. In fact, Tongue and Groove Pliers can still be found under many names – water pump pliers, groove-joint pliers, arc-joint pliers, Multi-Grips and Channellocks. All this variety of names hides one multifunctional tool.
Usually, it is used for fixing nuts and bolts, holding objects of non-standard shape. It is also possible to rotate objects while keeping them in one position. According to the design of Tongue and Groove Pliers are slightly curved tools. The toothed jaws are angled relative to the handles of the tool and this angle can vary from 40 to 60 degrees. The angle varies so much due to the possibility of changing the position of the lower jaw – it can be moved along the track position of the upper part.
You can easily adjust the size without increasing the distance to the handle. The size of the instrument itself can vary from 9 to 12 inches in length. The weight of the tool can also vary, depending on the material used. We did not mention the name Channellocks unnecessarily. That's what they are sometimes called because they were originally developed by Tongue and Groove Pliers. Although other companies are producing the tool at the moment, the name is still in use.
Special Pliers
In addition to the usual pliers, there are also specialized pliers. They are used in the individual construction and repair industries. Some are designed to work with electricity, some exclusively for special materials. They are available in different forms of working side, handles and sizes. There can be many kinds of them, but we will now look at the most frequent and demanded in the work.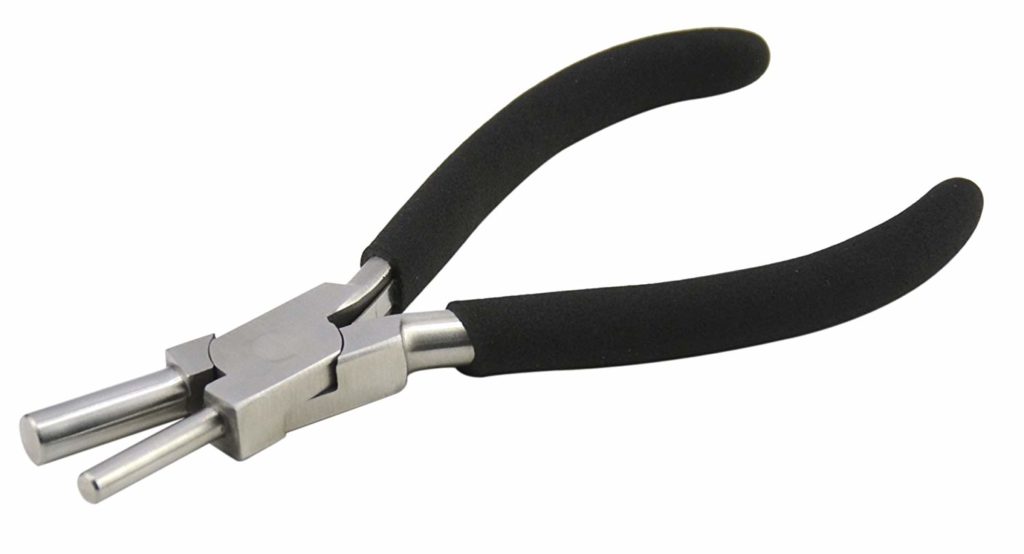 Bail Making Pliers
This tool looks unusual, although it is only the first one in the category. The Bail Making Pliers are pliers whose jaws are represented by 2 pins. Usually, these pins are made of stainless steel, and also differ in size. One of the pins is necessarily smaller than the other – this is done to make the tool more versatile. The handles are finished with vinyl, which allows you to avoid slipping during direct work with materials. This is very important because it is not advisable to subject the wire and jewelry materials to repeated mechanical influences – this can lead to their deterioration.
Stores usually have Bail Making Pliers in different sizes. The size is determined by the diameter of the pins. The most common model has 2 pins, the sizes of which are 9 and 7 mm. The main application of the tool is in jewelry and handicraft, but in general it can work with the wire in any area, to create loops and circles. You can form buckles and fasteners – all thanks to its convenient use. By wrapping the wire around one pin, you can lock it in place with a second pin. In this way, some craftsmen even create entire networks, fixing the rings between them or forming them already fixed.

Battery Pliers
Battery Pliers is very easy to confuse with Tongue and groove pliers. Indeed, they look a bit alike. Battery Pliers are not a tool in which pliers and handles are in a straight line. The jaws of this tool are curved in relation to the handles, and the angle can be in the range of 45 to 60 degrees, depending on the model of the tool.
However, it is worth noting that there is a significant difference between such similar tools at once. The lower jaw of the Battery Pliers is much shorter than the upper jaw. It is also straight and the upper part of the pliers is curved. The bottom part is designed so that it fits into the "bend". The metal part of the tool is made of steel to make it easier to work in different materials. Basically, the work is done with batteries, and their main material is soft aluminum. The master's task is not to damage the material itself during the work.
Battery Pliers are used in some parts of the car service and also work directly with batteries. They can easily remove the terminals, and the small end gap allows you not to damage the battery cover. In cars with the help of Battery Pliers it is possible to maintain the bolts on the batteries of cars, as well as fix the bolts of the cable jumpers.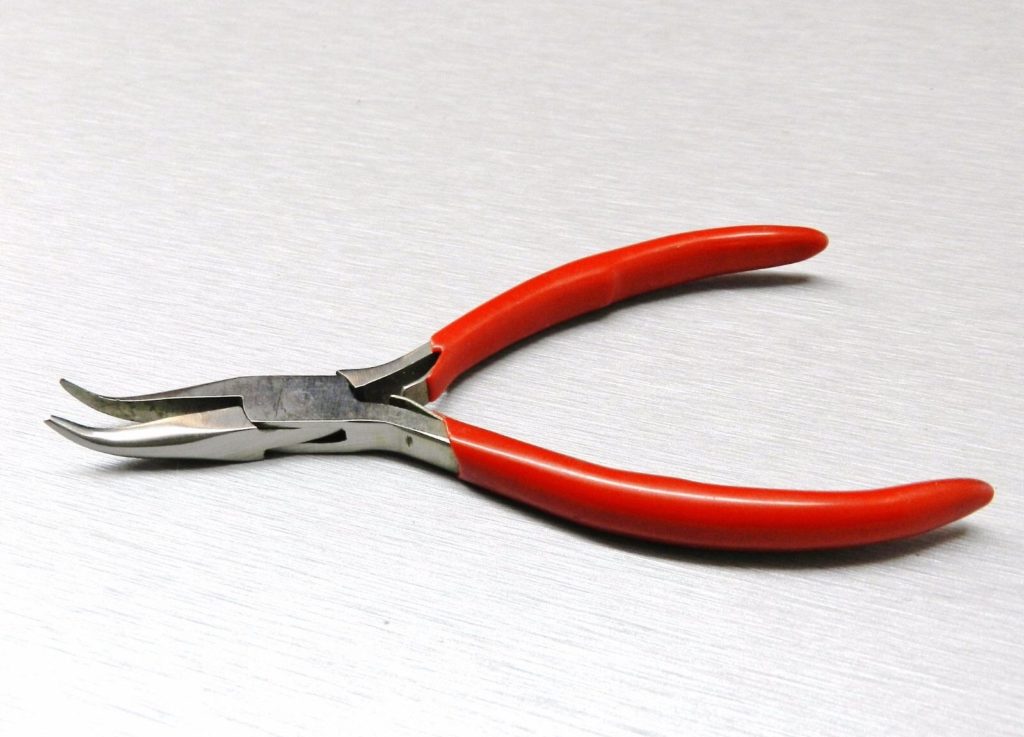 Bent Nose Pliers
Bent Nose Pliers can be considered a special kind of needle nose pliers. They are also pliers with special thin jaws. Both ends are really thin, which allows them to work in hard-to-reach places, as well as with small parts. Their main difference is immediately apparent as soon as you see the tool. The ends of the jaws of the Bent Nose Pliers are curved, and this angle can vary from 45 to 90 degrees, depending on the model.
The bend starts almost in the middle of the pliers, so even if your part is hidden inside the design, you can get to it without damaging any other parts. With this very bend, you can perform the types of work that needle nose pliers are unable to do. The Bent Nose Pliers, like many other pliers, are made of stainless steel. It makes it easy to work with different materials. So the tool finds its application in many fields of activity, although the main use is in jewelry. The handles are comfortable and made of anti-slip materials. In addition to jewelry, Bent Nose Pliers can be found in a suitcase with tools from electricians and universal repairers.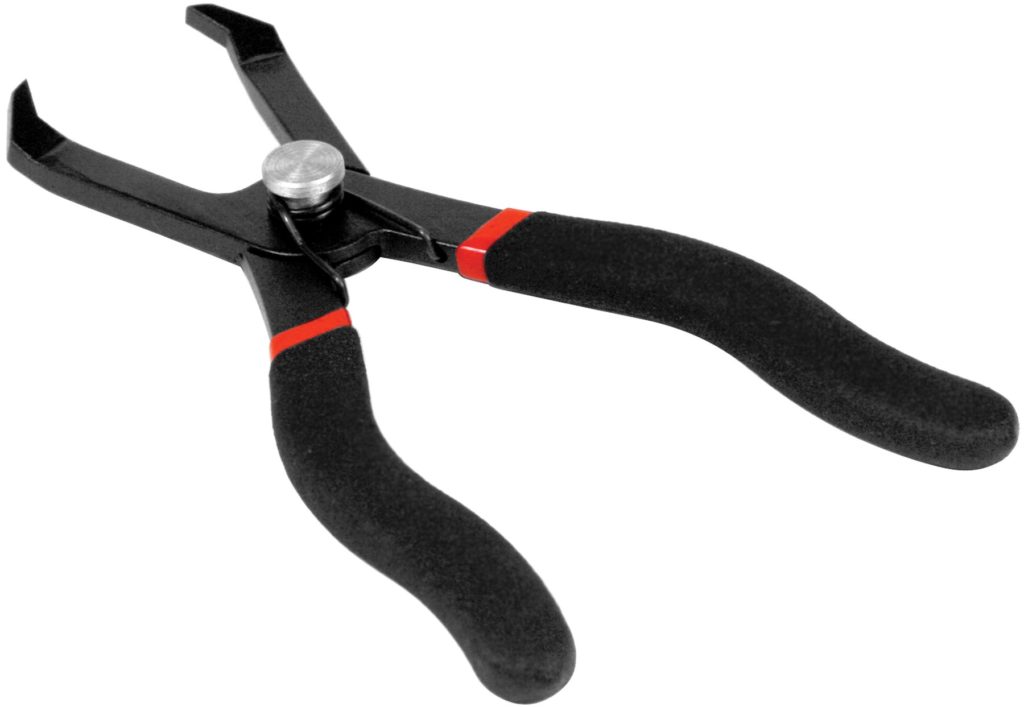 Push Pin Pliers
Drivers are familiar with this tool. It can often be seen in car repair shops, in garages of people who are keen on cars and in other situations. They are mainly designed to remove car pins or push-in anchor bolts. These pliers can remove old upholstery pins or plastic anchor pins without damage. Push pins with a central locking element are difficult to remove, which means they are generally difficult to disassemble.
The Push Pin Pliers have been developed specifically for use with pressure pins. They are usually spring loaded, which simplifies the master's work and makes it easier to "push". It's much easier to remove the pin, and you'll have to do much less work.
Double handles are most often equipped with pads for gripping. This reduces the friction of the metal with the hands while working, i.e. prevents damage to your skin. The jaw of the tool itself is wedged and can be easily caught under the pin cap. The pliers remove it quickly, so you will save a lot of time. In addition to domestic use in automobiles, Push Pin Pliers are used in mechanical factories and industry but in larger sizes.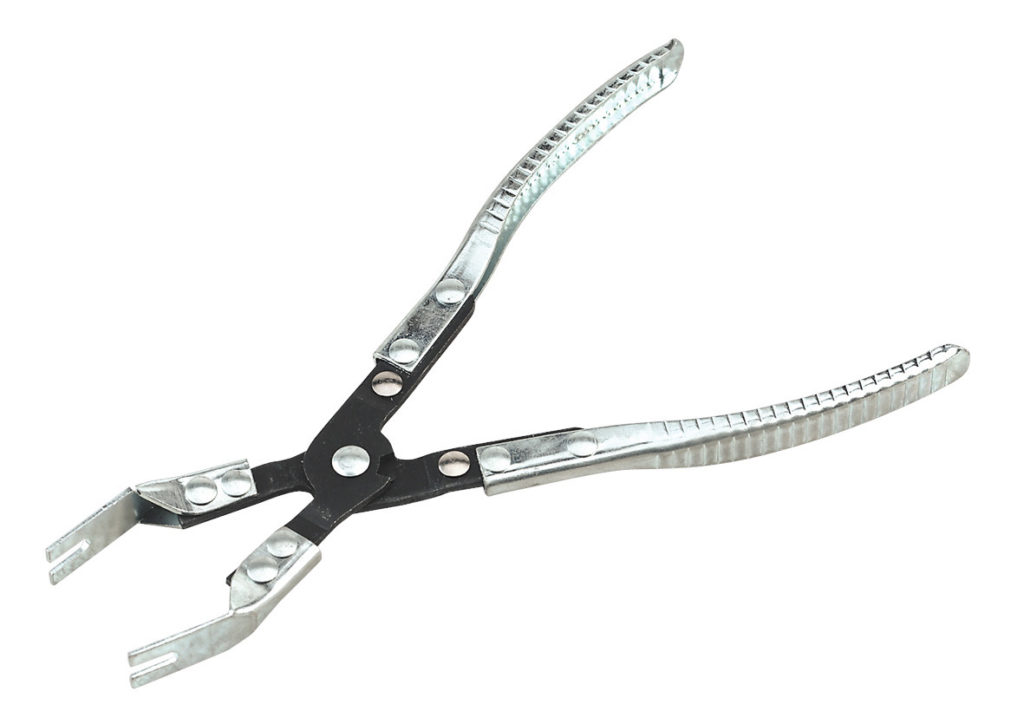 Brake Spring Pliers
Many car enthusiasts are familiar with the concept of springs on drum brakes. Most of them call their maintenance "hell" and "dirty work", and therefore prefer not to do maintenance on their own. In the standard car showrooms for such a simple and five-minute work you can pay about $ 100, and that's quite a lot of money.
Using Brake Spring Pliers will save you a lot of money – because buying it once, you can always use it. The jaws of Brake Spring Pliers are asymmetrical and different in shape. One resembles a hook and the other is curved. One tip removes the springs and the other part allows you to insert the spring back. On some tools there can also be a special ratchet. It is designed to make it easier to remove the retainer.
In general, their principle of operation is simple – the longer end is used to install the springs over the anchorage stand, and the shorter end is used to tighten the return springs. Of course, Brake Spring Pliers are very specialized and designed to work exclusively with brake springs, but they are also comfortable and perfectly manage their work. The springs are not scattered all over the open space when dismantled, and you can do all the work yourself.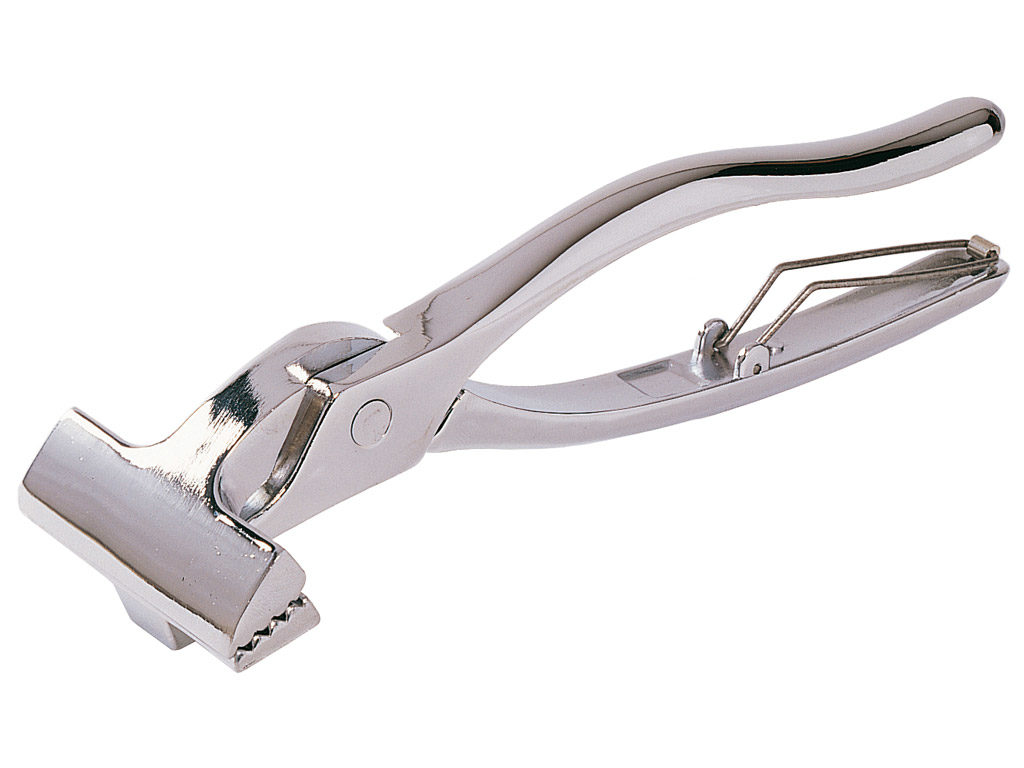 Canvas Pliers
In the case you've ever seen a painting in an art gallery or at an artist's work, you've been paying close attention to the surface to which the drawing is applied. Quite often it is a canvas – a material similar to a dense fabric, sometimes with specific features – it depends on the choice of the artist. But this fabric still needs to be stretched on the working surface. Making it alone is not possible, but you can not always find an assistant.
In this case, Canvas Pliers will come to your aid. So if you are an artist, decorator or any other representative of the creative profession – this tool will be of interest to you. The main difference between Canvas Pliers and other pliers is the width of the head. It is much wider than the standard variants. The wide jaw is what allows one person to do the job that usually takes two people. You can attach both straight and side-by-side canvases.
In addition to canvases, you can also work with leather or other similar materials. The jaws of the tool are usually packed, which prevents damage to the material. Sometimes there may be special protrusions on one side. This part is designed to loosen the brackets or create a lever. The lever may be necessary if you need strong pulling power to stretch or secure the canvas. The Canvas Pliers handle is usually shock-absorbing. It's the one that gives you the convenience you need for long periods of use and doesn't damage your palm when you're working.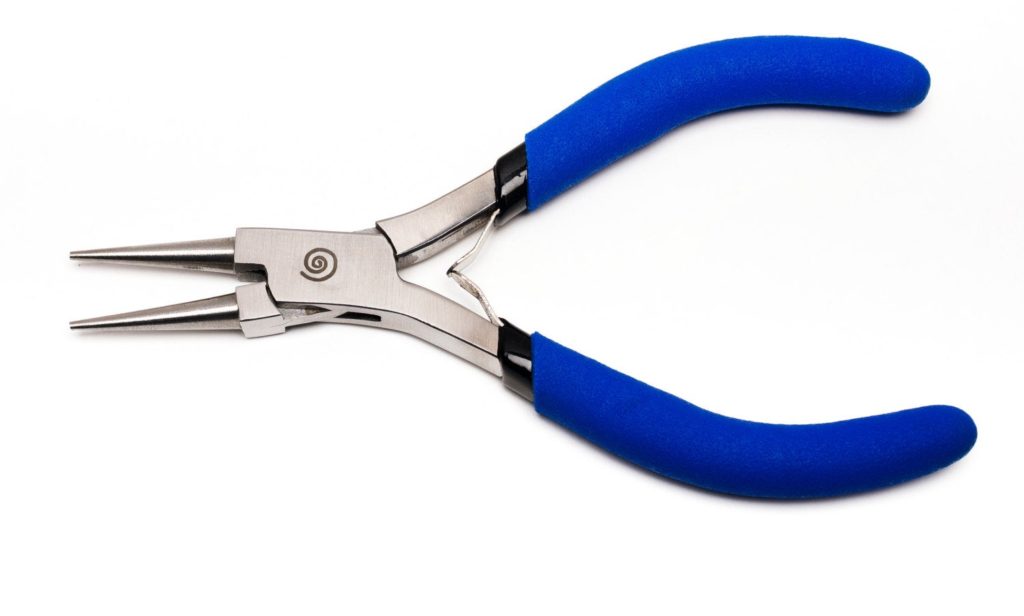 Round Nose Pliers
Another pair of pliers with a nose shape. Round nose pliers, like many similar tools, are needed to form, fix and bend the wire. While Needle nose pliers are used for small parts, Round nose pliers, on the contrary, are needed for larger parts. The main material of the work is also wire made of different materials.
To some extent we can say that Round nose pliers are similar to Bail making pliers. Its jaws are also represented by rounded details, only, in this case, the pins are narrowed and connected. The jaw itself is made of strong metal, sometimes the handles may have a spring. If such a tool has a spring, it makes the work of the master easier. That's why some people prefer them – the spring mechanism makes it easier to use them. Round nose pliers are mainly used in jewelry and beading, as well as any other handicraft related to wire. Due to their size, they allow you to create buckles on products, or create decorative elements of small size.
In hardware stores you can find a large model that is not suitable for jewelry work. Usually, they are used to work with thick wire in large projects – for example, metal wreaths, fences. When the handles of the tool are also insulated, you can use them in electrical work and when changing the shape of wires.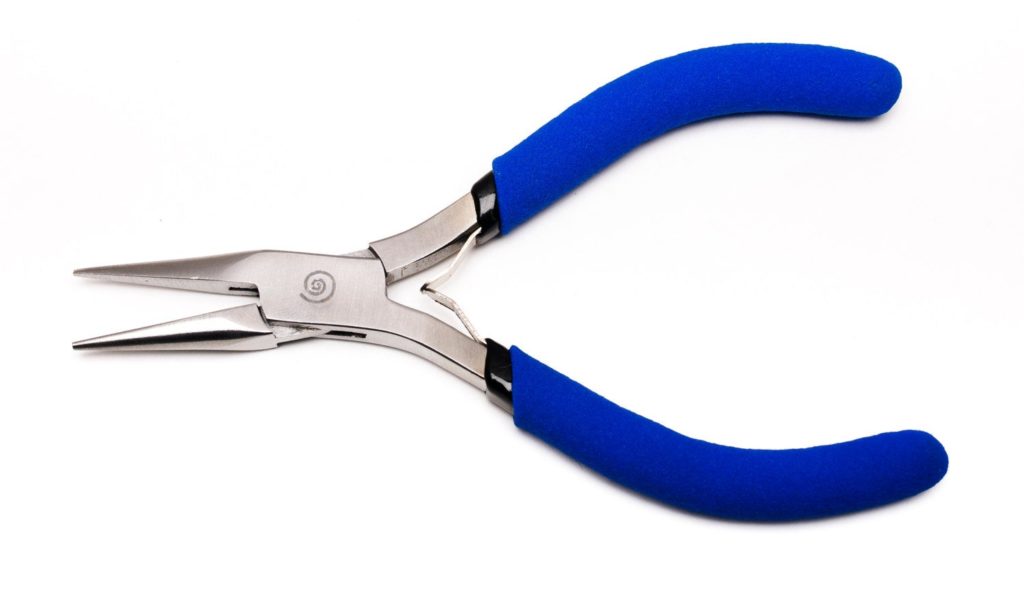 Chain Nose Pliers
You can become an expert in pliers if you are making jewelry. Chain-nosed pliers is another tool that can be easily used when working with jewelry, wire and similar items. In their appearance Chain-nosed pliers can remind you needle nose pliers, but there are a few essential differences that are the main ones. First, Chain-nosed pliers have short jaws. This allows the craftsman to work even with fine wire – for example, when weaving out of beads. Secondly, the tool has no jaw nicks and other bulges on its jaws. They are straight on the sides and can be curved or rounded on the outside. This form is convenient for jewelers in the manufacture of jewelry and other decorative elements.
Since jewelers work with precious metals, scratches and damage are simply unacceptable. Smooth surface helps to avoid them. Unfortunately, Chain-nosed pliers are not designed to fix objects and materials. Basically, jewelers use them as "extra fingers". They allow you to hold the parts in a certain position, as well as close and open the jump rings. When buying, be sure to check the inner surface of the instrument. It must be smooth and undamaged during transport. In the case of the Chain-nosed pliers, the price is not important – you can easily find the right tool at a reasonable price.
Eyelet Pliers
While the majority of the pliers are used in repair, the Eyelet pliers are of a small number of types that are used exclusively in other areas. Many clothing models – their collars, lapels and other decorative parts have holes on them, holes on shoes for laces, beads and spikes on bags and other accessories. All this decoration is done with the help of Eyelet pliers.
This tool is designed specifically to create holes and fix some decorative details. All these actions are carried out with the help of bushings on the edge of the tool. These metal rings are designed in such a way that the middle part – the material between them – will form a hole after machining. It can be said that Eyelet pliers are a large version of the hole punch.
In order to ensure that all the holes are even and in strictly defined places, the masters pre-mark the material. After "pressing" the rings into the material, you have to carefully squeeze the pliers so as not to damage the material. The size of the rings may vary. Typically, each tool has its own size, but you may often find a jaw that is sold separately from the handles. This way you can replace the rings on your instrument with rings of different diameters, depending on your needs.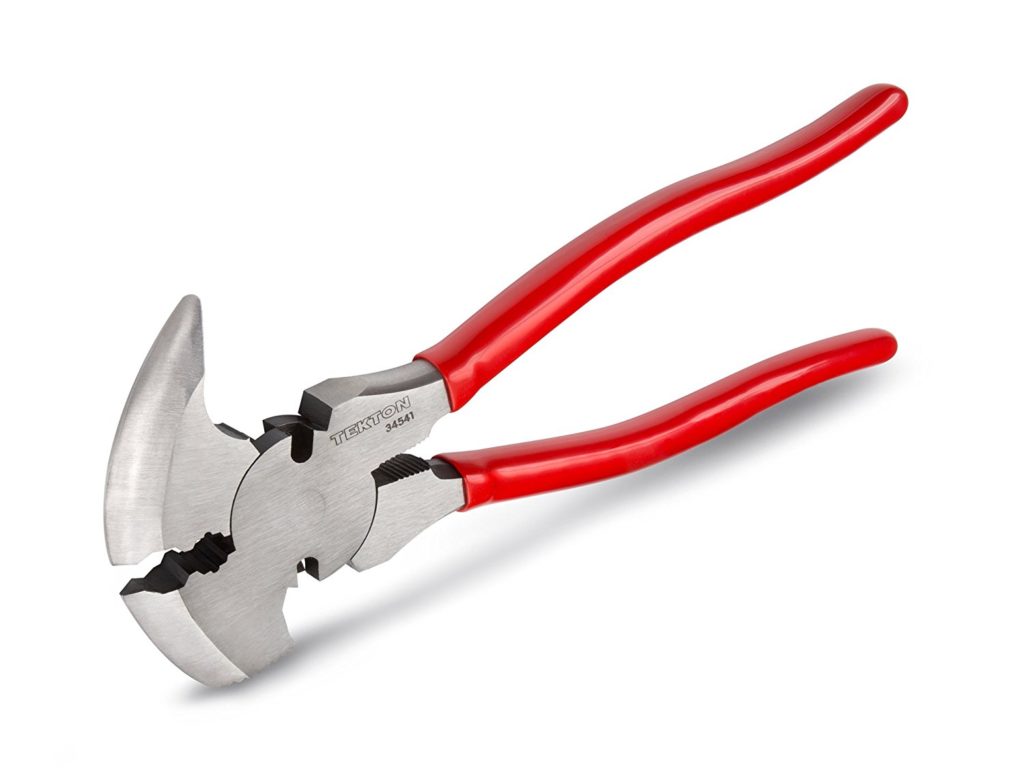 Fencing Pliers
Another multifunctional version of the pliers. Fencing Pliers are divided into 4 main sections, each of which performs its own function. The flat head is usually used as a hammer, the notches are needed to cut wires of different thicknesses, the hook needed for working with the brackets and the pliers themselves – they can be used to cut or grab objects and materials.
Basically, Fencing Pliers are needed to create and modify hedges and fences. They combine several tools at once, which is why they are universal. With Fencing Pliers you can twist, grip, cut, hammer or even cut wood or metal fence material. Fencing Pliers are available in different sizes and weights. For example, thicker wire or stronger materials require more powerful Fencing Pliers.
The basic material of which Fencing Pliers is made is iron, copper or steel. The pliers' handles are, of course, finished with a more comfortable material. The harder and coarser the material to be machined with Fencing Pliers, the longer the handle at the tool. It is also worth noting that the use of small pliers with hard materials can lead to tool breakage or injury to the master.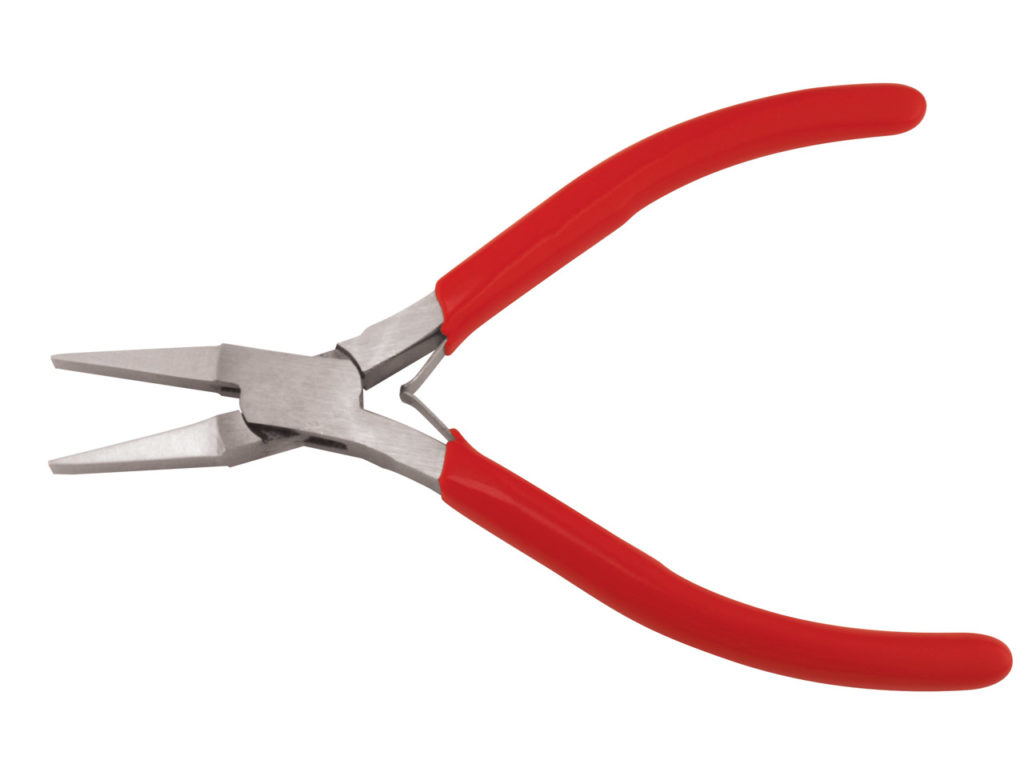 Flat Nose Pliers
In general, the name already gives some insight into the appearance and design of this type of pliers. They have flat adjacent jaws that taper towards the end. The pliers themselves do not have any serrations, roughness or bulges. The jaws will not damage the material you work with, but will firmly hold the parts. Basically, this is exactly what Flat Nose Pliers are used for. The main areas where this tool is used are jewelry and electrical work. Both require you to hold small parts and bend and straighten wires.
It is worth using Flat Nose Pliers as a continuation of your hands. Yes, yes, indeed. By size and functionality these pliers will become your fingers. Their abilities are quite limited – they do not have curved edges or blades. All they need to do is hold objects and bend the material in the right places.
By the way, if you use Flat Nose Pliers in your handicrafts, you can use them to remove unnecessary beads from your crafts. Since the tool itself is compact, even the smallest parts can be removed or crushed without damaging neighbors. If you also need them for wiring work, you should take the tool with insulated handles on it.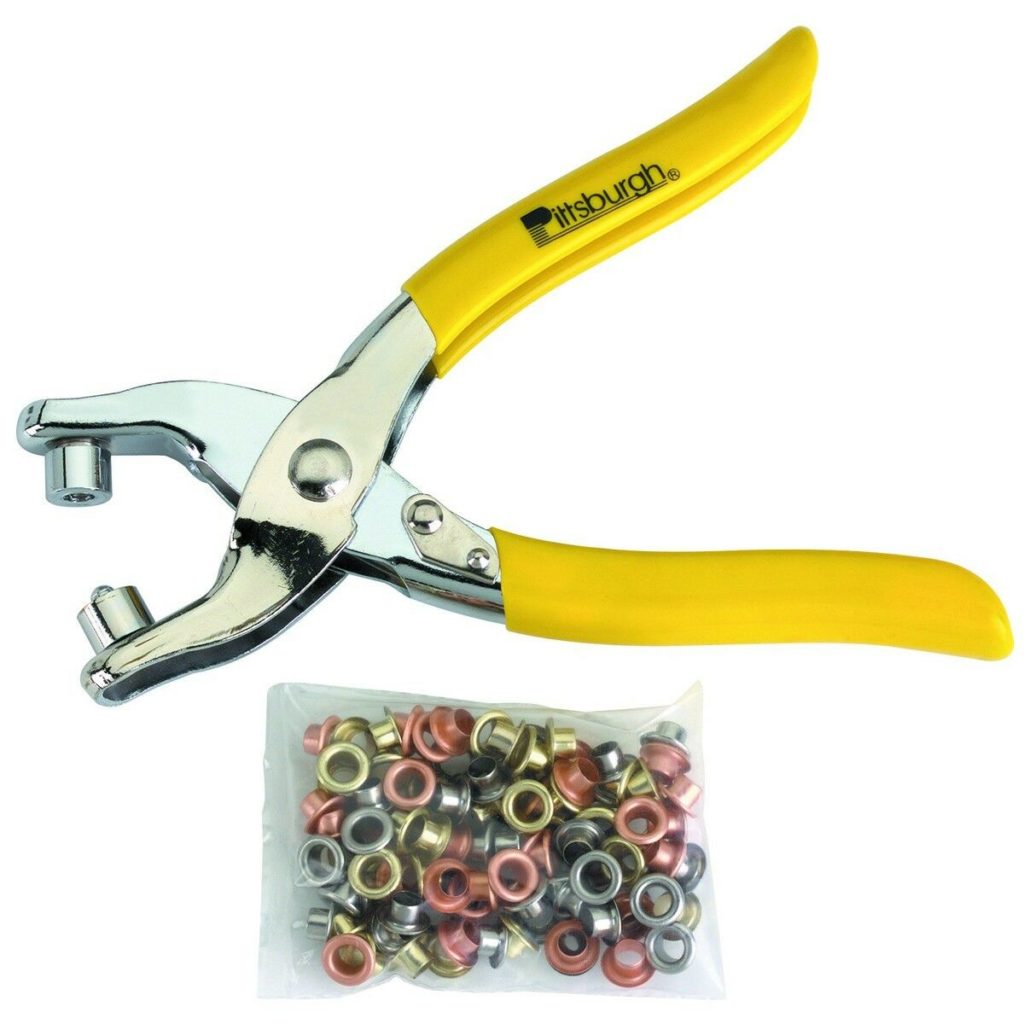 Grommet Pliers
Grommet pliers is easily confused with eyelet pliers. Indeed, both in terms of functionality and appearance they are very similar. If you think that you have bought one tool and it becomes universal for all materials, you are very wrong. Unlike eyelet pliers Grommet pliers, they work with denser and tougher materials.
The structure of the tool is almost identical. Both parts of the pliers' jaws have cylindrical holes in them. When you compress the tool grips, you press these cylinders into the material, and then simply squeeze them out. A hole appears in the material. Most often, the diameter of Grommet pliers is much larger than that of a similar tool for softer, more flexible materials. With the help of the tool, you can fix the bushings and hinges, or you can create a hole first and then put a plug in.
You can also use them to fix the sealing sleeves. If you want to work with dense materials or change old fasteners and bushings, Grommet pliers is the right choice for you.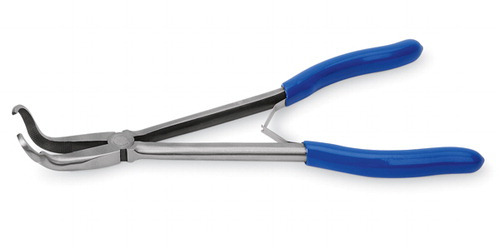 Hose Grip Pliers
The Hose Grip Pliers don't look like real pliers. They look in a closed condition like a tool with a small loop at the end. Metal jaws are 2 symmetrical curved ends. They're smooth and not too jagged, so you don't deform the material. In general, Hose Grip Pliers are needed to hold small pipes, hoses and fuel lines.
Some pipes may be vacuum or contain fuel, so you need to remove and insert them as carefully as possible. The Hose Grip Pliers will allow you not to damage the hose or tube, insert it carefully and without loss, or remove it from a very narrow and inaccessible area. The hole created by the pliers' jaw will help grip the hose.
In addition to grabbing the tubes and hoses, you can also hold small materials or car candles. Hose Grip Pliers help craftsmen work with small cylindrical objects without changing their shape or damaging the texture itself.
You may also like: 10 Best claw hammers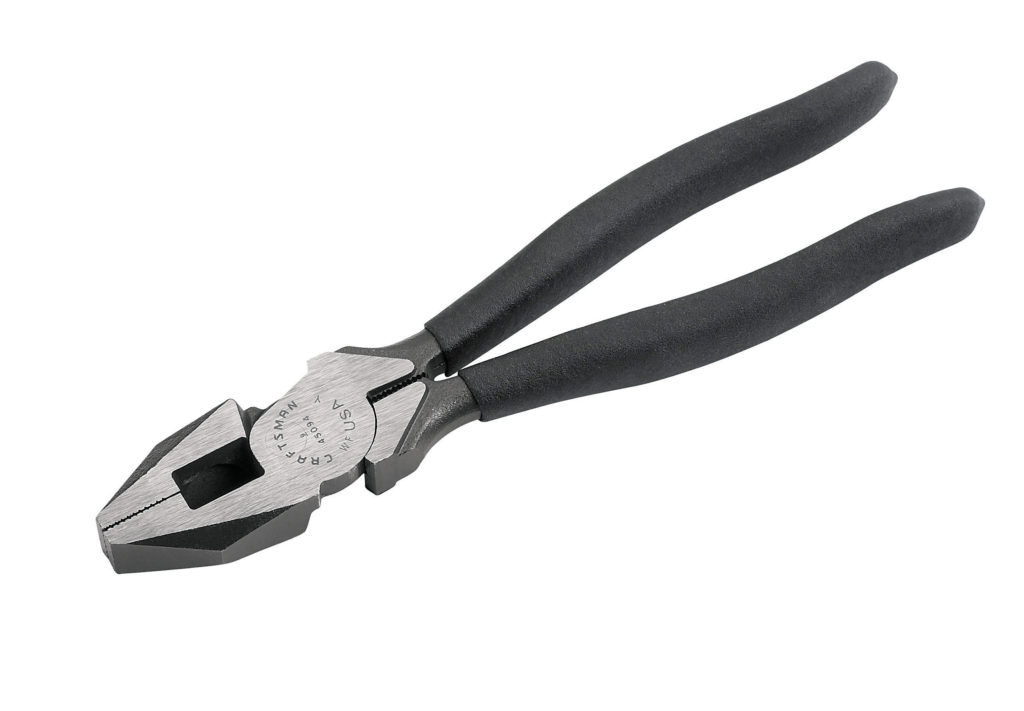 Linesman Pliers
These pliers are very popular in construction and household stores. Linesman Pliers are the most standard variation of pliers – they are thick, ribbed parts of the jaws that fit snugly together, as well as comfortable standard handles. The flat grip surface allows you to work with a variety of different objects, and the special design can increase the grip force of objects by several times.
It is worth paying special attention to the design of the tool. The jaws are mainly made of forged steel – it can hold objects more firmly. Handles are made of plastic or rubber. They make it easy to hold the tool and squeeze objects. The rivet, which connects the two parts of the pliers, is made of durable material and does not break down, even in case of prolonged and intensive work.
Some models can be equipped with a cutting surface. It is needed to strip the insulation from the wires. When working with electricity Linesman Pliers also provide insulation on the handles.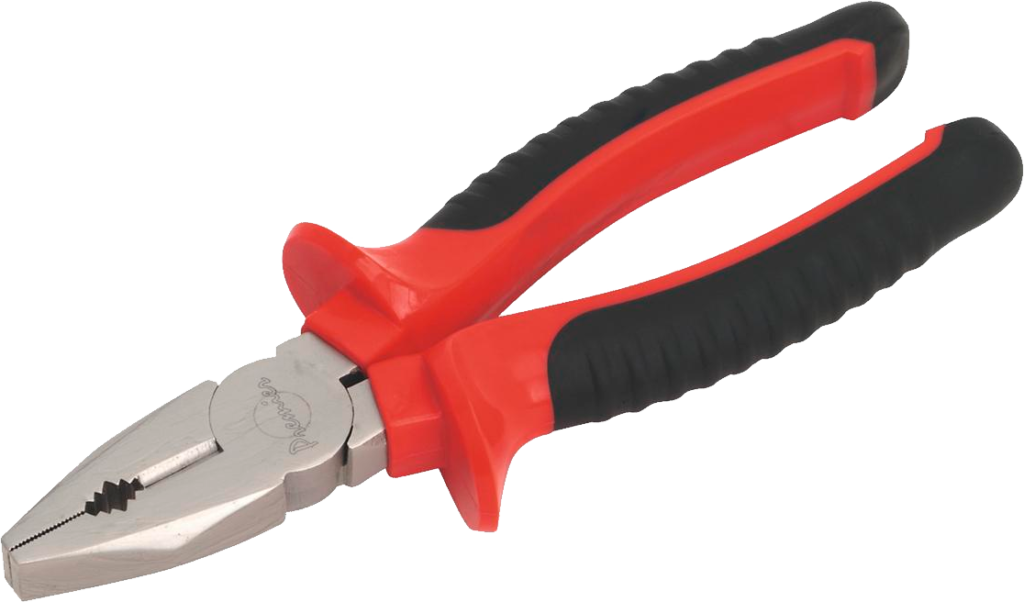 Combination Pliers
The name fully fits the functionality of the tool. Combination pliers is divided into three main parts in the jaw area: the outermost part of the grip, the rounded part of the grip and the cutting part. The extreme grip area can be either toothed or smooth. If it has a ribbed area, this makes it easier to hold objects. In the rounded part, there are always teeth, they help to hold pipes and other objects. They can be used to grip, bend, compress and twist materials.
Cutting surfaces can also be used to cut through or cut off parts. Levers are available as handles. It is the design with levers that makes it possible to increase the pressure several times as much as the master's inlet pressure. Compared to a standard grip, the Combination pliers can grip and hold parts much harder. The ribbed surfaces of the jaw are worth looking at separately. The teeth are usually a little rounded, so as not to damage the material during operation. They provide a grip friction and are the ones that prevent parts from falling off. The end of the jaw is usually rectangular. Of course, other variations can be found, but the most common are rectangular Combination Pliers.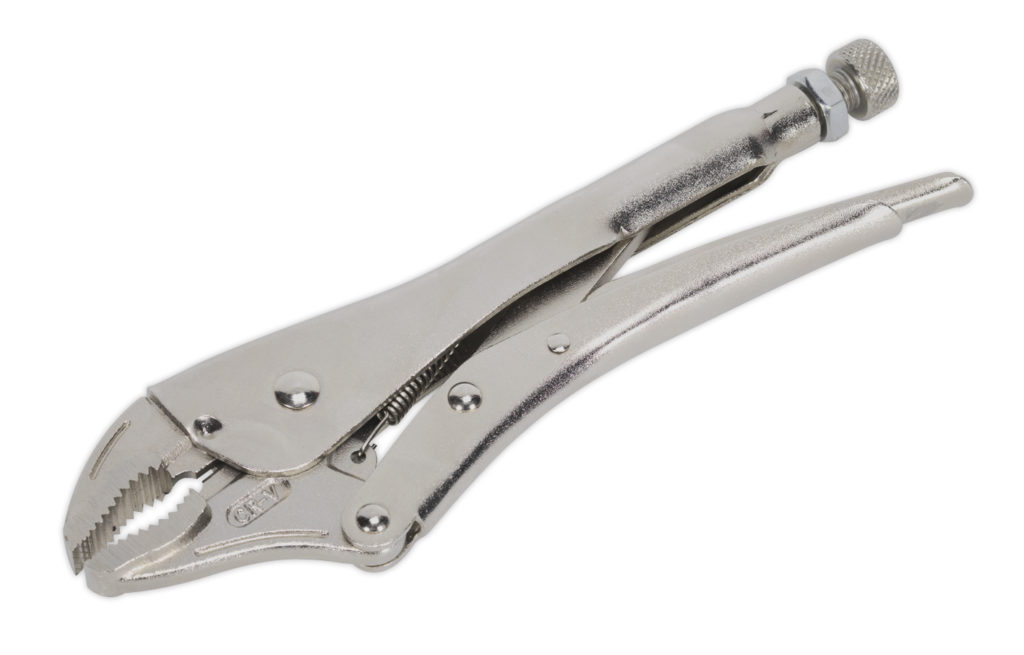 Locking Pliers
The Locking pliers, like most pliers, demonstrate their function in the name. They grip bolts, screws and other mechanisms and lock them tightly in one place. Also, they can be removed and dismantled as well as held in place. They block the mechanisms, while firmly holding the object without the use of hands. Depending on the object to be handled, Locking pliers can be of different shapes and with different jaws.
There are several basic styles of pliers – they are designed for the most popular mechanisms. And some models are designed with more versatile functionality. The jaws of the Locking pliers can have a screw by which to adjust the width of the pliers' grip. Also in the design can be the handle of forced unlocking Locking pliers. It is also possible to use the tool as the most common pliers. Simply hold objects in a stable position, and it is also possible to loosen tight clamps and tighten bolts and nuts.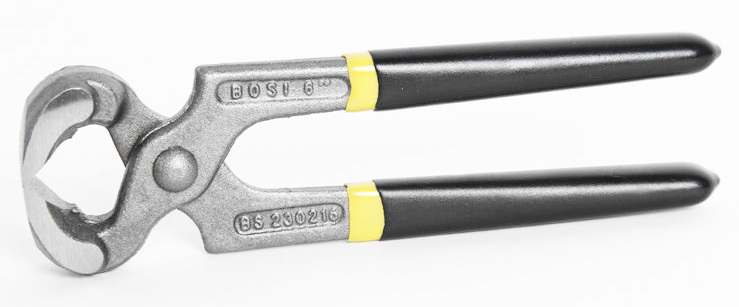 Nail Puller Pliers
This tool looks like a pair of pliers. Their main difference from the usual forceps is the conical shape. Sometimes the tool may have additional claws – they act as an additional lever, unless your efforts at work are enough. Shorter and more compact models, of course, can not apply so much effort to pull out the nails and do not have any levers – but they are convenient to use on the road or keep as a backup.
Nail Puller Pliers are really the only way to remove nails when the nail has a broken hat or is too tightly seated in the material. The conical shape of the jaw allows you to get under the tightest nail cap and pull it out. If you tried to remove a nail, staples or other fasteners with a hammer or by hand, and you failed to do so, nail puller pliers will definitely help. With the help of a curved head, they guarantee a lever for a more powerful attachment.
The point of use is that you rotate the lower handle of the tool while pushing the clasp. The Nail Puller Pliers do not damage the nails and staples during removal, but the problem is that if you use such a tool, they are already damaged. These pliers are quite expensive, so there are many people who don't want to buy them and use ordinary pliers to remove nails.
Oil Filter Pliers
Oil filters are quite dirty objects that also smell bad. Touching them with your hands will make you smell of machine oil all day long, and you can easily get dirty on the body of this product. For easier maintenance of oil filters, Oil Filter Pliers are used. They are sold in almost all car shops, where they sell tools for maintenance and repair.
The design of the jaws of these pliers is three-position. One side is made in the form of a letter C, each of the ends of the letter is finished with a small part with serrations. The other side also represents half of this letter and also ends with a notched part. This design easily adapts to the size of the oil filter – so you can assume that it is universal for such items. The tool grip still remains rectangular as you rotate, and the handy handles ensure a firm grip.
Many Oil Filter Pliers have a characteristic such as the diameter of the grip. It is adjusted already at direct work with the filter, and the maximum and minimum coverage can differ on some inches. Long handles allow you to reach the most remote and hard-to-reach places.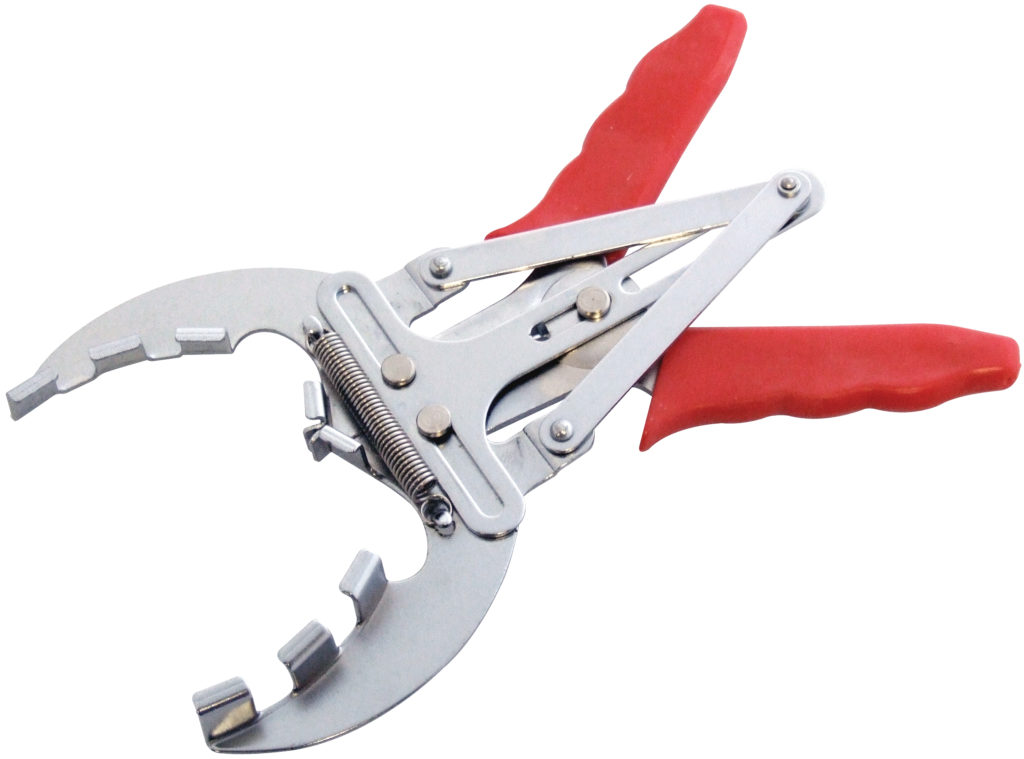 Piston Ring Pliers
Piston rings are an indispensable item used in machinery and vehicles. They guarantee cushioning and correct operation. They need to be replaced and maintained periodically. Piston Ring Pliers were created to ensure that such work is not time-consuming and inconvenient.
There are two main types of them. The first type is used for easy removal of the piston ring. It has only one type of tip on the lips, with the help of which it is easy to expand the piston ring. The second type is slightly more complicated and expensive. It already has several sets of large jaws. This set already contains several accessories for removing the ring without damaging it. It supports the ring and reduces the risk of distortion during removal.
Like most pliers, the Piston Ring Pliers are made of steel and other durable materials. For ease of use, the handles are finished with plastic or rubber (in more expensive versions). Such a tool is easy to find in any car shop – the seller will advise you on the sizes necessary for your car.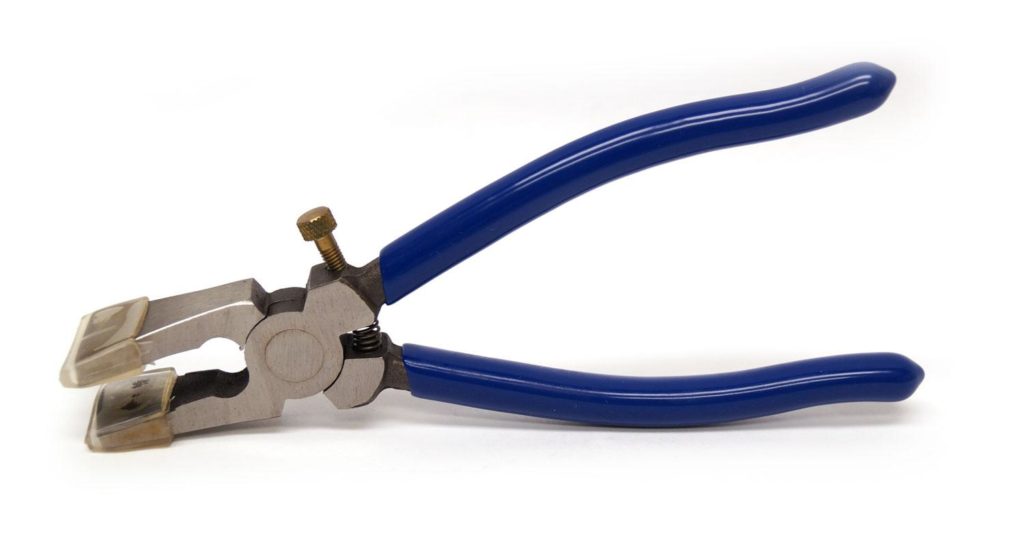 Running Pliers
Not all tools are designed to handle fragile materials. Many of the pliers can only interact with metals and wood, or dense materials. Running pliers are designed specifically to work with glass. What do you think you can do with pliers with materials such as glass and mirrors?
Churches and historic buildings always have stained-glass windows. They can be not only on windows, but also on doors, glass doors of cabinets and cupboards. The tool itself can be made of metal or plastic. Despite the material of which the pliers are made, running pliers necessarily have tips on their jaws. Also, an important part in the design is the fixing screw. Since the glass can be completely different in thickness, this value is better to fix when holding the material. The screw makes the position of the jaws static, thus guaranteeing the integrity of the glass – you simply do not drop it.
With Running pliers you can make neat breaks along the notch lines in the glass. Most models can have special axes that you can use to align the position of the glass or the point of break for stained glass.

Sheet Metal Pliers
Sheet Metal Pliers work with metal sheets according to their name. They hold heavy flat sheets, create seams, make the necessary folds and shape the sheets if necessary. Comfortable and powerful, they are usually designed for heavy and complex work. Because many people do not want to manually bend entire sheets of metal – which is sometimes impossible without the use of great physical effort, were created and sold the Sheet Metal Pliers.
Their jaw is a wide and gripping mechanism. They can be re-equipped with clutches, because their wide ends are not suitable for such tools. It is worth noting that Sheet Metal Pliers is not the most durable tool, but it does its job well. On thin sheets of metals and alloys, they create accurate and neat folds. In some metallurgical industries, they can be used to create seams and new markings on the material.
In addition to production, Sheet Metal Pliers are also used by artists. Sculptures and metal products of large sizes require neat folds. For roofing-seaming they are perfect. Also, you can use them to change the roof of your home or garage, as well as any work on finishing with metal sheets will be much easier.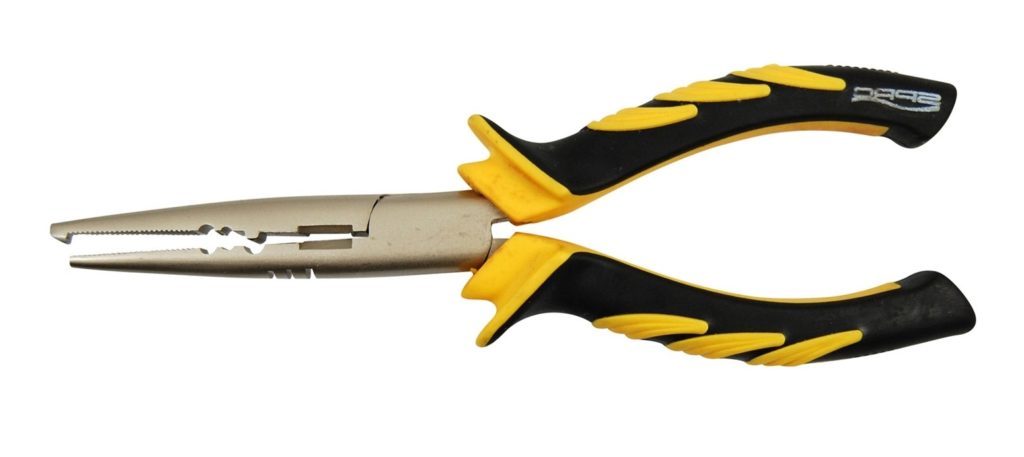 Split Ring Pliers
Slightly resembling a fishing hook, the Split Ring Pliers are actively used in handicrafts and jewelry. They are required for opening rings, easy removal of chain parts, replacement of hooks and hinges. They are also used for sewing and repairing clothes – clasps and hinges of some wardrobe items have a suitable shape.
Jaws of pliers are divided into 2 parts. The first part is a hook-shaped, thin and long tip, which just separates the split-rings. The second part is flat and sometimes even with a small notch in the middle along the entire length. The upper hook hooks into it during operation, and thus all connections are easily removed.
Depending on the thickness of the wire, you may need different Split Ring Pliers. They are mainly sold in 2 sizes – smaller for thin and medium rings, larger for heavy and dense materials. Some jewelers do not risk using them in their work, preferring more traditional tools, but denying their need is pointless.
The tool itself is often made of hardened steel and does not have unnecessary nicks and crannies on the working surface. The handles are sometimes made of resin for easy holding of the tool during operation.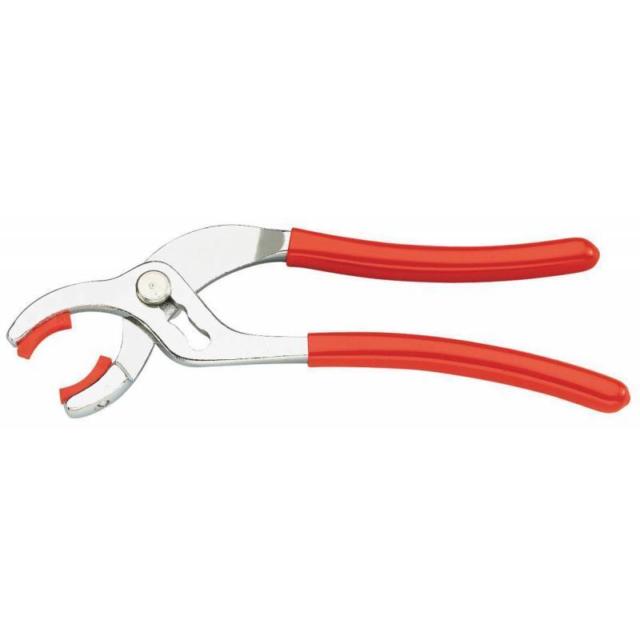 Soft Jaw Pliers
Any wire cutters or pliers are designed to compress the object with force. These tools are not suitable for holding fragile or easily damaged objects. Soft materials will be transformed by holding with hard pliers. In order not to damage your object, you need to use soft-trimmed pliers.
Soft Jaw Pliers can be called such a tool. They are equipped with rubber pads on the tool's jaws. It is possible not to limit yourself to such soft materials. In fact, the pads can be made of smooth and polished wood – if you're going to hold wooden or rubber objects – if you're holding objects that may be deformed. The pliers themselves are made of metal, most often steel.
Often, Soft Jaw Pliers not only hold materials and things together. In fact, you can use them to separate jammed objects. So, for example, it's easy to disconnect the parts of dense constructors or pull out a softer thing stuck in a vise.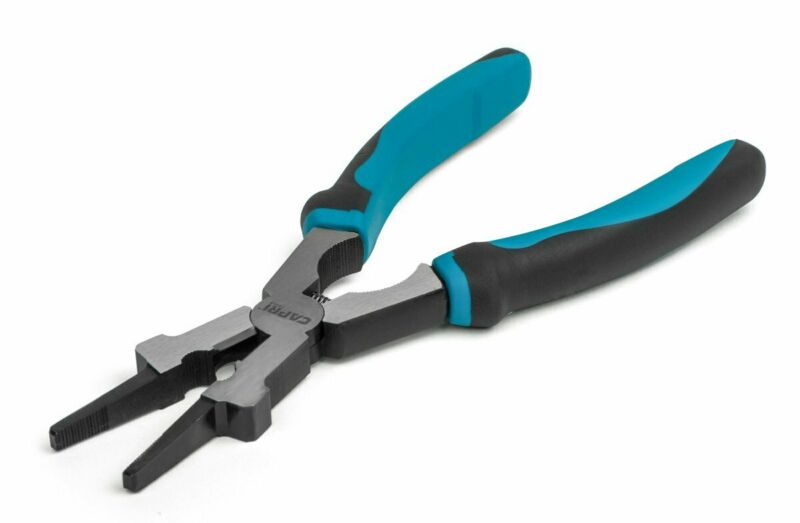 Welding Pliers
Although many people use the most basic pliers in their welding work, this is not always the right solution. Professional welders should have Welding Pliers with them. Their jaw looks like a needle nose pliers, but the main part of the jaw looks like a normal pliers. Sometimes they can be found under the name of welding tongs, but it will not change the very essence of the tool.
The main part of the jaw is made of steel, while the handles are usually heat-resistant and made of appropriate materials. They are spring-loaded, and because the welder usually wears gloves, it is difficult to work with tools without springs. Ergonomic handles are also worth noting.
If the tool is designed for a particular industry, it performs specific tasks. For example, with the help of Welding Pliers, you will be able to remove welding spatter from the seams – inside and outside the workpieces, as well as from the workpieces; to pull out the welding wire; to beat off the excess – using pliers as a hammer. Of course, the average person wouldn't even think about the need for Welding Pliers, but professional welders appreciate it as a tool.
You may also like: 36 Types of hammers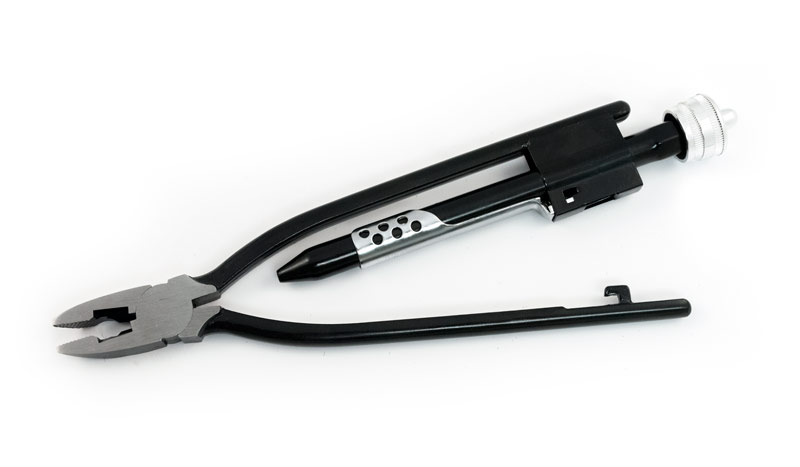 Wire Twisting Pliers
You might have thought it was a corkscrew, but it's not. It may seem like that from afar, but it's actually special pliers. Wire Twisting Pliers are sometimes called wire twisting pliers, and it is not surprising. You attach a piece of wire or cable to the surface (with a nail or any other holding mechanism), and hold the other end in Wire Twisting Pliers. Pulling on the middle mechanism, you twist the wire all the way to the desired condition.
The pliers themselves are made of forged steel. The jaws are often polished, so they also look attractive. They are short and have a small cutting surface at the end. In the middle of the entire tool there is a cylindrical mechanism and a threaded handle. They are the ones who perform the twisting of the wire. Basically, such a specific tool is in demand in jewelry or for twisting locking ropes. In fact, you will rarely find it in use – many masters consider Wire Twisting Pliers outdated and useless.
Not all of the pliers presented here will be found in everyday life. In reality, you may only need 2-3 different types of pliers in your life. In fact, there are many more of them! Could you imagine before you read this article about specific pliers? Not always the consultants in the stores can give you a full description of the tool or tell you what you need. We hope that now you will know exactly what kind of pliers you need.