Storing bicycles in a small garage comes with lots of trouble. This is especially relevant for winter time when most cyclists postpone riding bikes until the warmer season comes. Nevertheless, various types of bike racks might solve the problem of storage. They come in different designs and materials while also serving different needs.
In this article, we are going to talk about the best bike racks to have in your garage. But first, let's find out why you need them in the first place!
Why you need a bike rack?
Despite the fact that most parts of a bicycle are made of metal, plastic and other durable materials, a bicycle is rather a vulnerable device. In particular, when it is not used for a long time, especially during the winter season, it can affect the tires in a negative way as they tend to crack and deform because of the temperature contrasts.
In addition, bikes take up quite a lot of free room, especially if you have a small garage with insufficient space for storage.
Thus, the bike rack is designed to perform two main functions: firstly, the ability to store the bike so that it does not interfere with your normal life; secondly, preserving your bike's quality and appearance.
Now, let's see the list of 12 best models of bike racks that you can order online!
Our Top Pick
Dirza Bike Rack


Universal design
Rubber parts to prevent scratches
Easy installation

Check price on Amazon
Other great bike racks
IMAGE
PRODUCT

Bikehand Bike Floor Parking Rack

Stable rack with wheel hold.

Check price on Amazon

Racor B-1R Solo Vertical Bike Rack

Durable fabrication materials for long-term using.

Check price on Amazon

Allen Sports Deluxe Trunk Mounted Bike Rack

Perfect for installation on a car.

Check price on Amazon

Delta Cycle Leonardo Da Vinci Single Bike Storage Rack

Vertical rack in several color variations.

Check price on Amazon

Simple Houseware 5 Bike Bicycle Floor Parking Adjustable Storage Stand

Multi-bike rack for a large family.

Check price on Amazon

Delta Michelangelo Canaletto Two Four Bike Gravity Stand

Rubber trim brackets on a vertical stand.

Check price on Amazon

RAD Cycle Products 2004 2-Pack Bike Lift Hoist

Spectacular maximum load of up to 100 pounds.

Check price on Amazon

Ibera Horizontal Bicycle Bike Wall Hanger

Adjustable stand for better bike retention.

Check price on Amazon

Allen Sports Deluxe Hitch Mounted Bike Rack

Model for mounting on a car with a capacity of 4 bikes.

Check price on Amazon

Rubbermaid FastTrack Horizontal Bike Rack

Folding hook for optional use.

Check price on Amazon

Feedback Sports RAKK Bicycle Storage Stand

Budget option that does not damage the bike.

Check price on Amazon
1. Dirza Bike Rack
Our list of the best bike racks for your garage starts with a nice gear made by Dirza.
Here's a list of reasons why you should buy this bike rack:
The installation is very simple and requires no need to assemble smaller details, you just hang the rack on your wall using 4 screws.
The rack is easy to use: an anti-scratch rubber hook allows you to quickly hang or detach your bicycle without damaging it.
It saves a lot of space as you put it on the wall, thus removing your bike from the ground. For smaller garages, this is really a good opportunity to manage the free room effectively.
If you buy a pack of 2 bike racks, you will get a nice discount.
Let's also analyze its main disadvantages:
You can hang only bikes that weigh less than 65lb, so unfortunately if you have a fat-tire bike or heavier types of bicycles, you can't use that bike rack.
The design isn't particularly special. However, it is universal enough to fit any garage.
2. Bikehand Bike Floor Parking Rack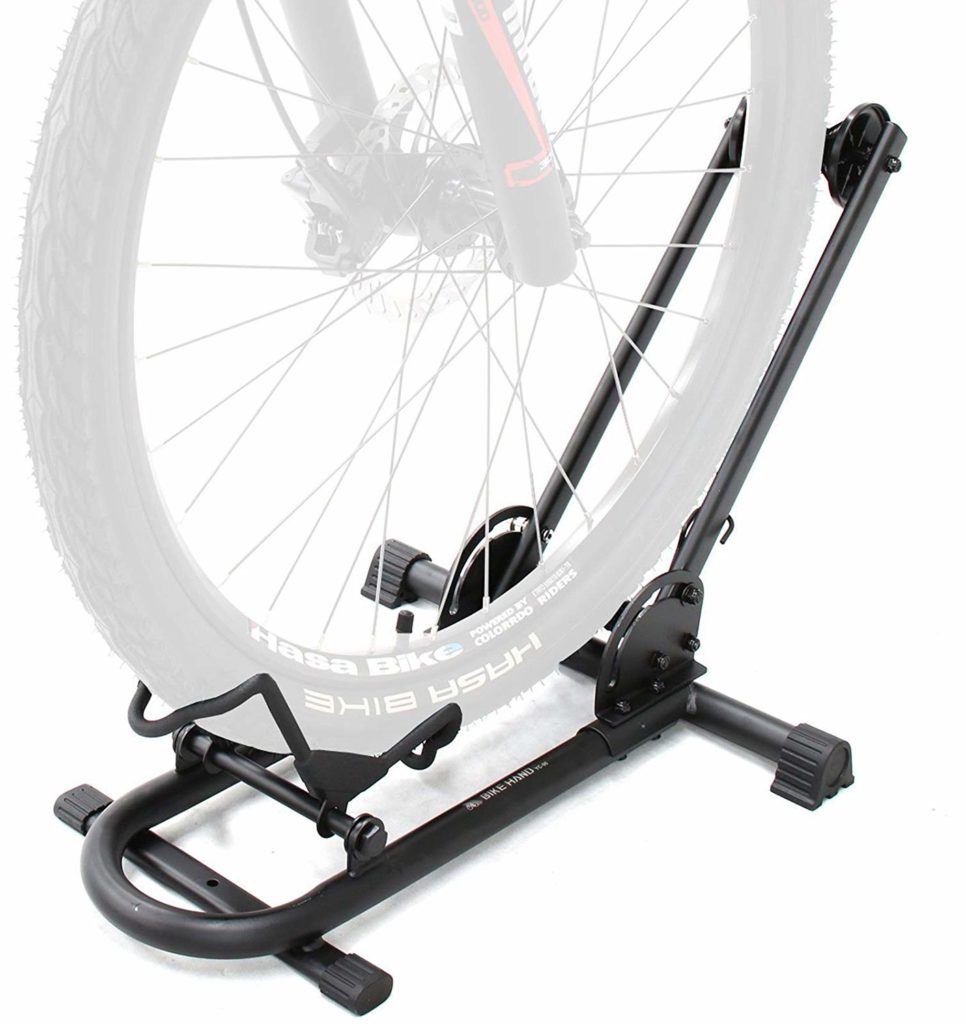 Now we would like to introduce you to a floor parking rack made by Bikehand, a trusted manufacturer of the best bike racks on the market.
The advantages of its bike rack are as follows:
Its patented push-in technology allows you to easily push the bike into the rack without lifting it, and the tilting front holder will securely lock the tire in one place.
This rack is suitable for heavier bikes as well. You can park your mountain or downhill bike safely without worrying if the construction bears its weight.
As the bike stand is placed on the ground, it is very stable and the bike tire sits deeply in the holder. It is almost impossible for the bike to tilt over to the side unless you push it really hard.
The rack is easy to both fold and unfold which saves up space when storing it in the back of your garage or in your car.
This bike stand is made of high-quality steel with a powder finish that looks really great and expensive.
Still, any product has its own downsides, and Bikehand floor parking stand is no exception:
This gear is not space-saving, so it suits for larger garages and other spacious buildings where you can store a bike in a standing position.
This bike rack is 2 times more expensive than the previous one.
You can't park bikes with tires wider than 2.4″.
As it has more moving details instead of being a single-piece gear, it may be easier to break or damage. However, we can't guarantee you any of that as it's only our assumption.
3. Racor B-1R Solo Vertical Bike Rack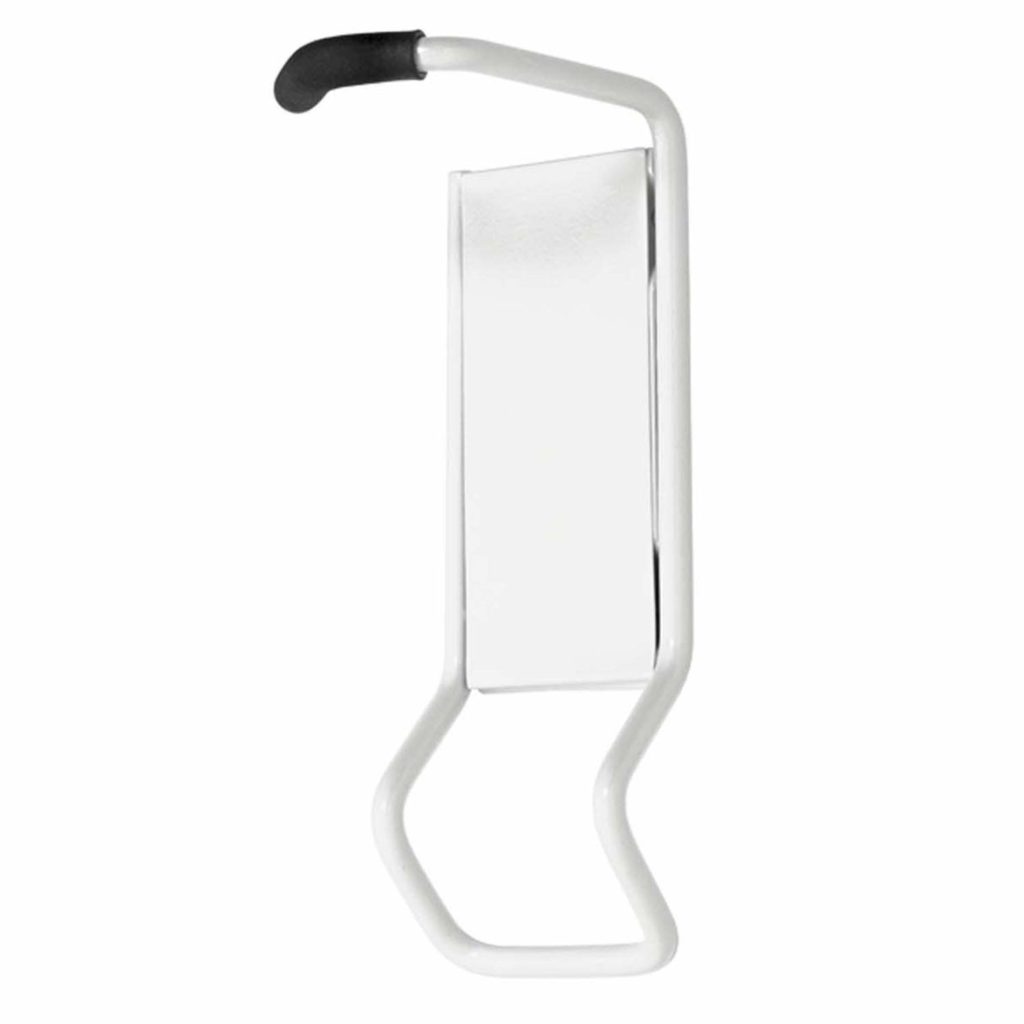 The next bike rack is this truly great product by Racor. Again, you can hang your bicycle on the wall and completely forget about trying to get around it in your small garage!
Now, we suppose you have a logical question: why is it good, particularly?
Each hanging rack may free up to 8 square feet of floor space, so you can reclaim your garage for any activities and keep your workspace less clutched.
This rack's design with a single rubber hook holds the tire safely, and the bike won't fall off or get scratches.
Strong steel with an epoxy coating is a durable material that guarantees a long period of use.
You need no assembling, just install the rack into one wall stud!
A security loop combined with a cable prevents any theft attempts.
As we need to consider both pros and cons of this item, please note that:
This bike rack doesn't support bikes heavier than 50 lbs.
You can't say that the item looks great: white bike racks usually seem quite bulky and lack the neat appearance that the black color has.
Compared to other vertical bike racks, this Racor offer is fairly expensive. Of course, it has a security loop when other bike racks don't. But is it worthy of such a price difference?
4. Allen Sports Deluxe Trunk Mounted Bike Rack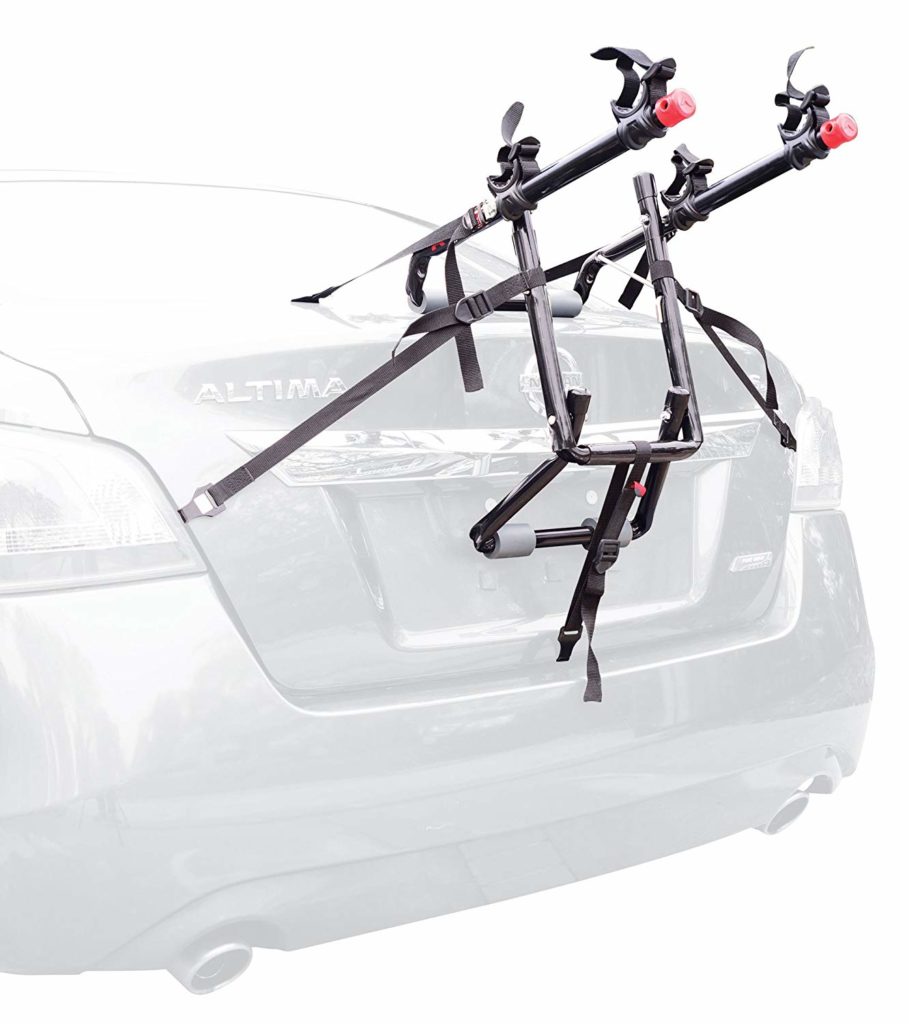 By the way, ways of storing your bikes aren't restricted by garage floor or wall. You can store it straight on the trunk of your car! Sounds quite useless, right? Don't worry: this rack by Allen Sports is intended for transporting your bike during a car ride.
Although the construction looks complicated, there are obvious advantages to this device:
You can install this rack on any vehicle; it suites for sedans, minivans, hatchbacks, and SUVs.
Although the construction might seem unstable, you are more than welcome to stabilize it with side straps.
Each bicycle is tied down to the bike rack which increases its individual stability and safety.
The lower frame is coated with padding preventing the bikes from touching the car.
There are 3 variations available that can fit 2, 3 or 4 bicycles. All of them come fully assembled, so you only need to put them on your car!
Now, let's see if there are minor flaws to this bike rack by Allen Sports:
The overall construction looks too complicated and might scare off people who prefer a more traditional way of transporting bikes, i.e. on top of the car.
It might be unsuitable for some types of cars. To avoid purchasing an ill-fitting bike rack, the manufacturer suggests you contact them beforehand.
The purpose of this bike rack is restricted with transportation only. You can't really use it at home or in your garage, although it might save your trip if you want to take bikes with you.
Considering that the rack is single-purpose and will be used more rarely than a usual standing or vertical bike rack, you might want to rethink purchasing it for such price.
5. Delta Cycle Leonardo Da Vinci Single Bike Storage Rack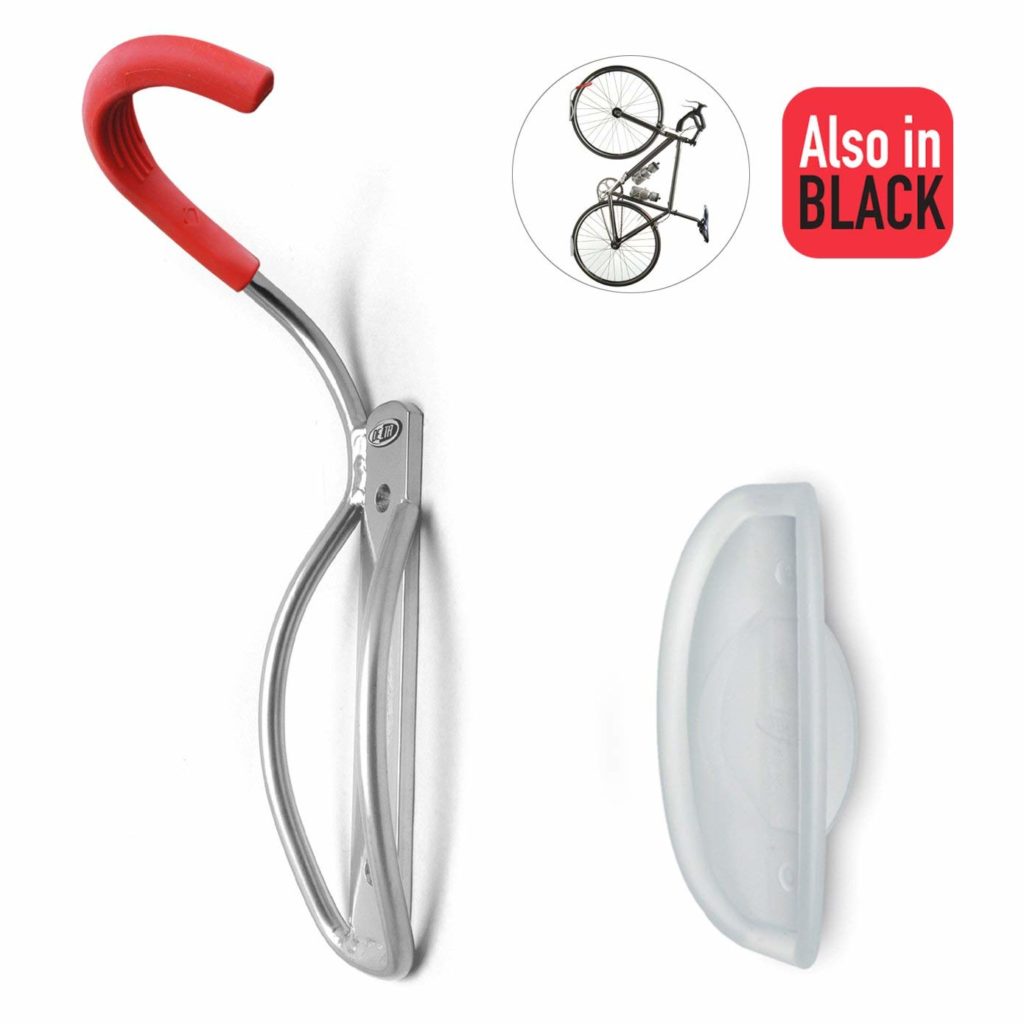 The 5th place in our list of top bike racks to have in your garage goes to a hook hanger by Delta Cycle. We have already seen bike racks that should be mounted on a wall and hold your bike with the hook, and this one is no exception.
So, what makes this bike rack so good that we find it worthy of bringing up?
Just as other vertical bike hangers, it is very space-saving so you'll be grateful for having it in your small garage.
The security is increased because of the combination of a rubber sleeve that catches your bike's tire without scratching it and a tray that keeps your bike away from staining the garage walls.
With a discount, it is truly a great deal. There are two colors available: red-silver and full-black, and both are looking good. You can also purchase a single hook without the tire tray.
There is no assembling required; you are welcome to hang the rack on the wall in seconds.
Nevertheless, as you know, nothing is perfect. That's why we're going to talk a bit about the disadvantages of this Delta Cycle bike rack.
Its maximum load is only 40 pounds, so if you have a heavier bike, then, unfortunately, you can't use the rack.
6. Simple Houseware 5 Bike Bicycle Floor Parking Adjustable Storage Stand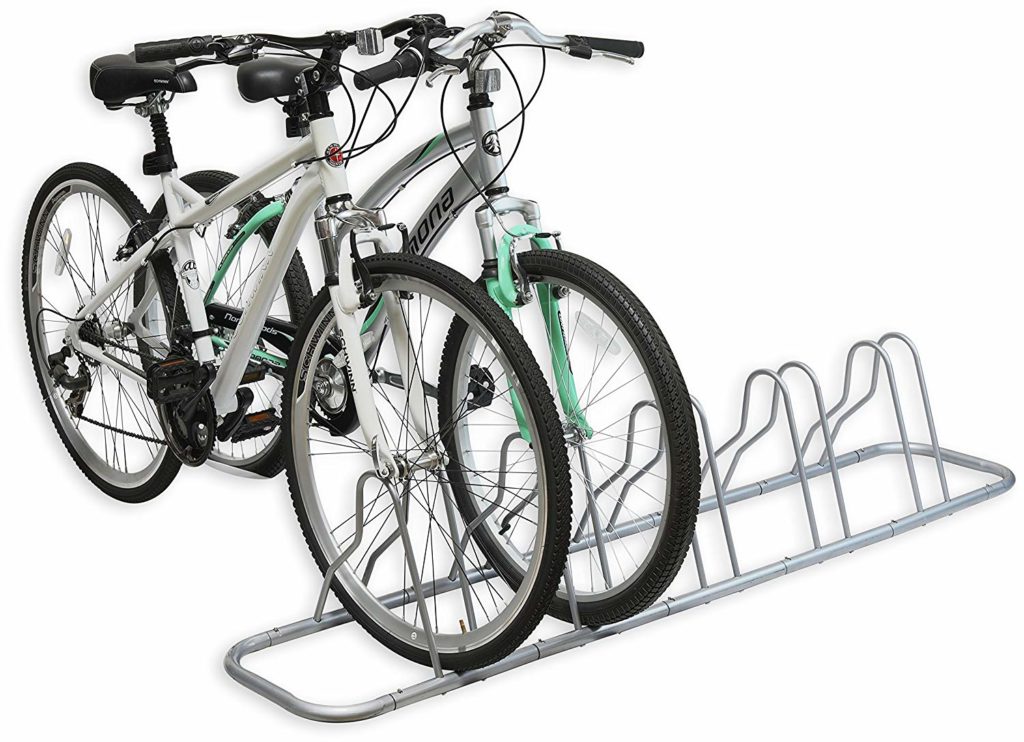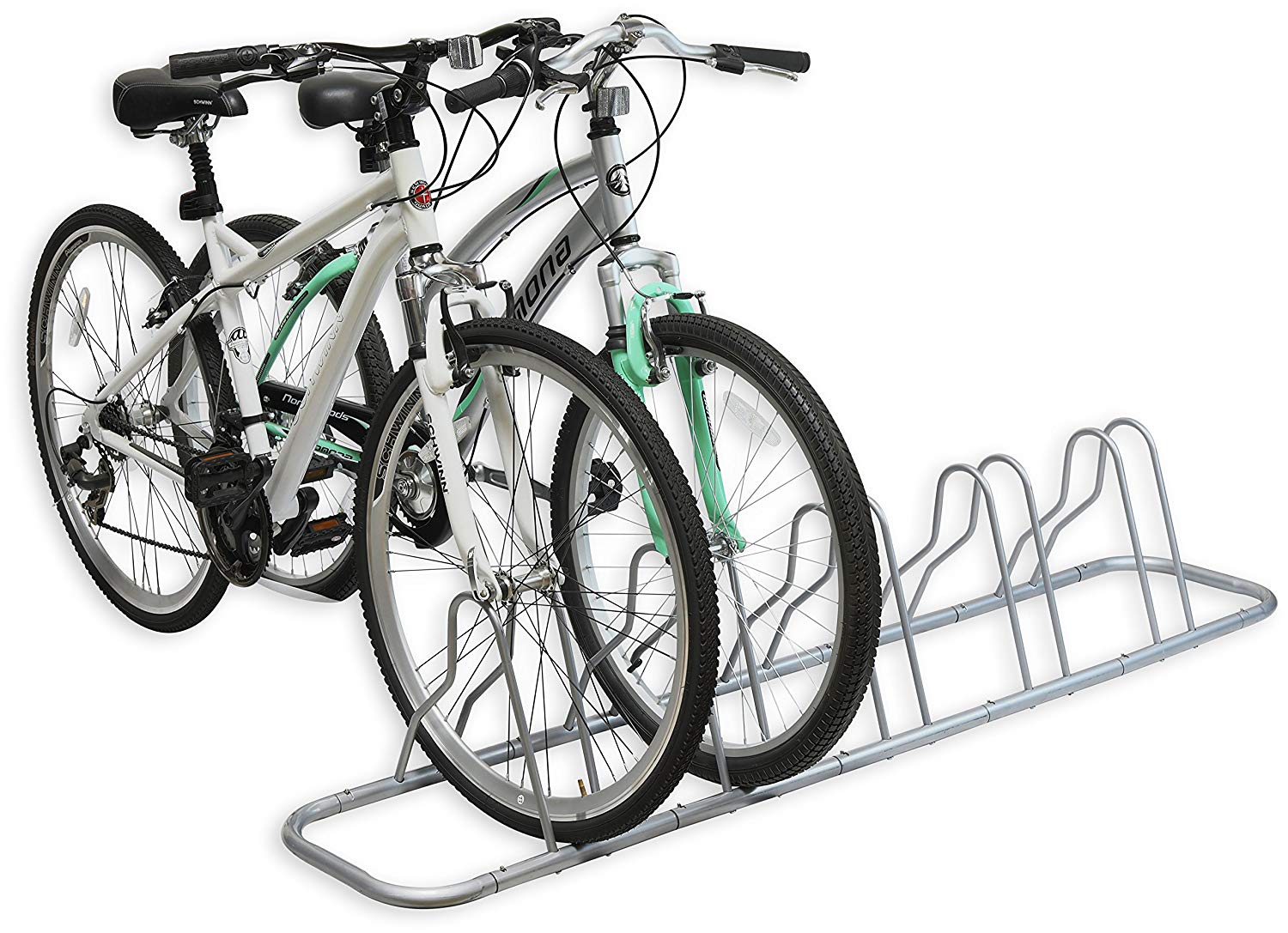 Another great bike rack made by Simple Houseware fits neither one bike nor 2 bikes, not even 3! In fact, you are more than welcome to park 5 bikes!
Let's see all the pros and cons we can find.
Its simple construction is assembled in such a way where you can miss out a few sections to adjust the rack to the number of bicycles you actually have.
Powder-coated steel is resistant to bad weather conditions.
A tire holder stretches from 2.5" to 3.5" and can fit any type of bicycle: mountain bike, beach bike, etc.
For a 5-bike adjustable bike rack, it is rather inexpensive.
On the other side, there are following factors:
As this is a 5-bike rack, it makes no sense to buy it for a household where you have less than 5 bikes. Hence, it takes a lot of space both by itself and with 5 bikes parked on it.
You can't use it in a small garage, but you are welcome to buy it for a parking lot that is protected from rains and bad weather with a canopy.
It needs to be assembled, although this won't really be a hard thing to do.
The design here is quite outdated and poor. The bike rack looks neither expensive nor modern, really.
The Simple Houseware bike rack suites only 12" to 26" bikes, and because of such restriction, some of your bicycles might not fit in there.
7. Delta Michelangelo Canaletto Two Four Bike Gravity Stand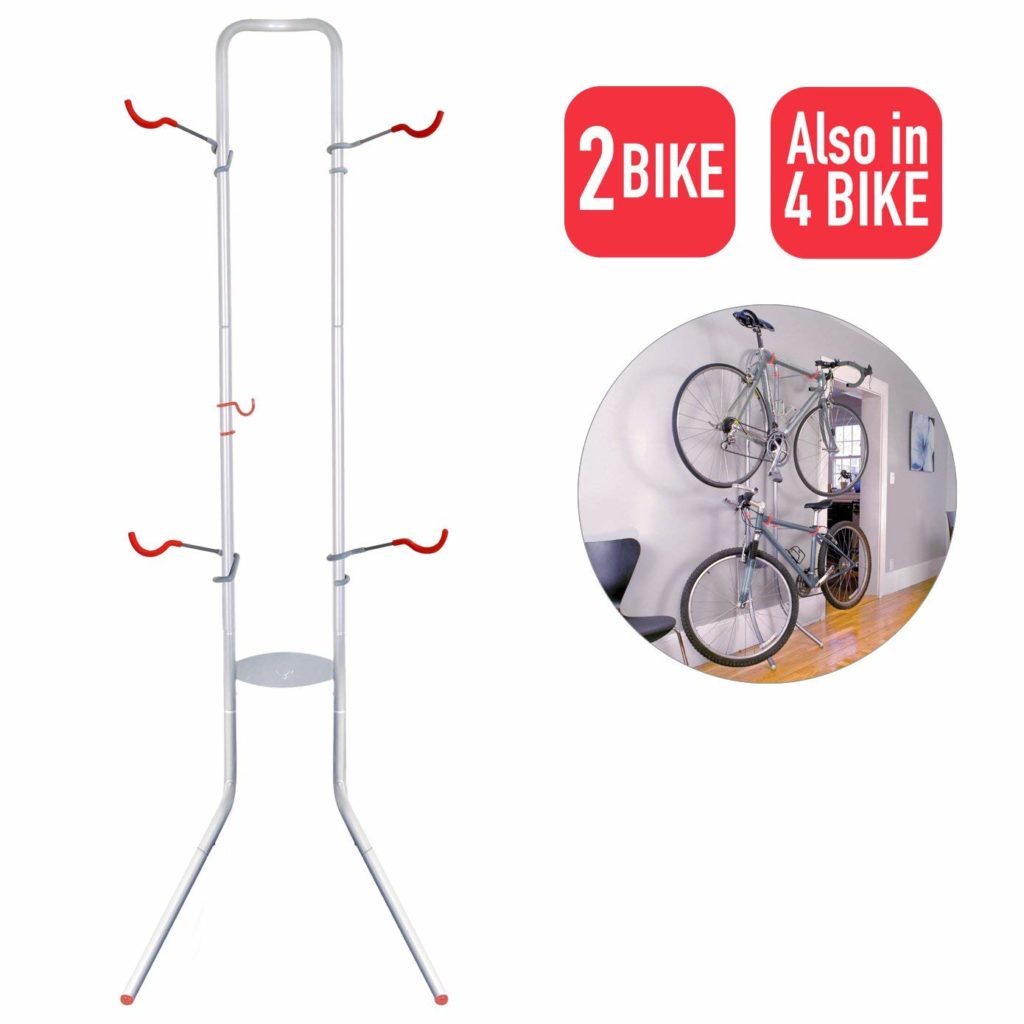 Standing bike racks are very popular with homeowners who are looking for garage equipment. And of course, this Delta Cycle stand will provide you with the highest comfort and quality of storing your bikes.
We already know this brand and can imagine what it's capable of. So, are you interested in learning more about its next product? If so, we would love to introduce you to a list of reasons why you might like this particular bike rack.
The bike rack is extremely easy to install. You need absolutely no drilling and other actions, just lean it against the wall!
It can hold 2 bikes, so both of your vehicles will secure their place on this standing rack.
Adjustable arms can hold bikes of any size.
The silver-powdered steel looks suitable for any environment and can look great not only in the garage but in the living room as well.
Rubber bumpers wrapped around the upper part of the rack and its legs protect your walls and flooring from any marks, scratches, and stains.
The rack arms have a rubber coating as well as to protect the bike.
Still, there are obvious disadvantages to standing racks and this particular item:
This Delta Cycle bike stand is able to load 80lbs in total. It means that if both your bikes are heavy-weight, you better think of finding another rack.
Sure, this bike rack isn't space-saving at all. You can only have it in a spacious room. As for a smaller garage, we recommend opting for a wall hanger instead.
For a 2-bike standing rack, you might find it a bit too expensive, especially in comparison to vertical racks. Nevertheless, there's a nice discount right now, so you will be saving some money!
8. RAD Cycle Products 2004 2-Pack Bike Lift Hoist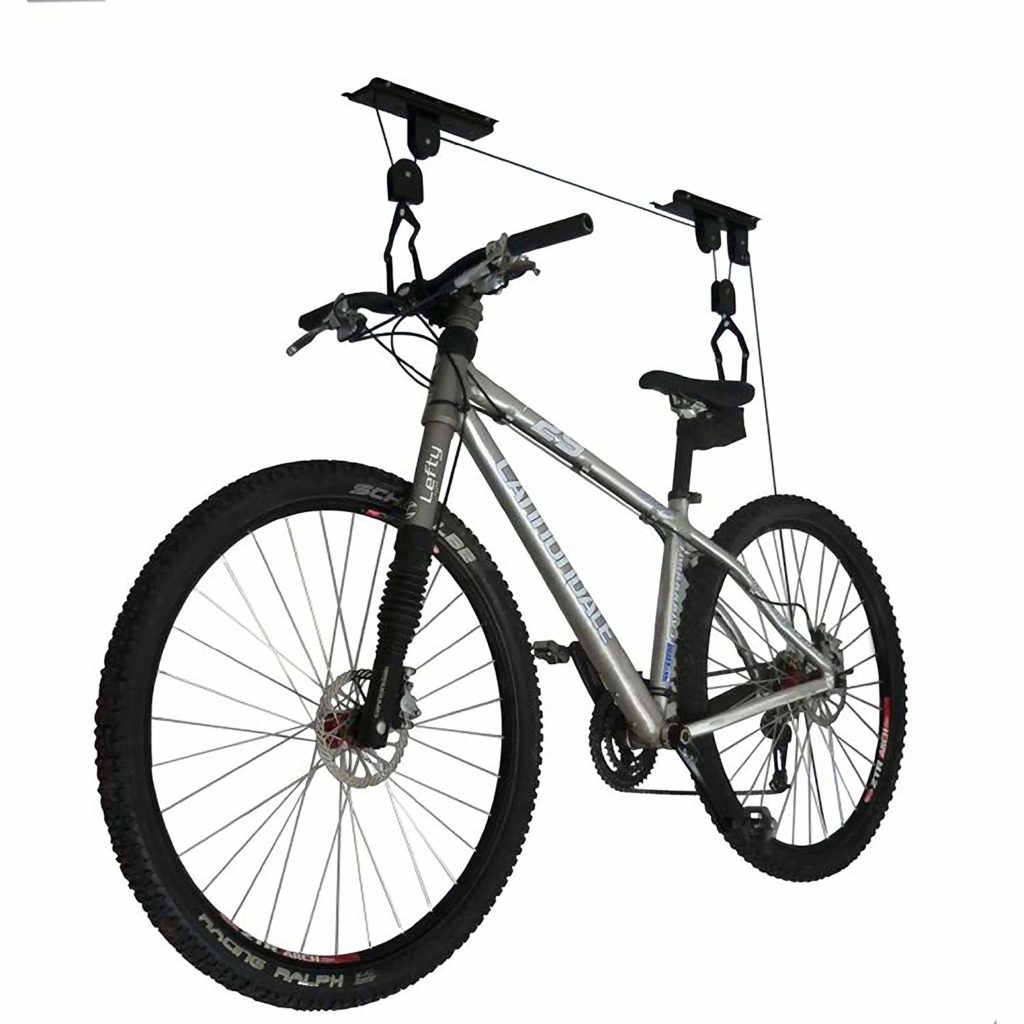 We've talked about bike hangers and standing racks a lot. Now, it's time to discuss the bicycle hoists. The brand RAD Cycle Products offers a truly unique decision for those who started considering the option of putting their bikes under the ceiling.
Sounds quite strange, isn't it? Then, we are going to find out why it is good anyway!
It truly does save you a lot of room! In a smaller garage, all the free space on the walls and floor is already occupied by cabinets, shelves, and stands. We bet you've probably never thought of using your ceiling for storage!
You are supposed to put your bike on the hooks with a rubber coating that prevent your bike from getting scratches and marks.
The maximum load is 100lbs, which is honestly very impressive! If you've been looking for a good rack that can manage your gigantic 100-lbs bicycle, this hoist made by RAD Cycle Products is your only option on the market!
The locking mechanism provides you with safer storing as it eliminates the possibility of accidental bike release.
By the way, you can use these hoists for ladders, benches and storage nets as well.
And why is there a chance that you might change your decision?
Your ceiling needs to be not higher than 12ft, so if you have a really high garage, you won't be able to use the hoists.
The construction looks complicated and needs a proper installation that may be hard to perform without any professional help.
9. Ibera Horizontal Bicycle Bike Wall Hanger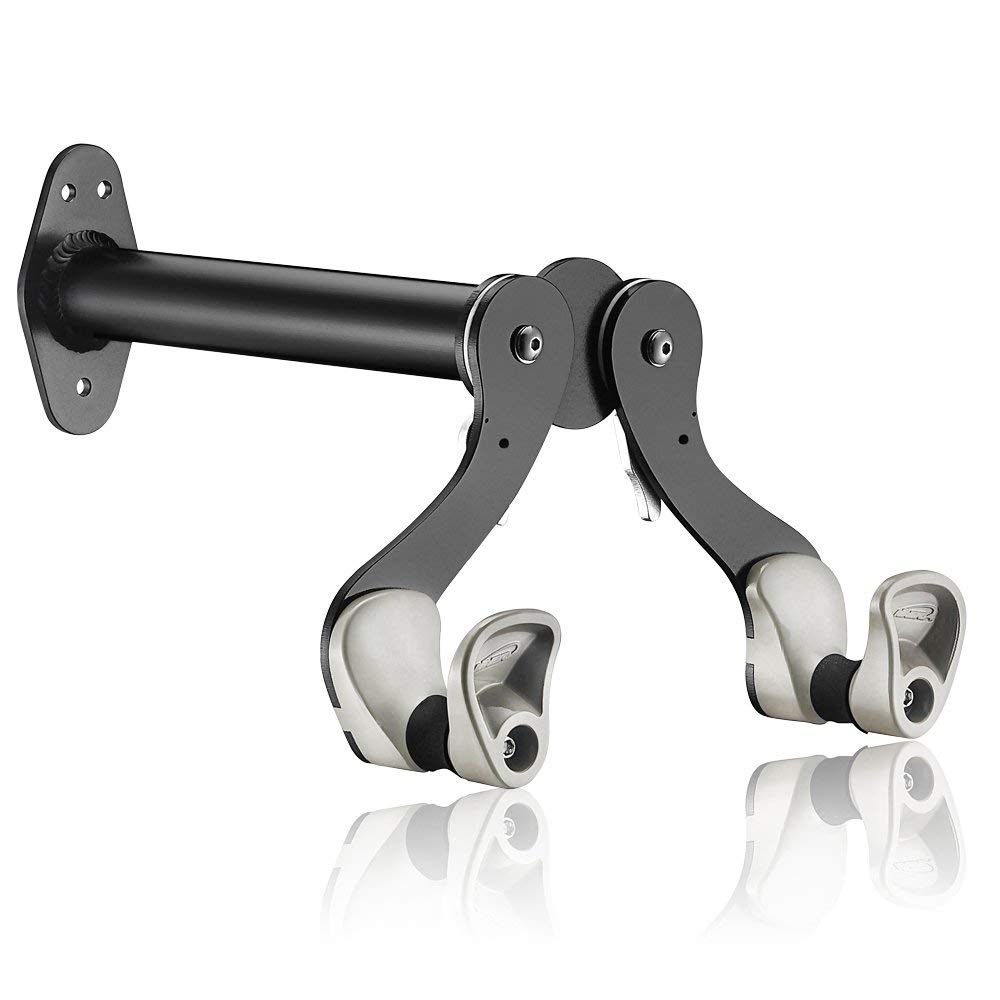 Ibera offers you another great option for a wall hanger. This time, it is way more adjustable and versatile.
Here is our review of the possible pros and cons, beginning with the advantages of this product:
As this item is a wall hanger, it will take significantly less room than any standing bike rack.
Due to an adjustable frame holder, you can regulate the rack to be wider or narrower (from 8.5 to 15 inches) to make sure it fits your bike in the best way.
Its adaptable length can enlarge from 8.5in to 12in which helps you mount the bike of any size.
The holders are coated with a non-scratch rubber that eliminates the risk of damaging your bike.
The assembling process isn't very hard and you can do it on your own.
Of course, there are cheaper bike racks on the market. Still, this one is very affordable in terms of its price, considering that it had adjustable width and length.
Would you like to learn more about Ibera bike rack's flaws as well?
There are a lot of moving parts in this device which are always the first ones to break down or fall off.
It is not recommended to mount this rack on plasterboard or drywall when there's no wood stud underneath. The item is intended for masonry or concrete walls.
Its maximum load is 39.6 pounds, so you should check twice how much your bicycle weighs before making your final decision.
This bike rack made by Ibera looks somewhat bulky. Still, you might like its creative design and versatility.
It is designed for standard bike frames; hence, if your bike has an unconventional frame, there will be no use in buying this product.
10. Allen Sports Deluxe Hitch Mounted Bike Rack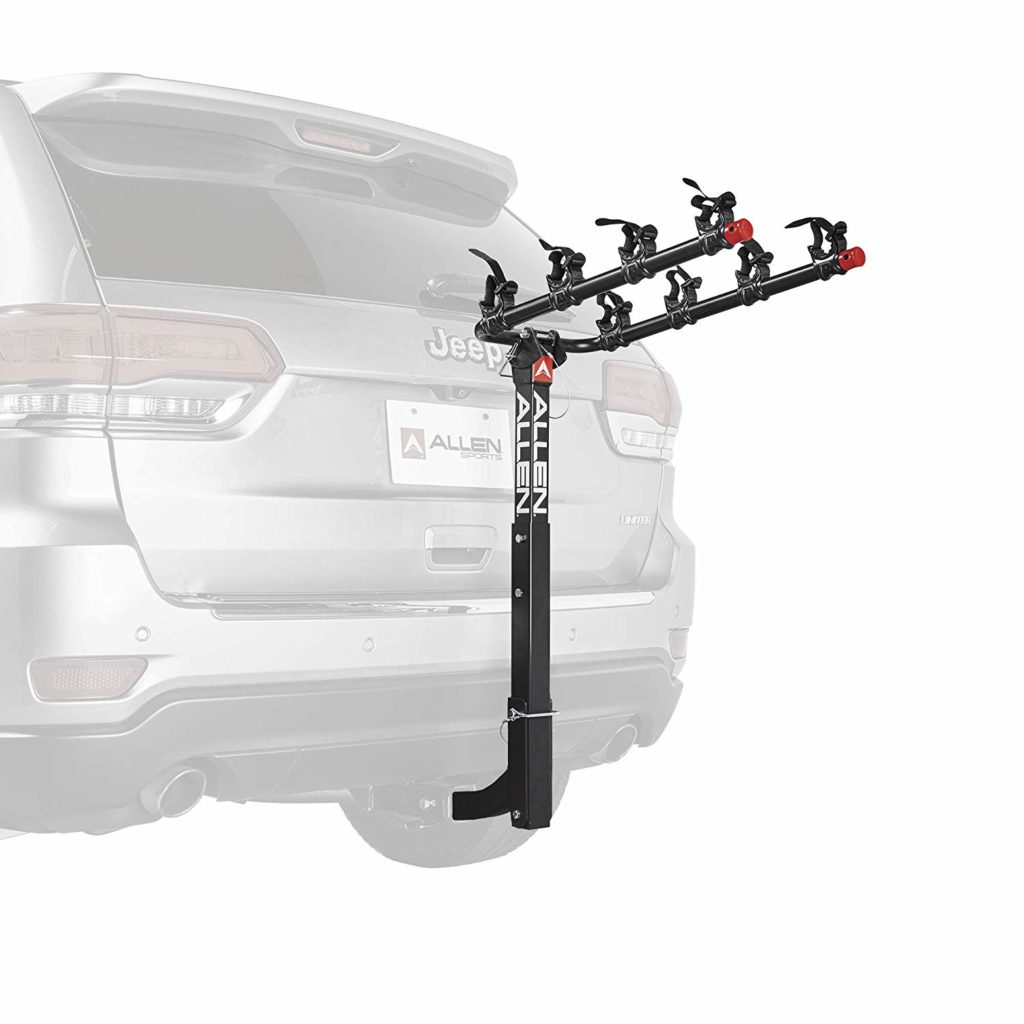 In our list, there is another bike rack that is installed on the back of your car. Allen Sports have truly found the right niche and created a convenient and effective way of transporting bicycles.
Let's see why you might opt for this product!
The Allen Sports bike rack can fit up to 4 bikes. Your whole family is welcome to transport bicycles using just one car. No extra efforts needed!
The patented tie-down hook system makes sure that all 4 bikes will stay in one place as you drive.
The set up is very quick and easy, and you'll need less than 5 minutes to complete it.
Black steel construction with a powder coating looks truly great and sporty, and there are no ridiculous straps to stabilize the rack.
However, we should consider its downsides as well.
This particular bike-rack is very single-purposed: it is used for transportation rather than for storage. And how often do you actually need transporting your bikes? Yes, we mean all 4 of them!
This Allen Sports bike rack is actually very expensive. Even the cheapest rack in the company's list costs way more than a good half of the previously reviewed ones.
It is required that your car has III or IV-class 2″ hitch. Otherwise, you won't be able to use the product.
The manufacturer warns you to never use the rack on trailers. Obviously, setting them in front of the car is prohibited as well.
11. Rubbermaid FastTrack Horizontal Bike Rack
A special place in our list goes to Rubbermaid, a manufacturer who offers a whole new system of storing objects in your garage while also keeping it space-saving and organized. Rubbermaid came up with a great idea of creating a storage system out of rails (attachable to the walls) and accessories – hooks, shelves, baskets and further details that can help you with putting your garage in order.
Below, you can find a couple of solid reasons why you might be interested in buying Rubbermaid supplies.
Its fresh and groundbreaking concept completely transforms your inner garage space, removing attention from the ground to garage walls while they become a convenient place of storing your tools.
Using this bike rack, you will store the bicycle horizontally along the wall, which undeniably saves you some space.
A tight aluminum gripper snaps into the rail securely without any chance of dislocation or falling off.
The hook is coated with a soft material that protects the bicycle from scratches.
Reliable bike storage is simply guaranteed as the rack won't rust or crack for a long time, preserving its high-quality looks for a long time.
The hook is foldable so you can just fold it when it is not used.
As always, any item can receive some minor critiques regarding the things that we would love to see improved.
This bike rack is made for most bikes with 12 to 26-inch frames. Its load maximum is 50 pounds. As a result, you should check your bicycle sizes and weigh twice to make sure it suits the hook.
Unfortunately, the rail itself is sold separately. You can find it on the seller's Amazon page. And without the rail, the hook just won't work, so it makes no sense to buy this whole system only to hang the bike on the wall.
12. Feedback Sports RAKK Bicycle Storage Stand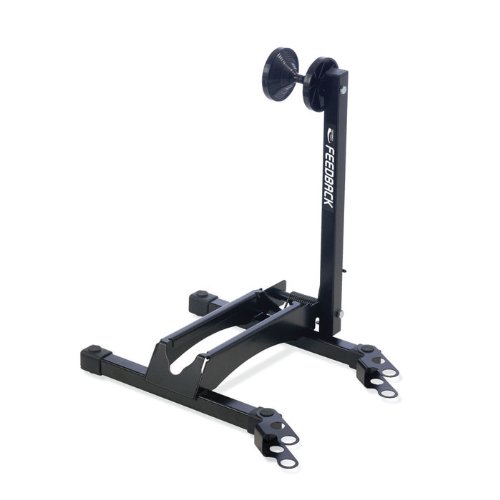 The last item in our list of the best bike racks to have in your garage is this storage stand provided by Feedback Sports. As you can expect from any product that gets into our reviews, it is high-quality, reliable and secure.
So, let's have a look on its pros and cons for the last time in this article!
In the beginning, we would like to point out that this bike stand is used both in households for storage and in commercial places in order to display new products. From that point of view, we can say that the Feedback Sports' bike stand is versatile and multifunctional.
A soft scratch-free arm holds the front or rare tire in place without damaging its surface.
This standing rack is a great deal in terms of price. Plus, there is a nice discount that allows you to save up some money.
And of course, in case you are interested in purchasing this particular item, we should honestly review its disadvantages as well.
The product is supposed to hold from 20-mm to 2.4-inch tires, wheel size between 20-29 inches. For that reason, the rack might be ill-fitting for some bikes.
The design is nothing particular and special. In fact, it looks quite boring.
Storage stands take up a lot of space, so this is definitely not the option for owners of small garages.
In a smaller garage, a bicycle might take up too much free space. The problem becomes more complicated if there are several bicycles in your household. In such situations, you just cannot do without special bike racks for seasonal storage.
Before you decide on a purchase, it is advisable to calculate your bike sizes and measure the place where you can store it. The design of a bike rack should correspond to the weight and dimensions of your bicycle. It is also necessary to consider the interior style of your garage, factors of maintaining the rack and other details that might have a deciding impact on your final purchase.
If you have decided to store your bike in good conditions, purchasing a bike rack is a necessity. A variety of possible mounts and supports will ensure your own convenience. This way, your bicycle will be able to serve you for more than one year.
FAQ bike rack buyers
1. Can the bike be damaged during transportation?
Any rack that is designed for transportation has special fasteners. These mounts keep your bicycle from falling down while riding or even losing it on the road.
For extra safety, the special mounts also have a rubber trim that keeps the metal body from scratching your bike. If you do not want to get extra scratches or dents, you should pay attention to this aspect when choosing your rack.
2. How many bikes can I fit on the rack in one time?
Each model is designed for a strictly defined number of bikes. You should agree, it would be difficult enough to fit into one suitcase at once three sets of tools – simply because the case is designed for only one set.
The same with the rack: each model has limits on capacity, and vertical suspension racks are limited in weight. If your family has more than one bike, the best solution is to buy a rack for everyone – for example, there are models for 2-5 of your bikes.
3. What is better – a rack for bikes on the roof of a car or in the trunk?
The rack models that are most commonly found for cars are usually attached to the trunk. This is the most convenient way for the user: you will not need to call someone else for help, and you are not limited in height.
A person of small stature will find it difficult to attach the bike well to the roof of the SUV. If you have more than one family member riding a car or bicycle, it is better to use the mounts on the luggage compartment.
4. How can I protect myself against theft of my bike?
Some bikes have special tools so that no one can take your bike but yourself. For example, there are special safety hinges that keep the vehicle in place.
These hinges can be locked with a code lock or a standard lock that only you have a key to. The burglar will not be able to unlock the bike from the rack, but the rack itself must also be attached to the wall, to the trunk, or to the floor.
5. Do I need to take extra care of the rack-mounted bike?
Care depends on how long you leave your bike stationary in the rack. If you have a rack in your yard or inside your garage, but you use your bike more than once a week, you will not need extra care. You can do the same things as before.
If you leave your bike inside the garage for the winter, you will need to periodically lubricate the mounts and mechanisms inside the garage. If you do not do this, your bike may simply lose its shape after a while – it will break down and possibly get rusty. Especially if you store it in a humid environment.