Machines are an integral part of our lives. There are a huge number of species, models, brands and other aspects of them, all of which are different. It's hard to find someone who has never used a private vehicle, thought about buying it or bought it. According to statistics, many people today are car owners who actively use them to travel and move. It is worth noting that it is not enough just to buy a car with it, you get responsibility and problems.
For example, one of such constant concern is car care. At a minimum, it includes regular washing, cleaning of the interior and technical inspections. The simplest washing and cleaning will take away the largest amount of money from you, especially considering that you need to make them regularly. In this case, car owners decide to take care of the car by themselves and start looking for equipment that will help them in this process. We have decided to make this task easier for you and now we have found 8 of the best vacuum cleaners for the interior of the car, which will reduce your cleaning time and save you time and money.
Our Top Pick
Dyson V11 Torque Drive Cordless Vacuum Cleaner


14 cyclone modes
Demonstration of remaining battery power
Absorb particles up to 0.3 microns

Check price on Amazon
Other great car vacuum cleaners
IMAGE
PRODUCT

Dyson V7 Trigger Cord-Free Handheld Vacuum Cleaner

Several cleaning nozzles in hard-to-reach places.

Check price on Amazon

Tineco A10 Hero Cordless Vacuum 2-in-1 Handheld Stick Vacuum

Silent vacuum cleaner with 4 levels of cleaning.

Check price on Amazon

BLACK+DECKER 20V MAX Handheld Vacuum

Lightweight and compact vacuum cleaner with a narrow nozzle.

Check price on Amazon

BLACK+DECKER dustbuster Handheld Vacuum

Energy saving without use up to 18 months.

Check price on Amazon

ThisWorx for TWC-01 Car Vacuum - corded

Vacuum cleaner for a car that is powered by a cigarette lighter.

Check price on Amazon

Armor All, AA255 , 2.5 Gallon 2 Peak HP Wet/Dry Utility Shop Vacuum

Wet and dry interior cleaning mode.

Check price on Amazon

Car Vacuum Cleaner High Power LIBERRWAY DC 12v

Compact model for use even when traveling.

Check price on Amazon
Dyson V11 Torque Drive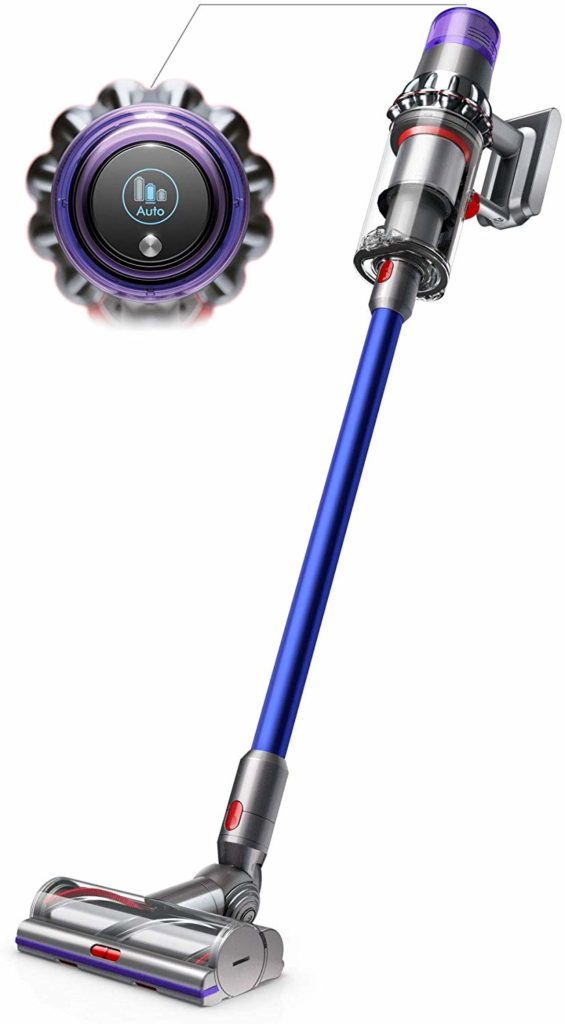 Many people nowadays prefer to use wireless vacuum cleaners to clean their homes or apartments. This obviously has its advantages: you don't depend on the length of the wire, you don't need to be permanently connected to the electricity network, and so on. So, you can transport the vacuum cleaner over long distances, use it outdoors or in the car.
The Dyson V11 is one of those models. This is a high-tech vacuum cleaner with the need for periodic charging from a special station. If you think that wireless models work worse than permanent vacuum cleaners, this is not true. The Dyson V11 is 40% more efficient than the previous V8 model, for example. The range of suction particles reaches 0.3 microns which means that all the dust particles you can feel or see are in your tank. Since this vacuum cleaner is high-tech, it shows the percentage of charge remaining in the battery of the device. All this is shown on the LCD display, which is located directly on the body of the Dyson V11 itself. On average, it can run for about an hour without recharging in silent mode.
About 14 cyclone modes are available for convenient car interior cleaning. Each of them is designed for a specific material and interior of the car. If the vacuum cleaner's filter is clogged, all this information will be displayed on the display – so you won't forget to clean the entire unit. The Dyson V11 differs from conventional wireless vacuum cleaners in its ease of use. Although there are a few flaws.
First of all, some special cleaning accessories for the car interior are not provided. This is due to the fact that the Dyson V11 is still designed for cleaning, and the car is just one of the ways to use it. Secondly, the cost of the Dyson V11 is too high to be used exclusively for cleaning your pickup truck or hatchback. If you're looking for a home vacuum cleaner that you can easily use to clean your car, then it's a great option, though not a cheap one.
Dyson V7 Trigger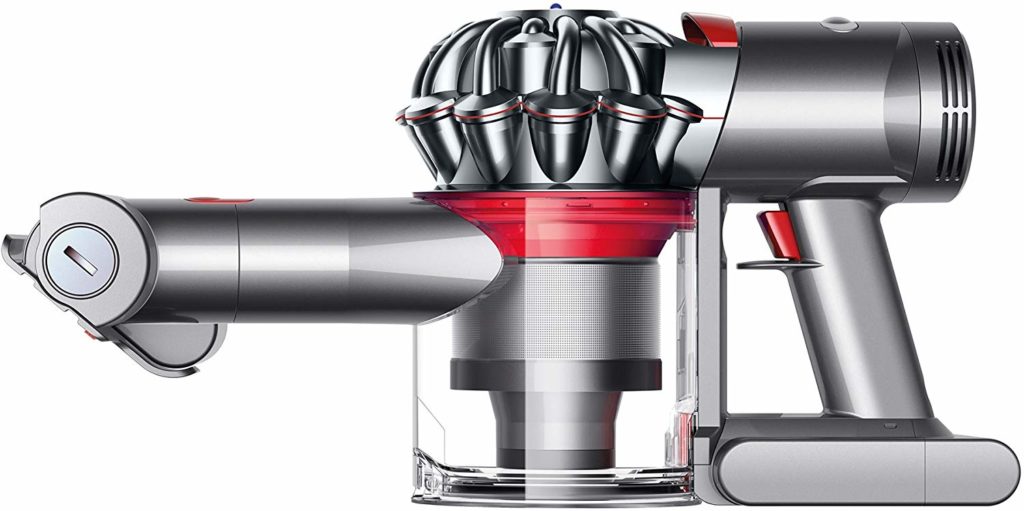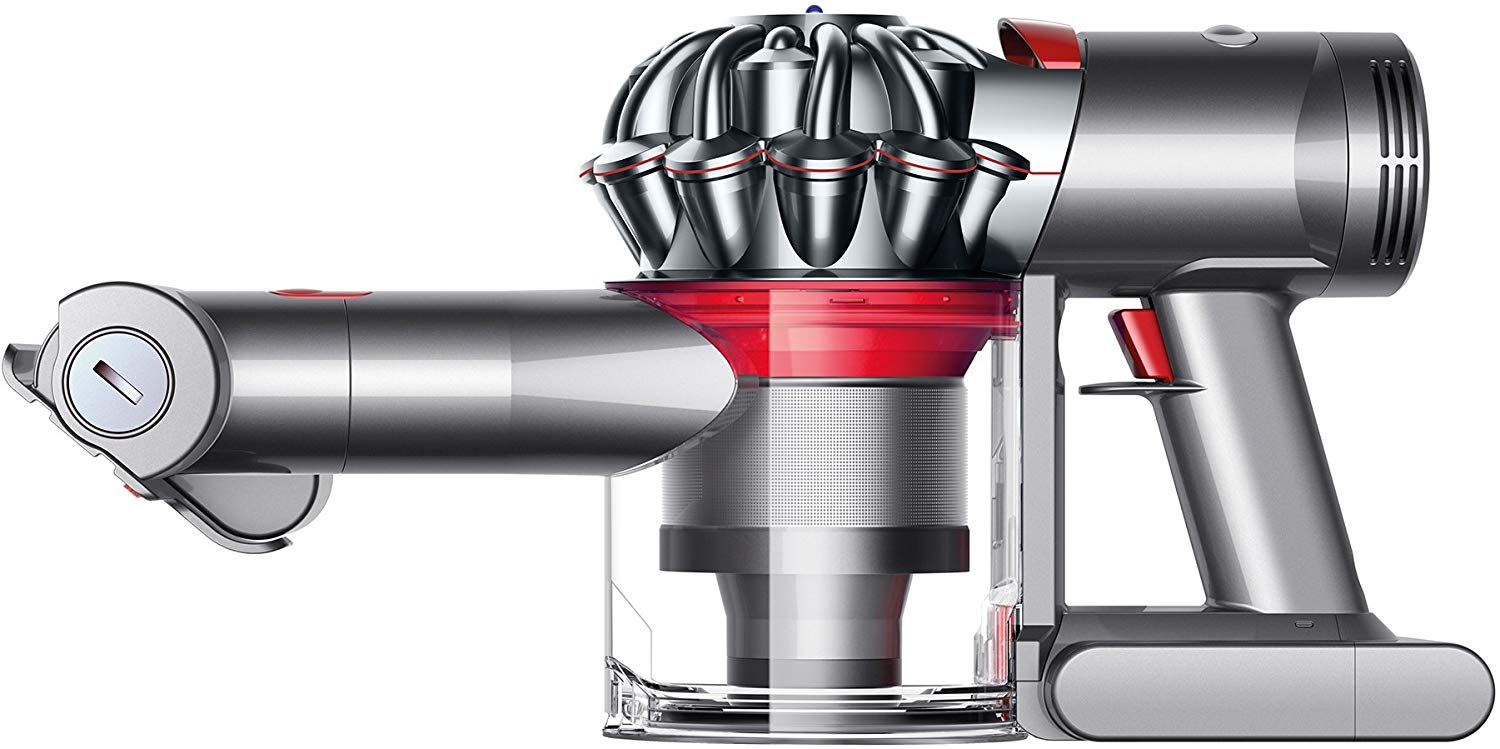 Another vacuum cleaner developed by Dyson. As you could understand from the information about the previous product, this manufacturer follows modern technology and is generally good enough and appropriate for buying. Despite the fact that the Dyson V11 is also portable, it is worth noting that the Dyson V7 is suitable for cleaning the car much better.
So, the given vacuum cleaner represents compact and portable means for cleaning of interior of the car, ladders, hard-to-reach places and furniture in your apartment. It is wireless, which obviously gives you an advantage over wired models. You don't get in the way of wires, you don't need to constantly look for outlets or pull an extension cord in order to always have access to electricity. There are a number of accessories in the kit that you can actively use when cleaning. This includes the combination tool, crevice tool and the vacuum cleaner itself. The design itself provides a dust suction tank, so you don't have to touch the dirt with your hands after cleaning. Lithium-ion batteries make sure that the power of the vacuum cleaner does not decrease over time.
Since the Dyson V7 is a small and handheld tool, you would expect it to have a short operating time without mains power and charging. Indeed, the vacuum cleaner can run at maximum power for 30 minutes – but in general, this time is enough to clean the entire interior of the car at maximum power. Now all description of Dyson V7 looks perfect and probably, you already think about its purchase. But there are a few nuances.
The tank, designed to collect dirt, dust and debris is incredibly difficult to pull out of the device. In most cases, you can accidentally dump it before you want it to, or tip it over. This is incredibly uncomfortable, you have to admit. In addition, Dyson's support is designed to work with orders made only on the official website of the company – despite the fact that, for example, Amazon is an official partner of the network.
Tineco A10 Hero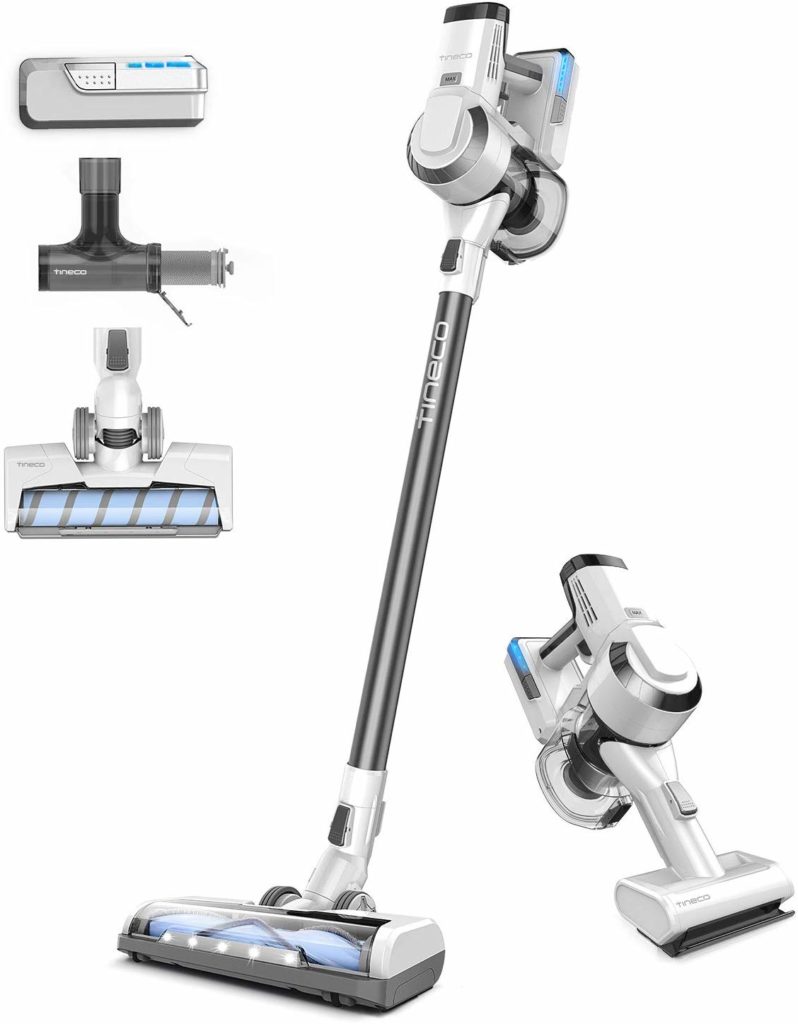 Absence of terrible noise at work is important for those people who have small children or who just don't want to make loud noises. The Tineco A10 Hero is the kind of vacuum cleaner that can run in silent mode at up to 110W. The detachable battery pack can provide about 25-30 minutes of wireless operation and a maximum power of about 10 minutes. This time will be more than enough to completely clean up a small apartment, a floor of a house or several cars.
The Tineco A10 Hero is a very light and comfortable vacuum cleaner. Its body weighs less than 3 pounds, which allows you to easily use it in wireless and manual modes. It's also worth talking about the cleaning and filtration system. The cleaner has 4 cleaning stages and an easy to empty dust tank. There are only 2 modes of cleaning – continuous, which instantly collects dust and wired, which does not let your fingers get tired holding down the work button. The tank is cleaned immediately after pressing a single button.
As for charging and power capacity of the battery, it is worth noting a few moments. Immediately after purchasing a vacuum cleaner, you may be disappointed with its wireless performance. Without charging, the first few cycles of operation can be incredibly small. Don't worry and immediately try to return the product. After 3-4 full charging cycles you will get the declared time of operation – up to 30 minutes in wireless mode. If that's not enough time, you can order an extra removable battery. This way, the operating time without recharging will be significantly increased.
Tineco A10 Hero performs its main job – dust removal – perfectly. The vacuum cleaner sucks in great and you really get clean surfaces after cleaning. Operating and filtration modes ensure that dust is fully absorbed, down to the size of a hundredth of a micron. If you want to clean your car completely, the Tineco A10 Hero is the perfect choice for you.
BLACK+DECKER 20V MAX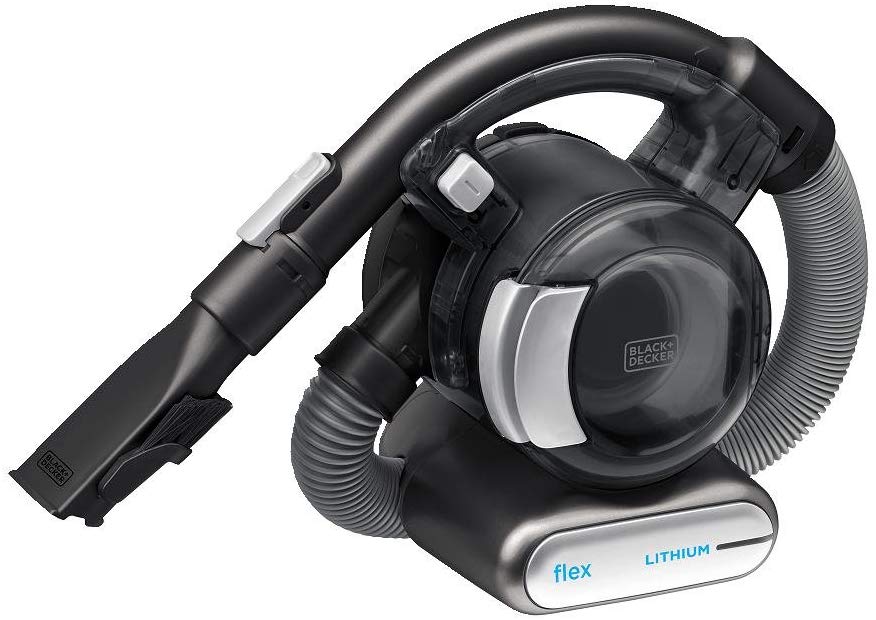 The Black&Decker MAX is what you need if you're looking for a vacuum cleaner that fits easily in the trunk of your car or that can even lift a child. Lightweight and compact, it fits easily in even the smallest cars and storage rooms. You will immediately notice the unusual shape of the nozzle, which is responsible for the absorption of garbage. It's flat and rotatable, so you can take the garbage out of even the most inaccessible places, and the fact that it's narrow and flat gives you easy access to the cracks and joints of upholstered furniture.
The batteries themselves, from which the vacuum cleaner works, are created using lithium technology. It provides the strengthened suction and huge capacity rather compact sizes of the device. The powerful engine is also responsible for the power, which starts the whole unit in operation. The filtration system consists of 3 stages, with the cyclone inside the vacuum cleaner arranged in such a way that all garbage and dust is distributed evenly and removed from the filter. This technology allows you to maintain a strong suction capacity for a long time.
Charging is done by means of a stationary charging station. You can fix it anywhere you want. You can easily empty the dust tank during charging, as well as wash the filter. In fact, the even distribution of dust on the filter is a small trick from the manufacturer. Black&Decker MAX accumulates large pieces of debris and dust in the center of the filter surface. If you forget to wash it for a long period of time, you will immediately notice how much worse the suction capacity of the vacuum cleaner will become.
In fact, Black&Decker recommends itself on the market as a quality manufacturer. Indeed, if you follow all the rules of operation of the cleaner, it will serve you for a very long time and without any problems. If you deviate a little from the instructions – for example, charge the Black&Decker Handheld Vacuum at a higher temperature than necessary or overheat it during use, then be prepared for the engine to burn down. The vacuum cleaner cannot be repaired after such a failure, so we recommend that you follow the instructions fully. Otherwise, it's a great option for cleaning your own car and its hard-to-reach areas.
BLACK+DECKER CHV1410L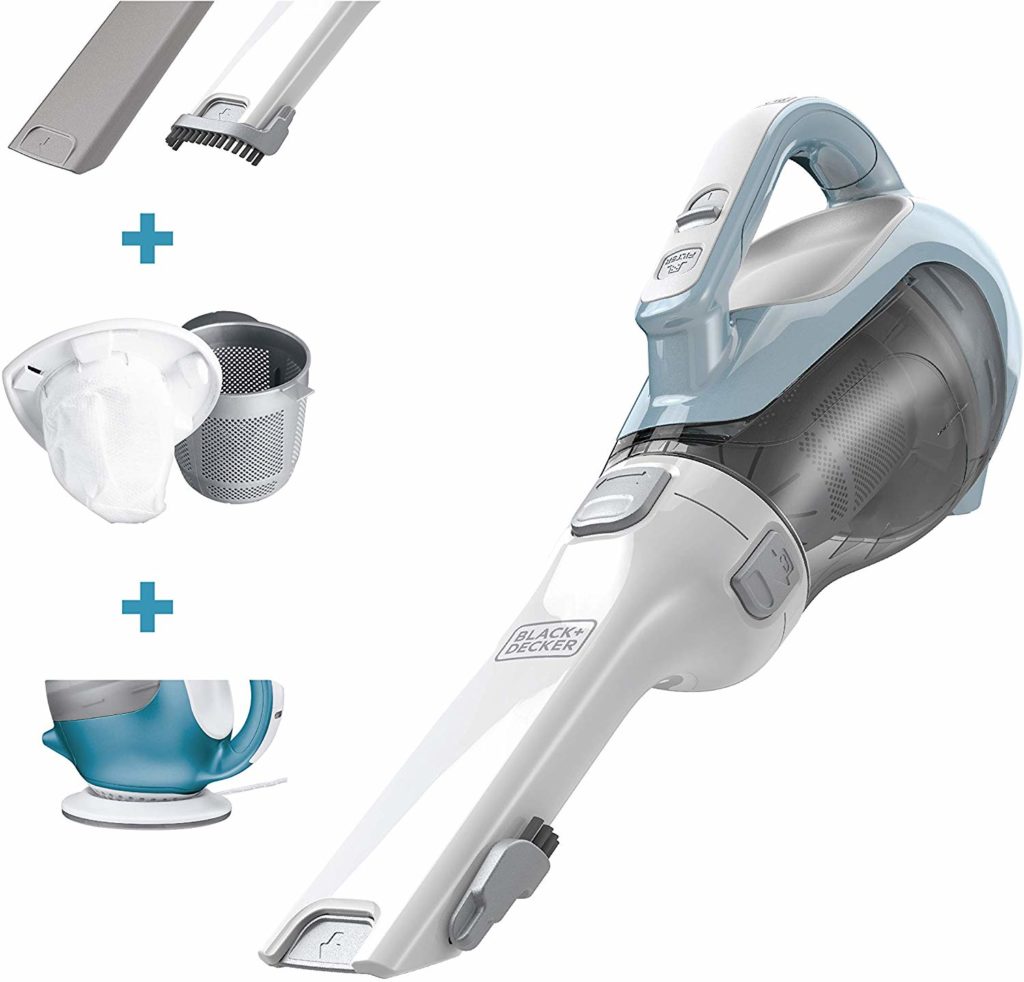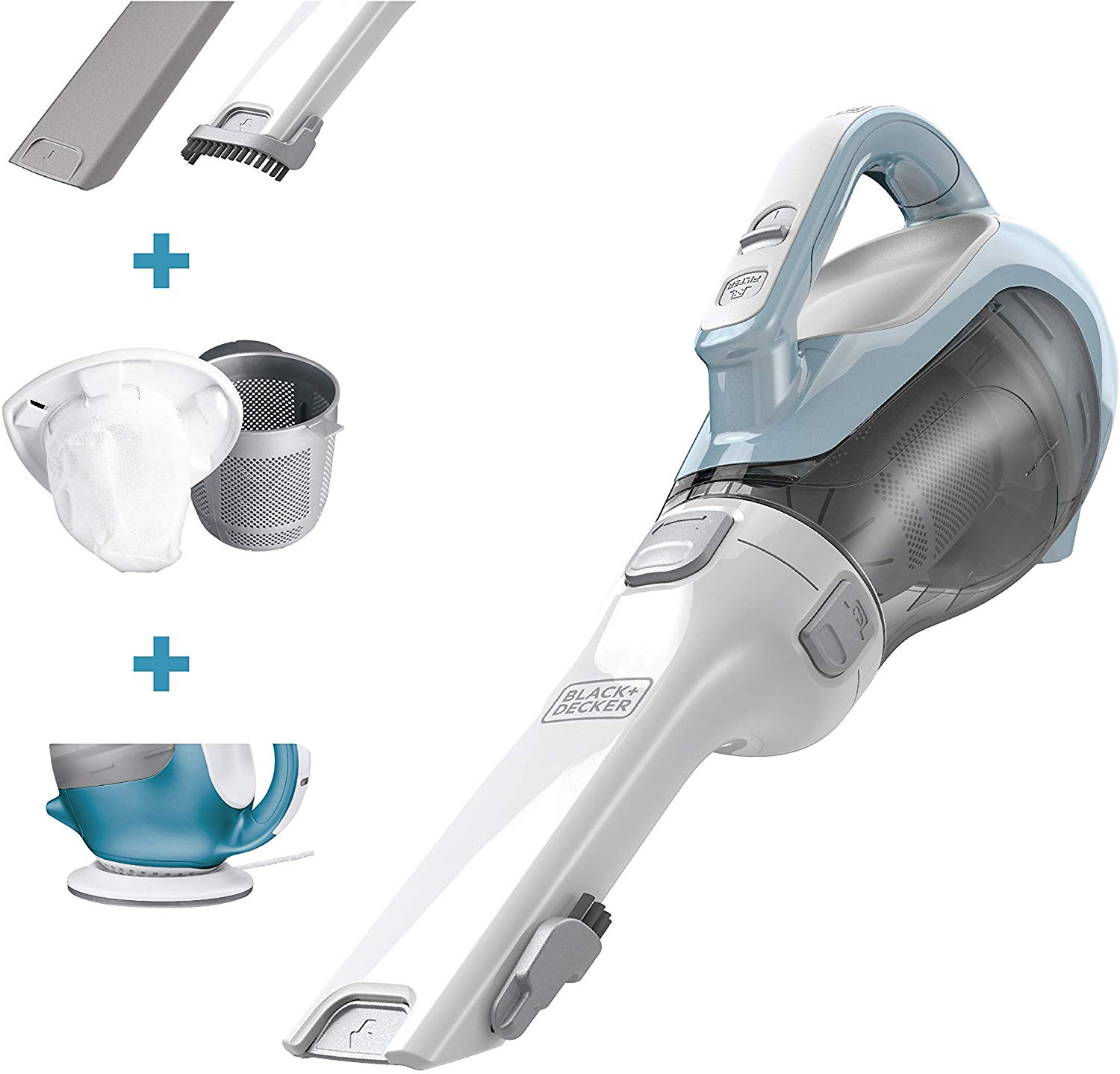 In case you don't want to constantly check the charge of your vacuum cleaner, but just charge it once and be sure that you can use it at any time, Black&Decker has developed a handheld vacuum cleaner for you. Once fully charged, the device can hold energy for up to 18 months – it's a long enough period for such a small device. Charging is carried out with the help of a charger, not a stationary charger – which is quite inconvenient because it is much easier to fix the station somewhere in the house. The vacuum cleaner itself is light enough and perfectly held by one hand.
What is convenient is that the tank for garbage collection is transparent. When you clean, you can immediately see the amount of dust in the container, as well as you can assess the contamination of the filter. The suction construction itself is a kind of elongated "trunk", which is easily accessible even in the most inaccessible corners. It also comes with a small dust brush, which can also be used for cleaning. As well as at other manual vacuum cleaners Black&Decker, the nozzle of vacuum cleaner is flat and thin that is convenient as well for cleaning of joints in the upholstery of a car interior.
The Black&Decker dustbuster Handheld Vacuum uses lithium-ion batteries to maintain the charge. For some reason, it is likely that because of the quality of the batteries of this particular model of vacuum cleaner, these batteries fail quite quickly. If you want to extend the battery life of your Black&Decker dustbuster Handheld Vacuum without recharging it, it is better to contact a specialist and replace the batteries. Don't do it yourself – this kind of battery requires special security measures. The vacuum cleaner itself is powerful enough to justify its price completely. You can be sure that your equipment will not fail after a few cleanings or a couple of months of use, so your investment will be worth it.
ThisWorx TWC-01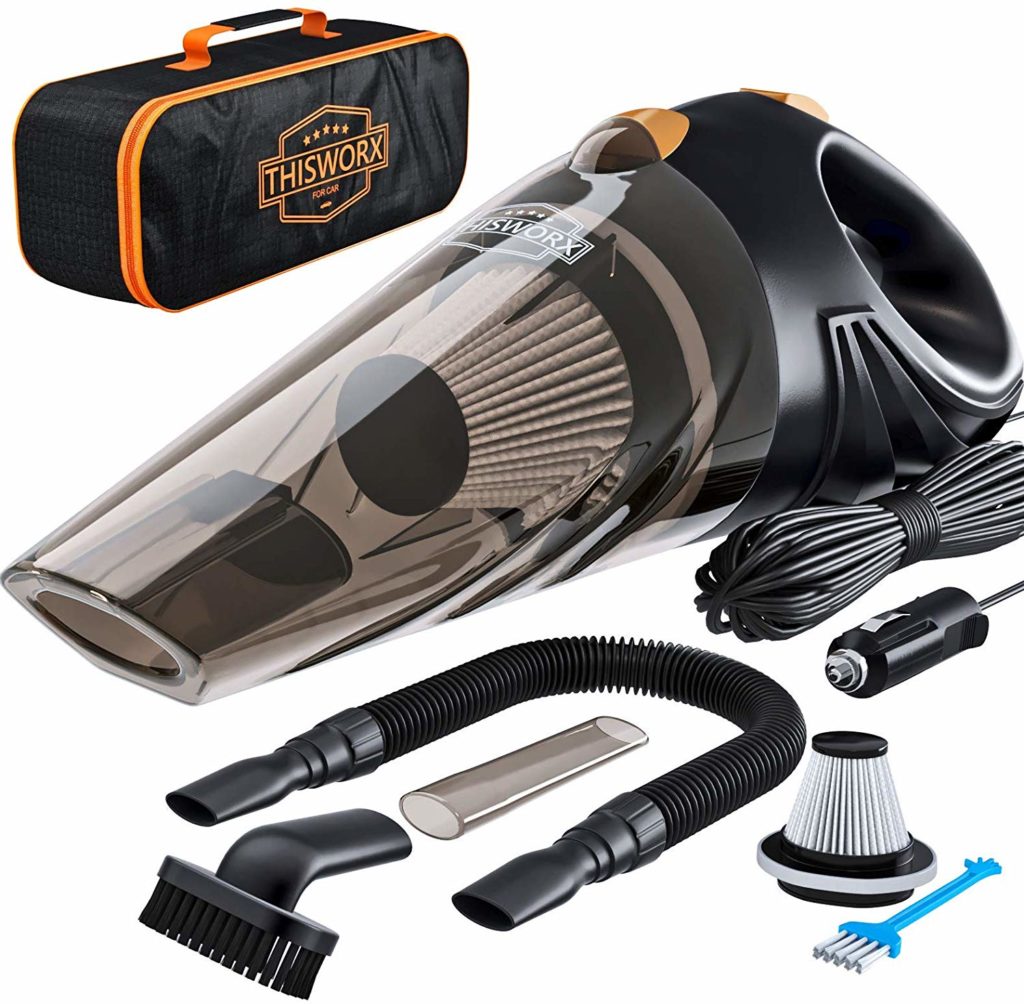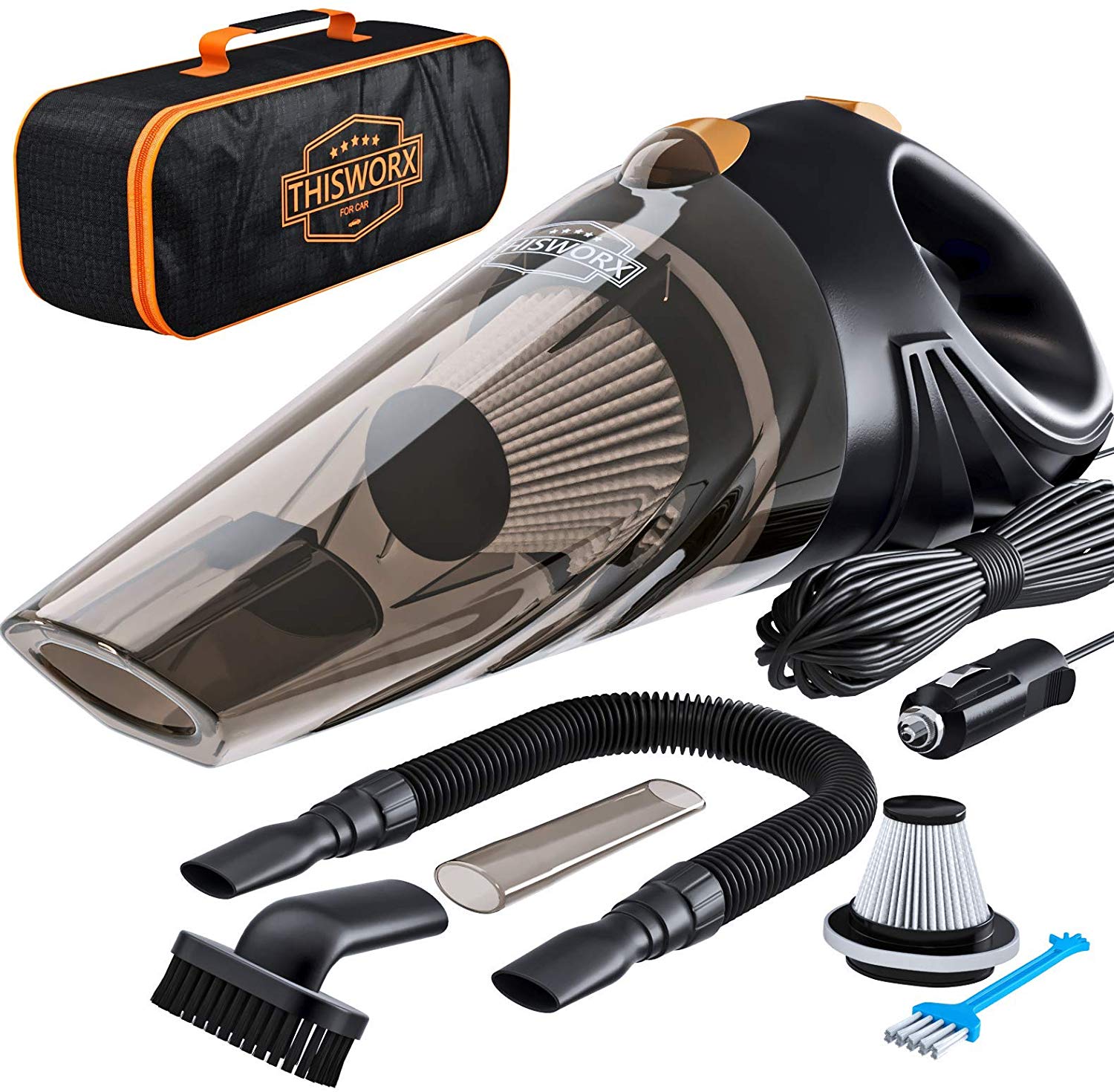 People who do not use the car exclusively by themselves are often confronted with dirt in the passenger compartment. Pets, kids, friends – all leave little dirt, hair and debris.
To keep the car's interior clean, you can clean it up with the ThisWorx TWC-01. Since this vacuum cleaner is designed exclusively for car cleaning and is designed for this purpose, it has special nozzles for easy operation. They come in 3 pieces in total – an elongated hose with a narrow tip, a brush for better dusting of the car's panels and upholstery and a special narrow nozzle to remove debris from the cracks and joints of the car's upholstered seats.
There is a small inconvenience – ThisWorx TWC-01 works with constant power from electricity. Of course, the power cord is long enough, and if you're cleaning while in the garage it won't be a big inconvenience to you. Otherwise, for example, if you need to remove crumbs on the road or just accidentally scatter something in the cabin, you need to stop to connect the vacuum cleaner to the cigarette lighter.
The cleaner's filter is easy to clean, just like the dust tank itself. It is worth noting the strength of the vacuum in this model. ThisWorx TWC-01 sucks in so much debris and dust that it can be compared to a conventional vacuum cleaner and more expensive car devices. Now you don't need to go to the car wash all the time and pay a large sum of money for it every time – even if somebody was spilling chips in your salon, you can just stop and vacuum the car interior right away.
Armor All AA255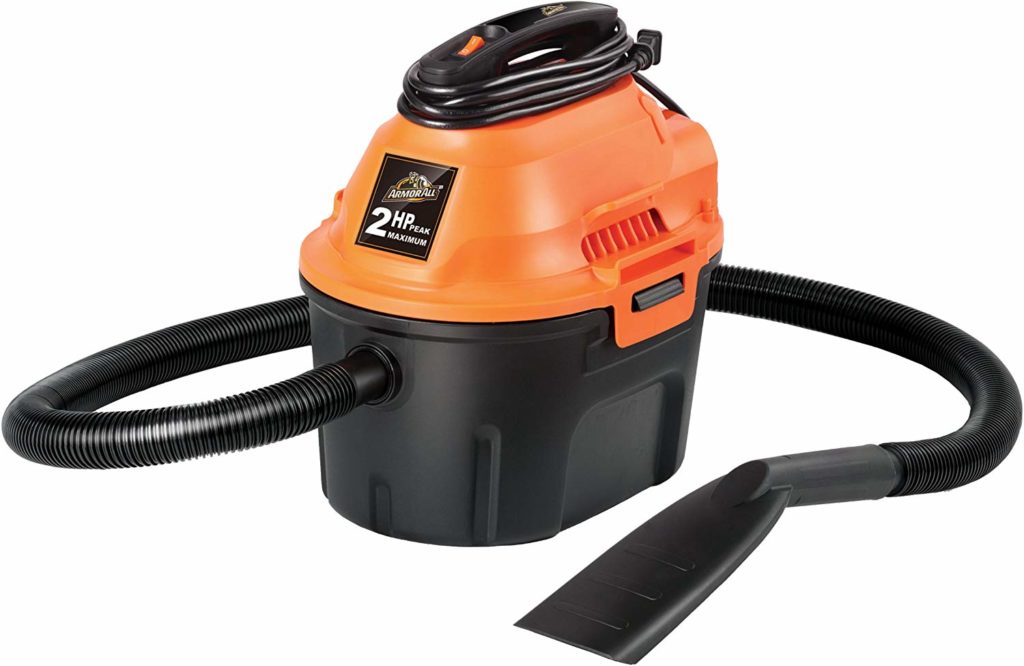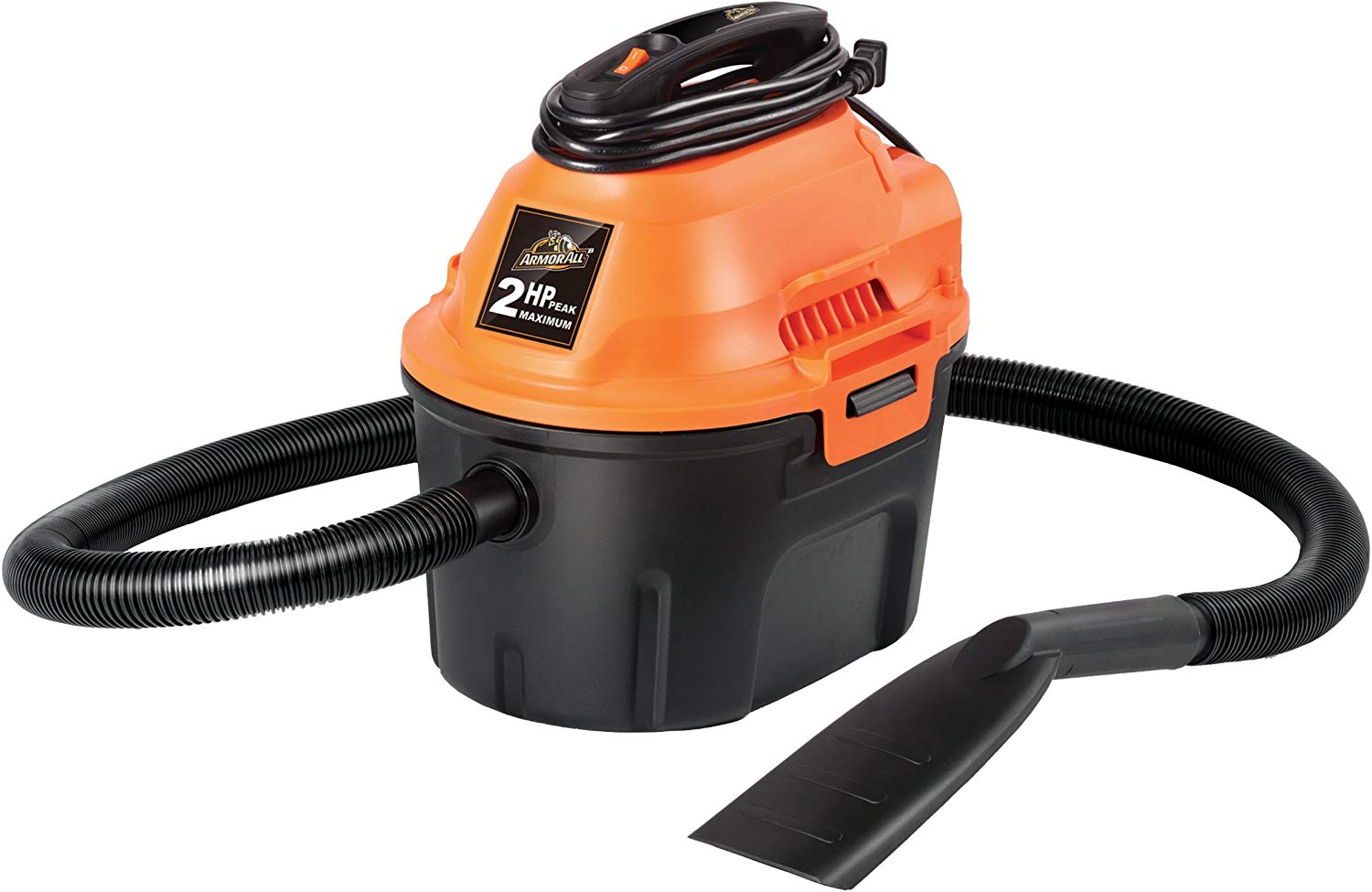 For those of you looking for a larger vacuum cleaner – which can be used for your car, but not just with one hand – Armor All AA255 is what you need. It's the most common and standard vacuum cleaner you can move on your own, with a suction hose and handle on the body. It requires constant power from the electricity, so it limits your movement. If you have been to car washes and seen them cleaning the car interior, then you have seen their vacuum cleaners. They are special and expensive, so you probably never even thought about buying them. Luckily, the AA255 is almost as good as these vacuum cleaners in terms of functionality. Of course, it has a number of drawbacks, but it is still a great option for independent use.
Firstly, the length of the power cord is not enough for complete cleaning. 10 feet is not enough, so be prepared to use an extension cord. The length of the suction hose is long enough to hold the vacuum cleaner at one point in your car. Second, the cleaner comes complete with several cleaning nozzles at once. Unfortunately, the extension tube is not included, but the tip of the entire vacuum cleaner can rotate.
It is worth noting that you can do both dry and wet cleaning. The garbage collection is presented as one big bag, which you will need to constantly maintain. Cleaning it is much harder than simply shaking out the plastic tank of many modern models. We recommend 2 options: you can either buy a reusable filter, which will need to be washed and shaken periodically, or buy a set of single-use bags. You'll just throw them away every time you do the cleaning.
Armor All, AA255 is not the quietest option. It sucks up the garbage very well and doesn't make too much noise when you don't need it. In fact, if you use it once, you won't be able to use your handheld, low-power vacuum cleaners anymore.
LIBERRWAY DC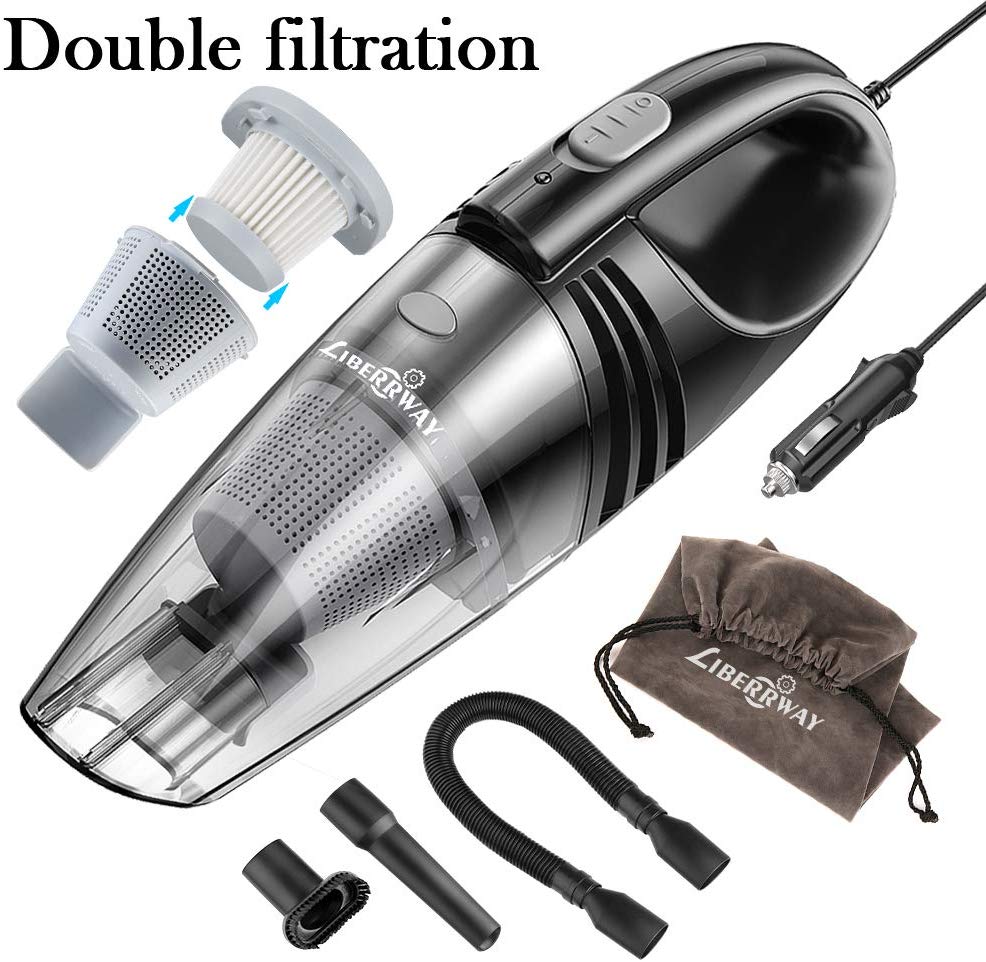 This vacuum cleaner is very similar to some of the models already presented in our top. But in fact, it has a few significant differences from conventional manual car vacuum cleaners. LIBERRWAY DC supports wet cleaning, which is usually not possible with compact models.
Unlike the previous vacuum cleaner, it already has a more standard plastic tank for garbage collection, which is much more convenient if you plan to clean the interior of your car regularly. Like many other models, the LIBERRWAY DC comes complete with three nozzles – a hose, a narrow brush for slots and a regular brush. The long hose is usually used to connect and use the nozzles in remote corners of the vehicle.
This vacuum cleaner works when powered by your car's cigarette lighter. This way, you can use it when you travel, and the 16-foot-long cord won't stop you from cleaning. Also, the LIBERRWAY DC is unusually compact – even compared to other handheld models, it is about 30% smaller. It's also lightweight, so you can easily get away with it with one hand without tensing your muscles or getting tired. You can also clean up completely tiny areas of garbage – because it only takes a few minutes to turn it on.
Most importantly, for efficient cleaning, don't forget to clean the tank and vacuum cleaner's filter. After washing, let the filter dry – if you turn on the LIBERRWAY DC to work with the wet filter, you risk breaking your device. Although you have a 2-year warranty, this is not a warranty case and you will need to change it yourself. Otherwise, this vacuum cleaner is powerful enough for a handheld model and copes perfectly with dirt and dust in the interior of cars.
Of course, you may wonder: why should I do it regularly? I don't mess up my car, and I don't leave any garbage. The fact is that all your purchases, actions and even people leave behind something in the car. Fine crumbs, dust and other small things remain and accumulate in the fabric and materials. They can leave behind smells that are hard enough to remove even by professional cleaning. This is exactly what manual vacuum cleaners for car interior will help you to do – they will save you from such unpleasant things in a timely manner, leave you clean and pleasant feeling at every moment of sitting in the car interior or in the driver's seat.
Still in doubt, is it worth buying them? Of course, you should. Everyone decides what to buy and what to do, but purity is always one of the important aspects of human life. And many car enthusiasts love their cars so much that they are ready to deal with them for days and hours!
FAQ for car vacuum cleaner buyers
1. Why do I need a vacuum cleaner in the car?
The interior of the car needs cleaning from time to time. If you are not ready to give money for cleaning your car interior at all times, it is best to have a handy tool for work.
A large home vacuum cleaner is not always convenient to use – it will not remove all the smallest particles of garbage from the folds in the seats. If you choose to take care of your car yourself, you need a vacuum cleaner in the car.
2. What is better – a wired or wireless car vacuum cleaner?
Each model has its advantages, but you just need to determine what is more important to you. Wireless vacuum cleaners, for example, immediately eliminate problems such as movement and dependence on power sources.
In fact, you can move it as often and as far away as you like. Wired models have their advantage – such a device will not lose its battery and you will not be forced to charge the device additionally during a large cleaning.
3. Can I use this vacuum cleaner at home?
Usually, car vacuum cleaners are hand-held and are quite small. These devices can easily clean small surfaces, seats, and narrow gaps. To be honest, this type of vacuum cleaner takes too long to clean the carpet in your living room – not to mention the whole house or apartment.
Certain models of portable vacuum cleaners can be used in the kitchen to clean small dirt, but no more. Therefore, it is better to leave it only for cleaning the interior of your car.
4. How do I care for a car vacuum cleaner?
Taking care of a portable vacuum cleaner is not much different from the routine process after home cleaning. All you need to do is shake off all the dust and dirt that accumulates in the container, as well as wipe the body from dust.
Wireless models are best recharged immediately after cleaning, so you get ready to go device next time. It is also recommended that you change the filter periodically when it is available.
The wires on wired models of vacuum cleaners should be carefully rolled up to reduce the risk of damage to the wires and connections.
5. Why do I need a small vacuum cleaner when I can clean my car interior with a home vacuum cleaner?
There is a lot of stuff that happens in a car that leaves a mark on the interior. You can cover your chair with a snack, carry a dog or cat that will leave a fur or even just sit in the car with dirty boots. If you do not get rid of the dirt in time, it could stay on the fabric forever.
In this case, it is always best to take a compact vacuum cleaner with you, which will easily clean all the dirt. You may agree that you do not always go straight home after the interior gets dirty.