The hammer is one of the oldest tools people use in their daily lives. Unless you've ever worked with it yourself, you probably don't even know what kinds of hammers exist and that they can have many differences in general. Imagine you are in a hardware store for the only purpose: to buy a tool. What should be considered first?
Key factors for buying a Hammer
Most likely, when you open this article, you couldn't even think that it would be a complicated process. First of all, you should decide why you need a hammer at all. Depending on this, you will already be able to choose the tool according to certain criteria. Let's look at the basic characteristics of hammers.
Handle
The handle at the hammer should lie comfortably in your palm. They vary in length, grip, material and finish, and there are many other differences in detail. Depending on the material, the weight will also vary – of course, a hammer with a plastic handle will be much lighter, but also less durable. Also, many models have special shaped notches for fingers – it makes the grip more durable and convenient to use.
Head
The hammer head can be made of different materials. Depending on the purpose for which you purchase the tool, you will be able to select the material of manufacture. There can also be special "patterns" on the face of the hammer – for example, a grid. It will leave traces on the material, but will also provide a tighter grip on the nails.
Your goals and purpose of the tool

It is unlikely you have spontaneously decided to buy it. It's hard to imagine you woke up in the middle of the night thinking, "I need a hammer right away". Depending on your goals, you should also choose the type of instrument. For example, hammers for electrical work have insulated handles, heads of special hammers can be of different shapes and materials. The main thing is to have a clear idea of what you are buying the tool for.
Our Top Pick
Stanley 51-163


AntiVibe technology
Solid, large diameter impact head
Production United States

Check price on Amazon
Other great claw hammers
Estwing Hammer – 16 oz Straight Rip Claw with Smooth Face & Shock Reduction Grip – E3-16S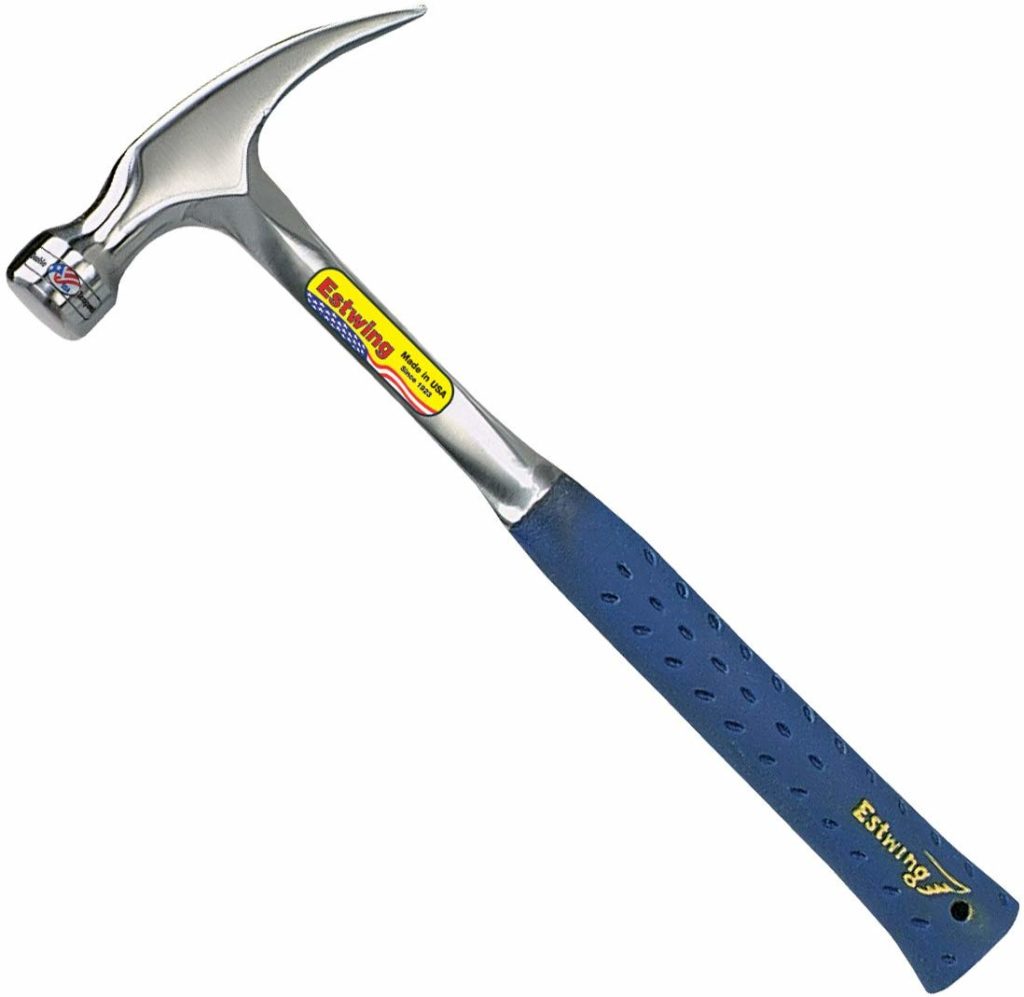 This hammer is a Rip Claw hammer weighing about 16 ounces. In this line Estwing company produces several types of similar hammers, so read the product code carefully when buying.
The appearance is neat, and the tool itself looks great. The head of the hammer merges with the handle together, and the lower half of the handle is finished with rubber. It is anti-slip and adds convenience to masters when used. Estwing Hammer Straight Rip Claw with Smooth Face & Shock Reduction Grip – E3-16S is designed for pulling out nails, other works with nails, finishing wood and much more. The hammer surface is smooth and has no patterns or jags, so you don't have to worry about spoiling the product.
It is worth noting a few nuances in the work. Although the hammer looks solid and cast, its head actually consists of two symmetrical parts. In case of improper blows or work with specific materials, the tool may split in half, leaving you in bewilderment. Also, don't forget to take care of the hammer: to avoid corrosion, you should store it only in dry places, perhaps even with oil on the metal part.
Stanley 51-163
Stanley is another well-known company that produces tools for amateurs and professionals. The company is proud of the fact that they produce all their tools exclusively in the United States. For ease of use, manufacturers have introduced a few special parts that are worth looking at in more detail.
Firstly, the use of torque control technology avoids dislocation of the brush or other inconveniences, and also reduces the pressure on the hand of the master. Secondly, Stanley introduced AntiVibe technology. This reduces the kickback from hitting the wall and other hard surfaces. With Stanley 51-163 you won't feel any vibration when you're working. The tool head is forged and made of solid steel, which reduces the risk of breakage. The impact surface of the hammer can surprise you – it's a little larger than a conventional hammer.
The handle is finished with rubber, but keep in mind that it is a bit narrow. If you're used to working with solid hammers, you'll need time to get used to Stanley 51-163. At the beginning of work it is necessary to pay attention to a striking part of a head: some buyers after use noticed curvature and small roughness on a surface. If it's important that you don't leave a trace on the material, take this factor into account when you buy it.
Maxcraft 60626 8-oz. Stubby Claw Hammer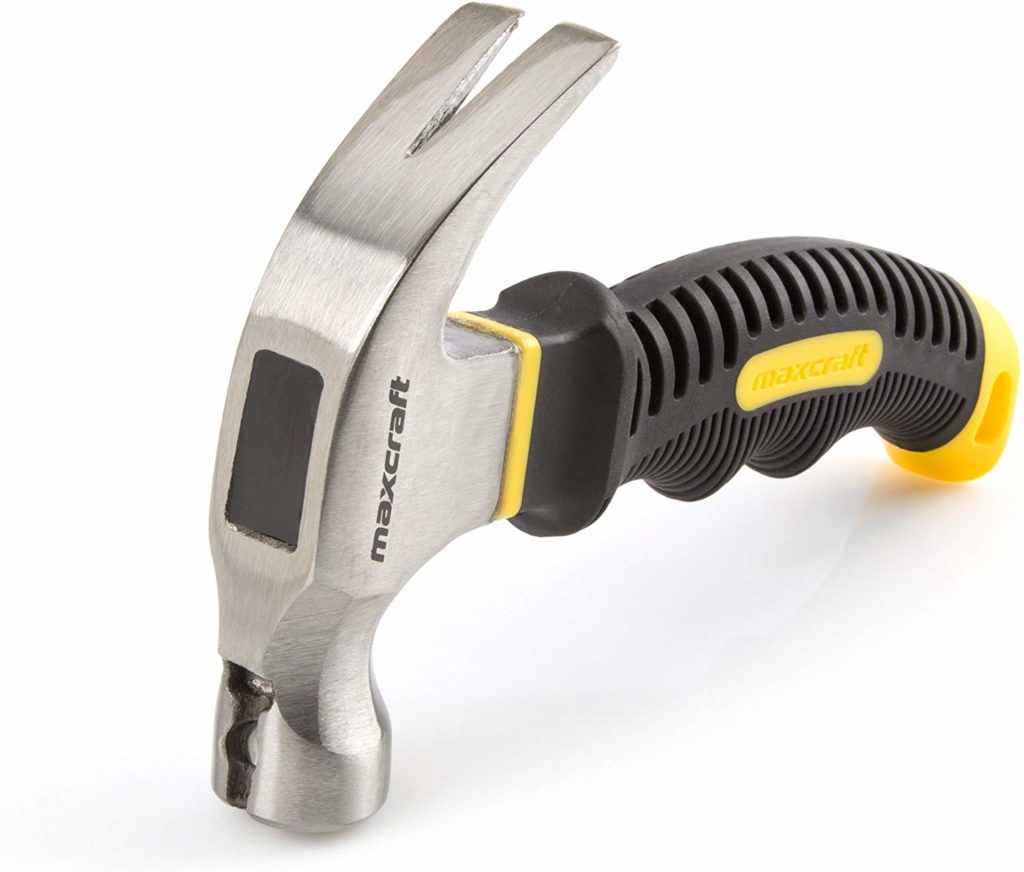 For those who trust categories such as "Editorial Choice" or "Bestseller among Customers", you will notice this hammer even if you search for it yourself. The Maxcraft Stubby Claw Hammer weighs only 8 ounces, which is amazing for tools like the hammer. If you look at the image, you will understand that this tool fits in your hand and is generally a tiny one. But its small size does not affect the functionality.
The length of the tool is only 6 inches, the handle is finished with anti-slip material and has special notches for fingers. This makes it easier to hold the tool. The head has a magnet that allows you to work even with one hand, without holding the nail.
The small size makes it convenient to use in hard-to-reach or narrow places. You can also take it with you on hikes or on any cycling trips. As you know, camping peg hammers aren't very different in size from ordinary hammers, and the Maxcraft Stubby Claw Hammer is more compact and easy to transport. But if you want to carry it with you on a regular basis, it's still heavy.
Despite its size, the Maxcraft Stubby Claw Hammer performs the same functions as the full-size Claw Hammers. Of course, many people will find it unusual to use it because of the short handle, but the head of the hammer is almost the same size as the standard one. So if you need to hammer a nail, assemble furniture or hang a picture – Maxcraft Stubby Claw Hammer will easily cope with this task and will not disappoint you.
IRWIN Tools 1954889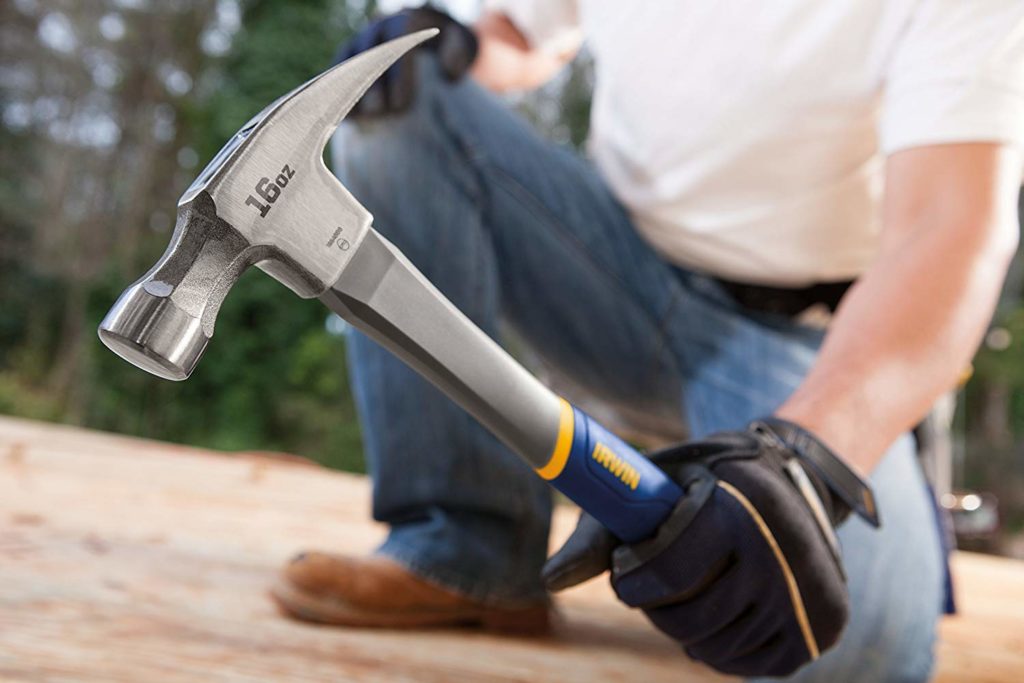 This hammer is very similar to many other hammers in appearance. The head is made in the standard claw hammers shape, forged steel and is polished. The material of the hammer is matched to the tool's durability, and the impact surface is smooth and leaves minimal marks on the surface. Half of the handle surface is finished with an anti-slip material and with ProTouch technology.
It allows you to reduce the load on the brush when hitting, especially when using the tool for a long time. At the end, there's a slight bend – and it's also designed to keep the hammer sliding as little as possible. It's worth noting the absorption of vibrations from shocks. According to the manufacturer, this has been achieved by using glass fiber. Although Irwin 1954889 is similar to other hammers, its cost is much lower compared to them. Often the low cost of the tools raises suspicions about their quality and reliability.
In fact, it is not in vain. Despite the fact that Irwin 1954889 has a good rating and good reviews among buyers, its use is not always successful. The company guarantees that the head is strong and forged, but when you hit a hard surface or nail, you risk bending the impact surface of the hammer. After such mechanical damage it will be impossible not to leave traces, for example, on wood or boards. In addition, this raises concerns about its durability – what if the head breaks down in case of an incredibly strong impact? But if you need to use a hammer occasionally and you don't care what model to use, Irwin will be a good choice for a small price.

Stiletto FH10C
The previous hammer was a very economical model, but the Stiletto FH10C is quite expensive. You can buy it at a price slightly less than $100, which is a significant amount. This hammer is designed for finishing, but you can easily use it with nails – both to rip and hammer them, as well as many other things that can do claw hammers.
The Stiletto FH10C weighs about 10 ounces – less than standard hammers. This is achieved by using a wooden handle. Manufacturers are very proud that the head is made of titanium and is shockproof. This hammer produces much less kickback than standard models, although it has the impact force of a full hammer weighing 16-18 ounces. This gives the Stiletto FH10C an excellent advantage over other hammers – less weight and the same impact force. You can carry it with you every day in your backpack or on your bike – if you need it.
The wooden handle is slightly curved, which makes it easier to load the elbows and hands of the worker. The hammer has a small magnet that is designed to hold metal parts. There is a small minus – this magnet can fall out of your tool in case of a strong impact. By the way, nailing with the Stiletto FH10C is much faster than with conventional steel hammers – so overpaying is worth it.
Dewalt Dwht51048

The hammer from Dewalt, which is inexpensive and has a good reputation among buyers. In fact, at first glance, this is a standard claw hammer, which is no different from other hammers. It is made in black and yellow colors, which makes it very stylish. The weight is also standard – 16 ounces, so that in these characteristics the hammer is not noteworthy.
The magnetic flat head allows you to grip and place nails with one hand. Unlike many other hammers, the weight is spread evenly over the entire tool surface. This is convenient, especially if you don't use the hammer all the time and are not a professional at nailing. This way, you can do your job much faster without hurting your hand.
The Dewalt Dwht51048 is durable and you can be sure that if you buy it, you won't need to look for a replacement. Since Dewalt produces a wide range of tools, it has a good reputation and values its name. They pay special attention to the health of their customers: for example, in the description of this hammer manufacturers separately indicate that when working in certain conditions and with special materials you may get into the lungs harmful particles that can lead to diseases or even tumors.
You may also like: 10 best hammer drills
Estwing E3-22SM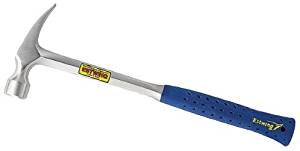 Finishing is a crucial part of the work that can lead to the collapse of the entire preparatory process in case of failure. So the choice of tools is worth to approach responsibly. Estwing E3-22SM is ideal for those who are looking for an inexpensive, but high-quality option.
As well as many hammers of company Esrwing, model E3-22SM possesses function of absorption of vibrations. The long handle allows to minimize possibility of impact on fingers, and also you can work with nails from some distance – for example, in case you cannot get direct access to a wall in any way. In addition, the length of the handle increases the impact power. By the way, the weight is as much as 22 ounces, which is much higher than the weight of standard hammers of this size.
The Estwing E3-22SM claws are rounded, so you can pull out extra nails or cut the boards to the end into notches. It is worth noting that if you are a beginner, it is better to choose a model with straight claws – they are less versatile, but more convenient to work with. The head and handle of the tool are cast and made of high-quality forged steel, mined and produced in the U.S.
The handle is finished with half vinyl for easy holding and slip resistance. The impact edge is pike-shaped and the impact surface is corrugated. Remember, Estwing E3-22SM is a finishing tool, so that the wave-like pattern on the impact surface will remain on all the materials with which you will work.
Estwing Hammer E16S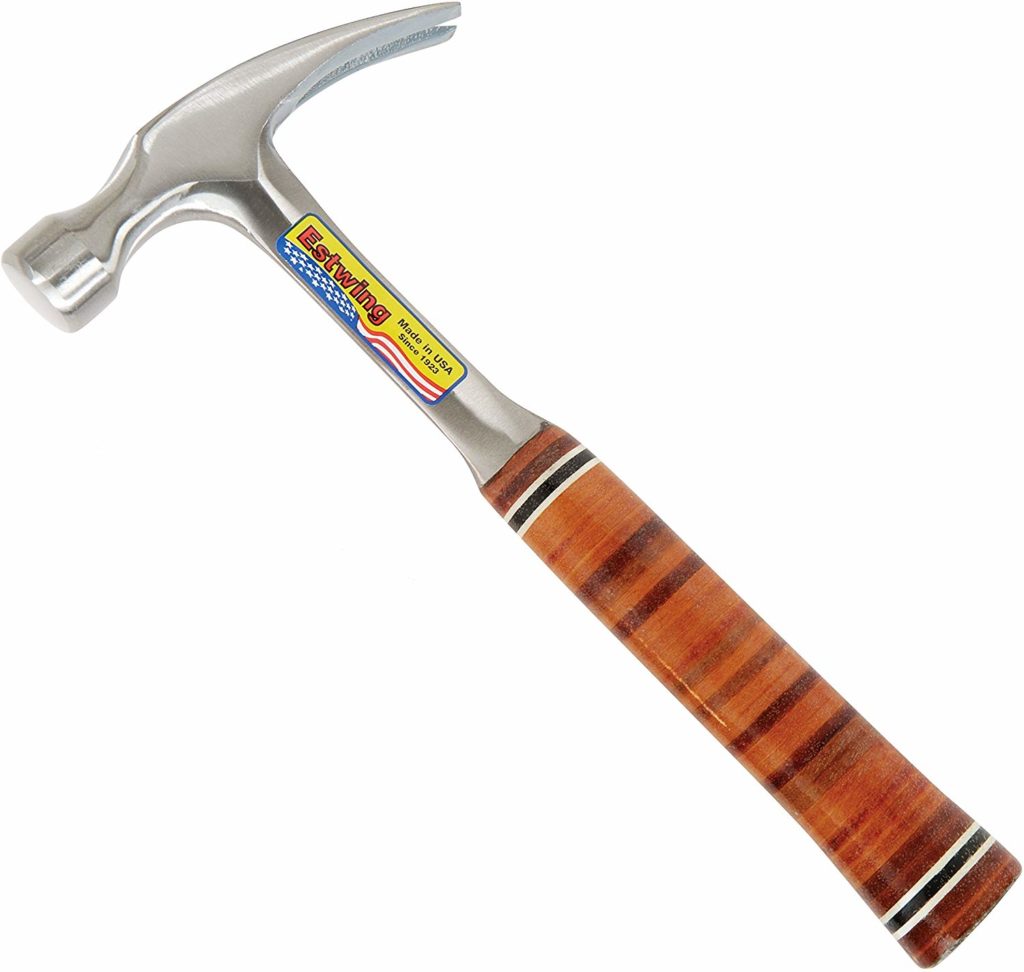 Estwing, as you could already understand, is one of the most popular companies in the market of building tools production. The hammers made by the given company, have proved themselves as reliable tools at the average price. They have a guarantee and rarely have a defect, and the support service without problems replaces the tool. They are also proud of the fact that all their products are made exclusively in the United States and of stainless steel.
Model Estwing Hammer E16S, as well as other hammers of this series, have a cast head and handle. The handle is partly finished to reduce slippage at work, but Estwing Hammer E16S has one interesting feature. The model is presented in two versions: standard, classic vinyl handle and stylish lacquered. Estwing Hammer E16S with lacquered handle costs a little more, but looks much cuter and more presentable. You can also choose the weight of the instrument yourself – 12, 18 or 22 ounces.
However, there is also a small minus. Sometimes this model may have an air bubble inside the head. If at the first blows you hear a deaf sound, it is better to contact the support service at once and exchange the instrument. With a bubble of air, it is much more likely that you will get an unsatisfactory result or break the instrument.
Stiletto TB15MC TiBone 15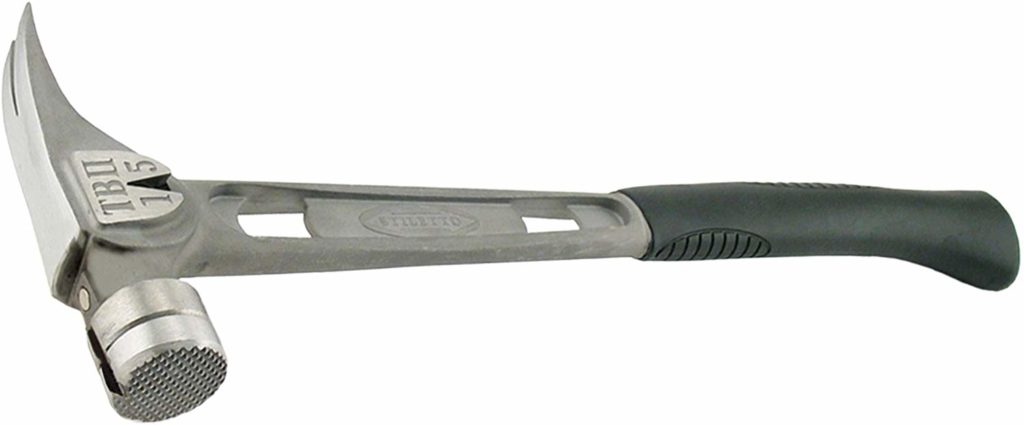 In case money isn't a problem for you, you will definitely pay attention to this tool. Stiletto has established itself in the market as a manufacturer of top quality tools at overpriced prices. What is the reason for such a price for hammers is the main issue that customers are interested in.
In fact, someone might think that this is an overprice for an ordinary hammer. But who says Stiletto TB15MC TiBone 15 is a regular hammer? The tool is made of first-class titanium, and the handle is ergonomic and finished with rubber for comfortable holding during work. For those who are familiar with the problem of fatigue from the weight of the hammer or the constant holding of heavy tools, the Stiletto TB15MC TiBone 15 is another feature that you will be interested in. Since titanium is lighter than steel, the hammer weighs only 15 ounces at standard sizes, but has a striking force of 28 ounces. Removable and replaceable steel parts are available to extend the service life.
Of course, the price of this hammer is several times higher than the prices of other similar models. If you buy a hammer for home use or as a spare tool in the trunk of your car, then it is pointless. If you are a professional carpenter, the Stiletto TB15MC TiBone 15 will become a true helper in your work – because a good craftsman should have good tools. Although there can be some troubles: for example, some models of Stiletto TB15MC TiBone 15 had a defect: the handle of the hammer breaks off during intensive work, and it will not be possible to replace it and it will be necessary to buy a replacement.
Stilletto TI14MC

One more tool made by Stiletto. It is considerably cheaper than the previous hammer, but there are several reservations at once. In this case, the tool is manufactured in China, not in the United States. Manufacturers claim that this does not affect the quality and materials used are of the highest class. Is this really the case?
Let's take a closer look at the Stilletto TI14MC. The head is made of titanium, it is lightweight and durable. Though it is necessary to note some features of the material itself: at awkward blows to stones titanium can sparkle. This won't do much harm, but it's still worth considering when working – just to make sure that the spark doesn't come as a surprise to you.
The handle is made of wood, is tightly attached to the head and has a slight bend at the end. This bend makes it easier to work with a hammer and reduces slippage in your hand. Here's where the main catch lies: when the Stilletto TI14MC is hit hard, the handle can easily break or fall out of the mount and you won't be able to put it back. That is, the hammer is designed for impact and hard surfaces, but the probability of breaking the Stilletto TI14MC is very high. If you're sure you're doing your job well, it won't be a problem for you.
Weighing only 14 ounces. The standard hammers weighing 16-18 ounces are absolutely the same in their functionality as the Stilletto TI14MC. The lower weight of the tool gives it an advantage over other tools, but it is up to you to decide whether you should pay several times more for this feature alone.
The choice of tools for repair and home use is not the easiest thing to do. If you are not a professional repairman, you do not need to buy the entire range of construction stores with the thought "maybe I will need it?" For home use, we always try to choose universal and inexpensive models, although there is no need for excessive savings. To pack a full suitcase of tools, you will need to spend time studying the material. We hope that our article helped you to understand and choose the most suitable hammer for you.
FAQ for claw hammer buyers
1. What is a claw hammer and how is it different from other hammers?
Many people do not know what the claw hammer is. It can sometimes be called a carpenter's hammer because it is mainly used for woodworking and carpentry work. Claw hammer has two sides of the head – this is the feature that makes it so special.
The impact part is designed for nailing, but the opposite part has a wider purpose. You can use it to lift planks, split wood, and pull out old nails and more. The main difference between the claw hammer and other hammers is in the split part of the head.
2. How much should the claw hammer weigh?
In our review, you can find models with completely different sizes and weights. If we are talking about standard parameters, then usually the weight starts from 12 ounces.
Those models, that weigh more than 15-16 ounces, are used by professionals – they are quite difficult to hold in one hand and control the impact movements.
If you have previously had another type of hammer, you may notice that claw hammers weigh more. This is another feature that makes this type of instrument different from all others.
3. Is the claw hammer a universal tool?
A tool such as the claw hammer is essential for workshops, carpentry work, and repairs. Although you can work without it, however, using it will make some jobs easier.
The claw hammer can be considered a versatile tool – you can use it to hammer nails, pull them out without deforming the base material. The claw hammer also helps to demolish old materials and split wood with a split head side.
4. How to choose a handy and comfortable hammer?
Every hammer should lie comfortably in your hand and not cause discomfort when working. Because you will use the tool intensively enough, you should pay attention to comfort.
With tools such as claw hammers, this is determined by the weight and shape of the handle. The handle should be ergonomic and finished with anti-slip material such as vinyl, rubber or wood. It should also be noted that steel hammers are less resistant to vibration and can shock your hand while working.
5. Can I get hurt when using a claw hammer?
Any tool can become dangerous to humans if you use it incorrectly. It is also worth noting that no one around you should interfere with your work – as you can hurt yourself or another person.
We recommend that you use safety glasses when working (so that the splinters cannot get into your eyes), as well as be careful with your fingers. Do not hold your fingers too close to the nail when hitting it with a hammer – you know what can happen.