Technology is getting very active in our lives. Even to tighten a small screw, you can use electrical tools, which speeds up the whole process. Hard work in wood and other materials is similar. Electric saws work many times faster, requiring minimum effort from a person, but with effective results.
But we have all seen standard saws at least once in our lives. They are comfortable and beneficial for people who rarely use them or who enjoy manual work. You can buy them in many construction stores or order them online on special platforms.
What should you pay attention to when choosing a model for yourself? Firstly, it is the material of the handle. It should be convenient for use, non-slip in your hands and without harming your hands in case you work without gloves. You'd agree that it would be unpleasant to get a splinter while working. Secondly, it is the material and blade length. The cutting surface should be made of carbon steel or other strong material, as well as being thin and sharp. So, we have selected the top 10 hand saws for you to help you choose the right tool.
Our Top Pick
Stanley 20-526


A good budget tool
12 teeth per inch
Limited Lifetime Warranty

Check price on Amazon
Other great handsaws
Stanley 20-526

Stanley has been manufacturing various construction tools and materials for many years and has established itself in the market as a quality manufacturer. Their distinctive feature is a limited lifetime warranty – so you can always contact the service center in case of problems or breakage of the tool. This is convenient because it is not always possible to buy a new tool to replace the old one.
Stanley 20-526 is a very low cost hand saw, which will be affordable for everyone. If you do not want to spend money on tools, you can look at this option. The saw has a 15-inch blade that has a 12 tooth/inch frequency – which is a pretty good figure. All teeth have induction hardening which prevents them from dulling quickly and they have a good cutting ability for a long time. The handle is ergonomic and easy to hold since it is welded. But if you've already bought tools, you might be worried about the price – and not in vain.
In fact, the handle, although declared as strong and welded, breaks easily to pieces. If you are not careful in your work, you risk to stay exclusively with the blade in your hands – the handle will just fall apart. Despite this, the saw blade is really good and does a good job with the wood. Of course, Stanley 20-526 is no substitute for a full electric saw and can't be compared to expensive models, but if you have a very limited budget it's not a bad option for your tool collection.
WilFiks 16" Pro Hand Saw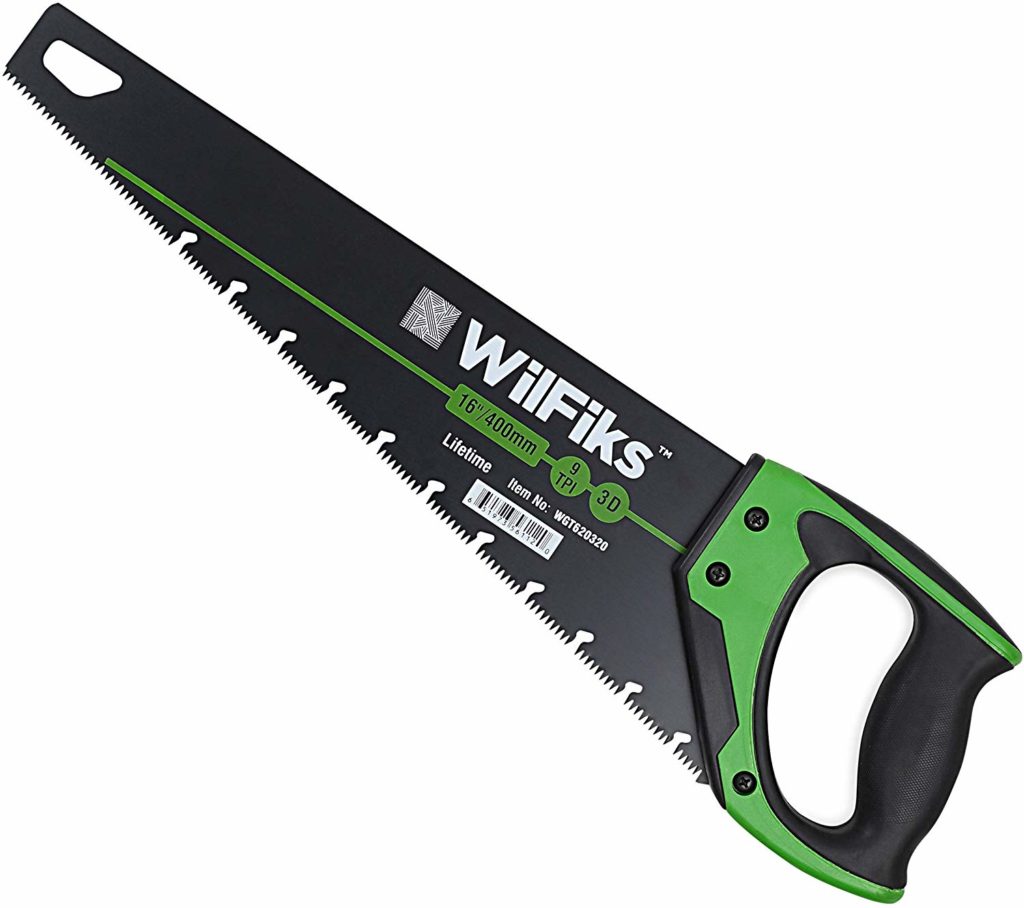 Modern saws are designed and manufactured using modern technology. For example, the teeth of the WilFiks 16″ Pro Hand Saw are made with induction hardening, which allows the tool to be used for a long time. If we talk about the materials this saw works with, we can assume that it is universal. You can saw not only wood and trunks of bushes, but also plastic and plywood. If your field of activity is connected with woodworking or construction, such a hand saw is ideal for you.
At the beginning of the article, we mentioned such an important factor as the tool handle. WilFiks 16″ Pro Hand Saw has a handle designed with a unique angle of attachment – this way you can cut the material more efficiently and at the right angle. It is also worth noting that the material of its manufacture is anti-slip and convenient for all people – regardless of the size of your hand. This is a real plus – it often happens so that girls or just men with small hands can't work with large tools.
The cutting surface itself provides a smooth cut, and the additional blade guarantees a safe assembly. The saw is light enough so you won't be tired of working too hard for a long time. Rubberized handle, sharp hardened blade with teeth, high-quality build – WilFiks 16″ Pro Hand Saw has all the necessary aspects for comfortable work. Frankly speaking, the manufacturer has not left us a single reason to be nagging!
Lynx Garlick Thomas Flinn British 20″ Rip Saw

Traditional English saws are famous for their convenience and quality. Thomas Flinn, who produced traditional saws and planes in Britain, made this model. This manufacturer is good when it comes to professional tools.
The saw blade, which gets thinner closer to the edge of the tool, is very comfortable and does a good job. This reduction in thickness reduces the intertwining in the cuts while working.
The handle you hold the Lynx Garlick Thomas Flinn British 20″ Rip Saw is made of wood and lacquered. It attaches to the blade with brass screws and buttons. Thanks to the coating, you will not get any splinters or abrasions and the blade will hold firmly.
The Lynx Garlick Thomas Flinn British 20″ Rip Saw is sharp enough to handle even the toughest types of wood, so you can cut through the thickest tree in your yard.
Of course, you will need to work hard enough to cut through the thickest tree in your yard. The handle of the saw is large enough for you to grab it with both hands at the same time.
SUIZAN 9.5 Inch Ryoba Double Edge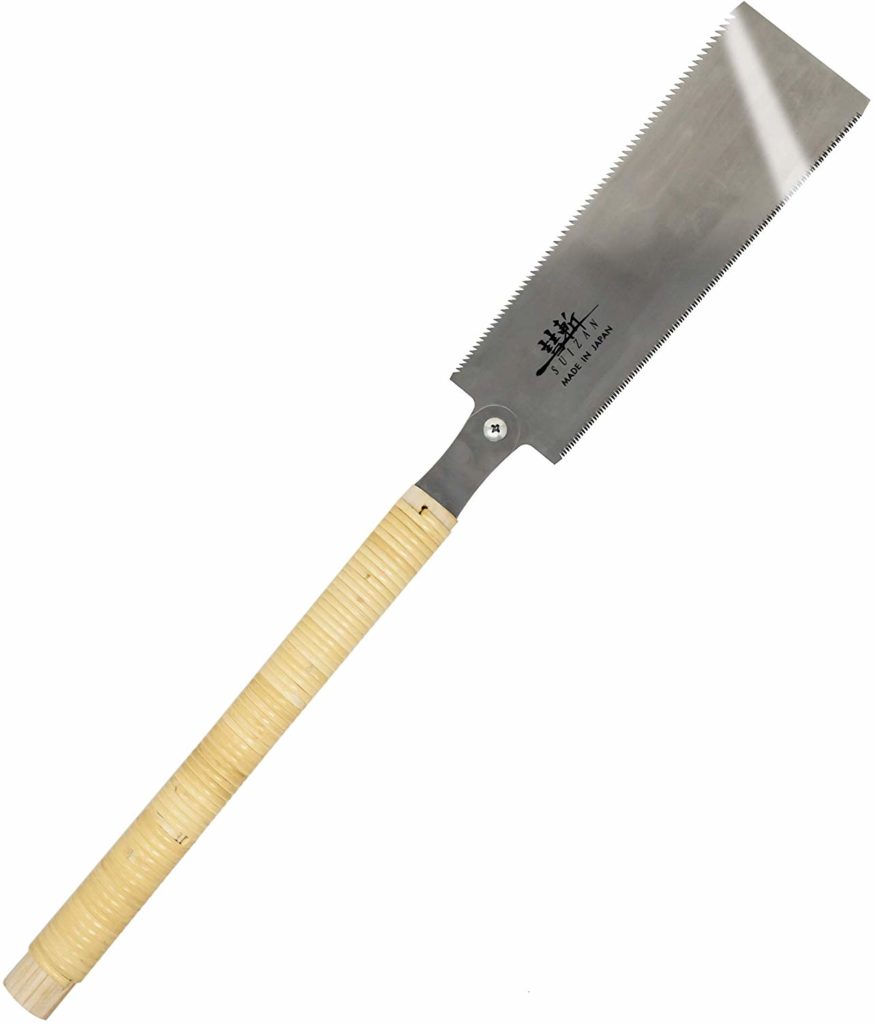 In case you have never encountered Japanese saws before and are used to using traditional, European tools, you will be surprised by its appearance. If European saws are built on the work of pushes, then Japanese saws work on tractive power. The first question that arises is "what is the advantage?" Well, first of all, it is lighter in weight, which greatly simplifies the cutting process. Secondly, you leave a lot less garbage and sawdust behind.
The thickness of the SUIZAN Double Edge is measured in thousands of inches and its length is 9.5 inches. This is 1,5 times shorter than standard saw blades, but it is not inferior to them in efficiency. All Suizan tools are made by real Japanese craftsmen, so you can be sure of the quality.
The small teeth on the saw surface provide a smooth cut after their work. They seem to cut through the material without tearing the wood fibers, unlike European saws. They can be compared to small sharp knives. Of course, the handle is a bit unusual for a saw – it looks like a baton handle. Holding the saw for it, you will perfectly cope with small projects on wood or in the manufacture of furniture that requires extreme accuracy and smoothness.
It is also worth noting that working with SUIZAN Double Edge is much faster than using circular saws. The quality of the tool is much higher than the price of the saw itself, so that the purchase of Suizan will be a profitable investment for masters or amateur carpenters.
IRWIN MARATHON 2011201

Irwin has been producing various instruments for a very long time and they are usually referred to the average price category. This saw is quite massive and not so narrowed as standard saws. Of course, the saw becomes a bit narrower towards the end, but insignificantly. It ends with a kind of cut from the top of the saw surface. It is this "conical" tip that provides an increased gap.
The blade itself is massive and thick, and the teeth are sharp and frequent. Deep gaps between each tooth section make it easier to quickly remove chips from work. The thickness of the blade makes the tool itself controllable and makes the cutting surface harder and more indestructible.
The handle is fixed to the blade with large bolt buttons, which prevents the handle from breaking off during operation or simply jumping off the body. The tool hardly slips in your hands while you're working, but it's worth a lot of effort to hold it in place. You can rest assured: The Irwin Marathon 2011201 works efficiently. In terms of speed, this hand saw can be compared even with mechanical or electric saws, so that you can finish all the work as quickly as possible without spending much more on electric tools.
Corona RazorTOOTH Folding Pruning Saw

Corona can be compared to Tarvol in terms of the efficiency of its saws. The curved blade is easy to work with branches and loose bush trunks. Their average thickness can reach up to 5-6 inches in thickness. There are 3 types of this saw blade along its length – 7, 8 and 10 inches. Naturally, the longer the blade is, the more expensive the tool is. The frequency of teeth is 6 pcs per inch and the blade can be folded to the handle of the saw itself. This is very convenient for storage and transportation – so the saw takes up 2 times less space, but does not lose its qualities. It also guarantees safety – with the blade folded you will not be able to get hurt or injured.
The Corona RazorTOOTH Saw is like a knife handle. It is ergonomic and allows you to hold the tool for a long time without causing discomfort to the master. As the blade is locked in place when sealed, you can take your saw with you on a hike and carry it in your backpack without worrying about damaging other objects. Although it's worth noting that when you seal it, you get a gap in which narrow objects and things can get into.
Sawing branches and sticks less than 5 inches thick, you will not feel any discomfort at all. The teeth are very sharp – so be careful when you use them. The only disadvantage of Corona RazorTOOTH Saw as a compact "pocket saw" is that the bolts holding the blade on the handle can loose and fly out. If you want to avoid such an unpleasant situation, simply grease them with glue or make a rubber plug.
Olson Saw SF63510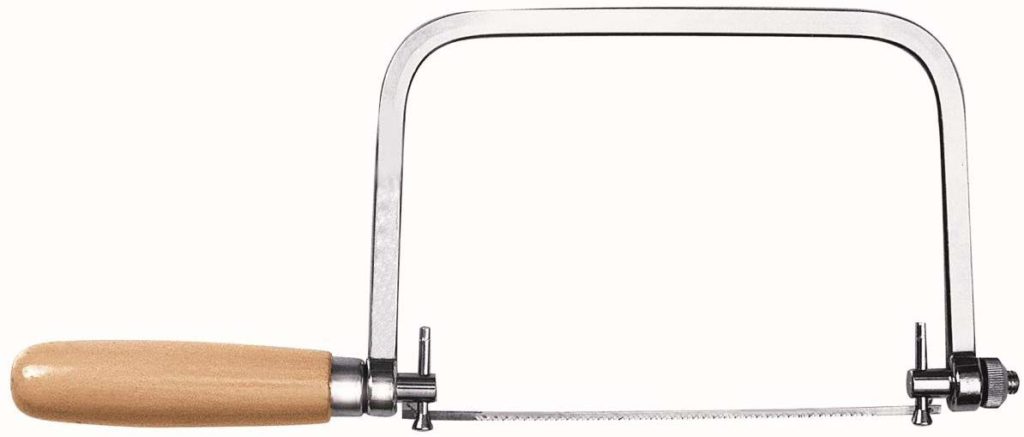 Coping saws are not often found in the collection of tools of ordinary masters. At the same time, Olson can be called one of the best manufacturers of this type of saws. Curved frame for fixing the saw blade is made of high-quality metal and has special levers to adjust the tension force. It is also convenient that the saw can be rotated 360 degrees during the process – change the direction as you like. With the Olsen SF63510, you can both pull and push the tool – the efficiency won't change.
The saw blade can be reversed by adjusting the screw on the tool head. To prevent it from unfolding during adjustment, you can hold it by the tensioning levers during adjustment. If you just hold the saw by the base, the blade can be twisted.
The handle is made of solid wood and is securely attached to the tool body itself. Even though the handle and saw are made of completely different materials, this does not prevent you from working with even the most uncomfortable materials. With coping saw you can even dismantle the plaster moldings or saw off unnecessary ceramic tiles. Of course, each material requires some tricks and peculiarities in work, but in general, it is possible to note the universality of Olsen.
The blade steel is of high quality, but if you don't like the saw blade tension or its adjustment, you will be able to replace the screws with more flat ones. This will speed up the tensioning process and will also be more convenient for you – depending on the material you are going to work with, you will be able to control the level and tension force.
Ryoba 9-1/2inch Double Edge

Another Japanese saw in our ranking. Depending on your goals, you can always choose a particular type of saw, but because Japanese saws work on traction, they can be considered as universal as European saws. Will you have to do small or neat work? Pay attention to the Ryoba Double Edge Razor Saw.
It is designed to work with abrasive wood, as well as hard or old wood. The teeth are located every 1.3 mm, which is often enough for any tool. The blade length is more than 9 inches – the standard size for a Japanese saw. It is worth noting that the saw has teeth on each side of the metal part. On one side it is cross-cut teeth and on the other it is rip teeth. It can be said that it is versatile and combines two types of saws at once. Another distinctive feature of Ryoba is that it has shorter teeth. So you don't damage the wood fibers, so you get less sawdust and garbage from your work.
Each tool is necessarily accompanied by a detailed instruction and recommendations for working with wood. Of course, everything depends on your skills and professionalism, but it is also important to understand how each tool works. This will prevent any kind of injury – from the usual splinter due to working with a wooden handle Ryoba Saw and to serious cuts due to use with metal or plastic pipes.
GreatNeck N2610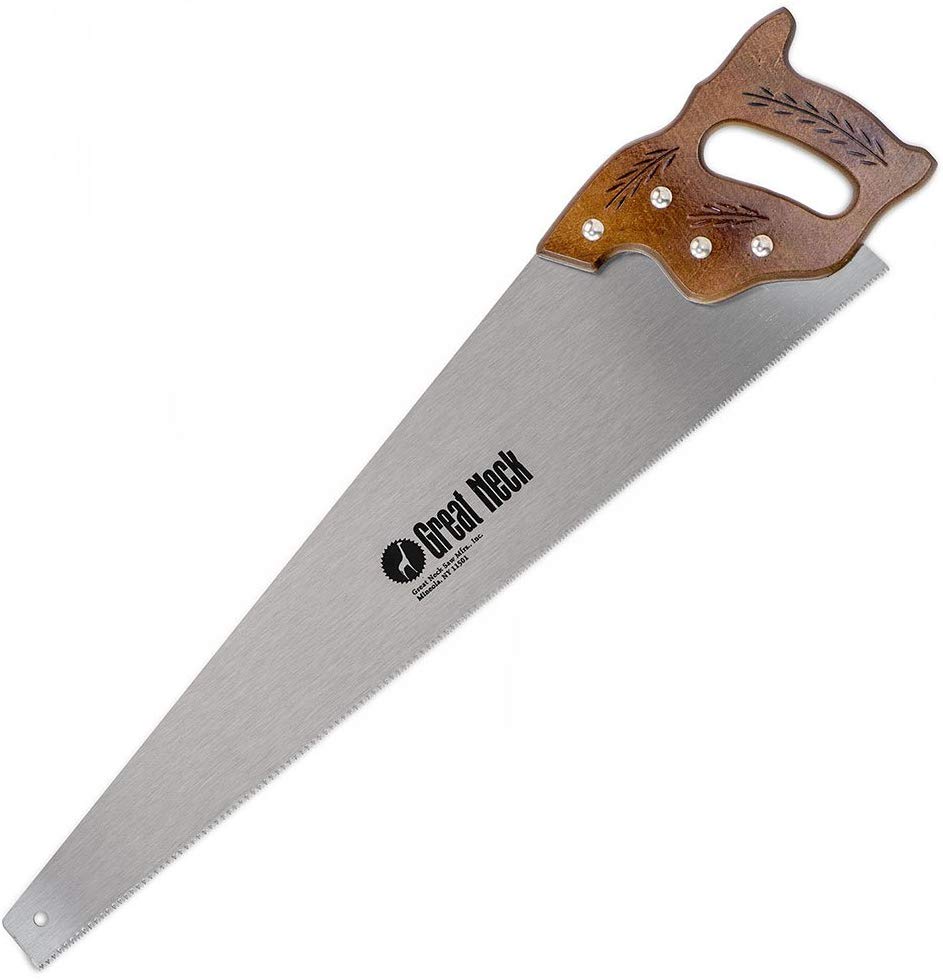 This version of the saw can be considered one of the cheapest. In fact, the cost of about $20 is very little for tools that will be useful to you for a while. The saw blade is considered transverse, with a frequency of 10 teeth per inch. Of course, this may seem too infrequent, but it is quite enough to cut any tree.
The handle of GreatNeck N2610 is ergonomic and made of hardwood. It is varnished to prevent splinters and is therefore resistant to different environmental conditions. The blade is made of hardened high carbon steel, although this statement can be compromised when used. The blade does not rust and darken with time, which makes it an excellent choice.
It is also convenient that you can sharpen its teeth after some time of work. So you'll never use a blunted saw, which is obviously a plus. GreatNeck N2610 is a good option when you have a limited budget but don't want to buy a bad quality tool.
Weston 47-1601
Like many other tools, the Weston 47-1601 saw is available in several sizes – 16, 22 and 25 inches long. Depending on your requirements and strength, you can choose the most convenient option. For example, if your use of Weston is limited to cutting meat or pork ribs for a barbecue, you don't have to buy the biggest option.
The ergonomic handle is made of durable plastic and is bolted to the body. The body itself is made of stainless steel, which is protected from corrosion. Whether you're a hunter or just a butcher, Weston 47-1601 is ideal for cutting large game and meat pieces. The trigger, conveniently located right under the handle, allows you to maintain a certain blade tension – so you have complete control over the cutting or sawing process. If necessary, you can change the blade quickly and easily – the entire changeover process takes no more than 5-10 minutes.
You should be careful with the blade tension before you start working. If you loosen it and the deflection is very large, you run the risk of cutting yourself when cutting meat or trying to stabilize the process. It is also worth remembering to take care of the instrument. Although the manufacturer indicates the frame and blade material as stainless steel, if you leave them dirty, you risk losing your tool. We are not sure of the manufacturer's honesty – because, indeed, screws can rust and break down during use.
You may find many of the saws presented to you to be the same or simply very similar, but they all have differences. As the category is presented in different price ranges, you will be able to choose an affordable tool, which will not require large investments, but will be of high quality and easy to use. If you have good financial resources, you will be able to choose even the most expensive model – but remember that the higher price is not an indication of better quality.
FAQ for handsaw buyers
1. How do I know if a saw is suitable for my daily work?
Handsaws are the tools you may need at any time. If you decide to buy a new tool, there are many factors to consider when buying one. It is important to define your area of work from the start – this is what determines the type of saw you need.
Each type of cutting tool is unique and has its own characteristics. For example, the type of material you can work with or even the thickness of wood is very different.
2. What blade is best suited to work with?
It should be noted that all the cutting abilities of the saw depend on the materials you will work with. Still, the sharpness of the blade becomes the main factor. Dull blades can disappoint you and not give you the result you need.
We also recommend that you pay attention to the thickness of the blade and the metal from which it is made. A blade that is too thin can bend during work, as well as interfere with the process itself. High-quality material will ensure the durability of the blade and the saw will serve you for a long time.
3. Is it worth buying a handheld saw?
If you already have a chainsaw, you do not need even the best quality handheld saw. If you have a limited budget and really do need a chainsaw, a handheld tool will help you out.
A handheld saw does not require fuel or an engine and is much lighter in weight. You yourself have full control over the cutting process by adjusting the force of pressure.
The handsaw is much easier to store and does not require any special care – after use, it is enough to clean the blade and do not store the tool in a wet place.
4. How do you tell the difference between a quality saw and a poor-looking one?
Clearly, it is hard enough to tell the quality of a tool by its appearance. However, there is a small set of factors on which you can really make some conclusions.
A good handsaw should initially have an ergonomic handle. It will not slide in your hand while working and will not leave splinters in the palm of your hand.
If it has a tensioned blade, you should be able to adjust it. However, a good grip and a comfortable handle will save you from injuries and help you get the desired result.