Building a new home always brings so much joy. There's a lot to think of, as planning your house involves lots of time, creativity and effort. One of the thoughts that will immediately come to your mind is whether or not you should add a garage.
Having a garage definitely helps you with your household. First, you can keep your vehicle (or vehicles) locked safely from thieves, weather and other circumstances. Second, you can store any other things in your garage, especially if they are of rare use or just too big to keep them at home.
Last, but not least — it will be possible for you to have your personal space there: you'll be able to listen to some music quite loudly without disturbing other house residents, make some stuff with your hands (woodcarving, forgery, etc.) and do pretty anything you could ever think of.
The possibilities for garage customization are, in fact, endless. In this article, we would like to concentrate on different types of garages: their advantages and disadvantages, characteristics and special features.
Size of the garage
Regarding the size, garages can be classified as follows:
Single. A single garage can fit only one vehicle. It also allows some room for driver and passengers to open the doors and maneuver around the car. Usually, a single garage has a total area of 14 sq.m. As it doesn't require much space, it can be great for very small lots. The main disadvantage is, you won't be able to store much in your single garage.
Double, or a two-car garage. As its name suggests, a double garage will hold two vehicles parked side-by-side. Such garages have either two separate doors or a single door to get your vehicles in. Of course, some extra space to get around the cars is needed, too. As a rule, a total area of a two-car garage is somewhere near 28-30 sq.m. This can also be a good option if you have a really large car (a SUVs, a truck or a van), or if you want some extra space for the workshop.
Three-car-garage. The most logical thing to assume is that these types of garages are created for three vehicles, but this isn't always the case. Three-car garages allow even more room for storage and workspace. The only thing is, they won't always fit in your lot, especially if it is a smaller one.
Tandem garages. They aren't particularly different from double garages, considering that they can fit two vehicles too. But rather than parking them side-by-side, you will park them nose-to-tail because their shape is different and allows only one door for the cars to get in.
Attachment of the garage
There are mostly two options of the garage attachment:
Attached. An attached garage is connected to the house directly, so you'll have straight access to your vehicle and stuff in storage. This might be especially comfortable for people living in a cold climate, as they won't need to go out to get access to their cars. Nevertheless, it should be noted that attached garages are rather chilly, which can make the house a bit cooler too. This problem can be solved with some insulation works.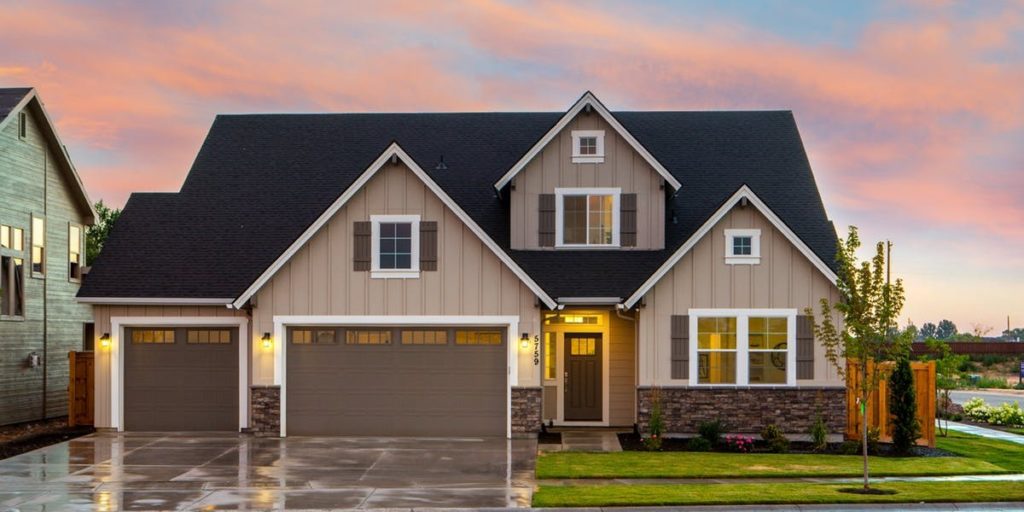 Detached. This type of garage is disconnected from the house and can be placed anywhere on the lot. This also helps you save some money: you don't need to include the garage in your house project, just add it later when there is a possibility. Though, if some perks of having attached storage seem appealing to you, consider connecting your detached garage with a breezeway. It may look like a roof that just goes from your house to the garage and provides more climate-controlled space. Alternatively, it can look like an enclosed room that, again, helps you avoid bad weather effects on your way from the house.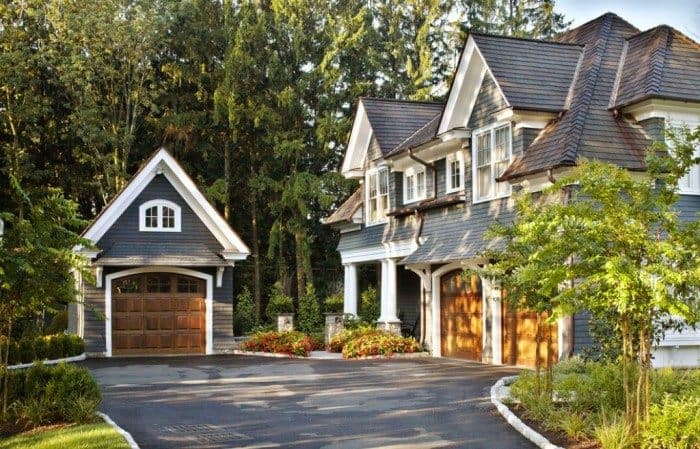 Door type
There are mostly two types of garage doors:
Roll-up door. It can be controlled remotely or by hand, and it looks like a horizontal panel that rolls up whenever you need to access your garage and park your car inside.
Swing-out door. This decision is quite outdated and also takes a lot of space when the doors are open. But using swing-our doors was really common back in the days.
You can also consider using less popular decisions, for instance, a swing-up door or a door sliding to the side.
Materials for siding
Make your garage look good using the following materials for siding:
Wood. Needless to say that wood isn't really a long-lasting material. Insects and rot can mess up your garage appearance badly. Still, wood is a great material to make even the simplest building look stylish and chic. It may seem very traditional too, so don't choose wood if your house is all concrete and glass.
Stainless steel. Although steel usually lasts longer and costs less, it is easy to scratch. Without taking care of the scratches, it starts to rust very quickly. The color of the stainless steel should be retouched every once in a while, but all in all it is a good material that is used by many homeowners.
Vinyl plastic resin. This might be the best option for those who are interested in making the garage siding last longer. Neither insects nor rot will damage vinyl plastic resin, so this material is very durable and washes without any effort.
Materials for the roof
A high-quality roofing protects your storage from rains and other weather conditions and also makes the garage look more appealing.
Metal. Metal roofing is a nice option, we recommend using it for any detached garage. Metal lasts really long and isn't sensitive to the weather. Metal roofs prevent any leaking and protect the storage nicely. But if your detached garage is connected to your house with a breezeway, a metal roof might look a bit strange and contrast with your house in a bad way.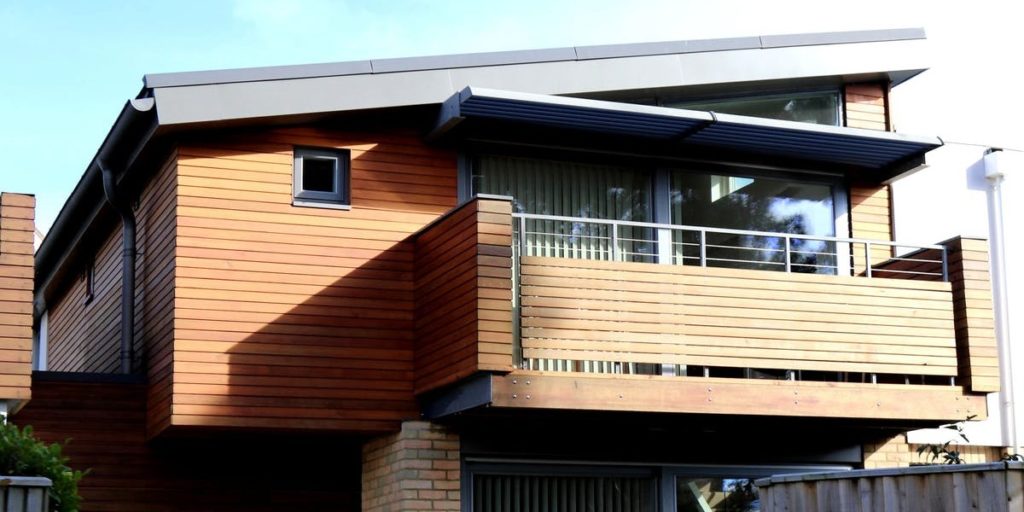 Shingle. This option comes in handy when the homeowners are interested in making their garage look harmoniously with the rest of the property. As for attached garages, using the shingle matching the house roof makes the whole building look seamless.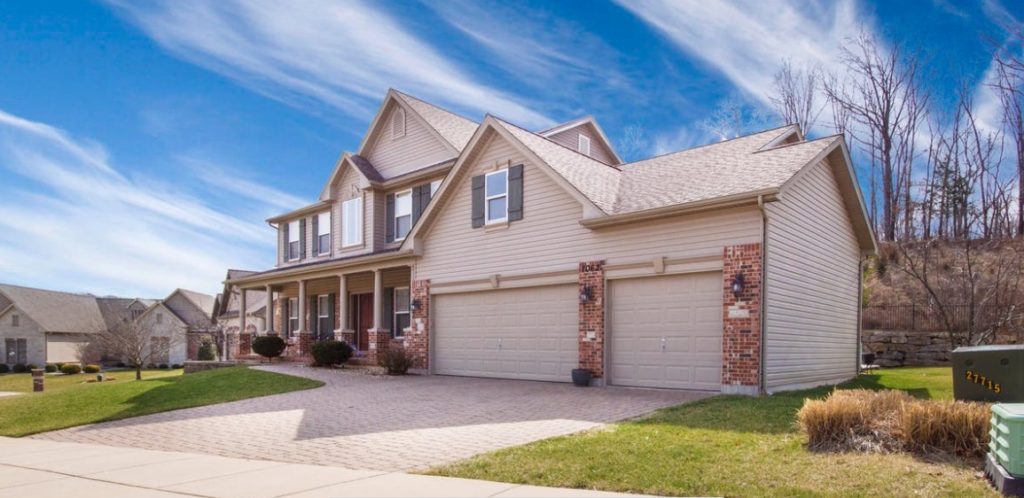 Materials for the floor
It is important to choose a coating that will keep the concrete floor protected and make it last longer. Below, there is a list of the most popular flooring decisions for your garage.
Carpet. Although the look of a carpeted floor makes your garage feel cozy and homely, there are many reasons to not use this flooring. First, it is too easy to stain and tear up. Cleaning and repairing your carpeted flooring all the time isn't a fun thing to do. This is only a good idea when you keep the vehicle out and use the garage as a workshop.
Tiles. This trend might be rather new, but using tiles for your garage floor isn't actually a bad idea. There are many options on the market: porcelain, vinyl and plastic, so you'll always find something that is most affordable for your budget.
Epoxy. It may take some time to apply the epoxy coating as it requires adding multiple layers, but it brings so much excitement and joy! For example, you can add some coloring, use chips and other small embeds to create an interesting visual look. Epoxy is extremely durable and can last up to 20 years. It's also easy to wash, and it won't be stained by chemicals. We can say for sure: using epoxy is one of the best decisions you can make when looking for a garage floor material.
Paint. This is the cheapest option and extremely easy to apply, but it won't last longer although there are tons of options on colors and durability. To make it last longer it is recommended to add in some epoxy.
Mats. Using mat flooring is a nice way to protect the concrete from any dirt, water and debris. Installing mats can be really simple: try using roll-out, interlocking or peel-and-stick materials for your garage customization.
Sealers. If you would like to highlight the concrete texture of your garage floor, you can confine to using a sealer coating. It is easy to apply, it provides some protection from chemicals and water, and it helps your concrete last longer. But again, its durability can't compete with the epoxy coating. As for the garage flooring, this is really a middle ground.
Storing your stuff
For those who are more interested in making their garage into working or storing area, there are some variations of organizing its inner space:
Cabinets. Customizable and comfortable, they come in different colors and sizes. You might even use your old kitchen cabinets to avoid any extra costs. But if your garage lacks some free space, it would be better to use something slimmer.
Shelves. This is a nice way to organize your storage, especially when there is not a lot of room. You can put shelves up on the walls and leave even more space for your vehicles.
Pegboards. This is the most popular decision for really tight spaces. If you are up to storing your instruments on the wall, you might consider using a pegboard.
All in all, there are many garage types: they can be classified by size, materials, purpose and so on. Some of them are affordable and durable, some of them don't. The most important thing is, you can always choose whatever suits your goal the most. We hope that you've found our article helpful!