Cold in winter, hoarfrost inside garage doors and much more – these problems were exactly what garage owners faced in winter. Perhaps your garage is even getting too hot – it all depends on the climate in which you live.
In fact, any extreme temperature problem can be solved with thermal insulation. Even the fact that your garage is too damp or evaporates too much can lead to mold – even this problem is solvable.
You may think that insulating an already finished garage door is a waste of money, but it is a fantastic idea. Imagine if you use insulation to extend the life of your garage and reduce the need for cleaning or maintenance.
Such a solution can be confusing to you because you have never studied the issue before. We understand that, and to make it easier for you to find and buy a thermal insulation kit, we decided to tell you about the best models and their features.
You may also like:  10 Best garage door openers
What is the first thing you should pay attention to?
Your budget and manufacturing materials.
The cost of materials varies depending on different indicators – its manufacturer, quality, thickness, and even type. There are glass fiber, polystyrene, polyethylene and other materials – all of them have different costs.
You need to determine what budget you are willing to allocate for insulation and choose the materials depending on the amount. It is also worth knowing the pros and cons of each material – so you definitely will not waste money.
The size of the garage door.
Each set for insulating the door has its own amount of materials and tools. For example, if you decide to save money and order a small set, the materials may be too little for your door.
In this case, the insulation will give almost nothing – as there will be gaps, and you have to buy new materials. If you order too much, you risk getting too much material left over. We recommend that you carefully measure the door before buying it.
The thickness of the insulation.
When measuring, you should pay attention not only to the height and to a width of the door, but also the thickness of the material it is made of. Each material has its own thermal insulation value – you only need to reinforce it with materials.
Once you have decided how hard you want to insulate the door, you will understand the thickness of the thermal insulation you need. This is also important when you choose a material!
Type of insulation.
You can insulate the room from anything – from excessive heat and moisture, from cold or altogether. You should not think that any insulation material is universal.
Their development always takes into account temperature features, so if you buy insulation against excessive heat, in the cold season you may get an unpleasant surprise.
We recommend that you check the type of insulation that you need in advance. If you cannot make up your mind – it is best to look at universal options.
Our Top Pick
Matador Garage Door Insulation Kit


Easy installation without tools
Large size for widest doors
Quick installation

Check price on Amazon
Other great door insulation kits
1) Matador Garage Door Insulation Kit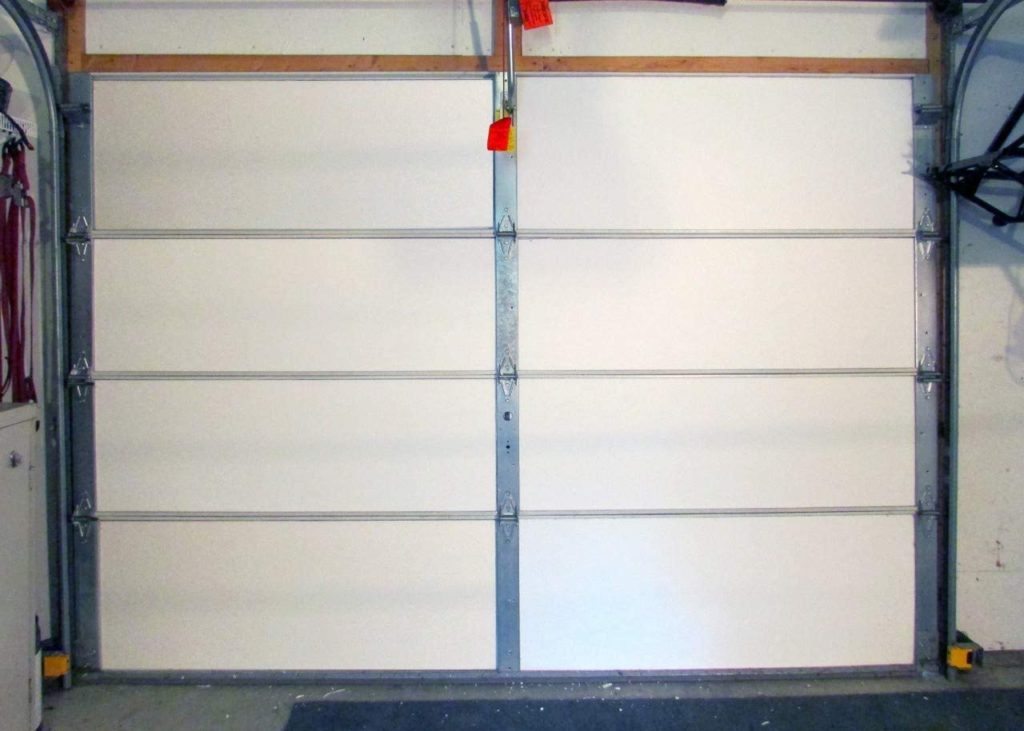 You have long wanted to isolate the garage door, but you are afraid it will be too difficult for you? The Matador Garage Door Insulation Kit is one of the simplest kits that does not even require special tools when installing.
All you will need is a multi-purpose knife, work gloves, and safety goggles. Installation is completed in just three steps. First, you will need to measure your door, then cut the material if necessary and snap it onto the structure.
Using a sharp blade, the cutting will not take too long. Now the winter cold or summer heat and moisture will not affect the temperature inside your garage.
This way, you can easily turn your old garage into a gym, song-recording studio or even a workshop. All panels that are used for insulation are shockproof and will not be damaged in domestic and professional use. Spend just an hour and get great results.
You may also like:  10 Best garage heaters
2) Owens Corning Garage Door Insulation Kit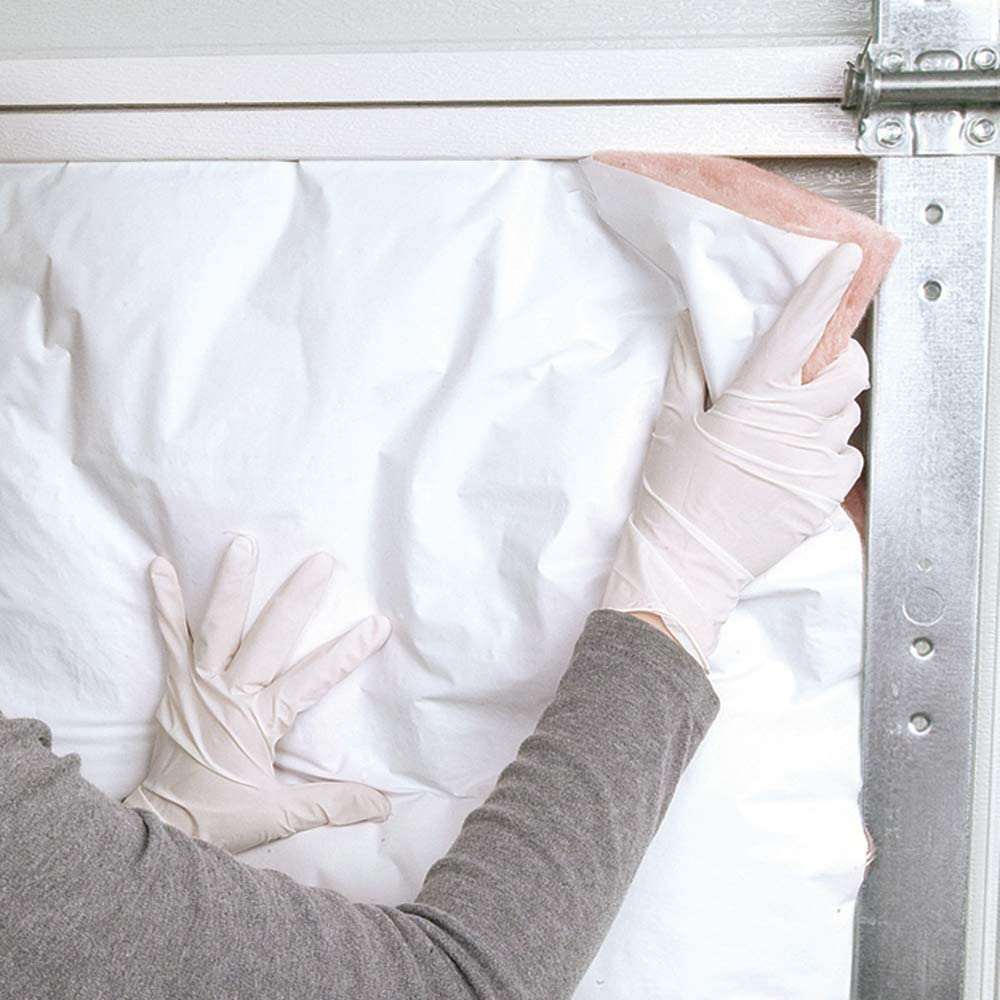 Are you still hesitant to isolate your door? Then you should know that with insulation you would reduce noise by 20% while avoiding the influence of weather conditions on the temperature.
You also will not need special tools – just a knife, a marker, and a measuring tape. The material used in the Owens Corning Garage Door Insulation Kit is very flexible and resistant to denting.
If you keep the interior clean in all areas of your home, you can keep it clean even in the garage. The surface of the material is vinyl and is easy to clean with a mild detergent.
The complete set consists of 8 sturdy fiberglass panels, which are clad in vinyl. The Owens Corning Garage Door Insulation Kit has a maximum size of 9 feet wide and almost 8 feet high. It is a lot cheaper to buy this kit than replacing a door.
3) US Energy Products NASA TECH Garage Door Insulation Kit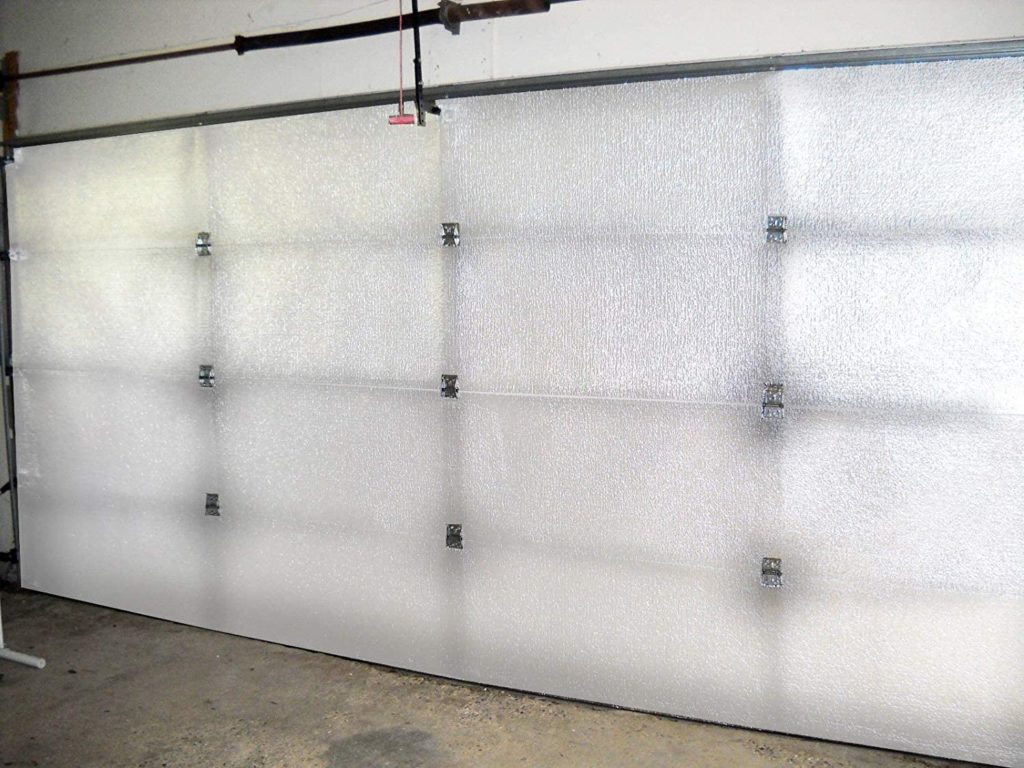 Not all materials for door insulation are sold as panels. For example, US Energy Products NASA TECH Garage Door Insulation Kit is presented as double-sided rolls that meet all safety standards and regulations.
You can install them both for protection against extreme cold and extreme heat. Increased durability extends the life of the insulation material.
With double-sided tape, it is convenient and easy to work – easier than with panels. One set includes four rolls, which are enough for insulating medium size doors. For very large doors, you may need a little more material.
US Energy Products NASA TECH Garage Door Insulation Kit has a low price and therefore will not make your work too expensive. Of course, installing this material can take a little longer than just working with panels.
Once installed, you will need to allow some time for the material to dry. It is advisable not to touch the insulation tape for 24 hours – this way it will fit firmly to the door and will not let excess temperature inside the garage.
4) Reflectix BP24050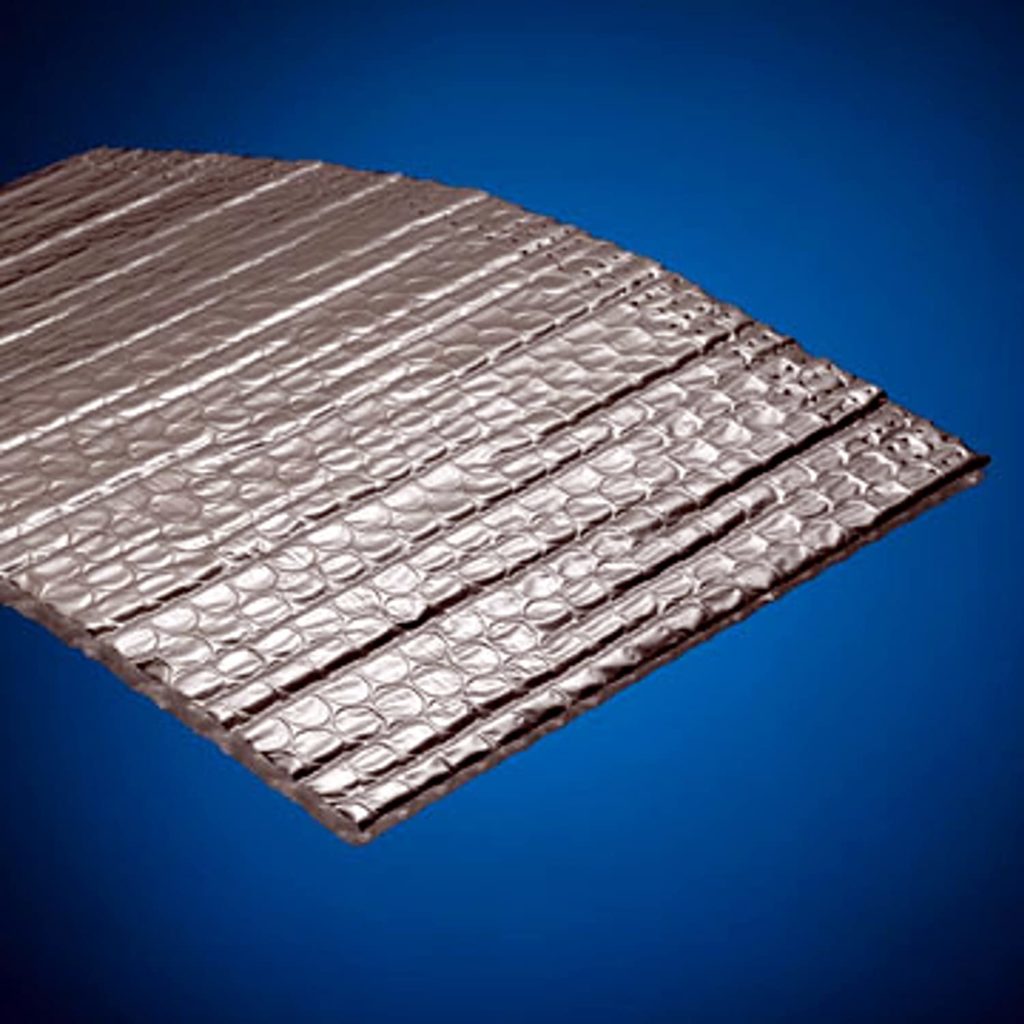 In addition to the garage doors, there may also be windows in the garage that also need insulation. The materials and panels are quite large, from which it is not advisable to cut out too small details for windows.
Reflectix BP24050 is a set of insulation linings that can insulate doors, windows and will keep the hot sun and cold wind away. With the scissors from the pads, you can cut out any part of any size you need.
In order to fix the Reflectix BP24050 to the surface, you will need glue. You just apply a small amount to the surface and attach the insulation material tightly – this way it will hold.
Another property of this material is its ability to reflect light. Because the surfaces inside the room will be shiny, it will reflect both natural and artificial light.
In this way, you can not only avoid the cold inside the garage but also make it lighter. The easy use of the Reflectix BP24050 is also an advantage.
5) SmartSHIELD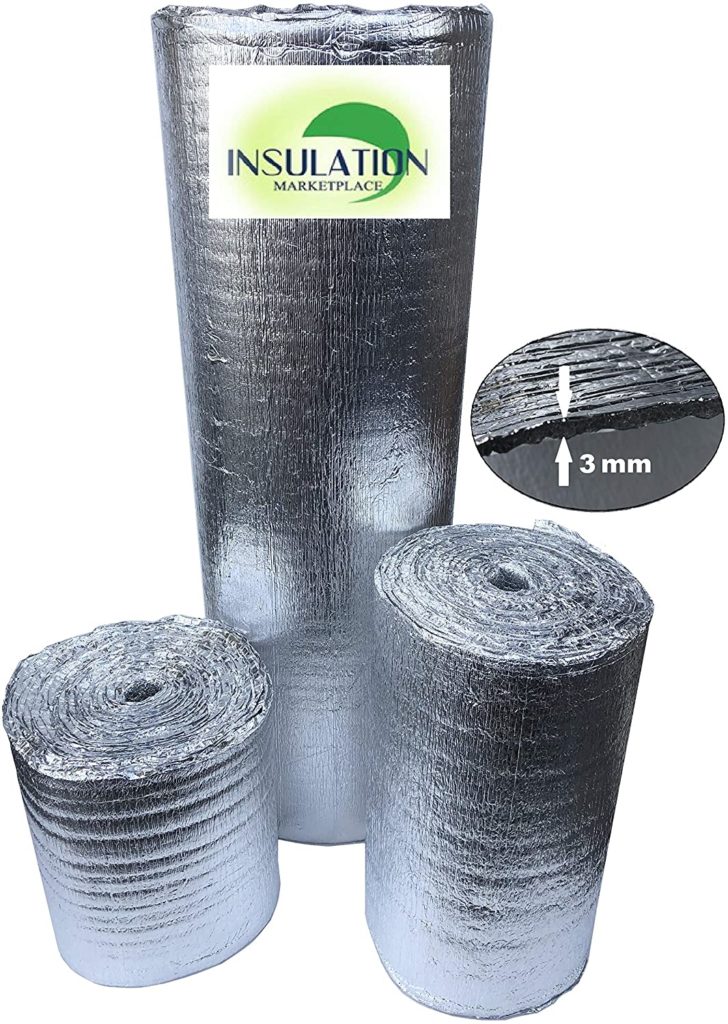 SmartSHIELD is another set of insulation materials that is available in rolls. It is only 3 mm thick and contains a layer of polyethylene wrapped in pure aluminum.
If this combination of materials frightens you, we are ready to reassure you – SmartSHIELD is not toxic and will not harm your health. The width and length of the ribbon can vary – it is up to you to decide which option to buy and which tape is best for you.
Installation is as easy as with other insulating tapes. You can simply use glue and scissors to fix the right size of the plate to the door. By the way, the glue gun is much more convenient to use than glue tubes.
Thanks to the even surface, you can clean the material from the slightest dirt. Thin foam combined with aluminum foil reflects up to 97% of the temperature – no matter whether it is cold or warm. Just like the previous model, SmartSHIELD reflects any light in the room – it may be a plus for you.
6) Reach Barrier 3009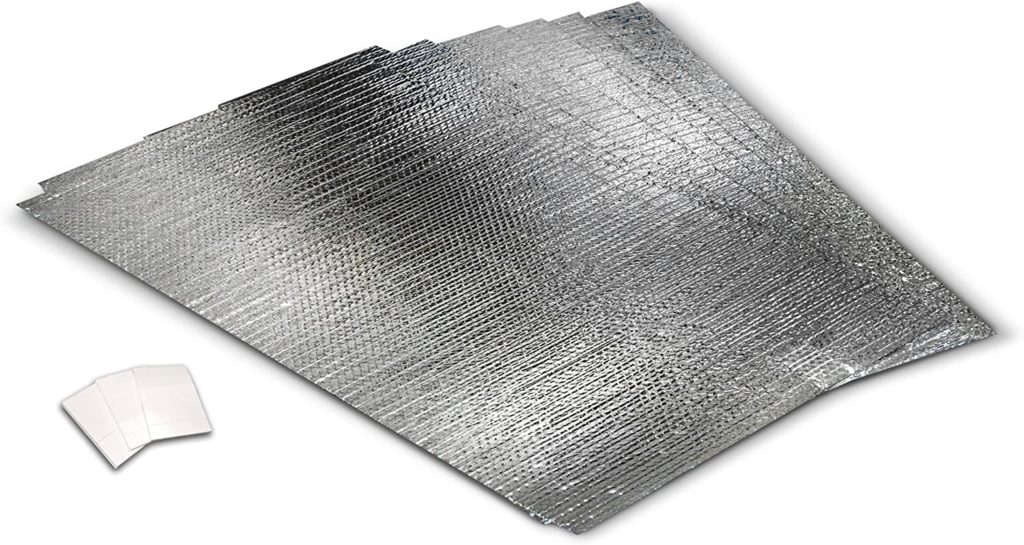 In order for you to really save energy, you need to take care of other factors as well. Doors and windows can easily let heat through to the outside, so you need to isolate them.
Reach Barrier 3009 is a set of plates that are great for both windows and doors. These plates do not require any subsequent maintenance and are completely safe for people.
Inside the panels, there are two layers of barrier bubble. Outside there is a reflective layer, which reflects heat, cold and light. Mounting is done as standard – with acrylic adhesive.
There are only eight small panels in the kit. They are enough for insulating a garage door or several windows. Such a set is cheaper than buying full-size panels made of polystyrene foam.
Bubble insulation sets are more durable than plastic panels – they are less wearing out during operation and easier to replace. With Reach Barrier 3009, you will keep the temperature inside your garage as comfortable as possible.
You may also like:  10 Best garage lighting
7) Ant Enterprises Garage Door Insulation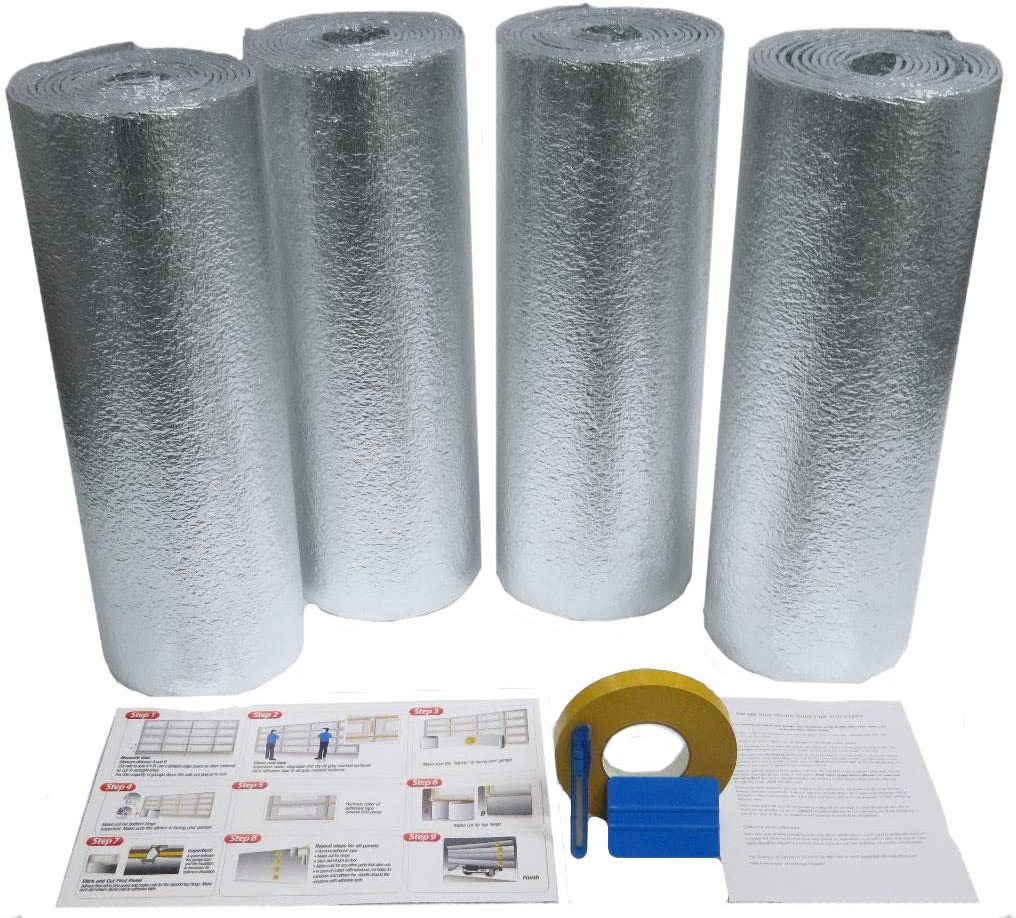 By following the instructions, you will be able to completely isolate even the largest garage doors. In order to install the insulation correctly and with high quality, you need to measure everything carefully beforehand and cut the pieces carefully.
Ant Enterprises Garage Door Insulation is waterproof and durable, so you only need to install it once. Once you have glued all the panels, you cannot change their position anymore.
You should thoroughly clean the garage door before installing it. It may still have paint or other materials on it – you need to remove them so that the new material can easily get dense and well.
Almost immediately after installing the material, you will feel that the temperature inside your garage has become constant and does not change even with the changing seasons.
The shiny material looks good on all doors, so the appearance of your garage from inside will only get better. Inside the foil is foam, which allows Ant Enterprises Garage Door Insulation to completely isolate the room.
8) Maximumstore Garage Door Insulation Panel Kit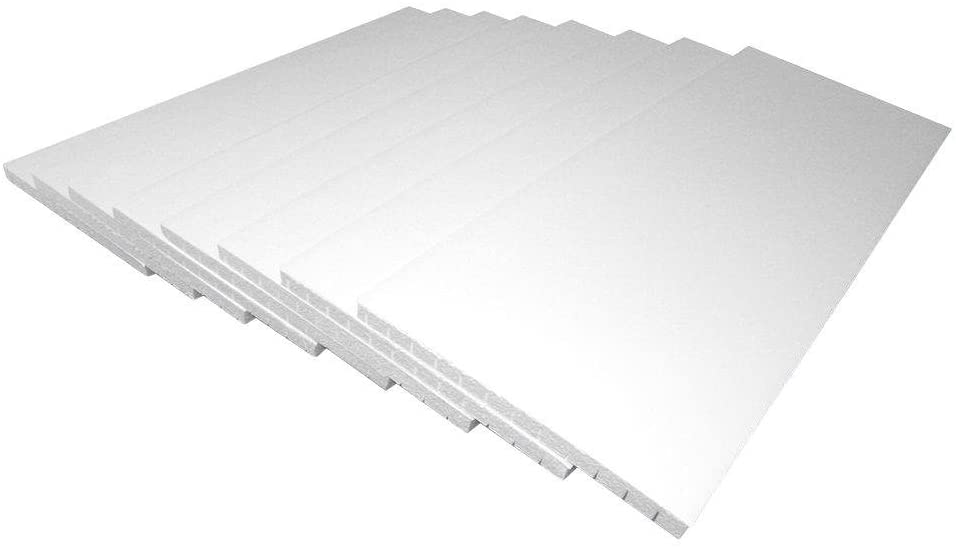 Not all panel kits are made with foil and metal. For example, the Maximumstore Garage Door Insulation Panel Kit is an impact-resistant insulating panel kit made of polystyrene foam.
Clean and tidy appearance is one of the main advantages of this kit. Some people think it's not the right material, but they are very wrong – polystyrene foam just as well as insulates doors and windows in garages.
The only downside to this material is the heavy cutting process. This foam thickness requires a special blade, without which the material can crumble or become defective.
The panels are easy to maintain and install. When you purchase, you will immediately receive instructions on how to work with the Maximumstore Garage Door Insulation Panel Kit. However, once installed, you will have to vacuum your garage – Styrofoam will be everywhere!
9) SmartGARAGE Insulation Kit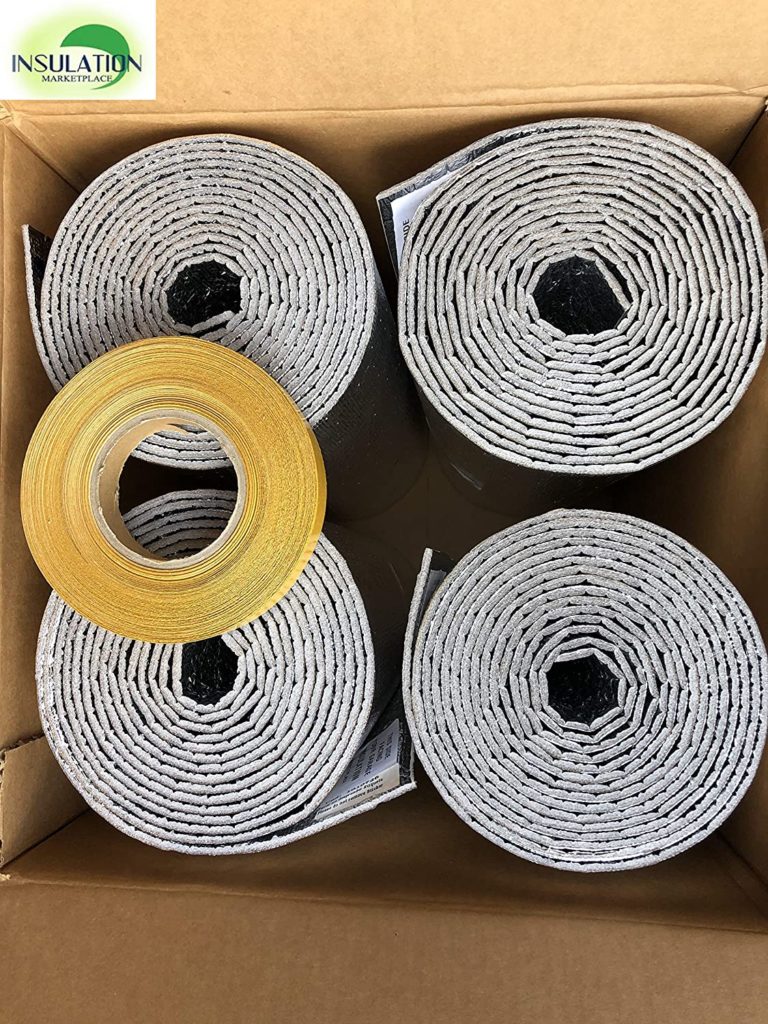 Even if you have no experience in installing insulation indoors, you will still be able to do the job. The SmartGARAGE Insulation Kit can be installed in just a couple of hours of active work, and the end result looks like a clean door finish.
Instructions for operation and installation of the material are included – you need to glue the roll parts to the door or door frame so that it fits snugly to the surface.
In addition to doors with this kit, you can also insulate walls and the ceiling. Light reflection on both sides allows you to make rooms independent of each other in terms of temperature. When installing, check that the SmartGARAGE Insulation Kit fits snugly enough.
The material not only reduces temperature variations but also reduces the noise coming from the room. If you set up your garage as your recording studio, it will be a great addition and a pleasant surprise for your neighbors and family.
10) ADO Products GDIKS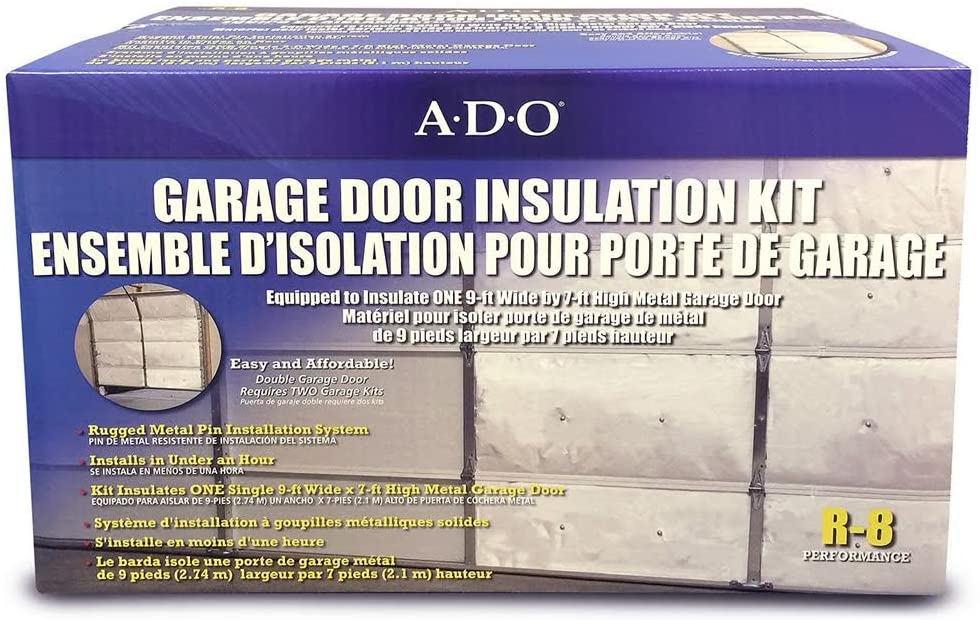 Most of the previous insulators we have talked about need to be installed with glue. ADO Products GDIKS, on the other hand, has a robust installation system with metal pins.
Despite this fact, the insulating kit is not too complicated to install and you can complete the process in a short time. The R value is 8, which is certainly not too much, but enough to ensure a stable temperature inside your garage.
You can supplement the entire installation system with glue or adhesive tape for greater strength. This way ADO Products GDIKS will fit even tighter on the door.
The inside of the garage will be cladded with white material. Before installation, clean your garage panels and doors with acetone or degreaser. The kit itself is quite light and will not weigh down your door in any way.
Most of the doors in the garages are naked and have no protection from external conditions and cold. Inside the garage, you can feel a slight cold, which does not give you the opportunity to easily go into the garage in winter with home clothes.
You may have been looking for insulation kits in construction stores for a long time, but it is much easier to buy them online with delivery.
Even if you have no idea how to install them, the internet will definitely help you with this. Also after reading the article, you may have some questions, and we will be happy to answer the most popular of them.
FAQ for garage door insulation kit buyers
1. Do you really need insulation for your garage door?
Normal doors and gates are not insulated at all. Behind such doors, the temperature is highly dependent on the weather and the temperature outside. Inside them, the temperature is about 28-30 degrees and when insulated, it rises to 45 degrees.
2. What are the advantages of insulated garage doors?
Sure, no one is forcing or obliging you to isolate the garage door. Still, if you take up this issue, you can even save energy! If your garage is heated, it will be much easier to keep heat indoors and not leave it outside.
You will also be able to muffle all the sounds of actions occurring in the garage. This is especially useful if you are doing a loud repair or playing musical instruments.
You may also like:  10 Best beverage coolers
3. What is R-value?
R-value is an indicator that indicates the heat resistance of a material. It shows how the material can resist the environment and store heat indoors. The higher the R-value, the more heat resistant the material is.
For a more accurate measurement you need to take the insulation value of the material itself and multiply it by the thickness – this way you will know how much heat-resistant your door is now.
For garage walls, the R-value should be 15 or more, and if you are reinforcing ceilings, increase the number by 35-40.
4. Is it necessary to additionally isolate the walls near the garage door and garage door?
Depending on the size of the garage door, you will need different materials and different approaches. If the door is too large, you may also need to insulate the adjacent walls – at least the one on which the door is located.
This is necessary to ensure that you really do not release heat and eliminate all possible remaining gaps and cracks. However, if you want to insulate all the walls of the garage, it is not necessary at all.